There were a huge amount of boats on a Sunday sail when we made a short hop from Volendam to Amsterdam. It only took a passage through Oranjesluizen lock and we were on lake IJ. Our destination, marina Sixhaven is also located on lake IJ just opposite of the central station of Amsterdam.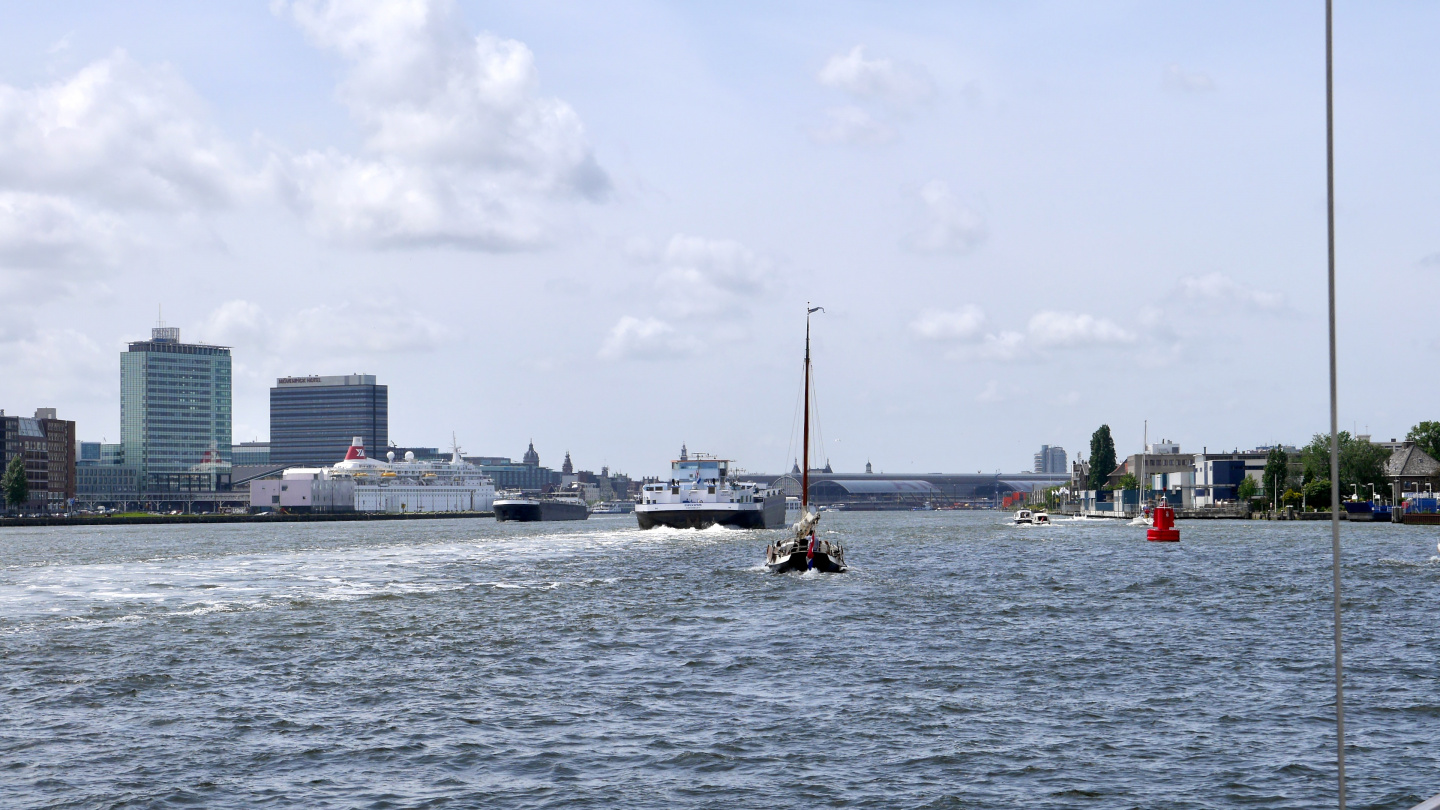 When I called Sixhaven to reserve a berth to us the harbourmaster told that "Sixhaven does not take any reservations. The marina is small but we have always managed to find a place for all the arriving boats." This was true. First the boats are moored to pontoon boxes. Then a next row of boats is made fast in front, behind or on the sides of previous boats. At first we moored Suwena alongside on a short length of pontoon between two berths. Soon we had some other boats rafted with us. On the next day a boat in front of us left and we got her finger berth. After a moment new boats arrived and we were again surrounded by other boats. All happened in a very relaxed way and everybody was just happy to have their lines tied somewhere. When we continued on Staande Mast route on Thursday night we moved the boat already in the morning closer to harbour entrance. It would be unfortunate to notice in the evening that other boats are blocking the way out and departure moves forward to next night. On Staande Mast route the bridges in Amsterdam centre are opened only once in the middle of the night.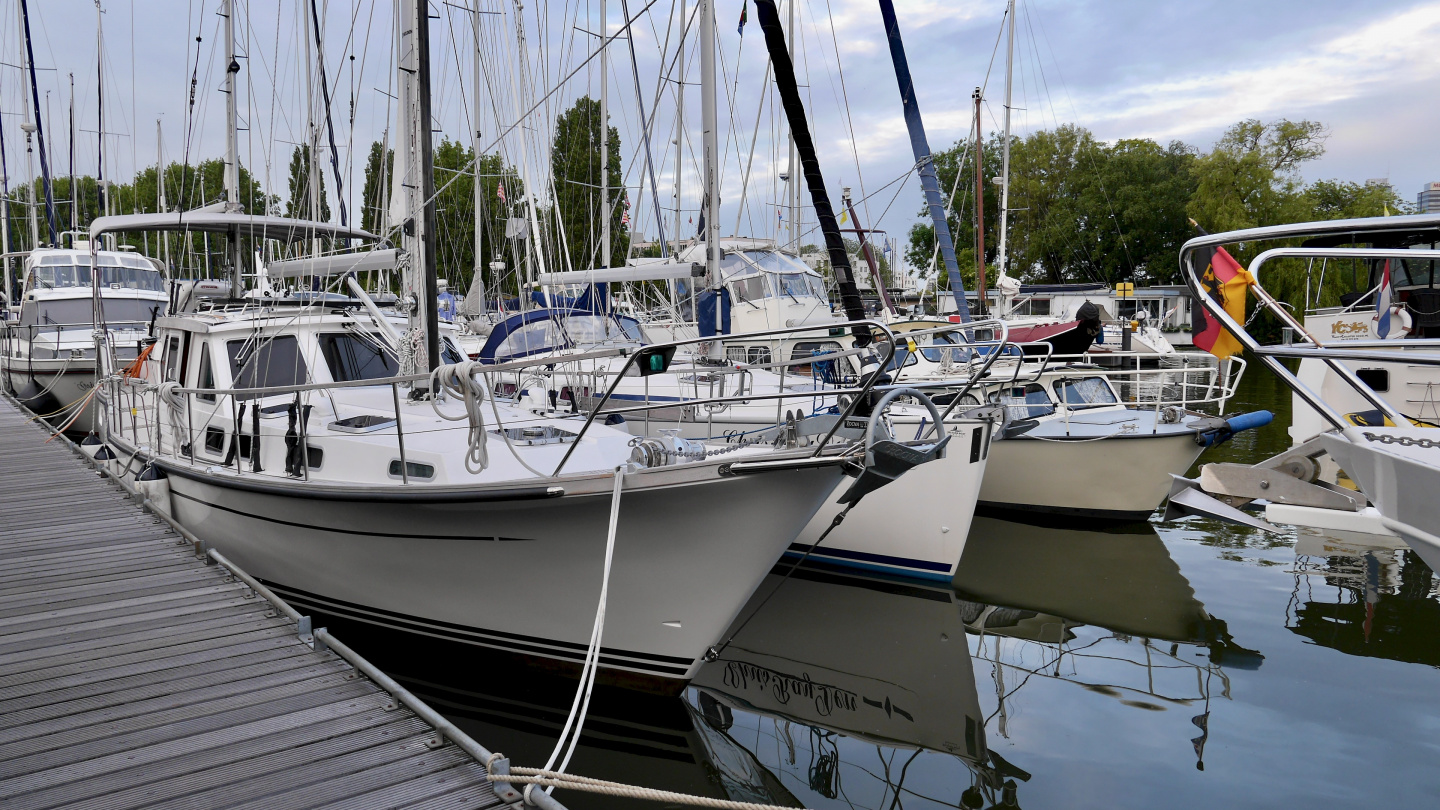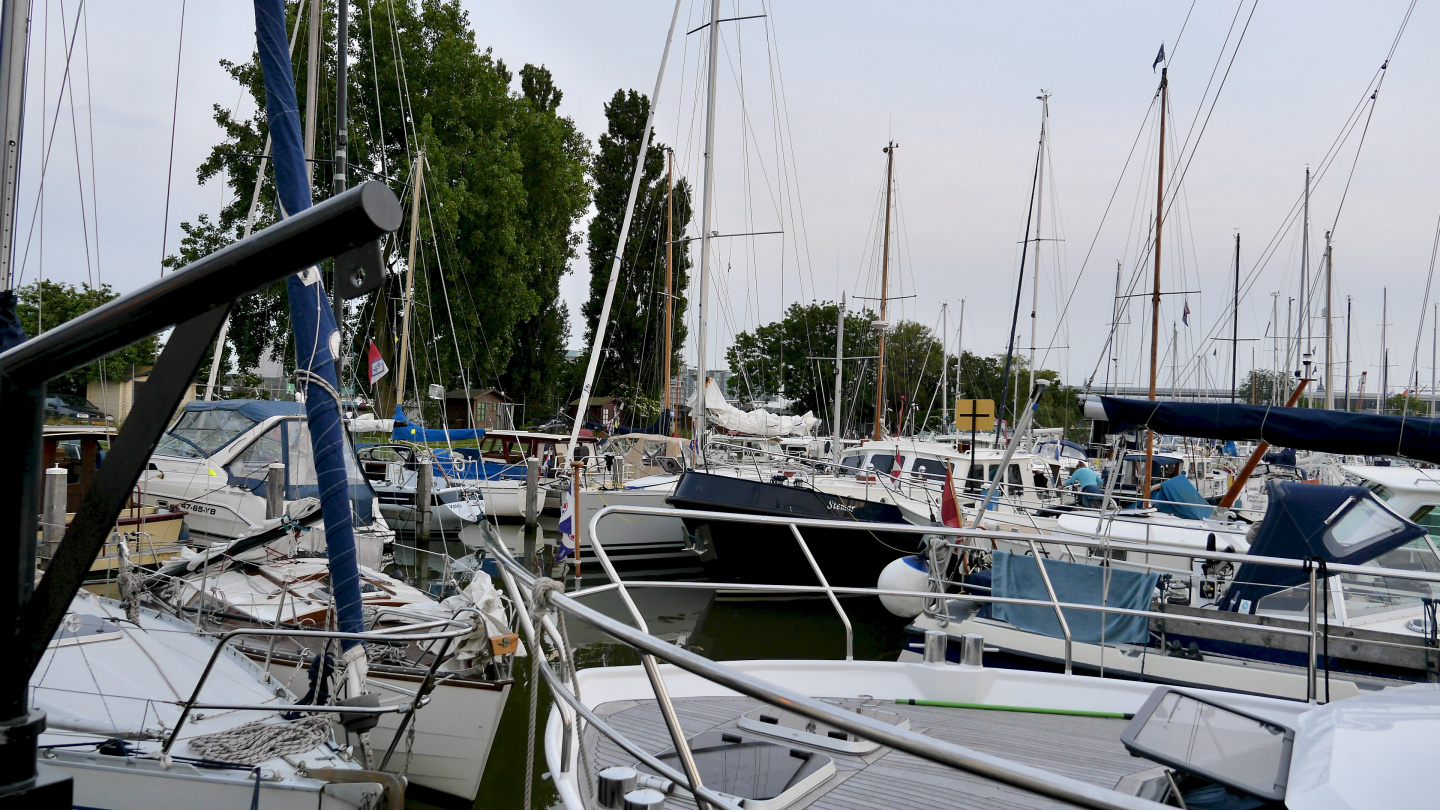 From Sixhaven it's a convenient to take a ferry that continuously shuttles across lake IJ. Every ferry that we took during our visit in Amsterdam was packed with bicyclists and mopeds. The amount of bikes is absolutely stunning. The Amsterdam people really use the bicycle to go everywhere from the morning until late night. Men in suits, ladies in high heel shoes likewise also a travellers with suitcase in hand all of them were pedaling in every possible direction. There are even separate traffic lights for bike lanes and the bikers do not give any way to pedestrians thus we were careful when strolling around the streets of Amsterdam. The bicycle parking lot with three floors next to the central station alone assures that the Dutch are crazy for the bicycling.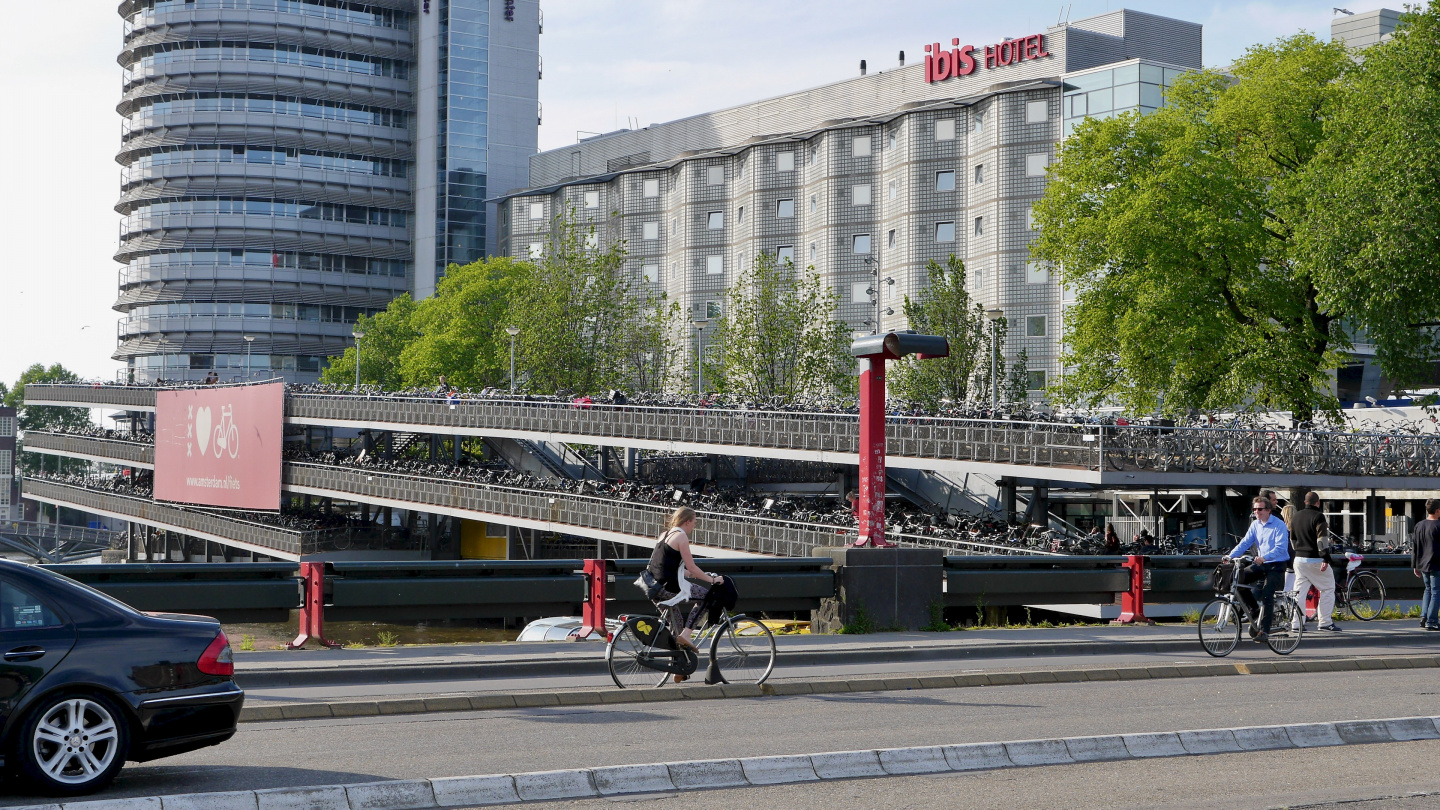 Amsterdam is a real holiday paradise for spending an interesting city vacation. There are so much to see and to do that nobody can complain about the boredom there. The Internet is full of travel guides and thus we only mention here a few things from the view of a boater.
Amsterdam is full of canals criss-crossing around the city and boats are the major part of a cityscape. When we went to the dinner cruise on Amsterdam canals after the hot sunny day it was a nice to see the city from canals. A canal ship was passing slowly from one canal to another moving between busy boat traffic. At the same time when we were enjoying a four course dinner menu we experienced the relaxed atmosphere of Amsterdam. We passed beautiful old houses. Traditionally the houses are very narrow but multiple stories high. The Dutch use relatively seldom curtains on their windows so we could peek into the apartments directly from a dinner table.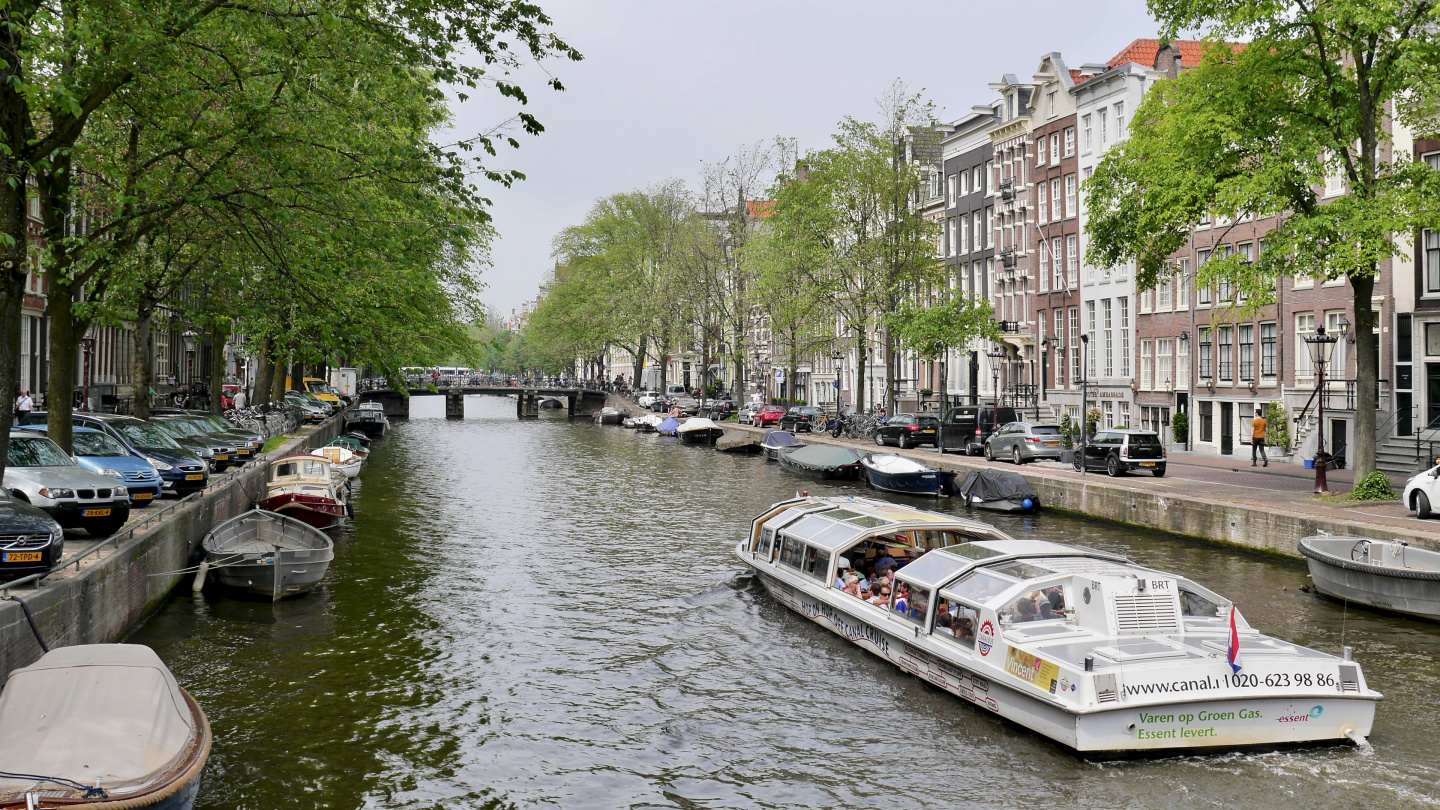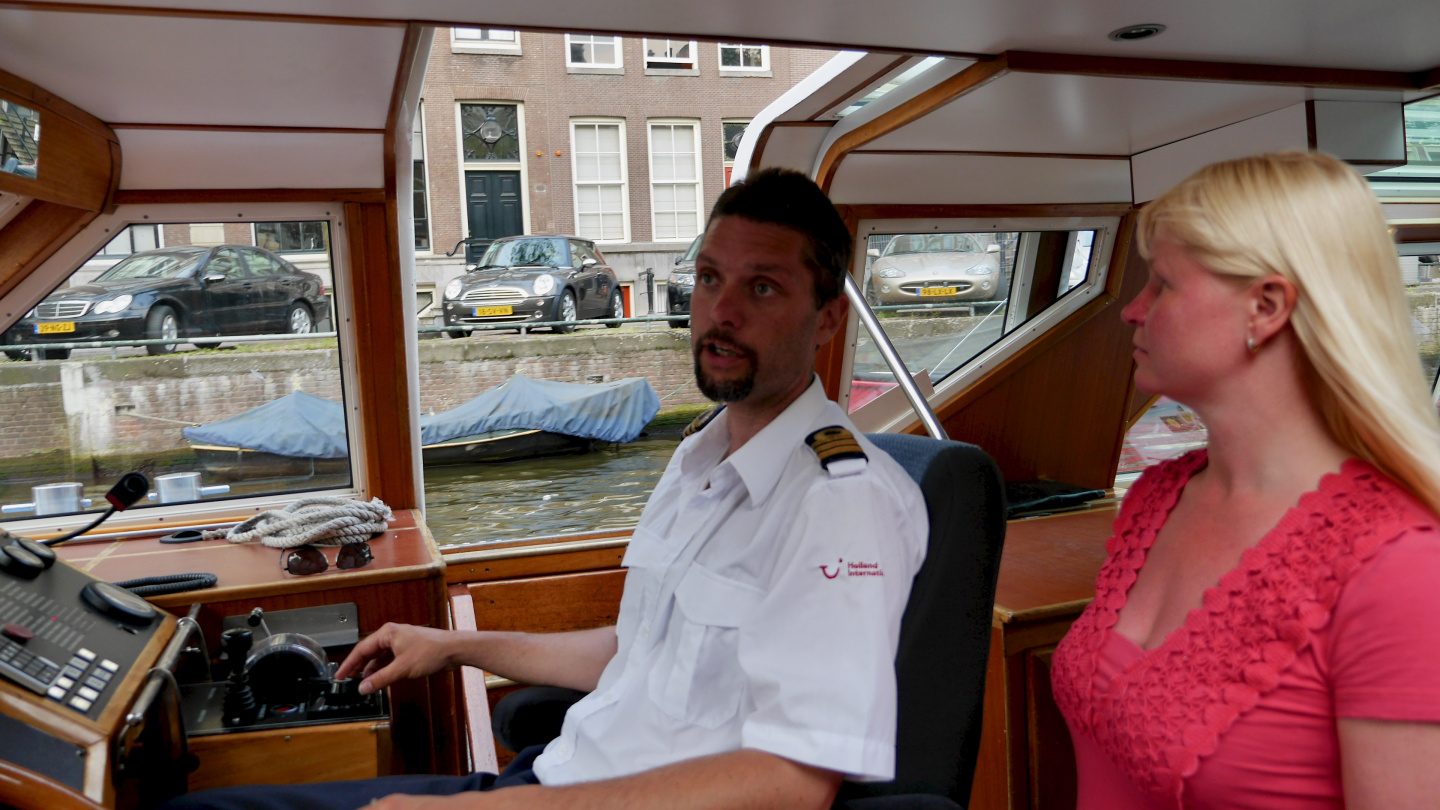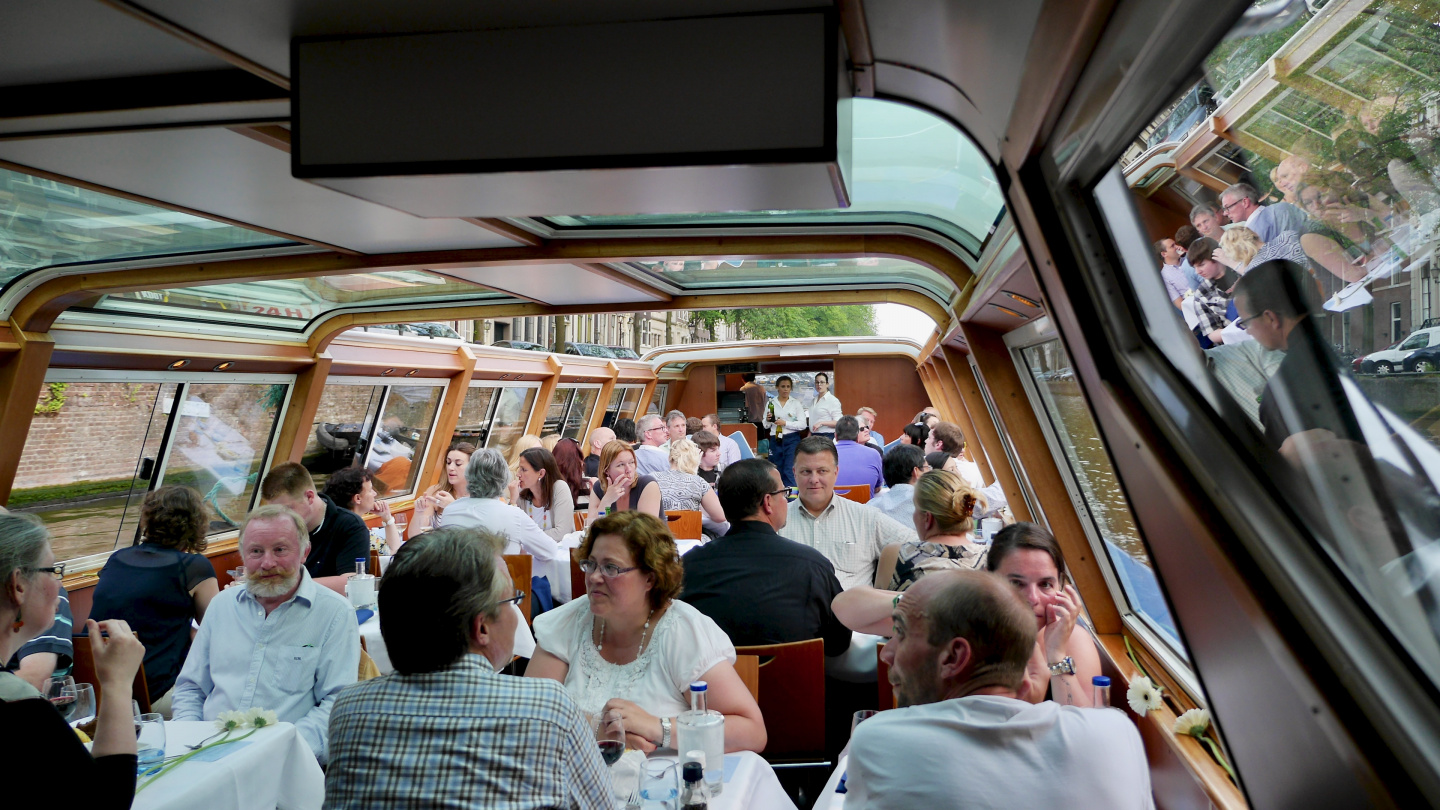 Of course we could enter the canals by our own dinghy. I imagine that we would be lost very quickly as there are so many canal intersections. Canals go in every direction like a maze of streets in Paris. In addition in Amsterdam it was possible to rent a boat as well. It seemed to be very popular among the local youth to rent a boat with friends for a day. It is nice to sip some wine during the sunset and look at the going of a city. When it was dinner time they just stopped the boat to the quay near a restaurant to have a take away food on a boat and the party kept going.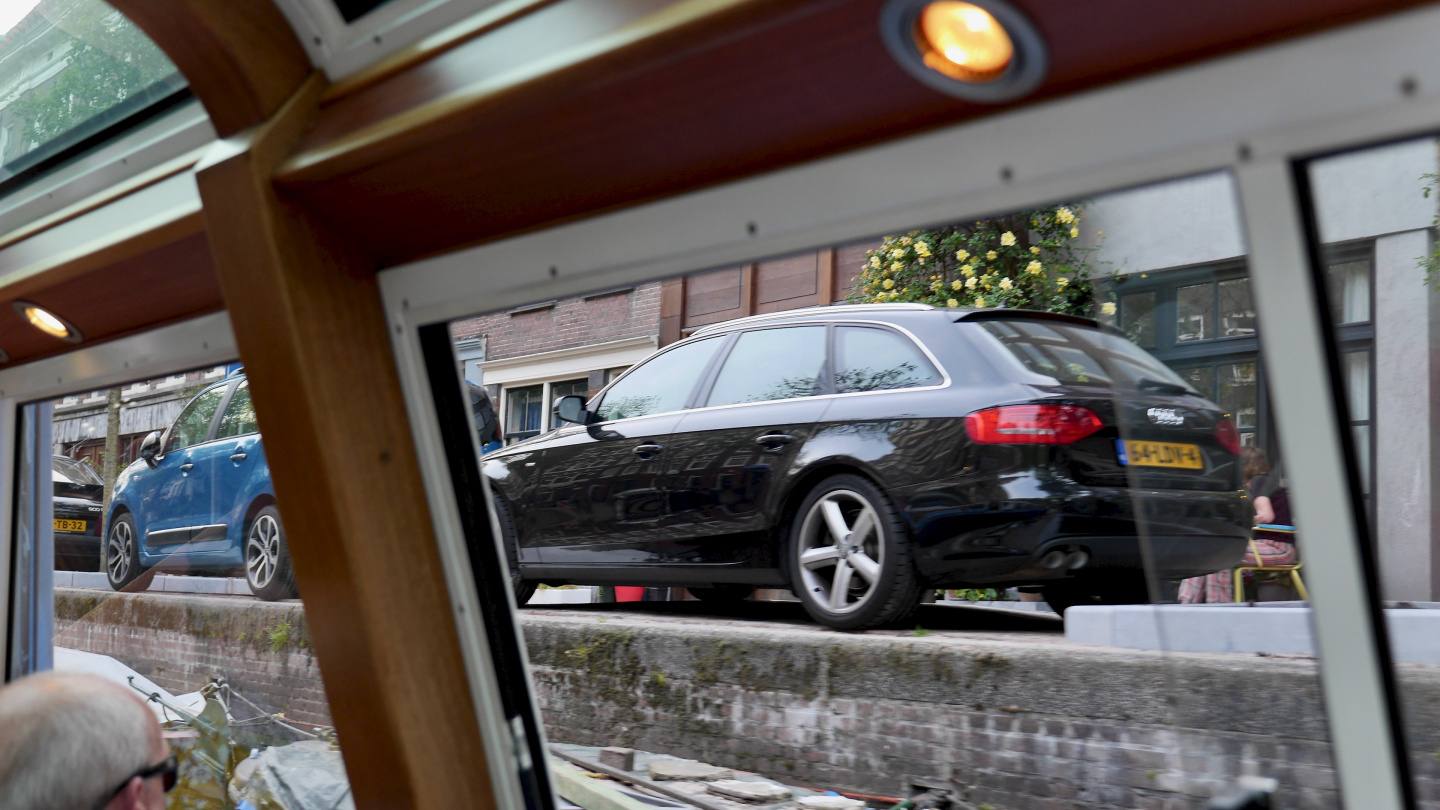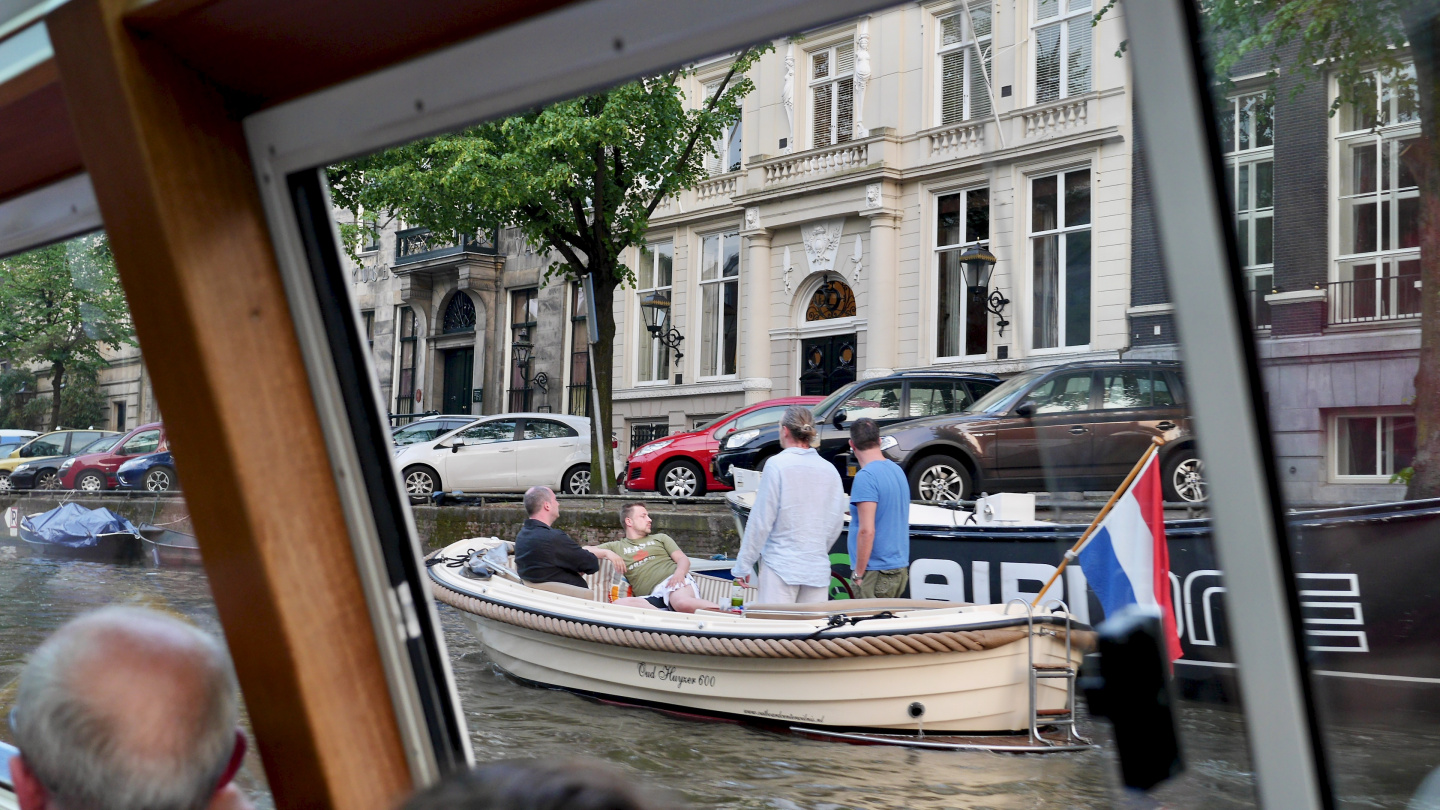 Houseboats are important part of Amsterdam's atmosphere. There are 2300 houseboats along the canals. All of them are connected to the city's sewer, water, electricity and gas networks. The houseboats are either rebuilt from old cargo ships or floating houses made from concrete. Nowadays there are no free places for a houseboat and only way to get one is to buy one. The museum houseboat Hendrika Maria is moored alongside Prinsengracht and is more than one hundred years old. It is possible to go and see inside and think what it would be to live in a houseboat.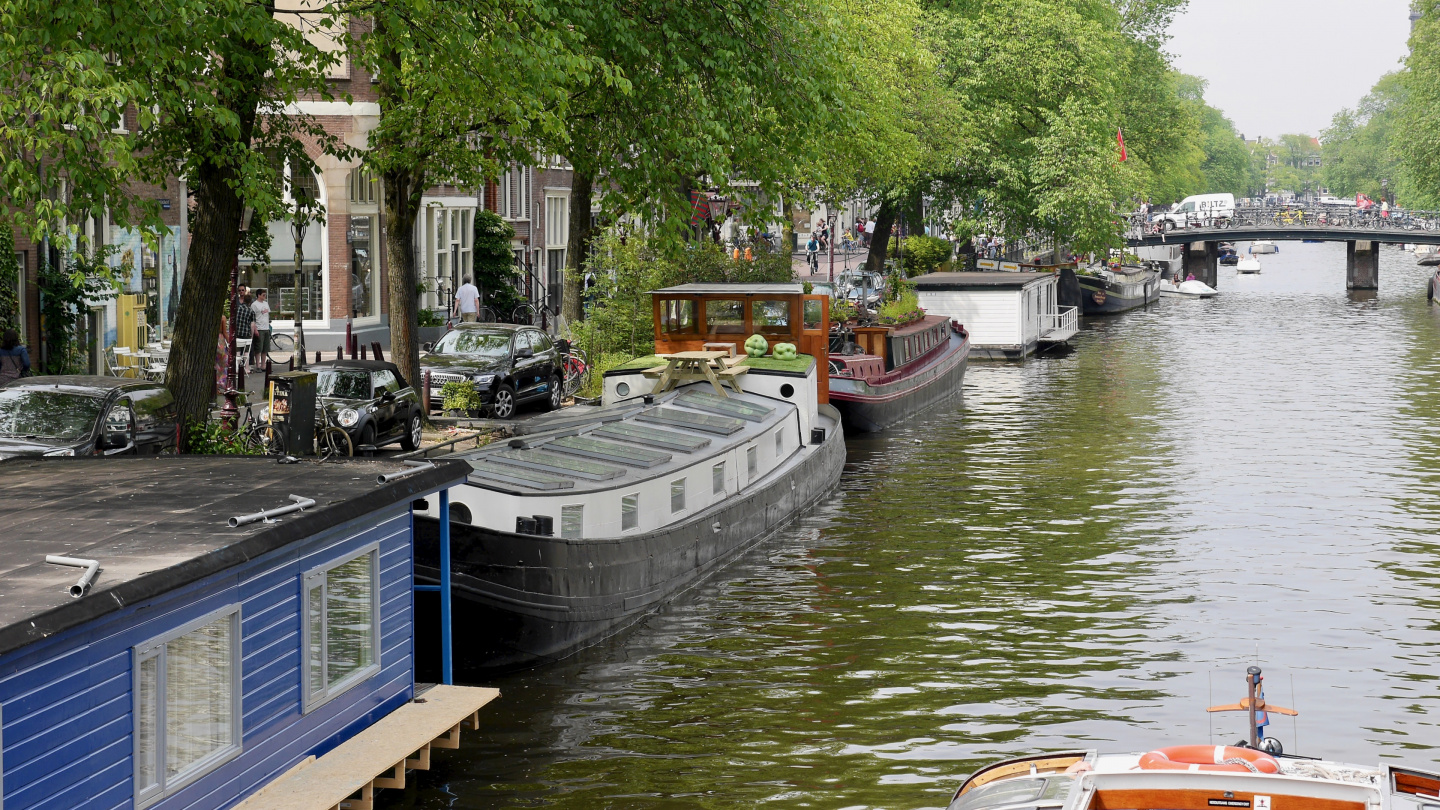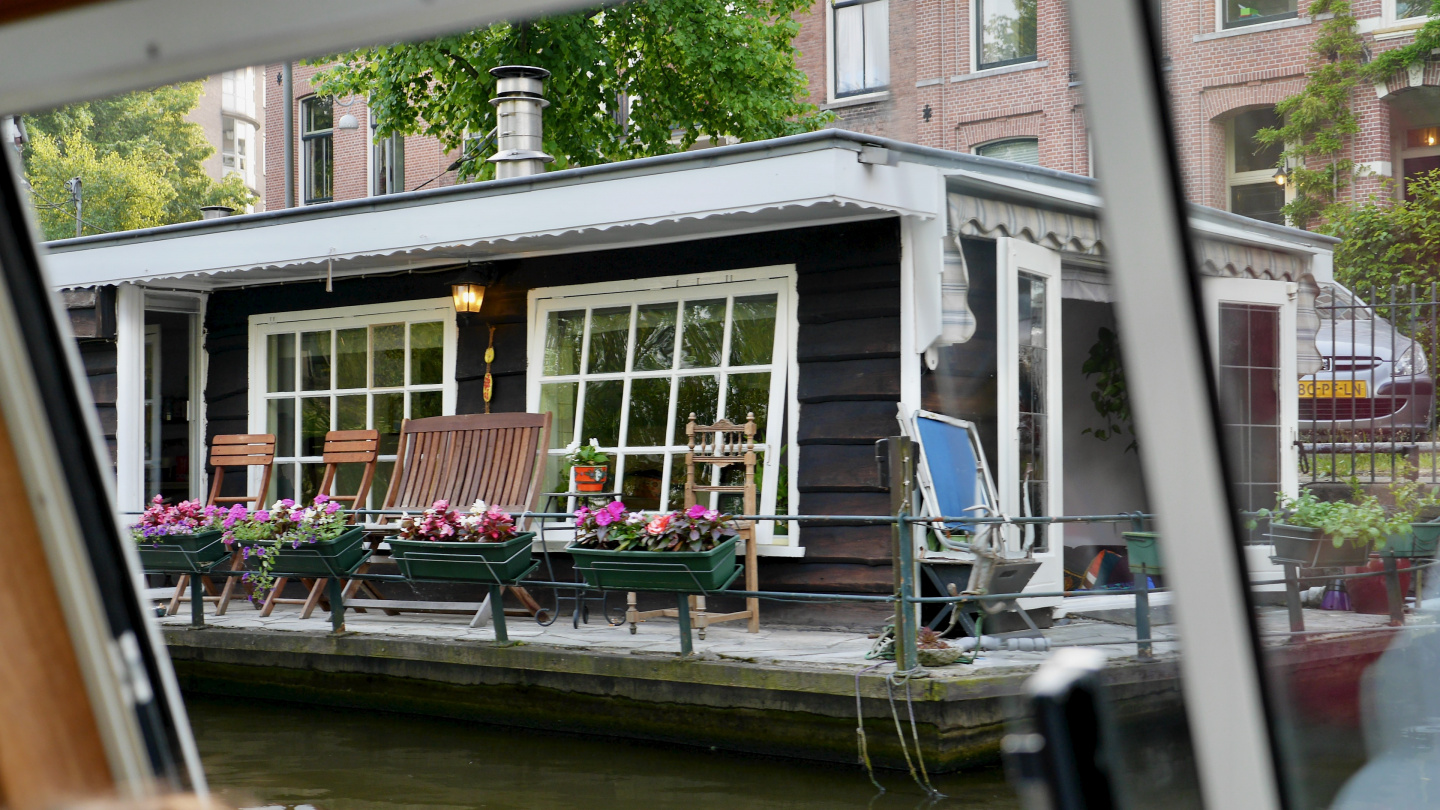 In Amsterdam we were most surprised about the number of tourists. There are always tourists in big cities but Amsterdam is packed with them. Every year five million tourists spend a night in a city. Is it a coffee shops and red light district that attracts so many tourists or is it due to vast amount of the museums? Of course Rembrandt and Van Gogh have made their merits in a city as well. Anyhow the four days in Amsterdam passed quickly and now it is time to start thinking about Staande Mast route and many bridges ahead.