When selecting equipment and options for Suwena we think about our needs: the boat is handled only by two persons, long continuous voyages, sailing in unknown waters. Despite being thoughtful it was clear after the first season that some of our equipment needed to be upgraded. So during the winter 2009 the following was added to Suwena: radar, autopilot and additional sound isolation into engine room.
Hull and deck
Suwena's hull is made of GRP by using 14 layers of regular fiberglass sheets mixed with 4 layers of Devold 45/45 fibers. Thickness of the hulls bottom is 20 mm. This in a whole gives extreme rigidity to hull and no extra sound is heard even when passing big waves.
For docking Suwena have 4 pairs of cleats as following: on the bow, sides, cockpit and swim platform. Anchoring is done by using a 10 kg anchor from stern with electric windlass or 15 kg anchor used by skippers muscles from the bow.
In Baltic Sea not all days are hot therefore we have put a canvas around our cockpit. By using canvas Suwena has now a 8 square meters terrace on back of the boat. During daytime canvas can be rolled up and in the evenings we can warm the terrace because of the heater vent in cockpit. This arrangement has doubled socializing space in our boat.
Engine and fuel system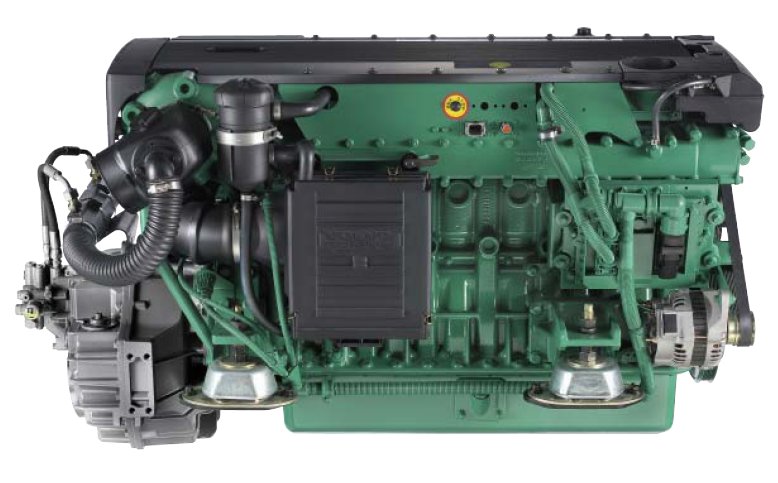 The engine is the heart of the motorboat and Vovo Penta D6 370I-B with 370 hp is beating inside the Suwena. Volvo is modern 6-cylinder 5.5 liter turbodiesel engine. The features of this engine are common-rail fuel injection, two overhead camshafts, aftercooler, electronic engine control and many more. For practical usage most important is Volvo's EVC system. It contains electronic single lever remote control for throttle and gear, several gauges and trip computer. Information between engine and other devices is transferred by using a CAN network; reducing the amount of cabling between inside and flybridge helms and engine.
Gauges include tachometer with EVC display, coolant temperature, alternator voltage, oil pressure, amount of fuel and fresh water. In addition the following can be monitored from EVC display: speed, sea temperature, water depth, fuel consumption instantaneously and per hour or nautical mile, trip time, distance and fuel used.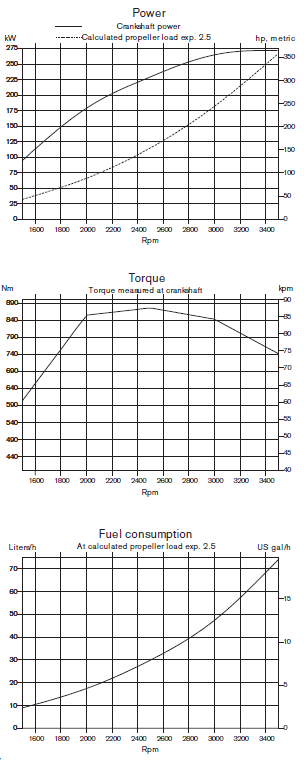 All displays work reasonably well. However one must learn to interpret them as it is with all electronic devices to avoid misinterpretations. E.g. fresh water gauge will go from a quarter to zero by making one pot of coffee. Also when travelling through waves in planing speeds the depth sounder will get some air below the sensor because of its location and depth alarm will sound if it's defined. At first we were very busy and worried when that happened. Fuel consumption meter (instantaneous, per nautical mile and per trip) works excellently. However my trust in Volvos estimate how much fuel is left in tanks is very low. I've made the tank calibration and noticed that in planing speeds the boat is pitched aft. The display still changes the reading +-20 % according to her own mind. How can they make functioning fuel displays into cars but not into boats?
Suwena has Volvo QL automatic trim system.
Power from engine is transferred though electronically controlled marine clutch and transmission (HS80AE) into shaft. At the end of shaft is a four blade 525×665 mm propeller. Transmission ratio is 1.96:1.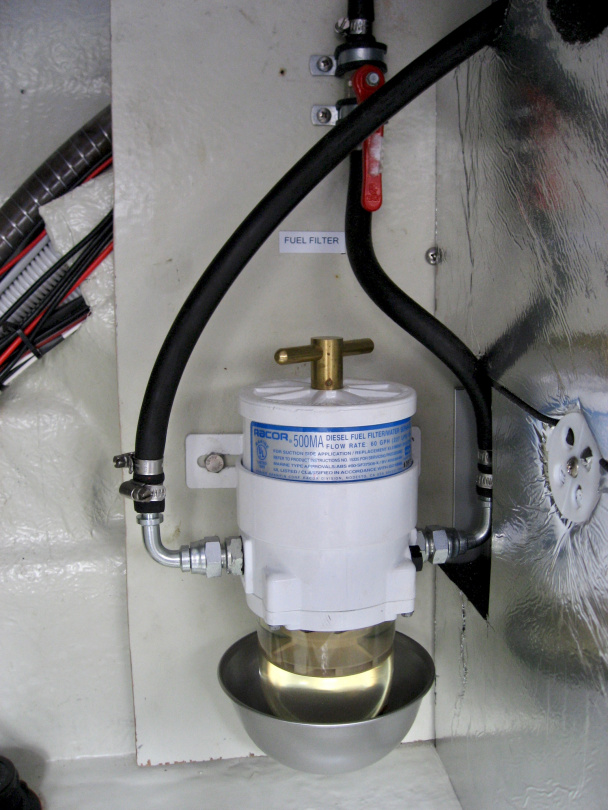 Suwena has two 340 liter fuel tanks. Both tanks can be filled simultaneously from one filling hole because both tanks are connected from the bottom. Fuel is taken to the engine always from the left fuel tank. Racor 500MA is used as primary fuel filter.
After the first season we thought that the engine noise was too loud inside the boat. When examining how sound isolation was implemented we noticed that it was not done properly. For example the heater is installed into same space as engine and warm air tube is run next to engine without any isolation thought the walls to saloon and inside helm. It can be said that noise had direct path from engine room to helm station. During the winter 2009 boating shop Pohmarin in Oulu built additional sound isolation around engine room. The new isolation works very well and now we can talk inside the boat when travelling at planing speeds.
When talking about noise in motorboat I must also add that when driving from flybridge engine sound almost cannot be heard. During the summer we had many nice trips driving slowly from outside enjoying scenery and sea. It is always a compromise what one is looking for.
Suwena uses 2.5 – 3.5 liters of fuel per nautical mile when travelling in cruising speeds depending on waves and loading.
Steering
Suwena have hydraulic steering. Steering wheels in both helms are independent. In an emergency it is possible to override other steering wheel by using force.
The rudder is, like in all planing boats, small. Manufacturer needs to design rudder so small that its shaft and control systems will handle forces even in tight turns in maximum speed with most powerful engine. This leads to poor control in displacement speeds. Especially in reverse only option to steer is to use side thrusters.
Raymarine ST6002 autopilot was installed into Suwena in winter 2009. The need for autopilot became obvious when we travelled longer distances and investment decision was easy to make.
Suwena has Side Power SP55 bow thruster as standard but we also selected similar stern thruster. Both thrusters have 4 hp power rating which means 250 A current draw from battery. When using thrusters they should not be used simultaneously to protect electrical system.
Electrical system
Suwena have 12 volt dual battery electric system. Size of service battery is 215 Ah and starting battery is rated at 180 Ah. All onboard equipment except microwave oven in galley is run from 12 V system. The microwave is powered from shore power only. The factory have installed main electrical power panel behind the sofa in saloon. The main panel has circuit breakers for all onboard equipments and voltage display for both batteries. It is easy to check voltage on both batteries from this panel whenever. For some reason the Finnish importer have installed traditional fuses for chartplotters located at other end of the boat. It feels even more strange because there are spare breakers in electrical panel.
Batteries are charged from shore power by Waeco PerfectCharge IU2512 charger or from Volvo's 115 A alternator whenever engine is running.
For small 220 V needs Suwena have portable 150 W inverter.
Navigation and communication equipment