From a 90 nautical mile leg from Stralsund to Heiligenhafen we sailed 60 miles. Warm weather continued and sailing was wonderful. We were also joined by a herd of harbour porpoises who played with Suwena. They swam around the boat and at a times dived under our keel trying to get Suwena to join their joy. First we thought they were dolphins but their triangular dorsal fin and round head suggest that their species are a porpoise instead. The Baltic Sea features a harbour porpoise (Phocoena phocoena) one of six species of porpoise. It was exciting to see how porpoises get fresh air the same way as humans do during the swimming butterfly. Suwena sailed in complete silence under gennaker and spotting our little friends was easy from the sound of breathing. One and a half metre long porpoises were staying with us for half an hour but then they got tired of a boring playmate who did not join their playing.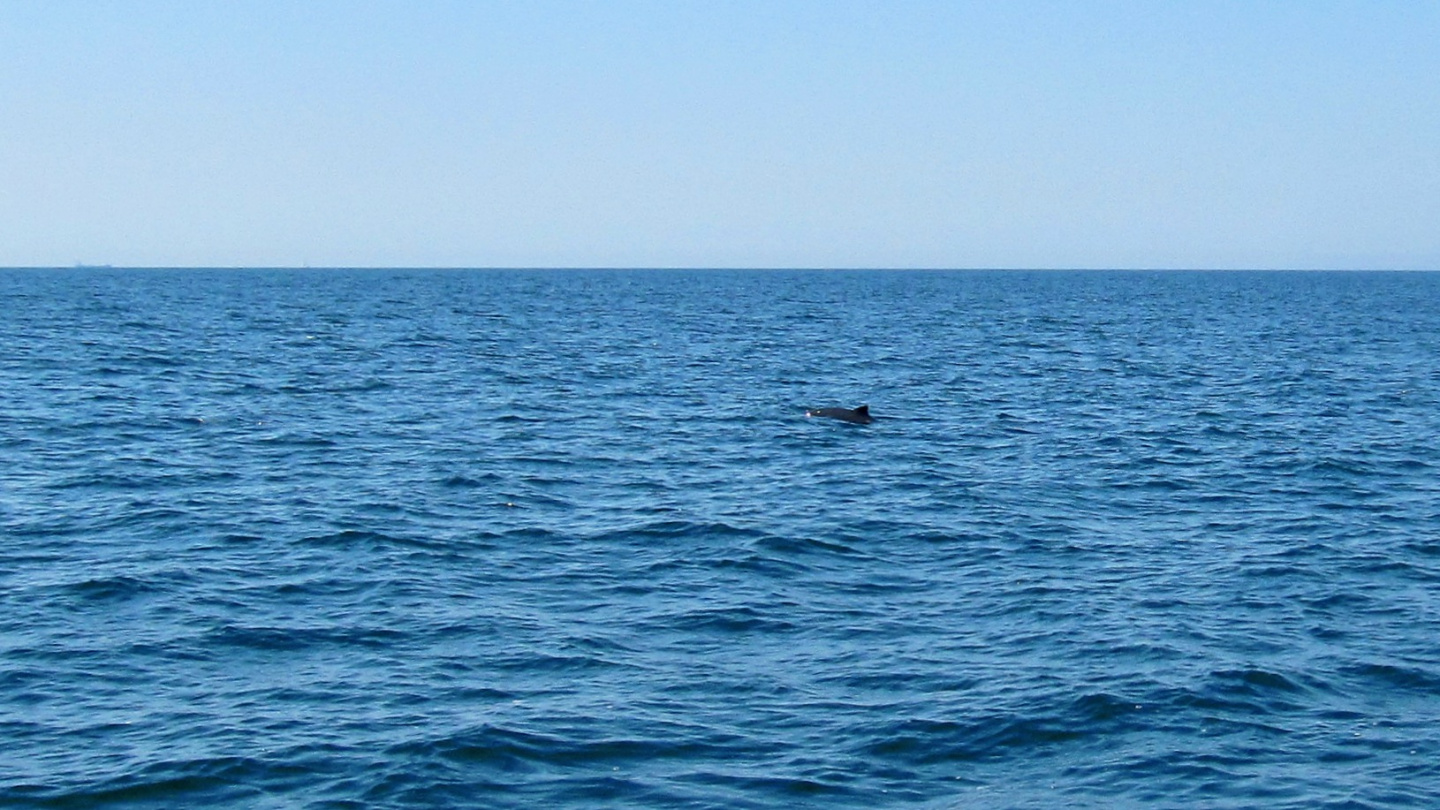 This was our first encounter with porpoises. In Finnish waters the porpoises have been declared extinct because they don't reproduce in Finnish waters any more. Luckily we can still spot them on the Southern Baltic Sea and in addition their population can be found in cooler coastal waters of the North Atlantic, the North Pacific and the Black Sea.
While planning a day's route we noticed a German submarine test area directly on our path. We did some heavy thinking about crossing that area and concluded that there should be some patrol ships if there are any exercises going on. On a way through the test area Andrus followed our depth sounder closely if the seabed sharply rises from 20 metres? It looked like German's were on holiday as well because we did not spot a single submarine under Suwena.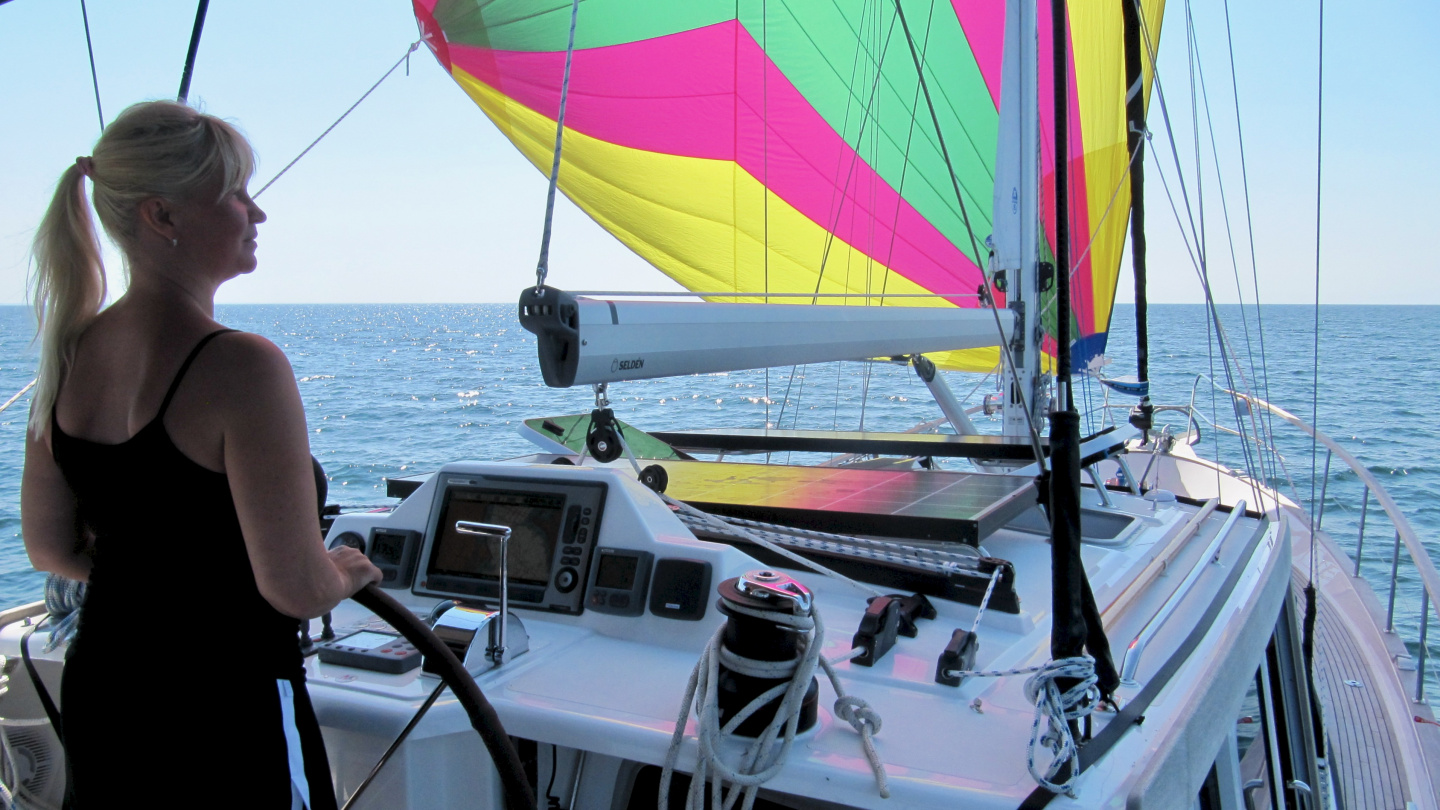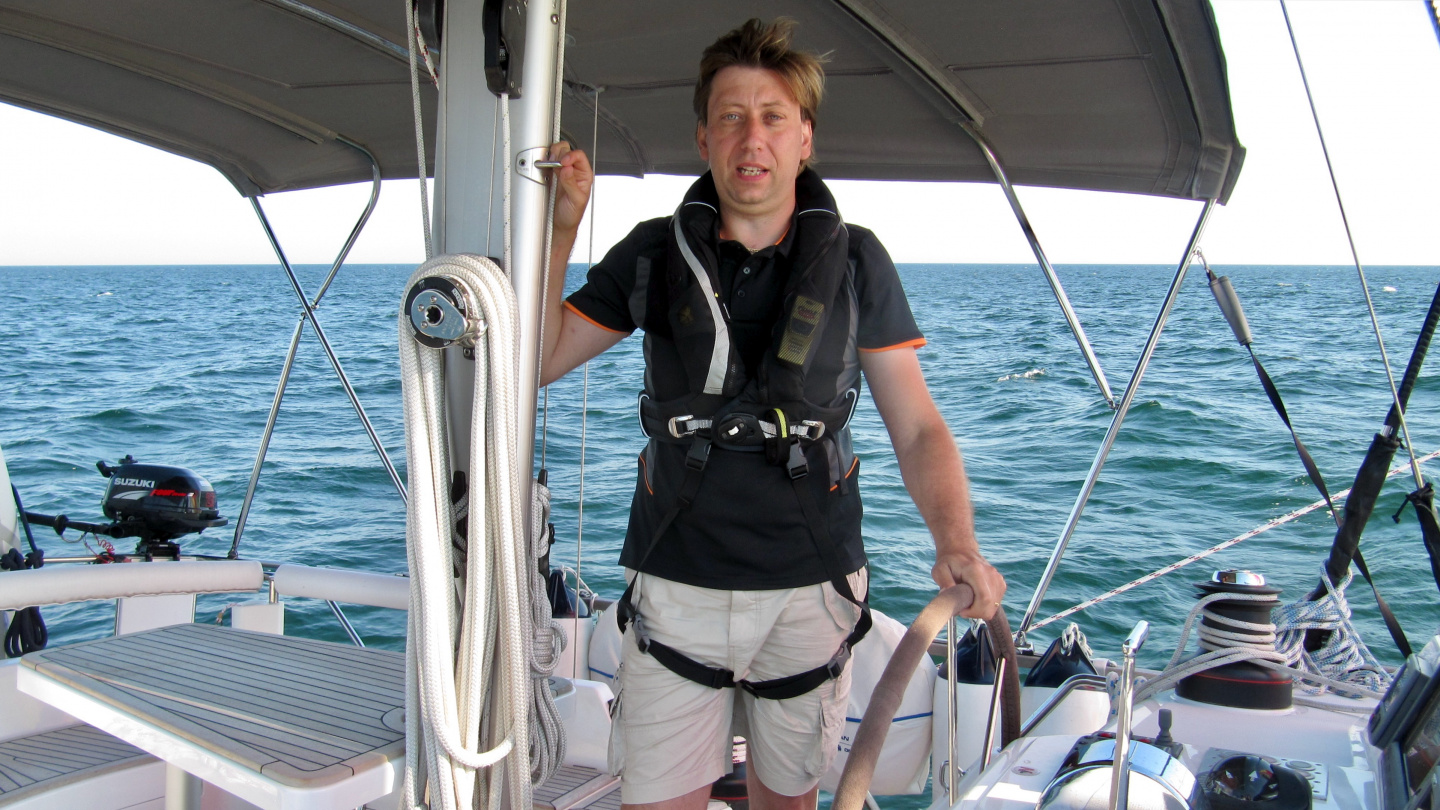 In the middle of leisurely sailing of seven knots a VHF suddenly became live around 6pm and Lyngby radio warned about near gale force winds on the Southern Baltic Sea. During the summer we have noticed that Danish weather reports are really accurate and their warnings are spot on with timing. Swedish forecasts on other hand are usually more careful and the wind forecast is too low. In the Baltic Sea the Swedish wind forecast is relayed to Navtex and we always consider it to be too low. Therefore as the Danish promised strong winds we believed that the wind will rise in a few hours.
And so it happened. At about 9 in the evening the wind started to pick up. When the wind was 10 m/s we lowered the gennaker to prevent it tearing apart and raised the genoa instead.
Passing the Fehrman bridge was jet another milestone in our sailing voyages. Last time we passed over the bridge in 2010 when the Eyjafjallajökull volcano erupted in Island and we got stuck in Düsseldorf. As it was finally clear that we could not fly home we took a train and travelled for three days to reach our home in Oulu. While the train was passing over the bridge of Fehmarn we did not think about sailing with Suwena on the Southern Baltic Sea. So much can happen in few years and dreams to sail even further only grow with the time we are spending aboard.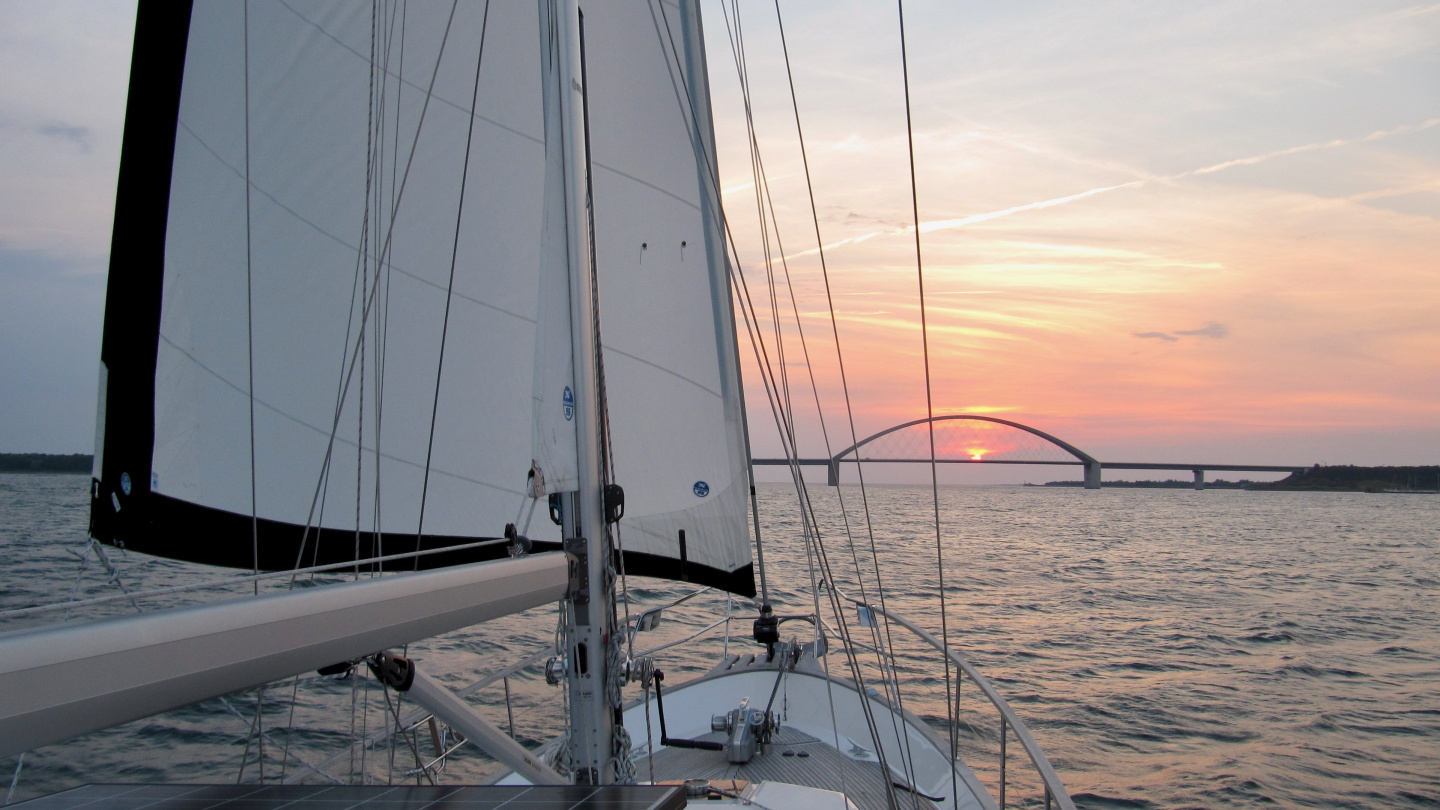 The water level markings in the bridge of Fehmarn were made very cleverly. The markings are painted into the bridge piles at one metre intervals and we could accurately read the free height under the bridge with current water level.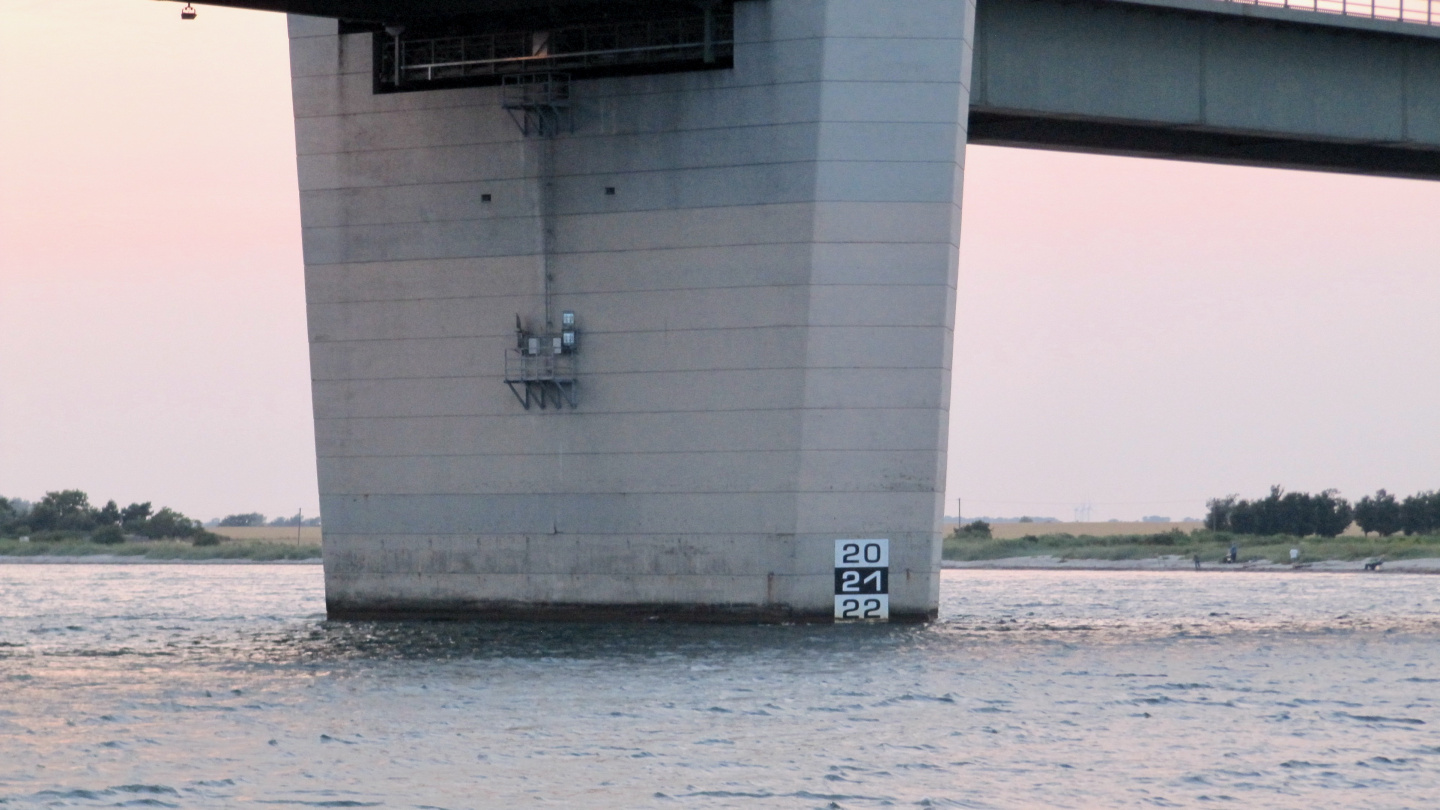 The wind kept raising and it blew 13 m/s when we made her fast in pitch black Heiligenhafen marina. There was also a thunderstorm and we were soaking wet when it was time to turn off Suwena's navigation lights.
On Saturday morning we noticed that we had moored Suwena into a red berth. While paying a harbour fee we asked from harbour master where could we move her? He just nodded that we could choose any berth marked with the green. Just opposite of our current place was an empty berth with green sign and we quickly moved her into new position and prepared ourselves to spend a Saturday in Heiligenhafen.
To our annoyance this is not the end of the story. One hour later a local guy came rattling to our boat, turned green sign red in front of us and told "This is my place, move your boat!" We were quite surprised. He could have done this much more politely. We understand that there are a lot of boats in Heiligenhafen who's owners live far away and they need access to their own berth before returning home. At the same time there are still berths available for visitors. Here is clearly a place for improvement for both boaters and harbour master. Why don't they make a system like in other harbours where the boat leaving or returning notifies harbour master and he will arrange berths red/green signs accordingly. This way there would not be embarrassing situations. We moved Suwena to a third berth during the same day and hoped indeed that the owner will not return before our departure on Sunday morning.
Heiligenhafen is one of the biggest marinas we have been. There are four pontoons reserved only for charter yachts. We can easily see when the boat is chartered from the behaviour of the crew. Usually during arrival and departure the deck of charter yacht is a busy place. As they have rented the boat for a week, everybody wants to pull from at least one rope during every manoeuvre and get to the feeling of sailing before rental time is over.
On Saturday we spent a lovely evening with a crew of Weeki Wachee. We met Norbert and Hildegard during our sailing on the Göta canal. Norbert knew a cozy family restaurant and the evening passed quickly by chatting and joking while enjoying the fish from the Baltic Sea. One of the best sides of the cruising is to meet new people and find same minded friends.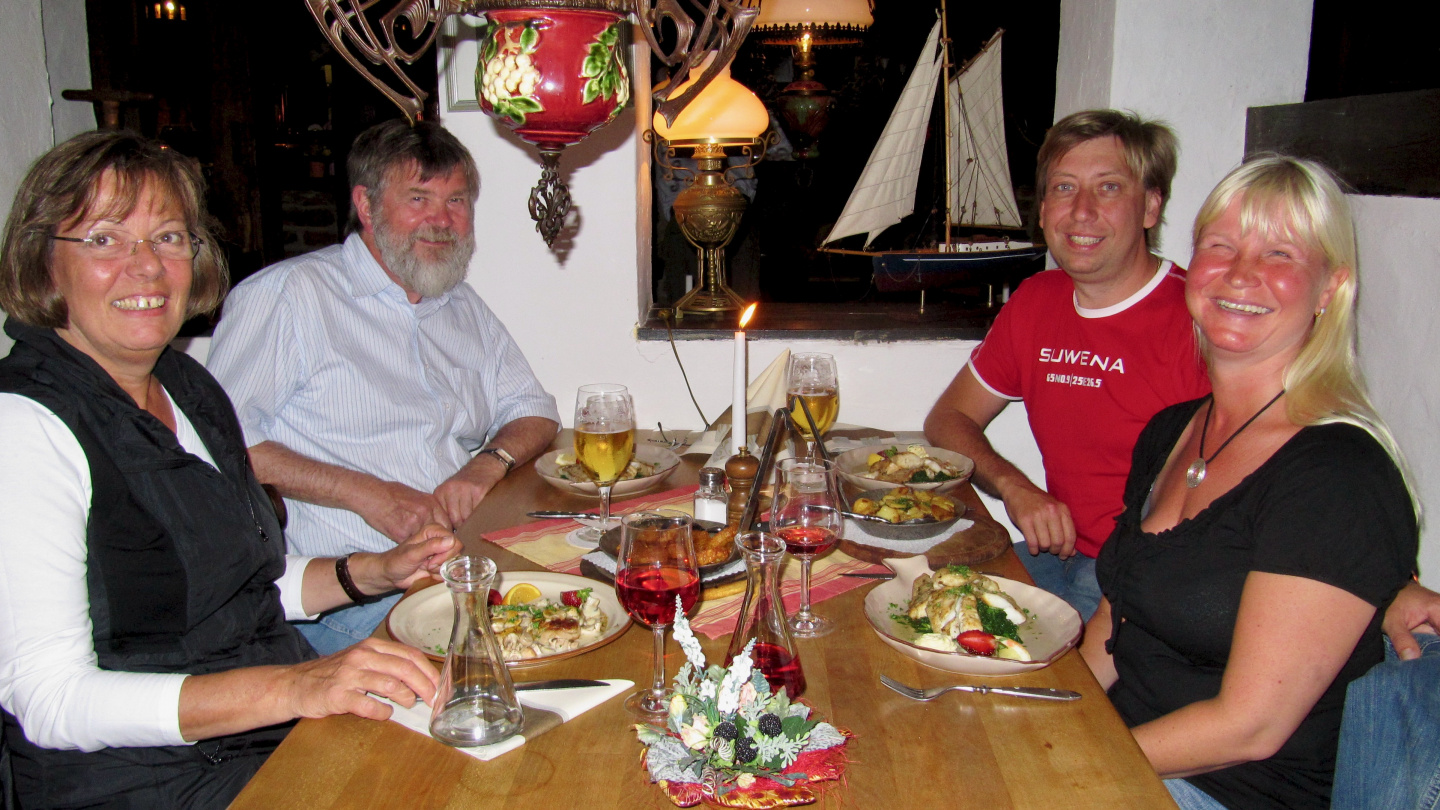 On Sunday it was time to prepare for a next leg towards the marina in Kappeln. Norbert had suggested for a morning a visit to a bakery in the vicinity of marina. When we got a delicious aroma of a fresh croissants to our noses from a next boat there was no choice. Andrus ran into the bakery and brought us delicious cream puffs with fresh cherries and whipped cream in addition to croissants. They were absolutely fantastic. A good bakery close to marina is a friend to many sailors.
The 10 weeks aboard Suwena was almost over and we become wistful. For Suwena there is a berth and winter storage reserved in Kappeln. Now it was time to sail to Kappeln and start planning autumn sailings before the winter.
Heiligenhafen 27.7. – 29.7.