Last winter, when we were planning our summer cruise, Muros got our attention immediately. We were intrigued if David Eddings had named The Belgariad's port city of Muros in Sendaria according to Muros of Galicia. The Belgariad is in our opinion by far one of the best fantasy series ever written and we can warmly recommend it.
Next morning, we took our time relaxing on the Bay of San Francisco before weighing the anchor and starting a wild and long sea adventure of two nautical miles 🙂 San Francisco is the neighbor village of Muros and it was only a short hop to the harbor entrance.
When we were approaching the pontoon of the marina we got a welcome from Chris of S/Y Iseult. We had met him in previous harbor and soon we wre exchanging news. They planned to stay in Muros for the whole week before departing to 800 mile journey to the Azores. Weather forecast was showing a lot of rain and the Portuguese trade winds had not yet started for this summer.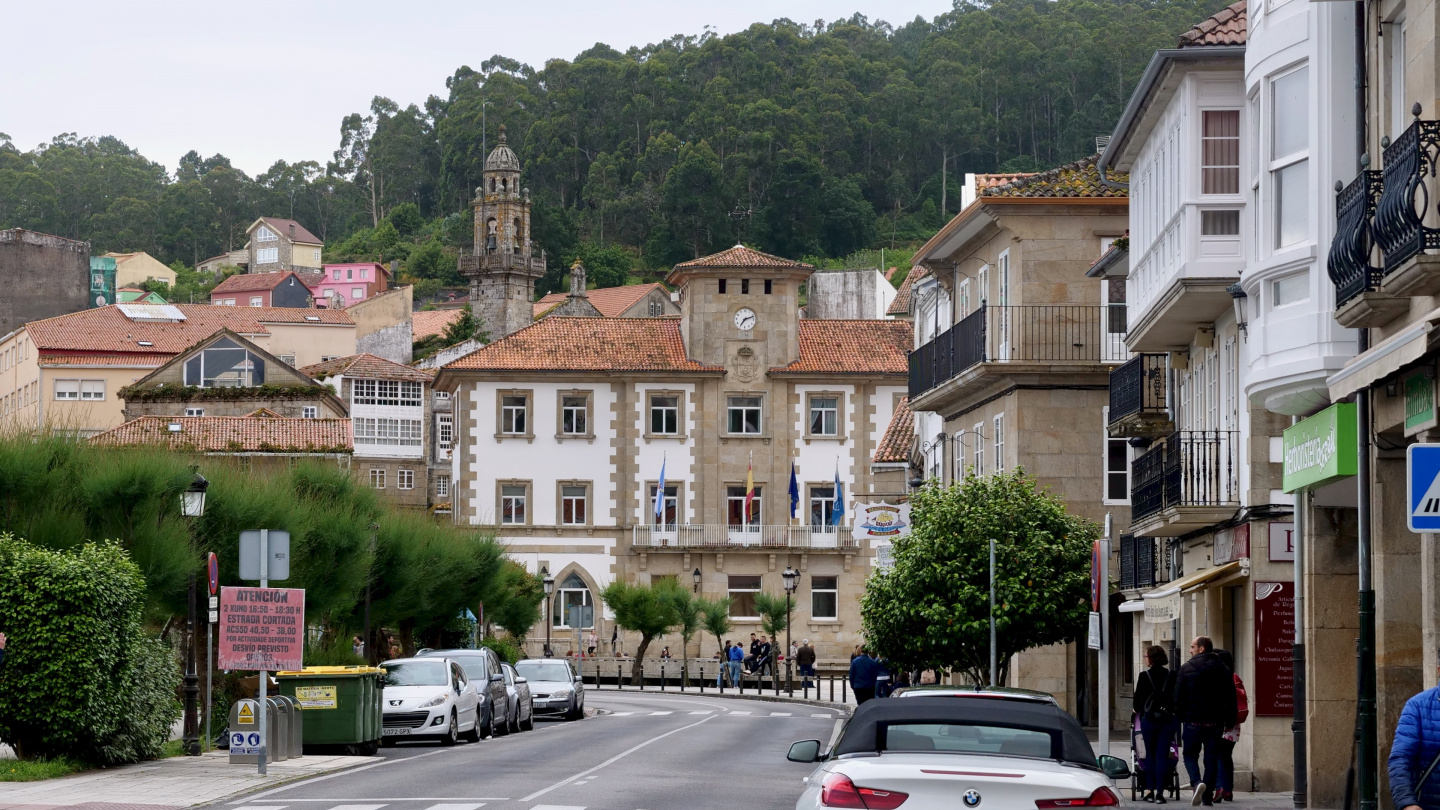 We really got stuck in Muros for 10 days. It was constant rain and temperature dropped to 15 degrees in Galicia. At the same time the rest of Europe was sunbathing in heat wave with temperatures up to 30 degrees reaching northern Finland and Scotland. Indeed, there was not a weather for sightseeing and we changed our schedule and handled a few projects related to our work. Most of the time we were just onboard, working and looking at grim weather with heater purring hot air throughout the cabin. It did not feel like a sunny Spain on postcards at all 🙂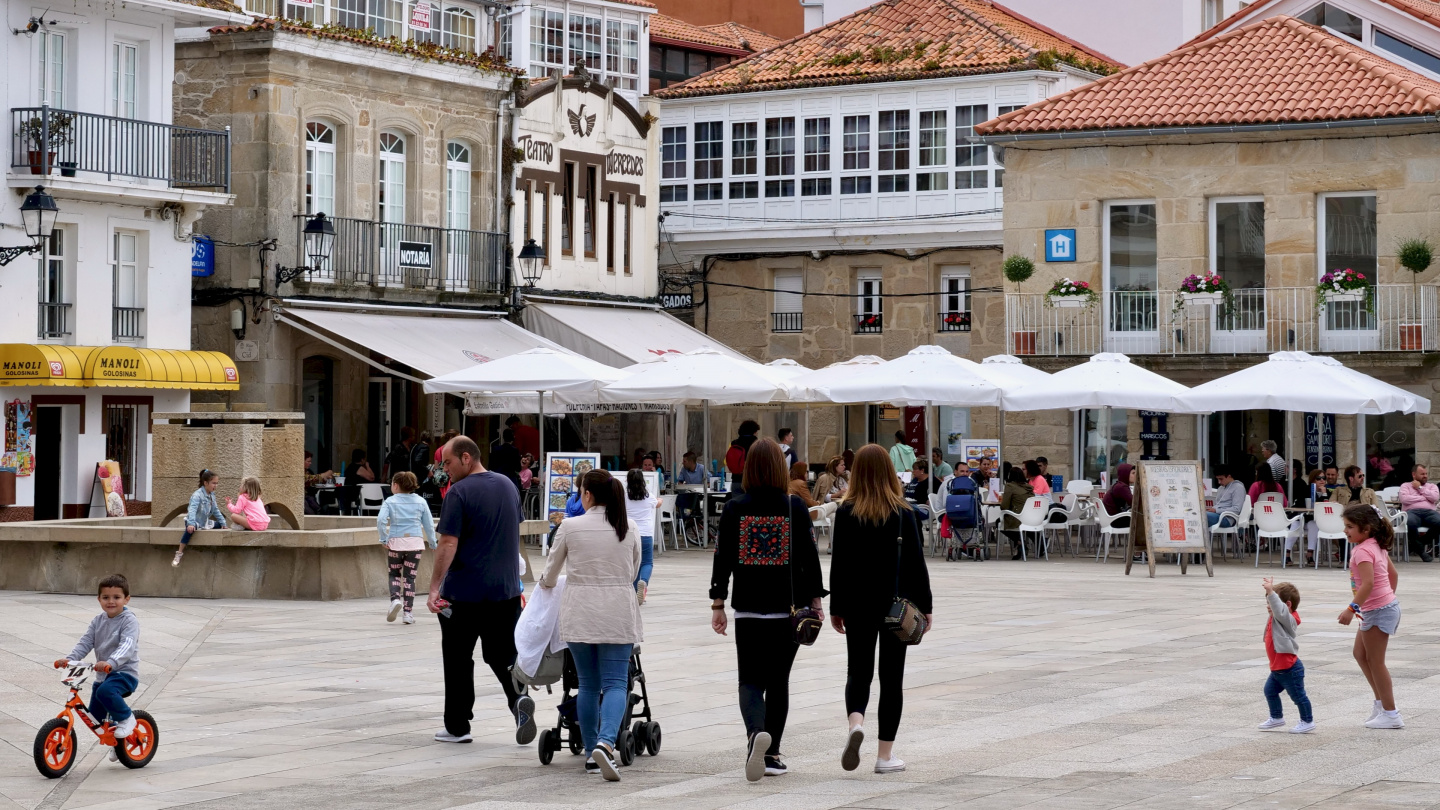 Muros is a charming little town with alleys and streets zigzagging between the houses of the old town. There were also quite a few happenings. On Saturday there was a triathlon with a huge crowd of spectators. While the triathletes did their thing, others were preparing for next day's the Corpus Christi festival by detaching flower petals.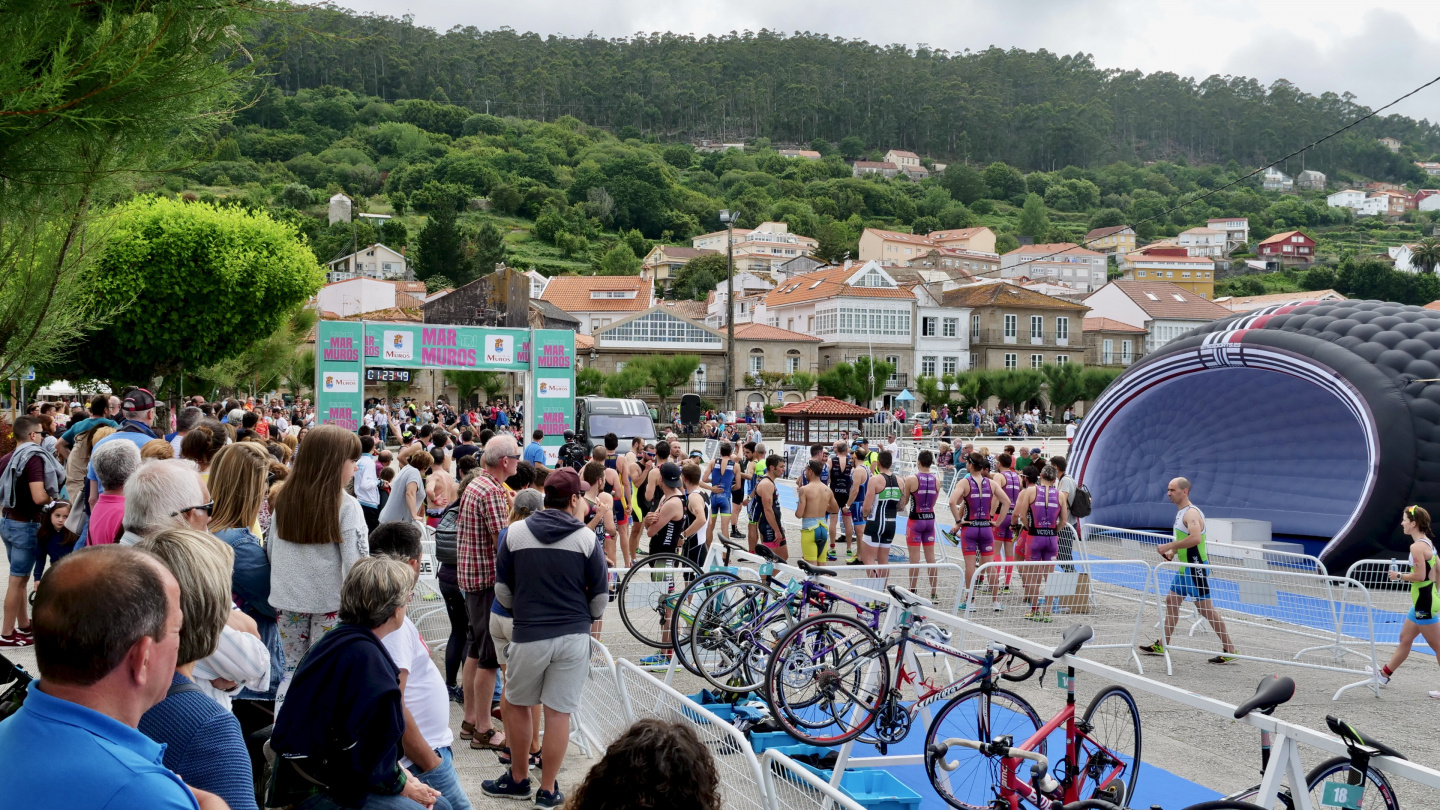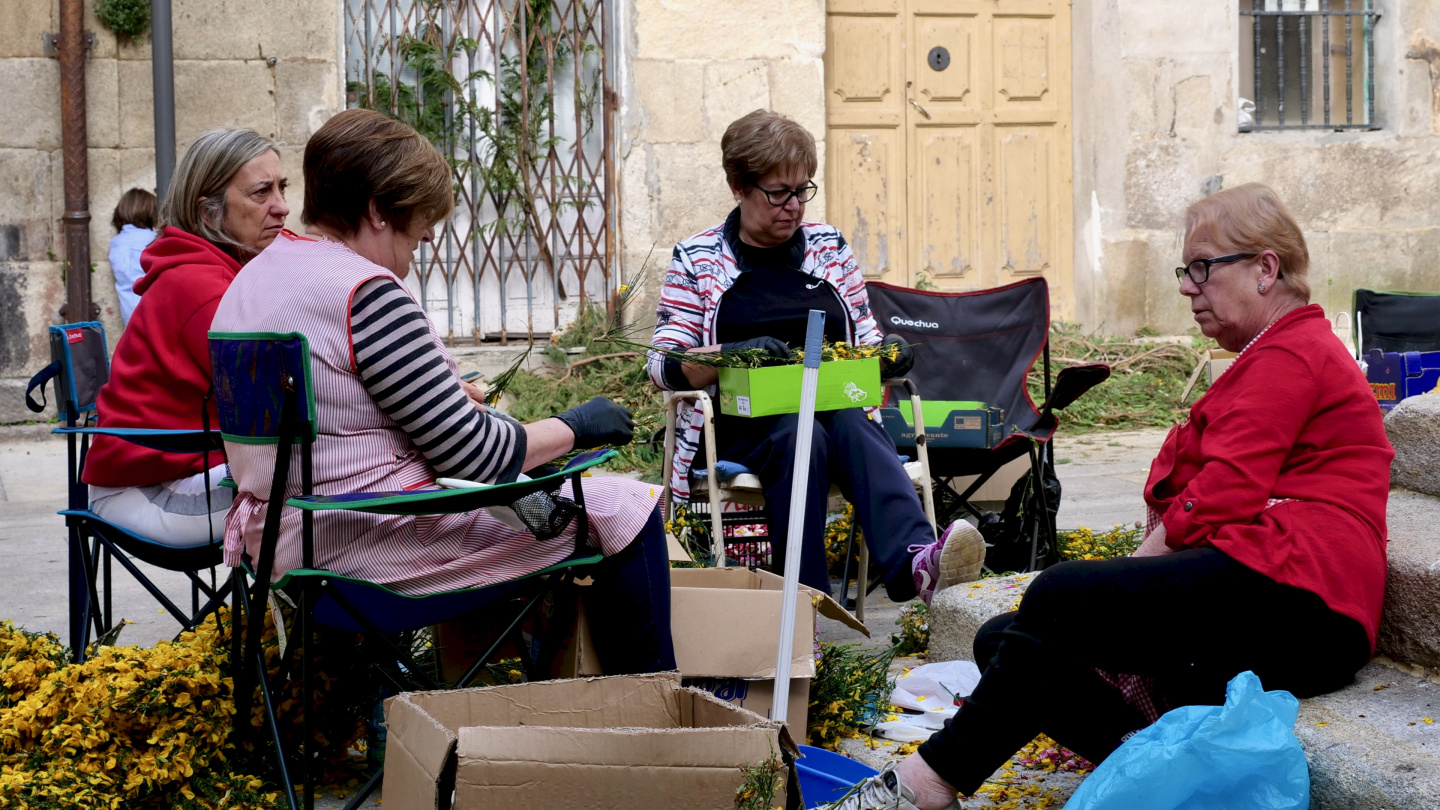 On Sunday morning we woke up to the gun shots outside. As we went to explore to the town square, we saw hundreds of flower carpets made from petals and herbs. All designs were made from natural materials and were really beautiful. In the evening the procession of holy body was passing around celebrating the Corpus Christi. This festival is mostly celebrated in the Roman Catholics countries since the 13th century.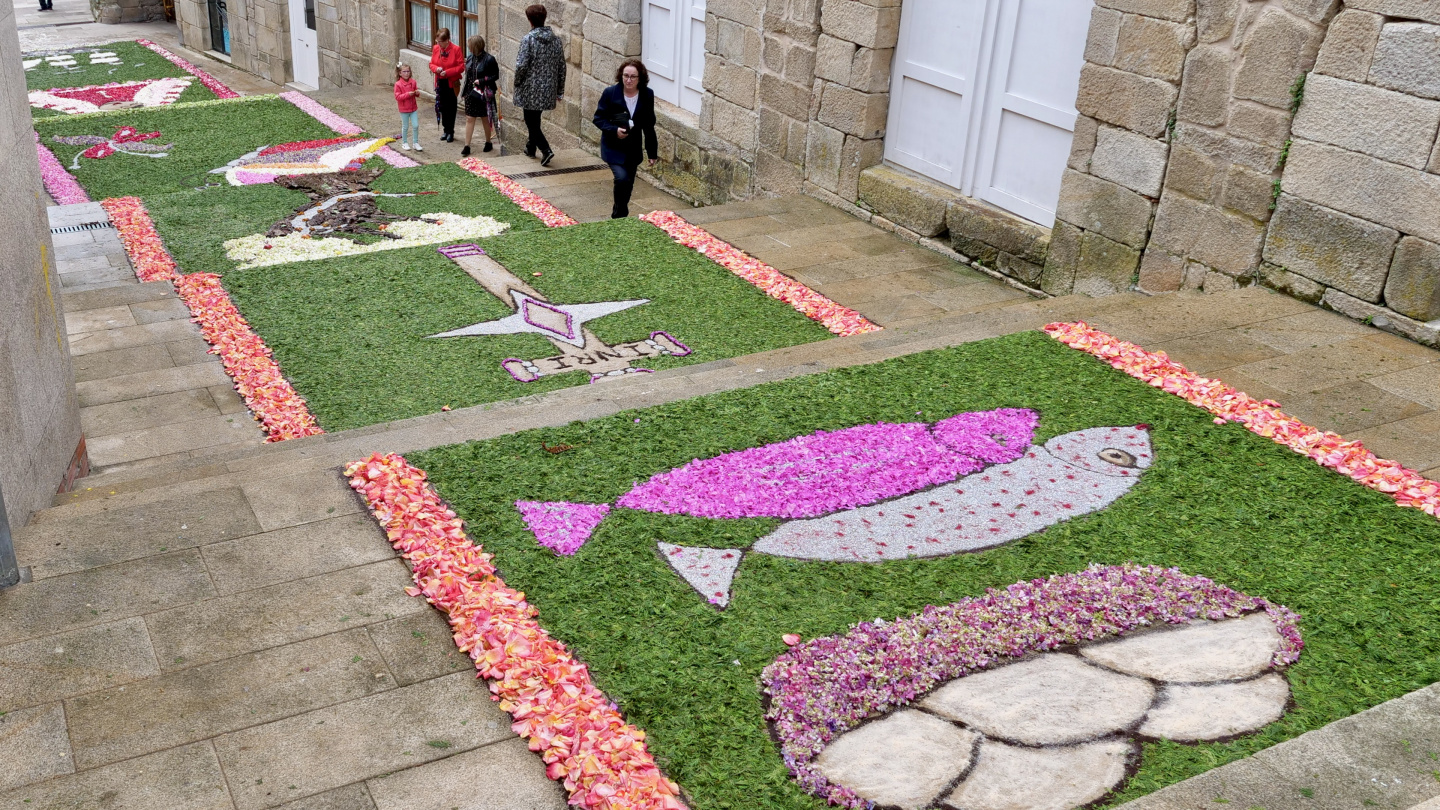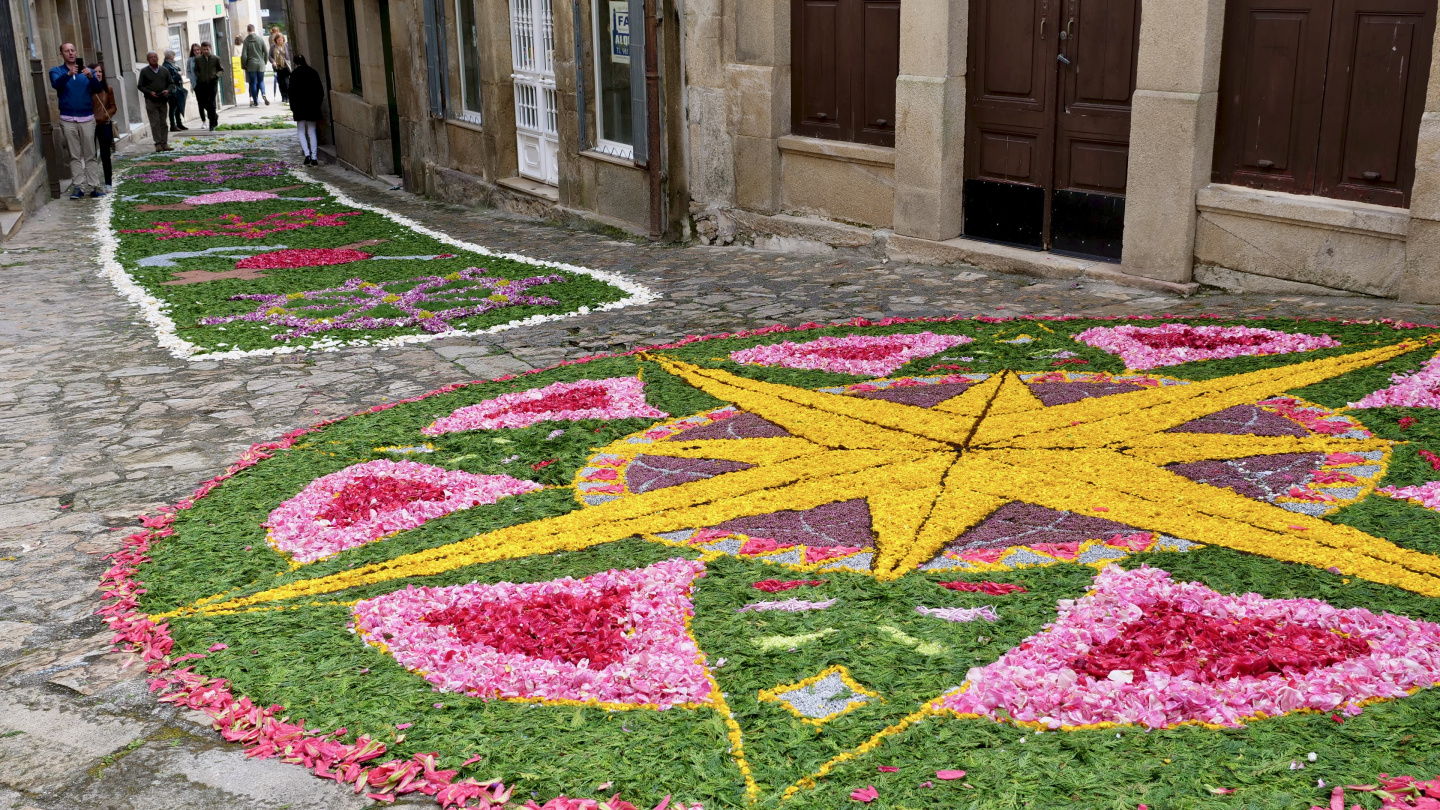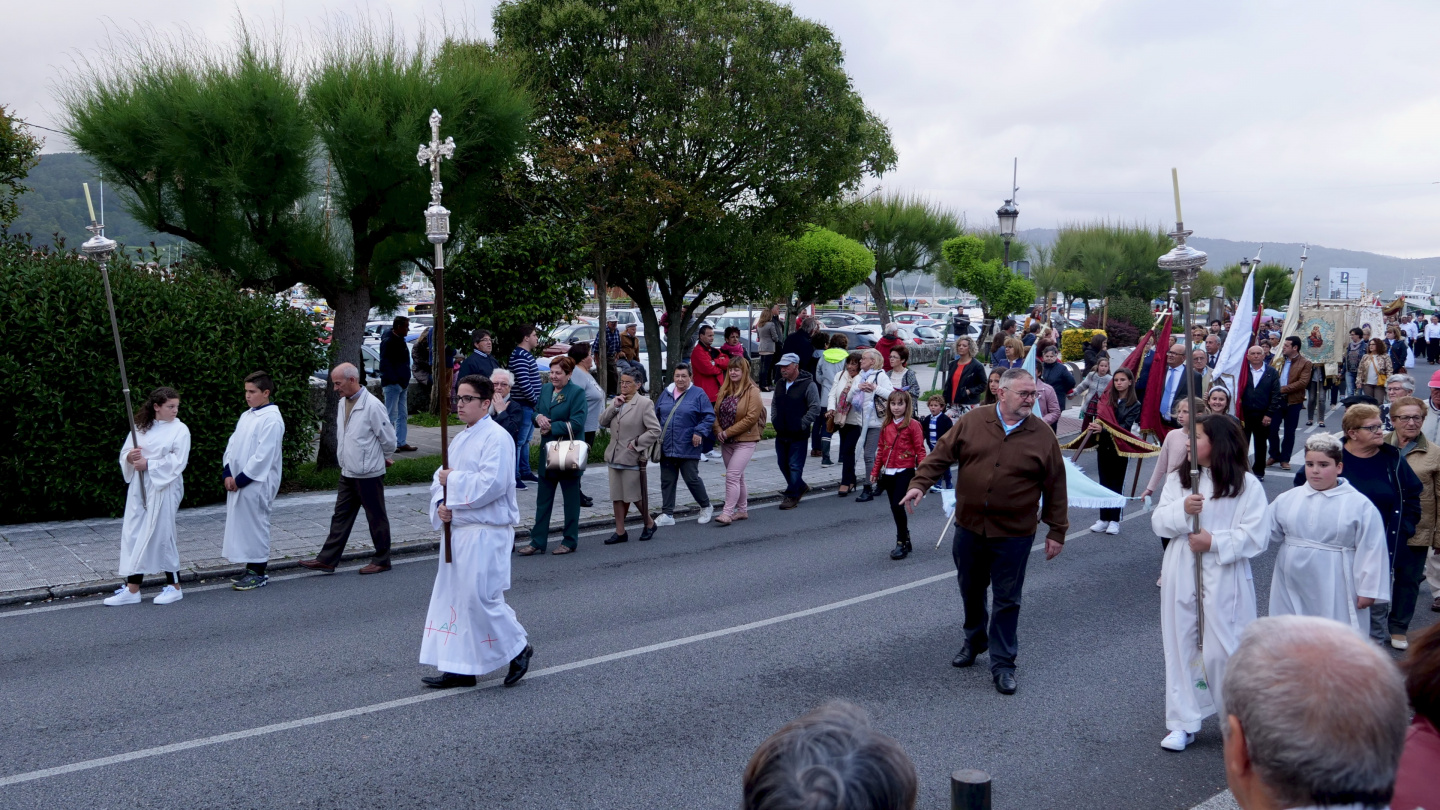 Next Friday there was an open-air summer market at the waterfront. Stall after stall of many things were available from bedding and clothes to standard market stuff like candies and handwork. Market was buzzing with activity when people were browsing the items, happily chatting and talking with their hands like typical Spanish way.
We continued walking north from Muros to next village where we found very good Eroski Center supermarket. Our plan was to spend some time anchoring out for a next few days and it was time provisioning Suwena's ship stores. There are a few small Gadis supermarkets in Muros but we have noticed that Eroski shops tend to have better selection, especially vegetable range is bigger. To make a long story short it was a worthwhile walk of 20 minutes to the bigger shop.
Of course, we also sampled the wide selection of restaurants of Muros. It is unbelievable that there are so many restaurants in every Galician village and town and so it was here in Muros as well. Especailly restaurant Darsena became our stamping ground. Firstly, the name was similar to Drasnia from the books of David Eddings, again. He must have been visiting Muros of Galicia! After trying something else we always returned to Darsena. Service was excellent and food even better.
In Darsena we also got the best ever razor clams or navajas as locals call them. They are funny looking rectangular shape mussels and the shell looks like opened pen with hinges.
In Darsena the razors were the appetizer of 16 € dinner menu. In addition to huge main plate it included beer or wine and dessert or coffee. We returned many times to sample this delicious menu!