Suwena reached the southernmost point of this year's voyage by arriving into Nida on Sunday evening. Nida was one of the highlights on this summer and we are really satisfied with our visit there. Without Suwena we would not made a visit in this place. Once again the boating has given to us many new experiences.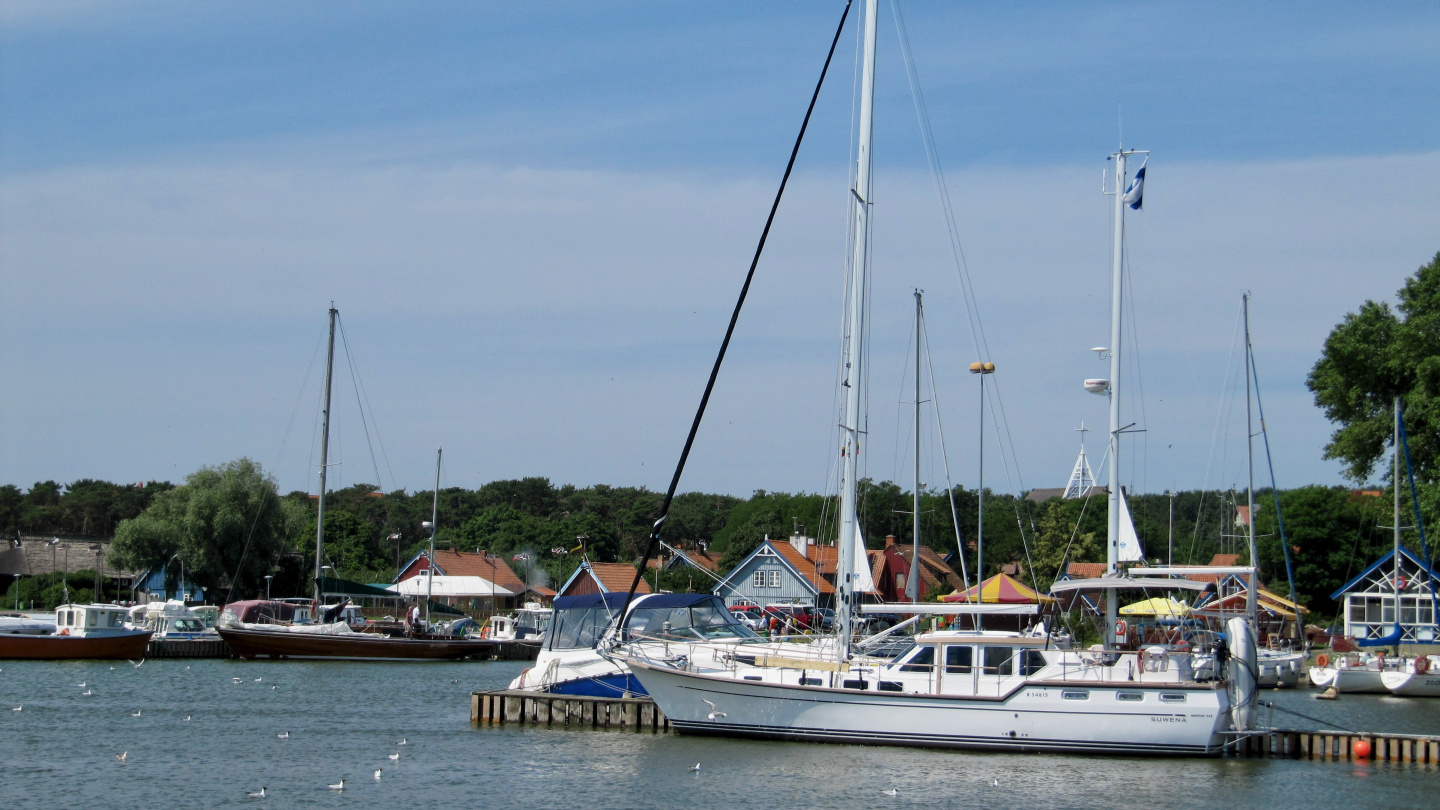 Curonian Lagoon is separated from Baltic Sea by a 100 kilometres long and 1-2 kilometres wide sandspit called Neringa. From Neringa about half is located on Lithuanian territory and the rest belongs to Russia's Kaliningrad. The lagoon is narrower in the north so only about third of the water area is Lithaunian.
25 nautical miles long and extremely narrow fairway leads from Klaipeda to Nida. On one third of the leg the depth is less than 3 meters and the lowest part was 2.2 meters only. When Andrus made a route from Kalipeda to Nida into our chartplotter he was surprised to find out that the plotter's chart, Navionics Gold from year 2010, did not match to a paper chart. 90% of the lateral buoys were missing completely. The few red and green buoys marked on chart were drawn the wrong way. Also the depth soundings were incorrect. Fortunately Andrus is prepared and we have always paper charts for all our sailing areas.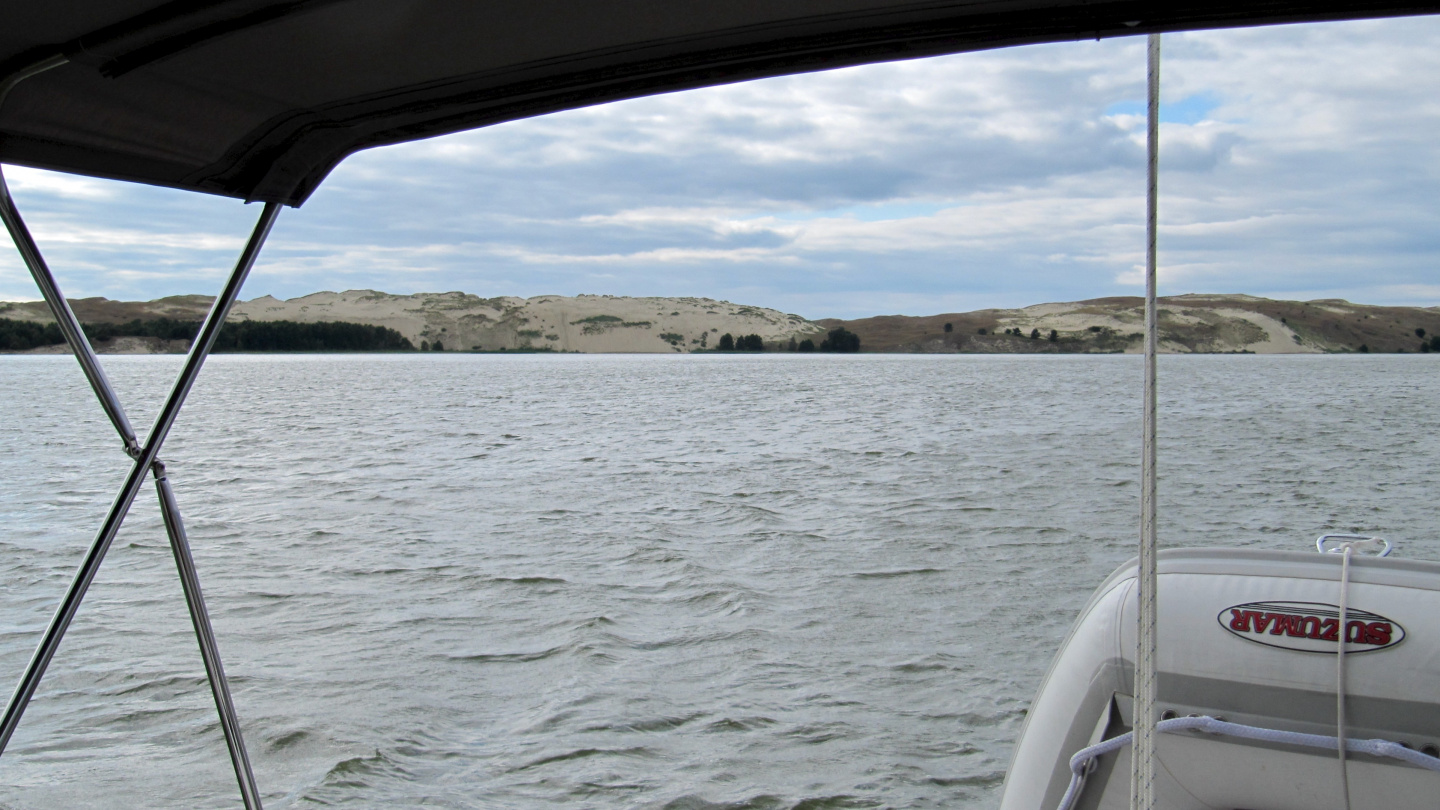 Navigation was an exact science because especially in northern part the fairway is very narrow and there are a lot of fishing nets as well. We were warned beforehand about the fishing nets by Lithuanian boaters. Of course going to Nida was more challenging compared to return because it was an unknown water area to us. In addition Andrus stored our track to the chartplotter. For return trip we had a foggy day but the stored track made navigation easy.
On the way to Nida half of the time we had no wind so I climbed to enjoy the Sun on top of the salon roof. The warmth was nice. At half way the clouds came and soon the wind raised. As I added some clothes so did Suwena as the shallow fairway widened and we could raise the sails.
In Nida most yachts are moored to buoys. The buoys however were too close to the shore for Suwena. So we moored Suwena sideways into the dock where some places have been rented to local yachts. The harbourmaster friendly welcomed us to Nida and told that we were the first Finnish boat this summer.
The weather forecasts continued speculation or like the harbourmaster thought: "This year we have had many forecasts. The real weather can be seen tomorrow morning by looking out from the window." And so it was again. When the forecast promised sunshine it rained and the rainy forecast brought the sunshine out. So on Sunday evening the not forecasted wind grew in strength and blew all night 12 m/s. The week in Nida was in turns a sunshine, an overcast, a rain and wind but we enjoyed our time in Nida.
Climbing on tall sand dunes was an immense experience. The sand flowed smoothly between the toes. The water bottle in our rucksack started to feel more appealing with every step during the up climbing of tens of meters. The climbing was not allowed on most steep dune walls because the climber easily drops several tons of sand and dunes are protected. The dunes move by wind action 5 to 10 meters every year and the people's intervention is not needed to disturb the natures own flow. On the dune south of Nida was also built an enormous sun clock that in addition of time shows also other astronomical data.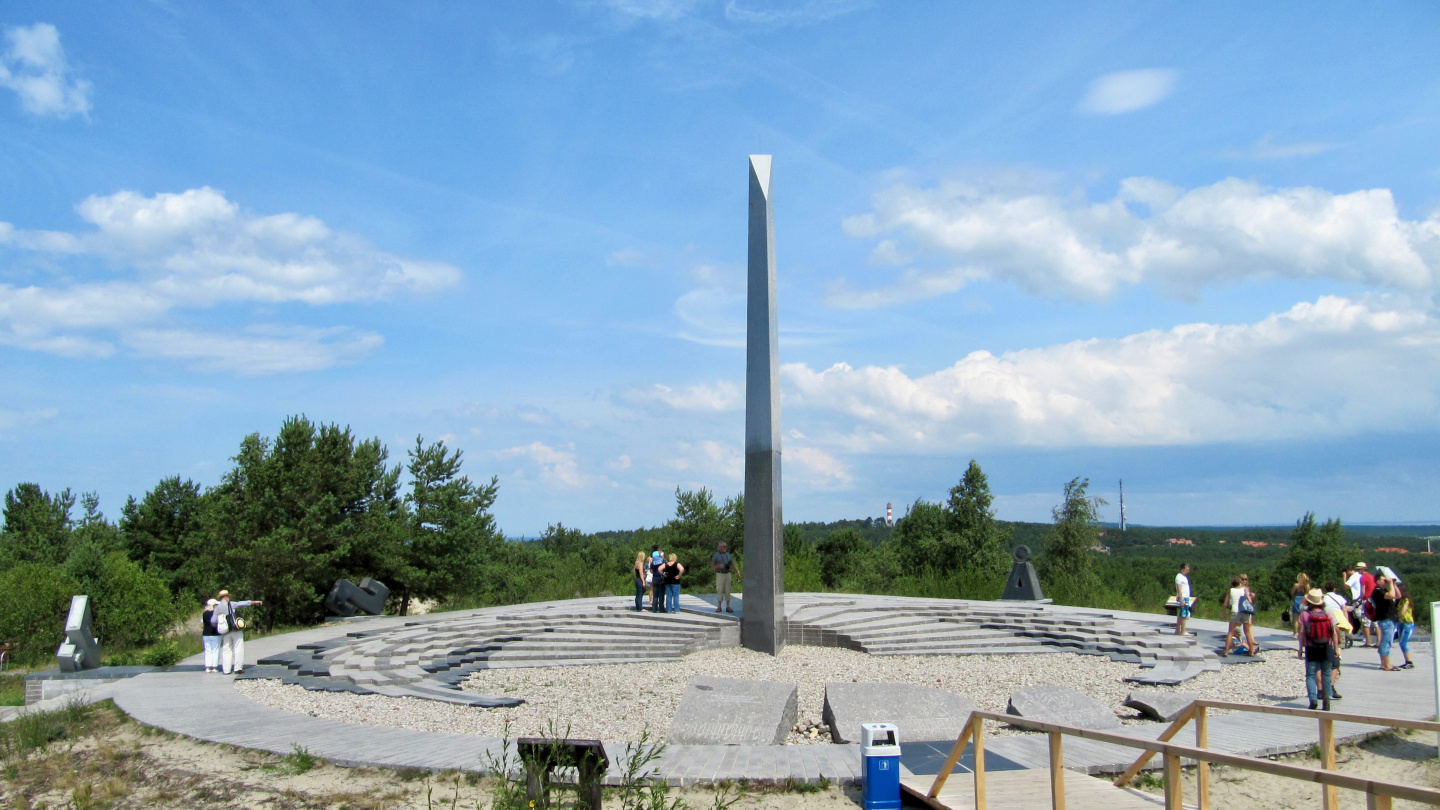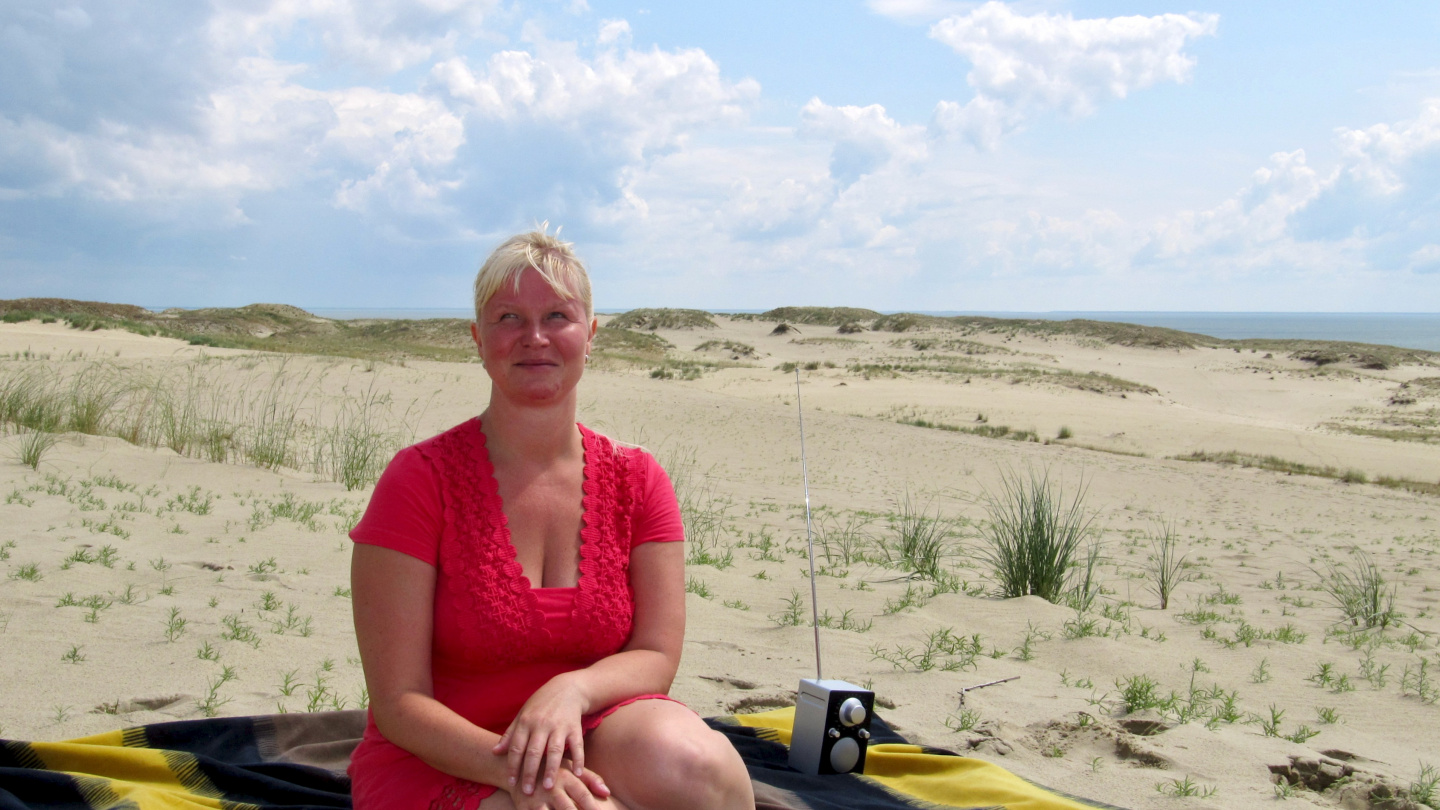 The water in Curonian Lagoon was 22 degrees warm but it did not invite swimming because of the green algae. On the west coast of Neringa are enormous sand beaches and a clean but somewhat colder water of the Baltic Sea. We packed our beach gear and walked two kilometres over the spit from Nida to the Baltic coast. The beach was continuing out of sight on both directions. We spread out our blanket and joined other Sun worshippers. The waves rolled to the beach and it was so relaxing just to lie down and listen to the music of the sea. It felt that we are much more southern latitudes than the Baltic coast when the waves give speed to our swimming. The people jumped and evaded the waves happily. The beach was full of people. Most of the crowd was with full families. Even the smallest children who barely walked were happy to play and roll themselves in sand.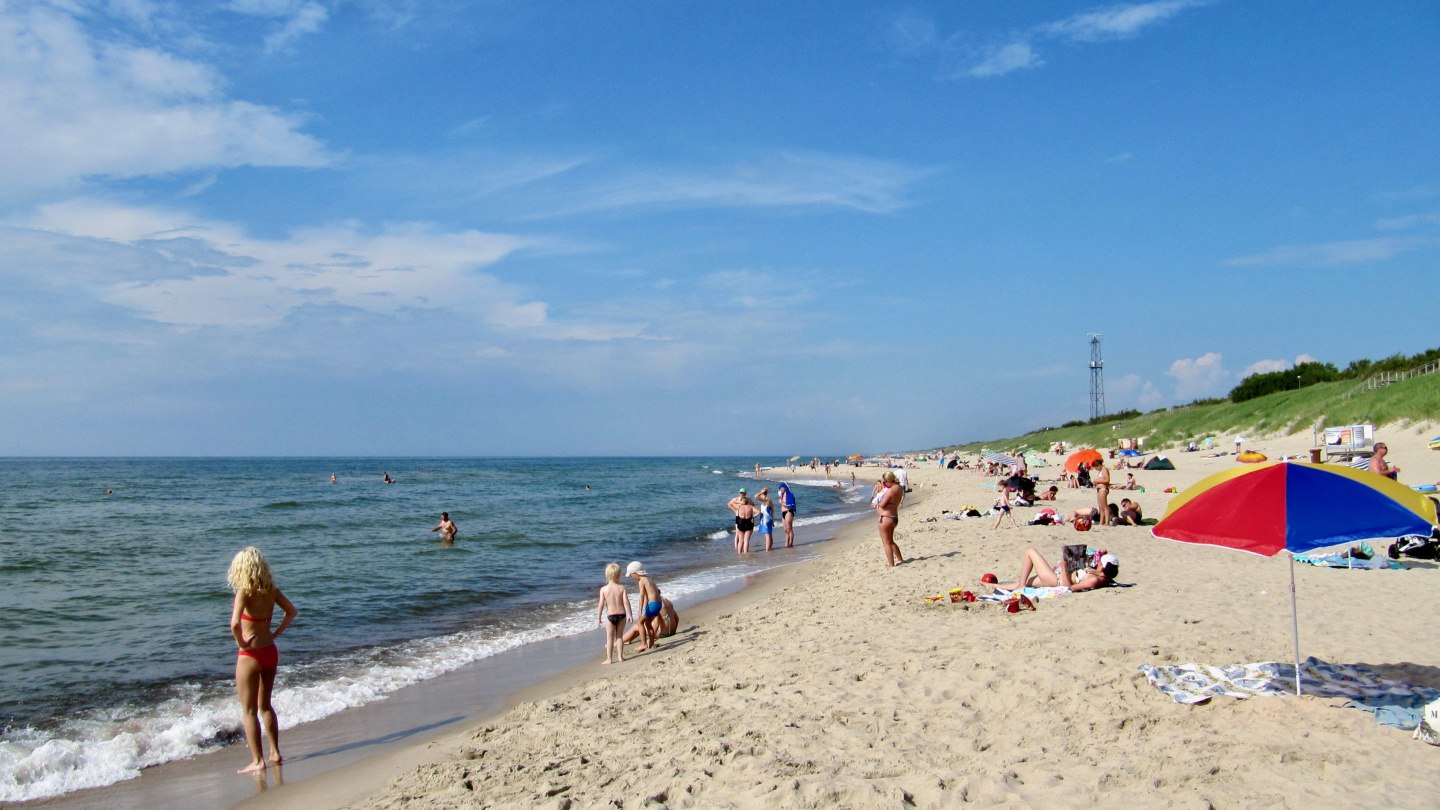 Nida has a few thousand inhabitants and during the summer fifty thousand tourists visit there. Everywhere are rooms to rent as are bicycles, pedal cars, canoes and funny Segways as well. Restaurants and bars were full of people. We liked one lovely restaurant where friendly waitresses in Nida's national dresses served customers. Quiet purl from the waterfall and soft instrumental music with tons of flower decorations made this restaurant unique among other more touristic places. At the same time we tasted delicious filled blins. There were both salty and sweet fillings available. During our Baltic tour we have found already three different traditional pancakes. In Åland it is made from semolina, in Visby from rice and now in Lithuania from potato.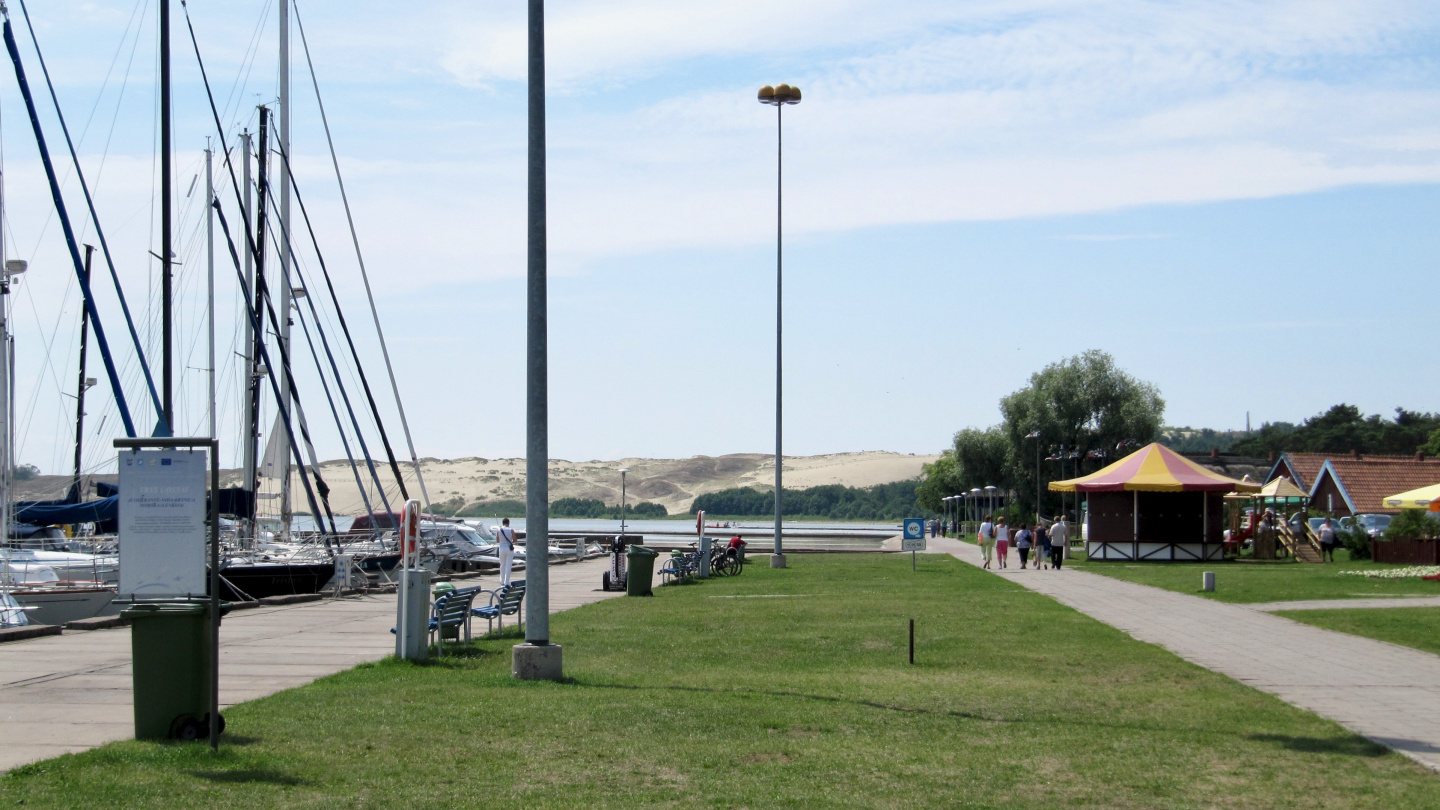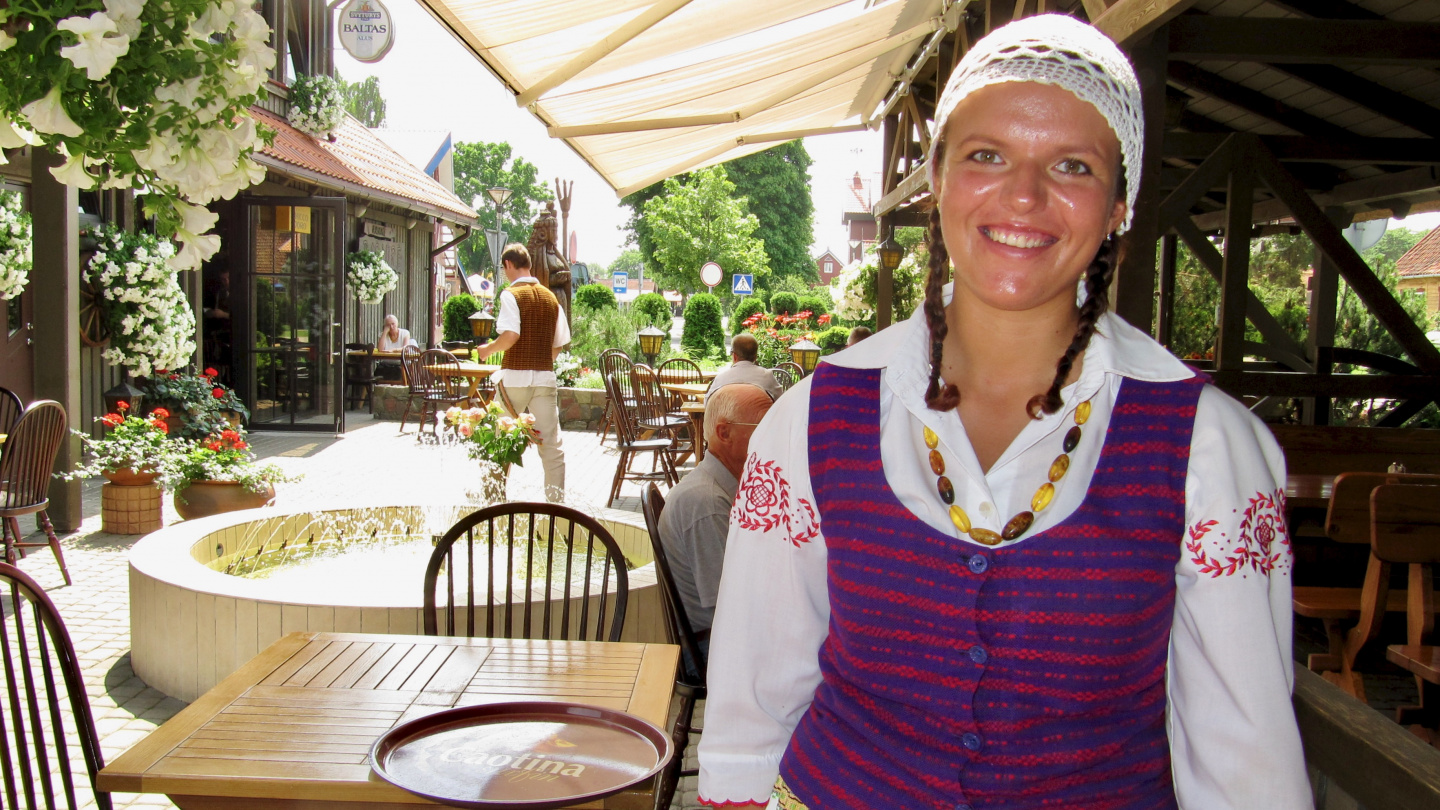 Lithuania is definetely a beer country. Probably a historic connection to Germany has influenced this. Anyway the beer is cheap. In the restaurants a pint costs about 5 litas or 1.45 euros. The relaxed atmosphere can well be described by a set where a few benches and tables are put in front of the kiosk and so it becomes a restaurant. The beer costs then only 2.8 litas or 0,8 euros.
We found again new friends in the harbour. Next to Suwena arrived a German boat Marjellche with a lovely Mrs Elfi and Mr Günther. We learned about their terrific cruising trips. They have left with their Hallberg-Rassy sailing yacht for the circumnavigation at the age of 65. Returning after 7 years they changed the sailboat to 34 feet Minor motorboat and now they have been cruising in Mediterranean, in Europe's canal network and on Baltic Sea. They even have passed the Göta canal four times. Now Mr Günther is 80 years old and he still likes boating. They were absolutely fabulous persons and we hope that Marjellche takes them to many nice places.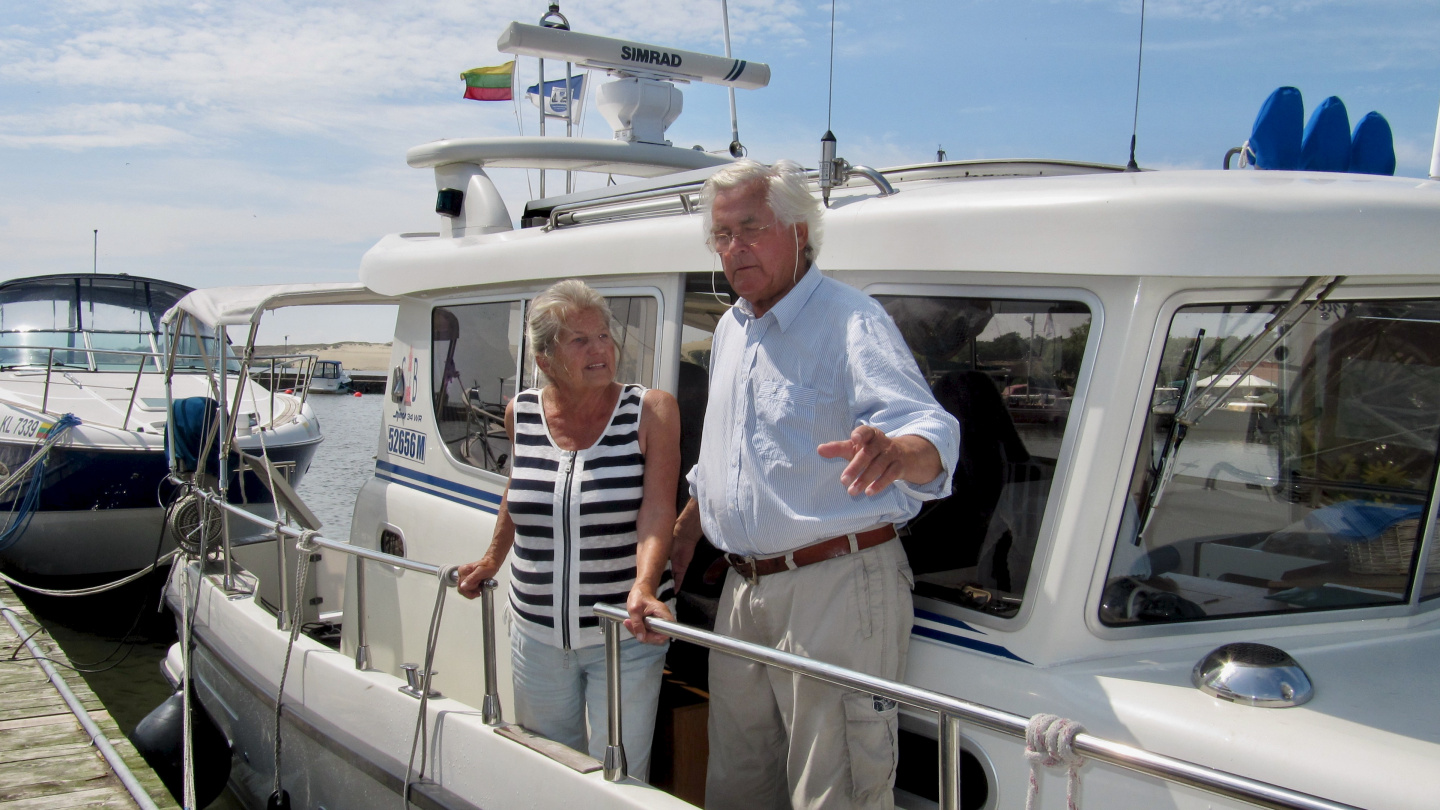 Nida was otherwise nice place but the yachties should notice that there are a lot of seagulls and small birds so the washing of the deck must be done regularly. After all the area of Neringa is known fishing and for fisherman's weathercocks At a time every village had its own weathercock that pointed out the allowed fishing area. Colourful and figurative weathercocks are a unique tradition that can be found only at Neringa.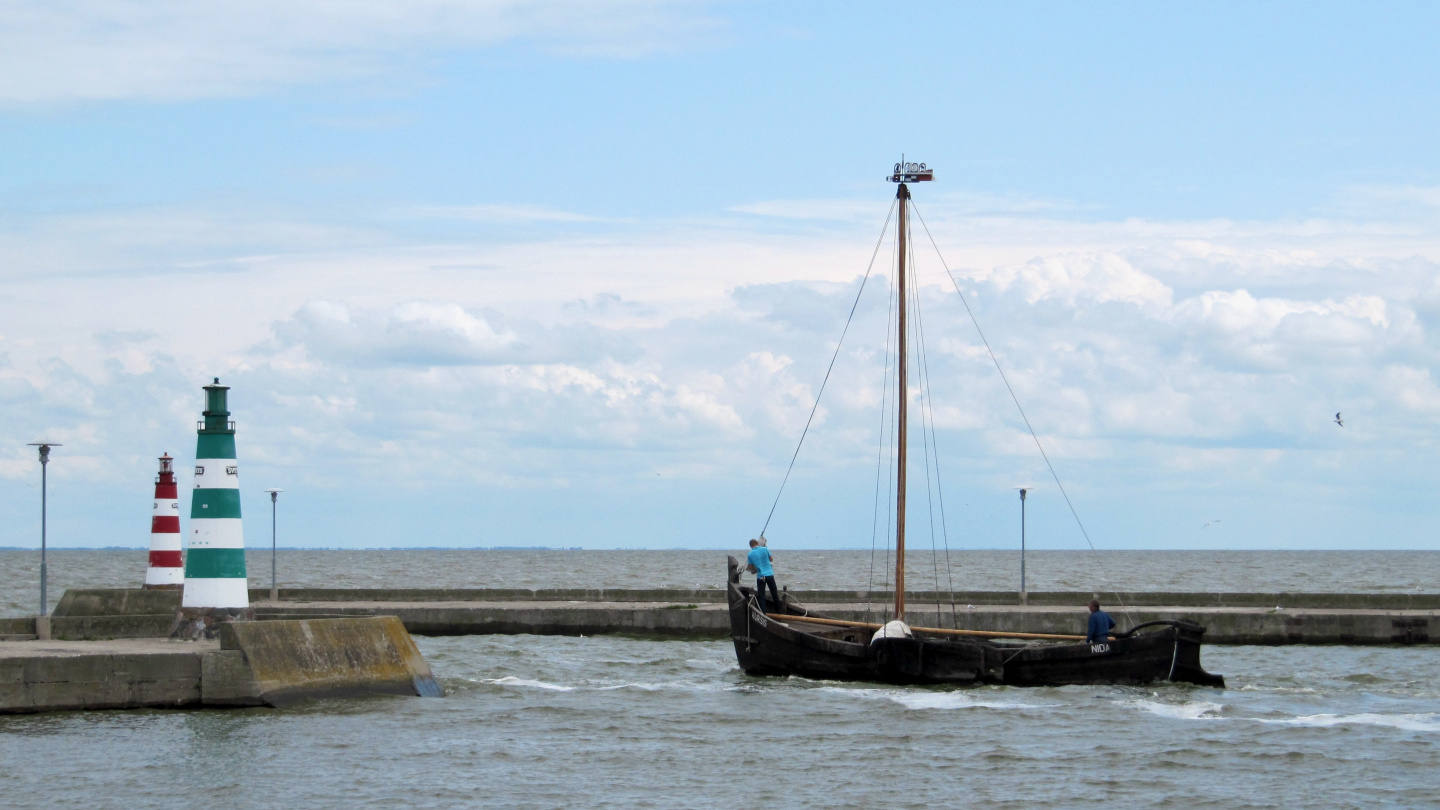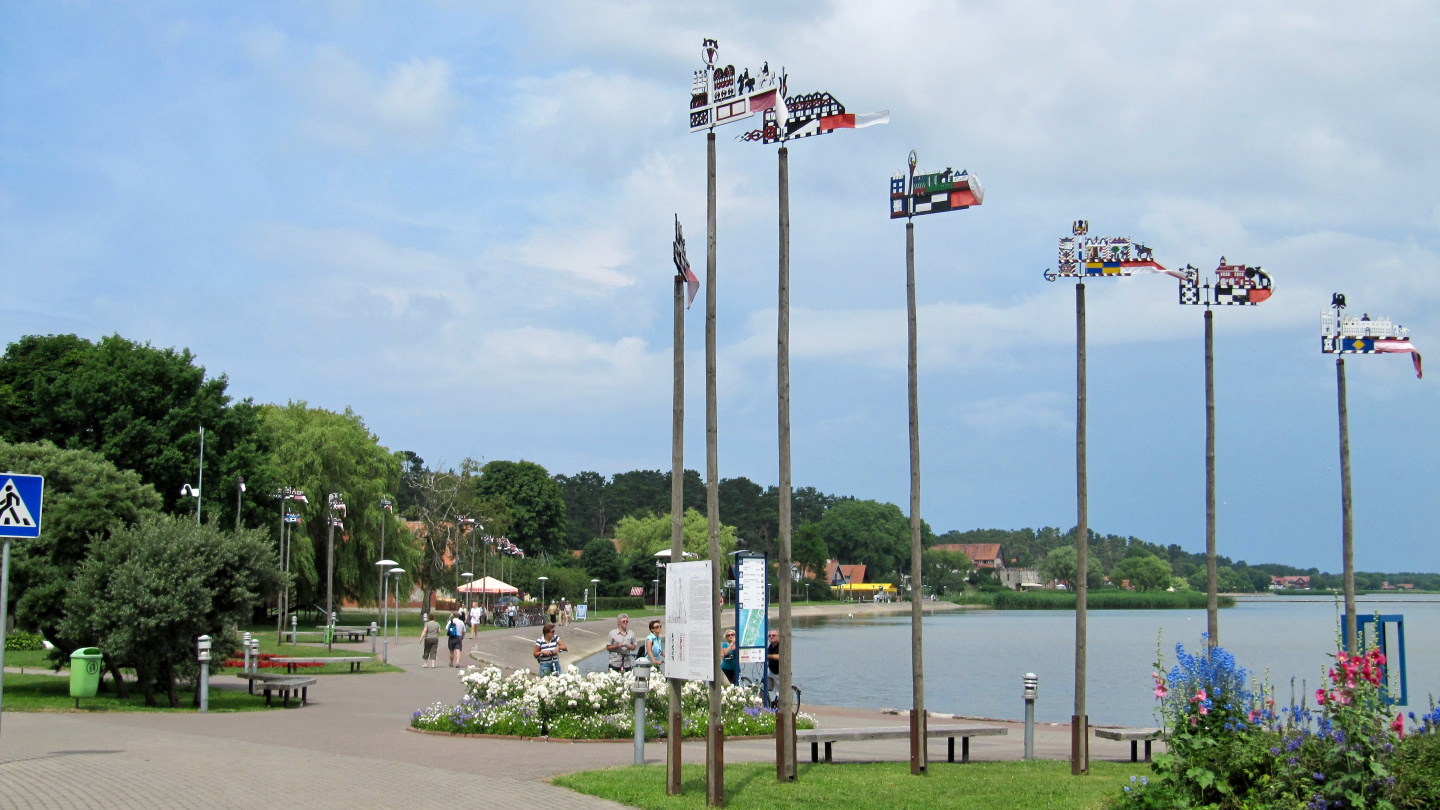 After six nice days in Nida we returned on Friday evening to Klaipeda. From there our target is to go to a new country: Latvia. The first destination in Latvia will be Liepaja.
Neringa and Curonian Lagoon 3.7. – 9.7.