On Monday morning we were again ready for a new lockage day. Ahead were new experiences on a path with 12 locks including a couple of double locks and in addition six bridges. We were already familiar with single locks. From double locks we were still pondering on how to move the lines to the upper lock without coming aboard in between.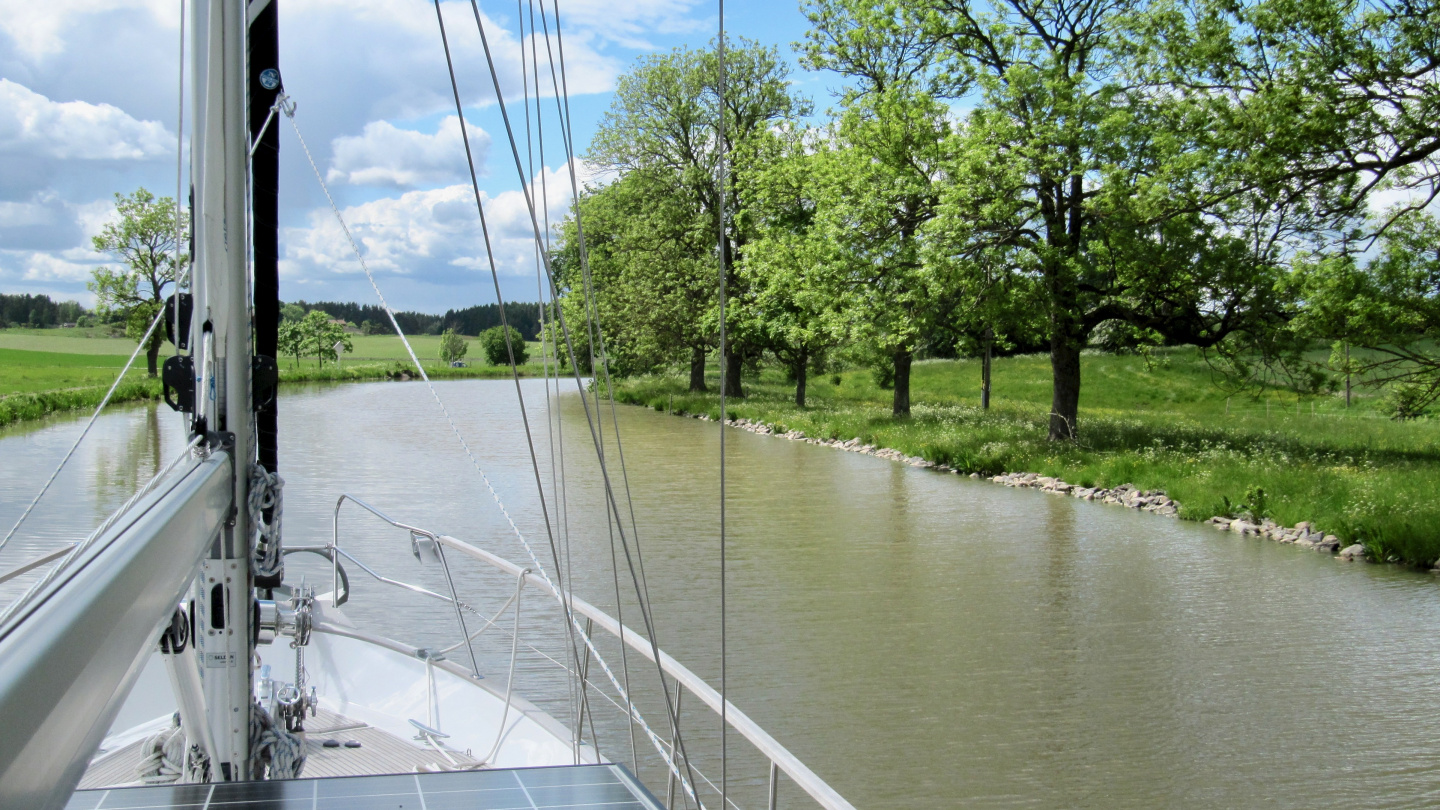 On Sunday evening we talked with the crew of German yacht Weeki Wachee and noticed that we have the same destination on Monday. We agreed to leave together into the first Söderköping's bridge opening at 9am. The voyage passed leisurely and there were just two of us at the same time in all locks. We took a habit that we moored Suwena on the left side of the lock and they put Weeki Wachee into the right side.
We also passed the first bridges on Göta which were a mix of roller, swing and lift bridges not to forget a railway bridge as well. The Göta Canal Skipper's Guide is advicing that drive the boat close to the bridge. The lock keepers have cameras for following approaching boats and opening bridges by remote control. Unbelievable but it works just like that.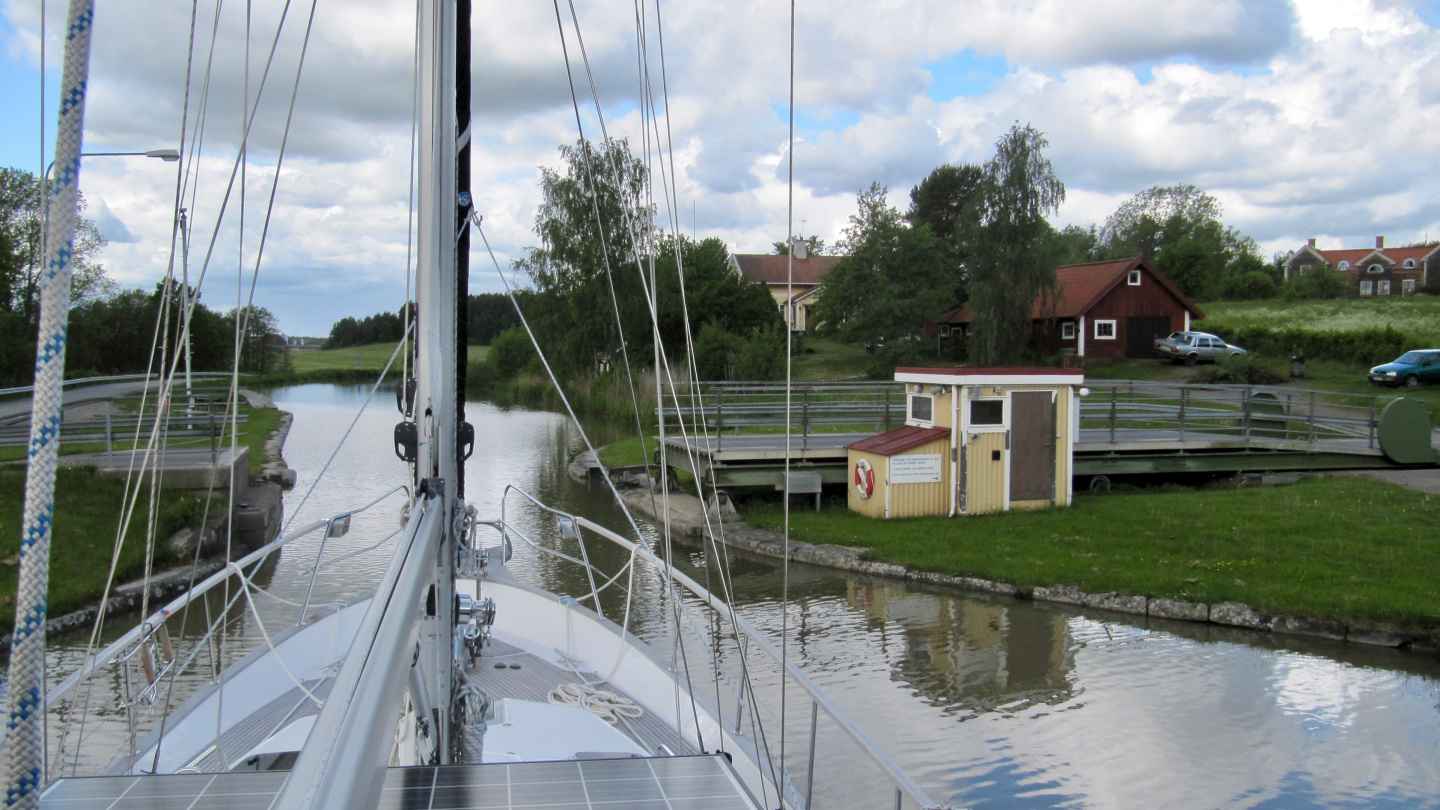 In the first double lock (Carlsborgs slussar) was a really nice girl as a lock keeper. I asked about line handling in double locks and differences to the single locks. In double locks the line handler cannot come between the locks back aboard. Instead she needs to walk with the lines beside the boat along the canal edge. In this early season there were only a few boats and kind lock keeper girl joined us to the next double lock to help me. Again all the excitement beforehand was useless, because it is easy to follow the canl edge and handle the lines between locks.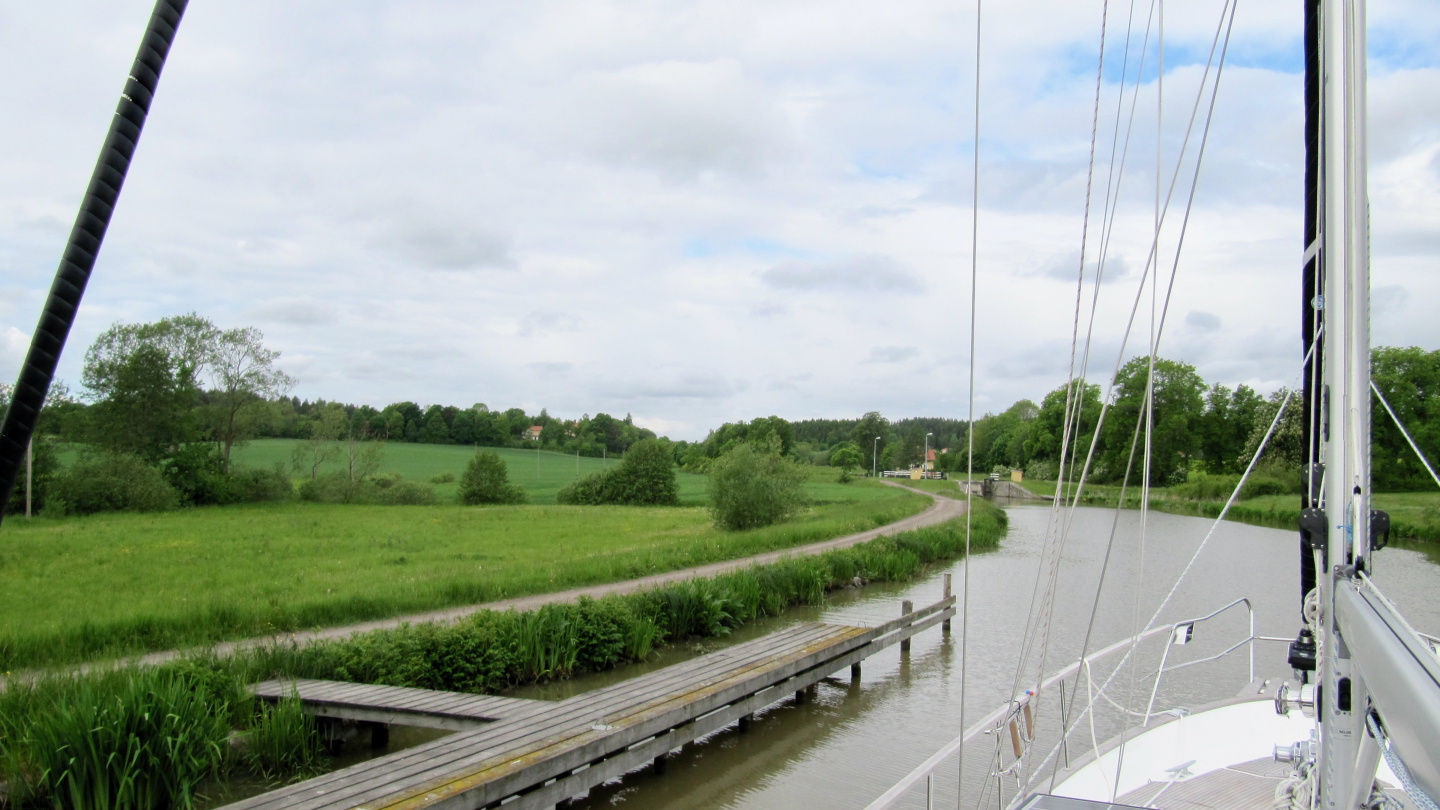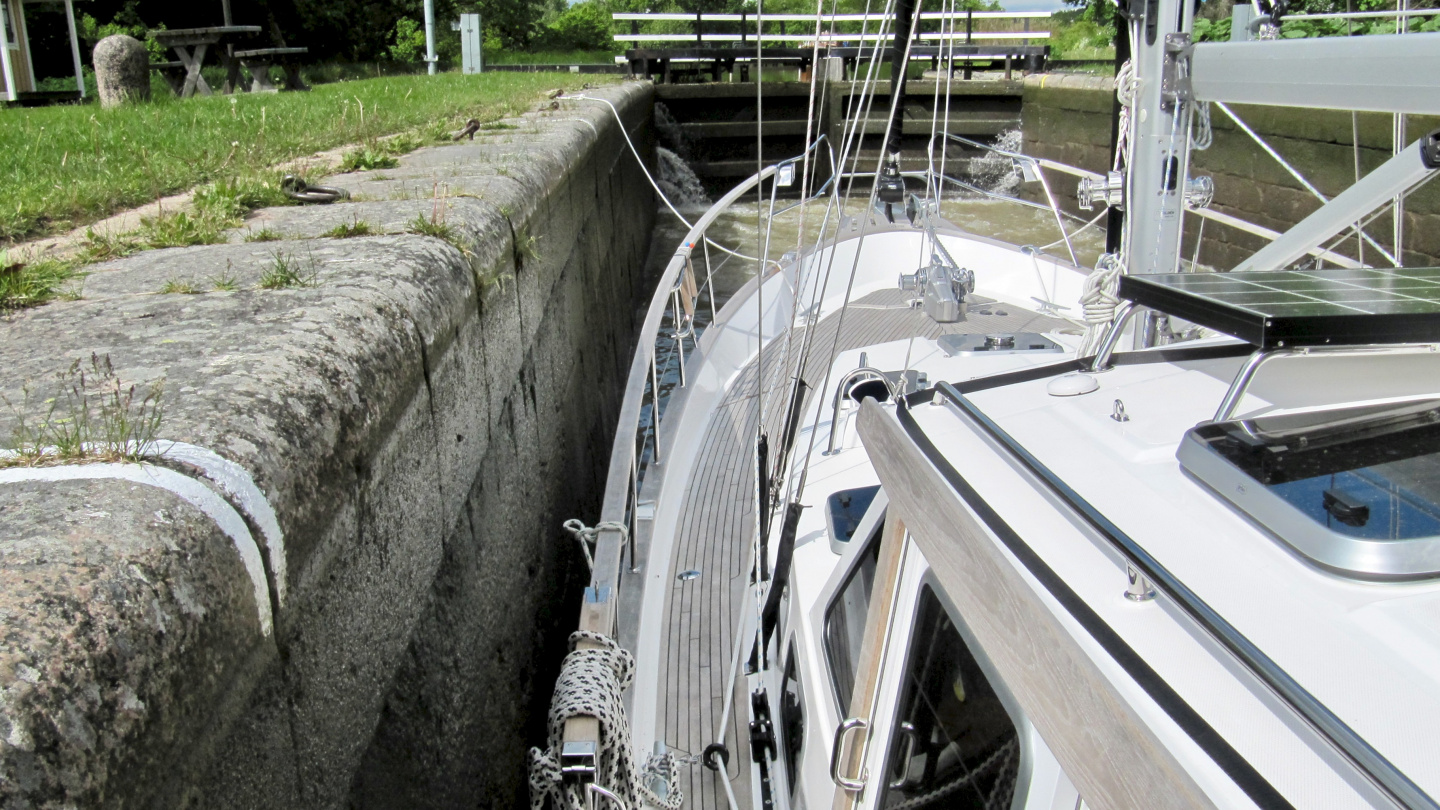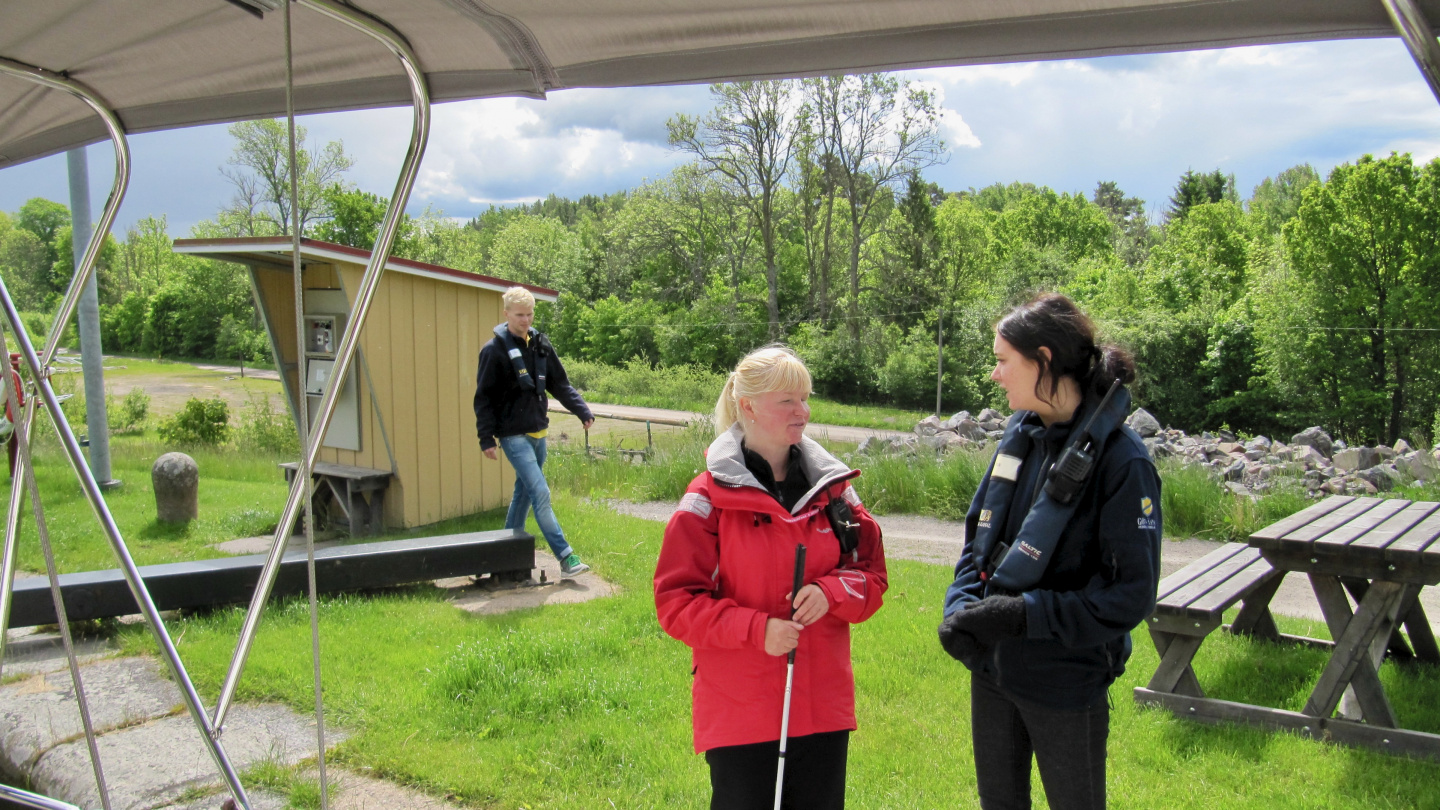 As we arrived to Norsholm lock and railway bridge we noticed a sign to stay aboard and use the fixed mooring lines in the wall of the lock. We were familiar with the mooring lines hanging from the lock's edge already from our cruise to lake Saimaa in Finland. However we wondered what to do with these lines because they were too short for making fast into our cleats. Maybe the intent is just to hold the lines by hand because the water level difference was very small. It isn't anyhow possible to hold out the 20 ton's fairy with hands only. Fortunately there were a few hooks on a lock wall and we fixed our mooring lines there.
After the hard day's work we crossed lake Roxen and moored Suwena at the lower Berg harbour. The double locks were nothing as the seven lock's Carl Johans slussar raised above us in horizon while we approached the harbour.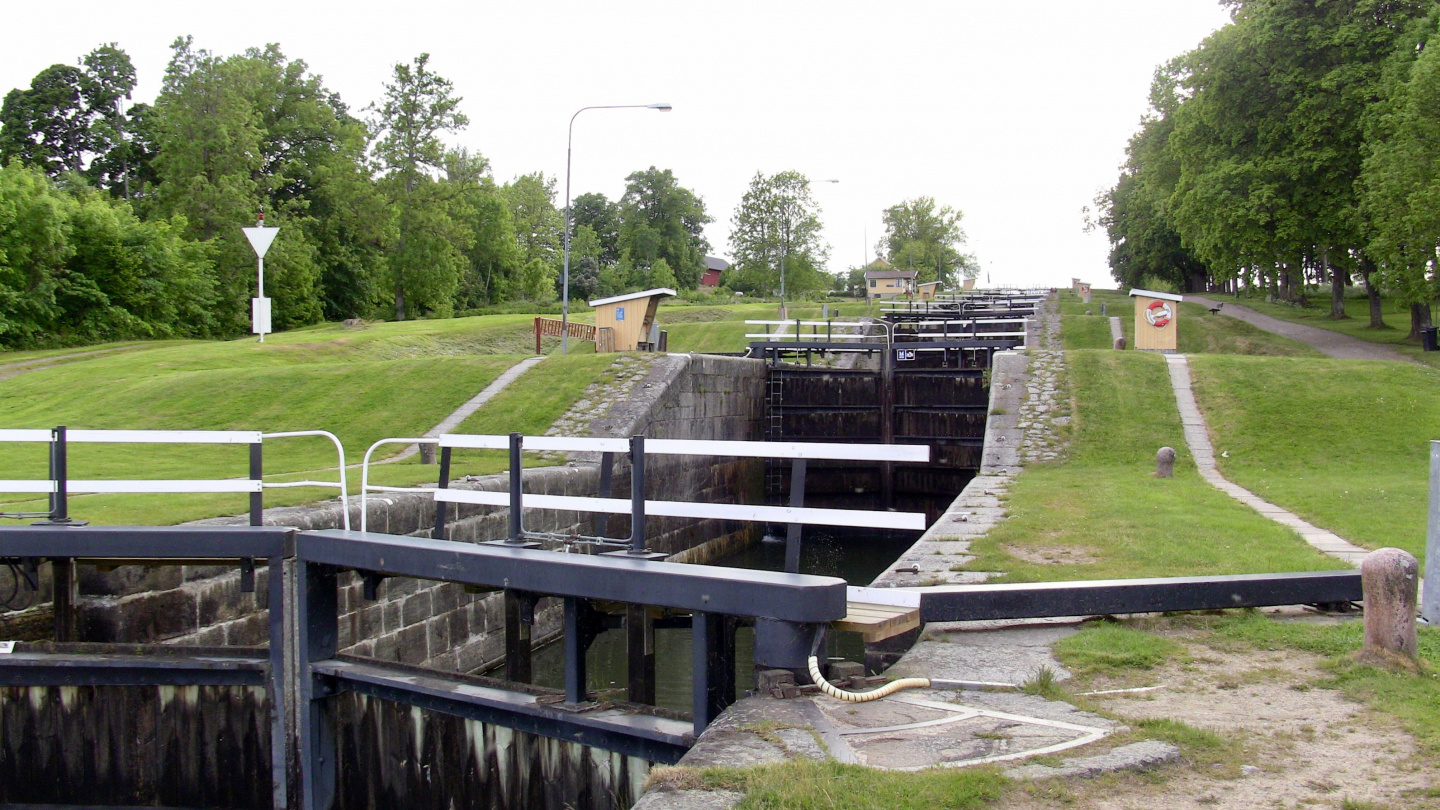 It was a long day and in the end we also got wet by a rain. Just as we were mooring Suwena a lock keeper arrived and asked if we would still like to go up? Well, we said with one voice that tomorrow please! It was time to relax and leave some challenges for next day as well. We spent a pleasant evening together with Norbert and Hildegard in Weeki Wachee.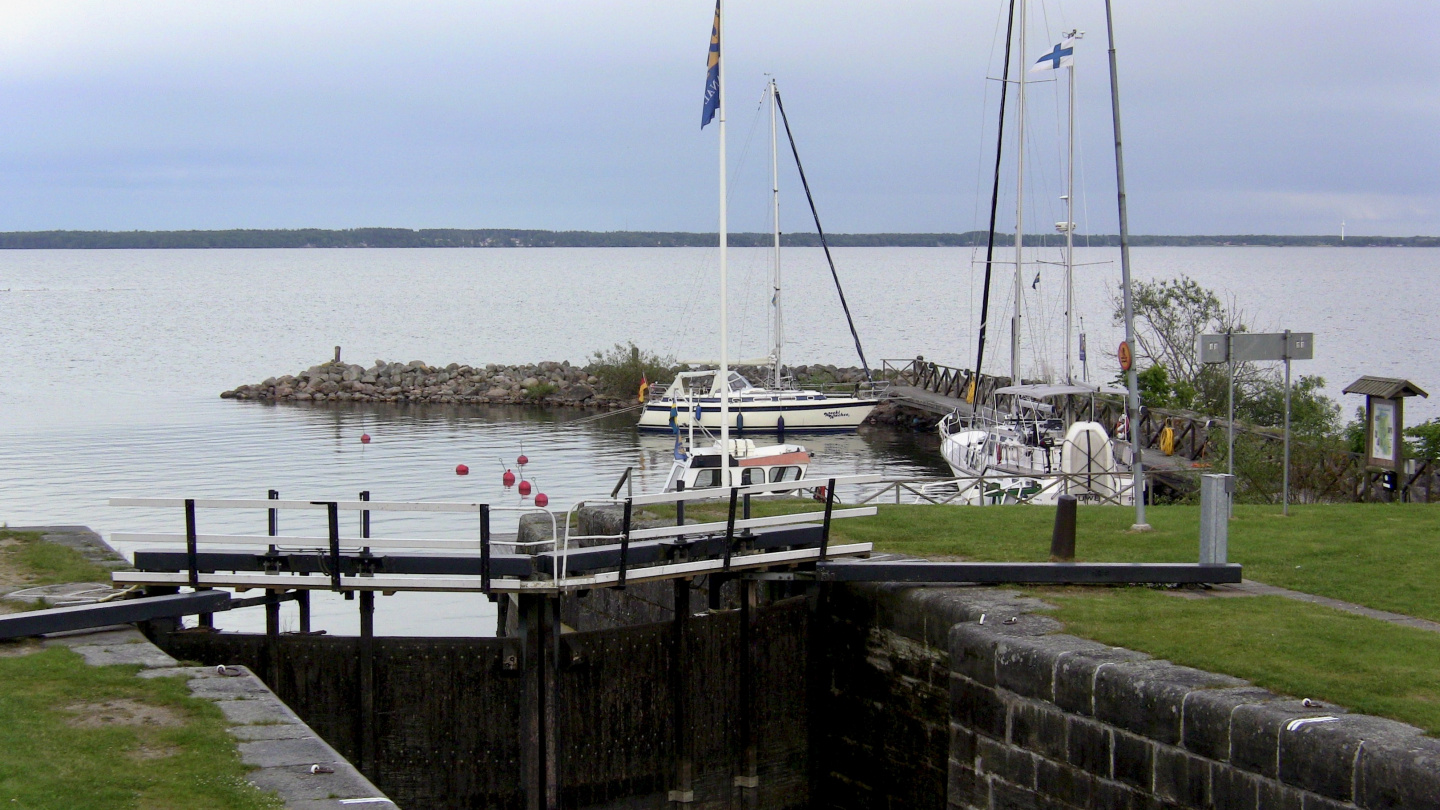 Twelve locks and six bridges 4.6.