The search of a new Suwena is advanced to the point that we had two very different boats based on different technology: Nordhavn and Nauticat. We had arranged a seatrial of both boats to understand their soul better and highlight theirs traits.
First we had a seatrial of Nordhavn where we had a pleasure to test the both Nordhavn 43 and 47 boats as we still had both of them as an options for new Suwena. On a Nordhavn 43 we made a short trip from Hamble Point Marina to Solent. On Nordhavn 47 we motored from Hamble Point Marina to Southampton Boat Show docks.
Seatrials on both Nordhavns went very well. Our perception on how stable Nordhavn boats are underway only increased. The engine sound was barely noticeable in pilothouse and cabins as the sound insulation is well done. The crew can easily take a rest and sleep in Nordhavns underway.
Noise level inside Nordhavns are very quiet compared to other motorboats and sailboats that use engine underway.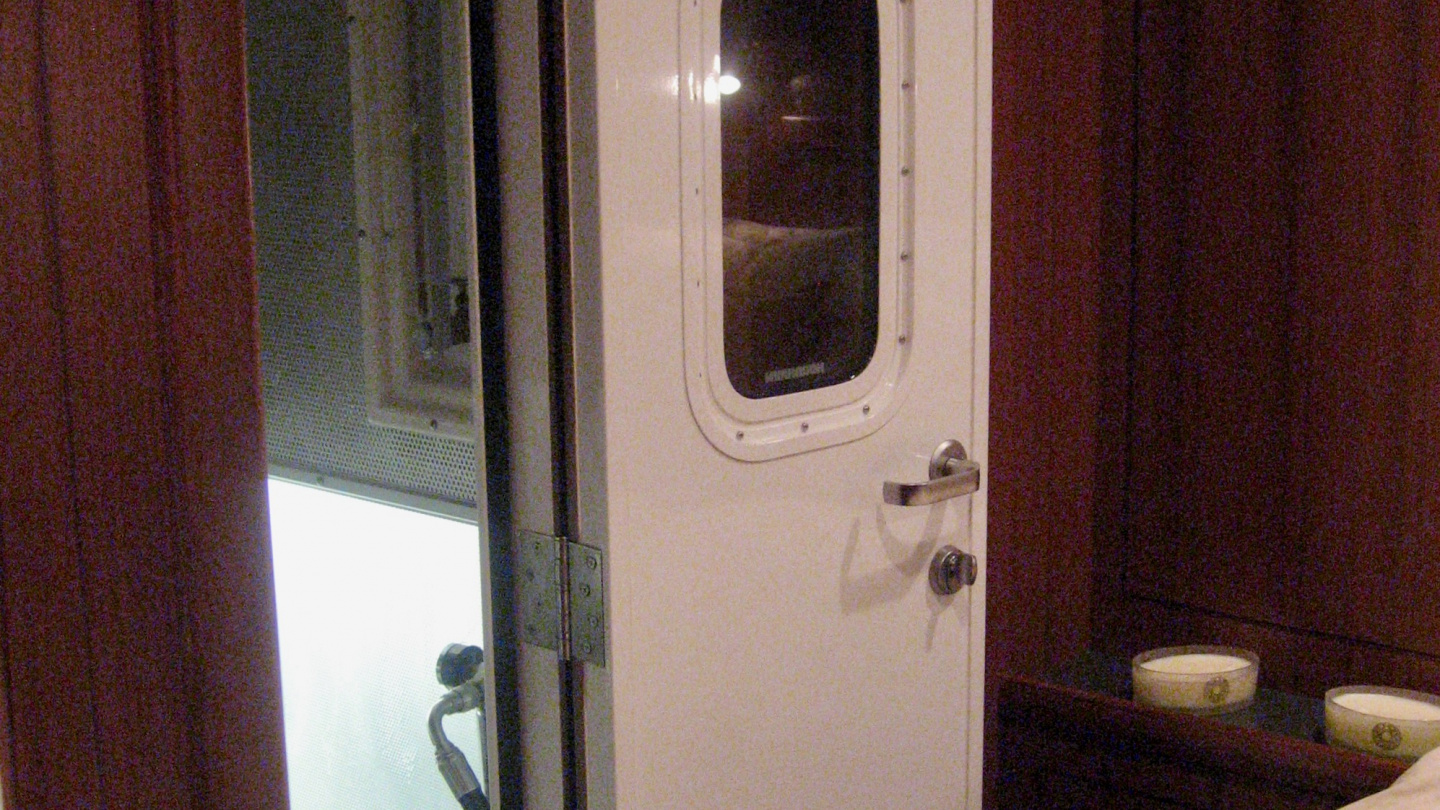 Because the engine noise was almost non-existent inside the boat we were surprised about its noise level outside on the flybridge. On both boats which we tested had a dry exhaust that is implemented by running the funnel vertically to the top of the boat. We like to spend time on a flybridge a lot and therefore the noise was a disappointment for us.
Here are a little background information about exhaust systems. Nordhavn yachts are supplied with either a dry or a wet exhaust. The dry exhaust means that the exhaust gases are run from engine through a silencer to the funnel. The funnel runs through the entire boat and ends on the top of the boat. This solution is used e.g. in all ships. It has a benefit that there is no need for an impeller and seawater is not circulated in the engine. This again reduces the possibility of clogging the engine cooling system because the engine coolant is circulated in a separate cooler plate, usually mounted on the bottom of the hull. Wet exhaust contains the heat exchanger. By using the water pump which is made from impeller the seawater is pumped into the heat exchanger. Inside the heat exchanger the engine coolant is cooled down. The exhaust gases are mixed with the water leaving the heat exchanger and run through the exhaust pipe into the sea.
We were interested in a wet exhaust because the huge funnel running through the boat takes a lot of space and we would like to get a quiet flybridge. It would be much nicer to drive long legs from outside helm without the exhaust noise. Nordhavn 47 is manufactured with both exhaust systems but Nordhavn 43 is only made with dry stack, and therefore 43 got some negative points from us.
For us the new thing in Nordhavn was its way to float and run in water compared to our planing hull Suwena. Full displacement boats roll much more softly compared to planing boats. Both Nordhavns had hydraulic stabilizers that worked well.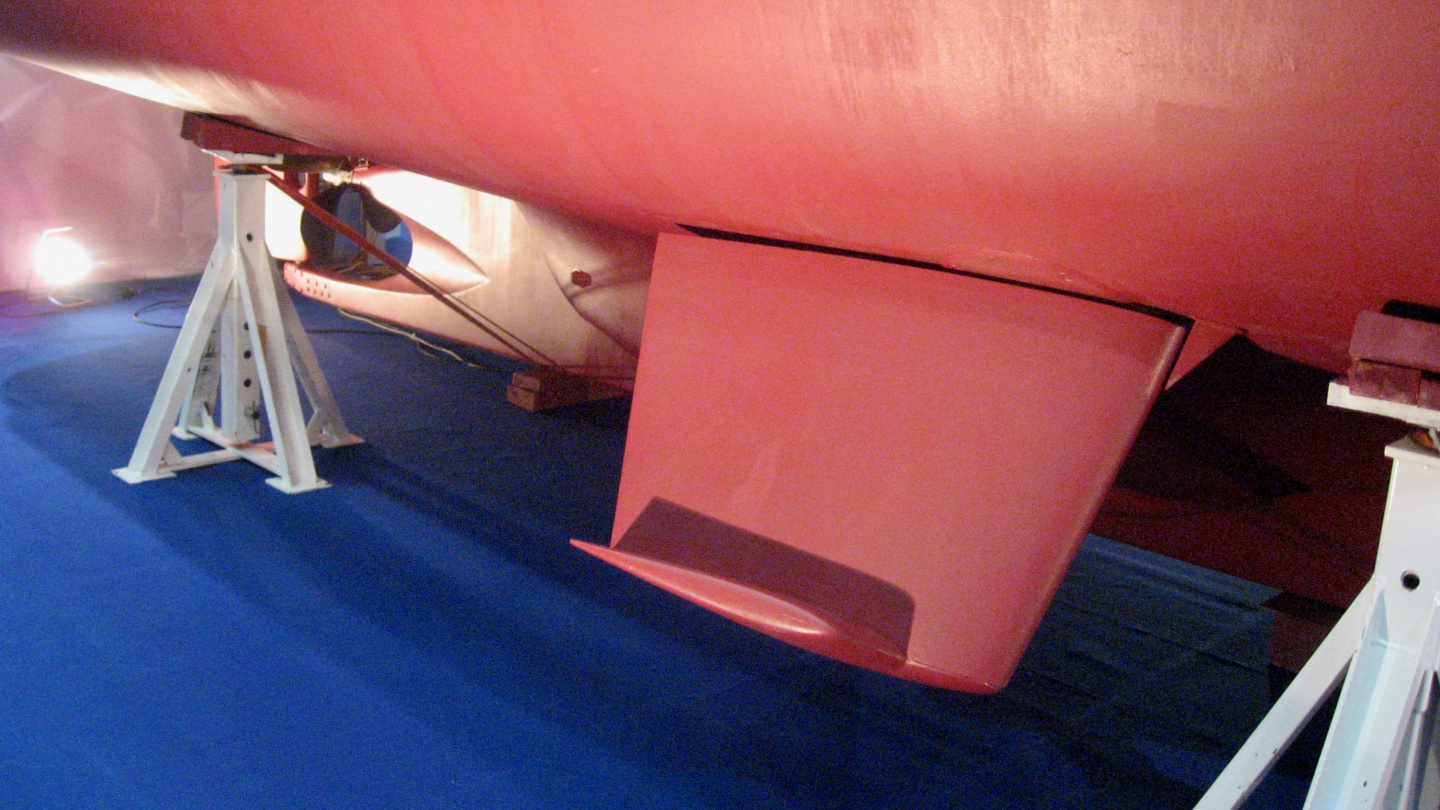 We made a throughout comparison between the 47 and the 43 to find out which Nordhavn would be better suited for us. The 43 is Nordhavn 47's little sister where everything is a little bit smaller but the layout is pretty much same. In Nordhavn 47 the feeling is like in a private house and at the same time in the 43 all same spaces are compressed into smaller space making compromises in usability. Full ocean going motorboat needs a lot of equipment. We think that the Nordhavn 43 is stuffed full of too many things, because behind many panels and doors are technical installations consuming room from storage space. The 43 is extremely nice boat but with all our additional options it becomes too full.
For example in Nordhavn 43 the flybridge is fully filled by two seats alone and this was bothering us a lot compared to the 47's flybridge. We like the flybridge a lot as a helmstation and as a lounging space. Another example is the 47's side deck which is super safe underway and in harbour manoeuvres as well. In the 43 it is only a narrow rim with a railing on starboard side. Also the guest cabin is much smaller in the 43. We were interested in possibility to use the 47's guest cabin as an office. Of course the 43's guest cabin is smaller because it still includes separate head and shower.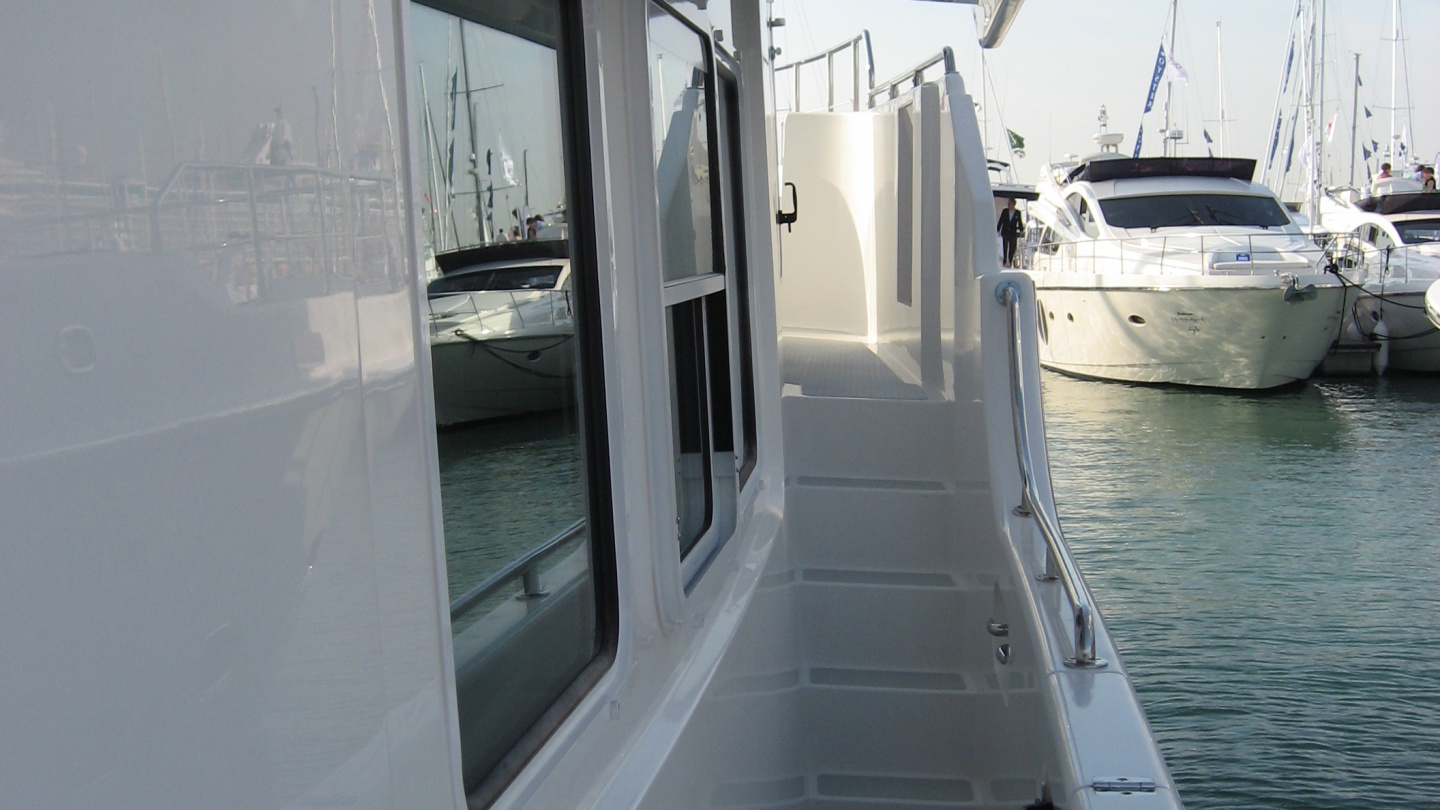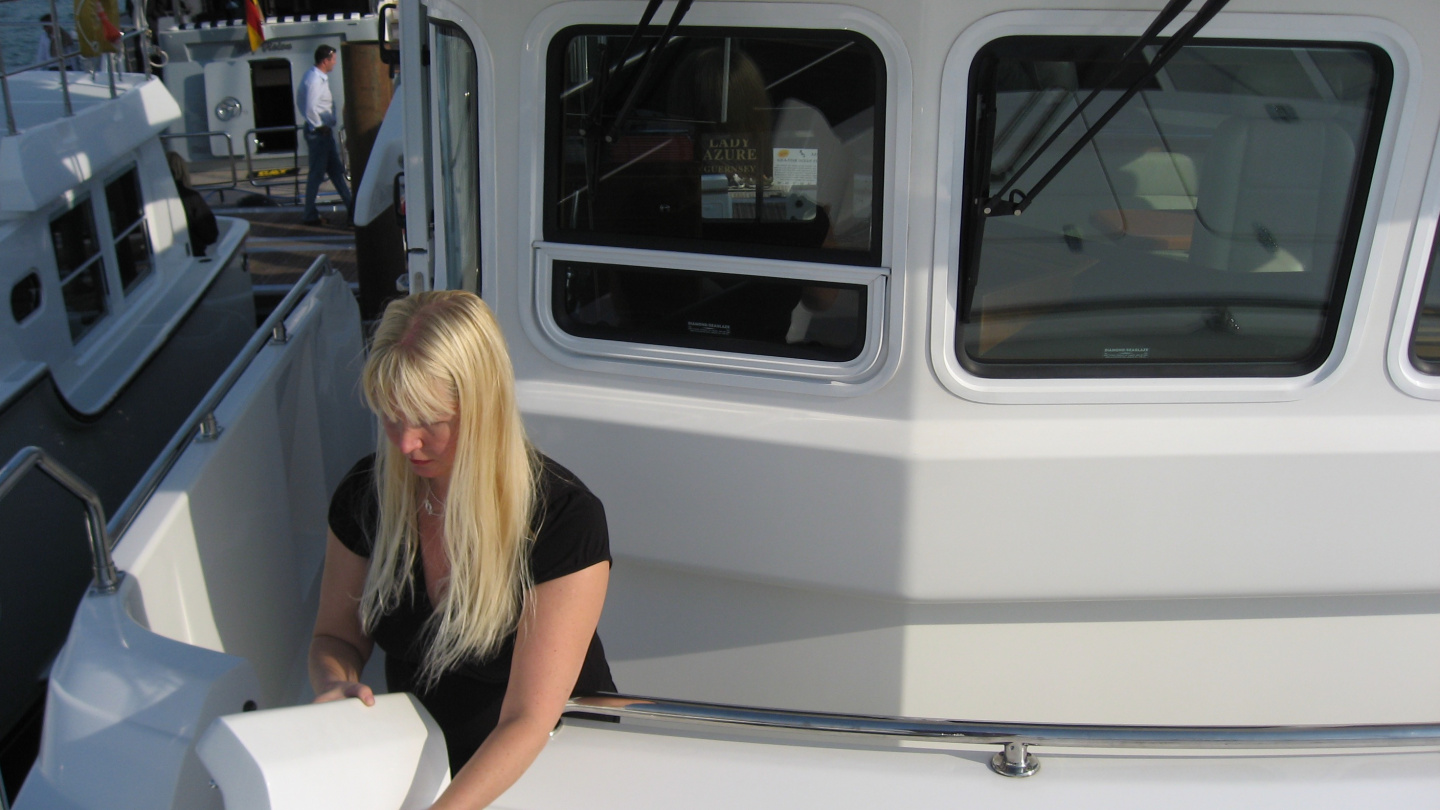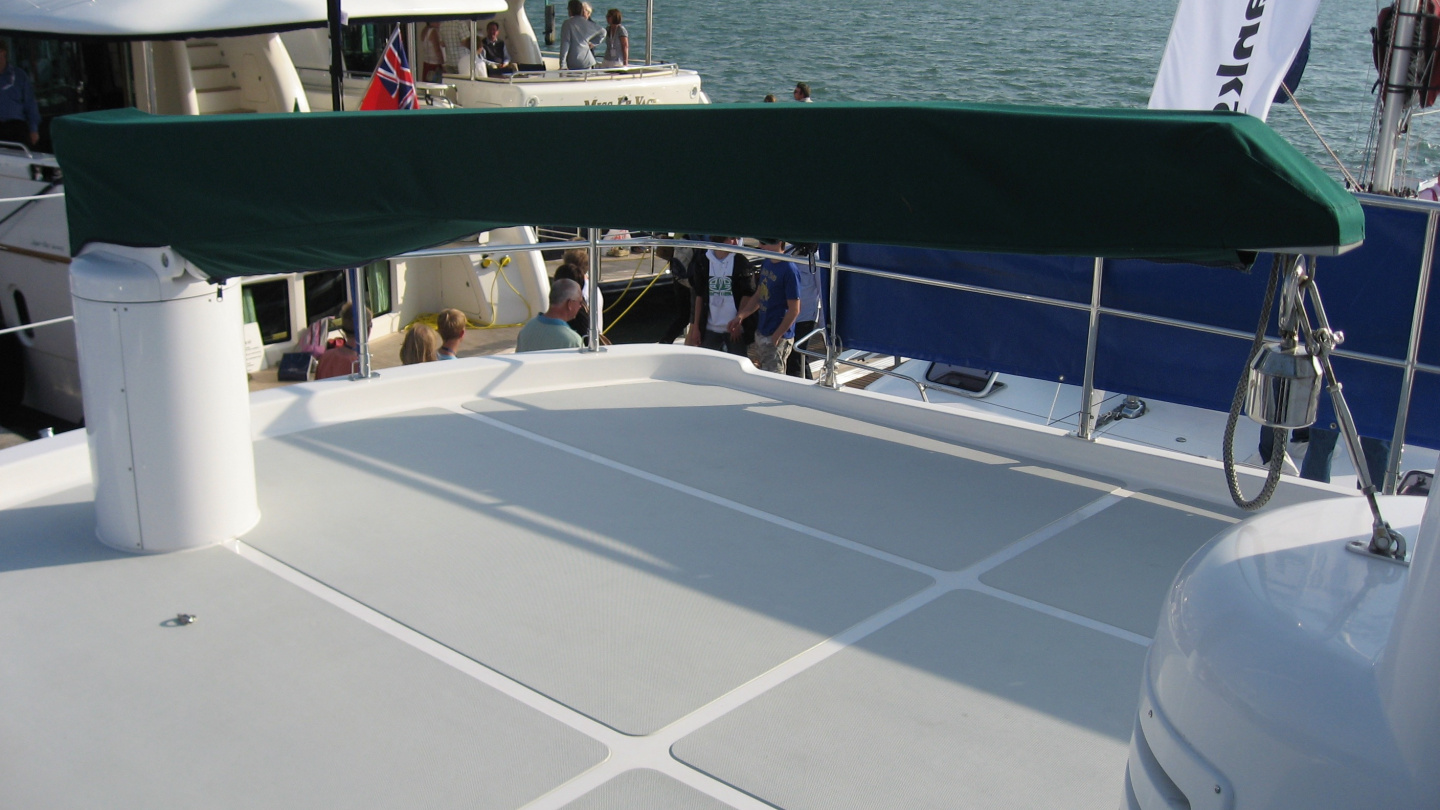 The Nordhavn 47 felt like an ideal boat to us layout wise but its size started to feel challenging. Could we manage her just by two of us? The 43 again would be size wise (boats length is 13.1 m) more suitable but we felt that too many compromises are made in her design. After balancing all things we decided that the 47 is the only option for us from Nordhavn.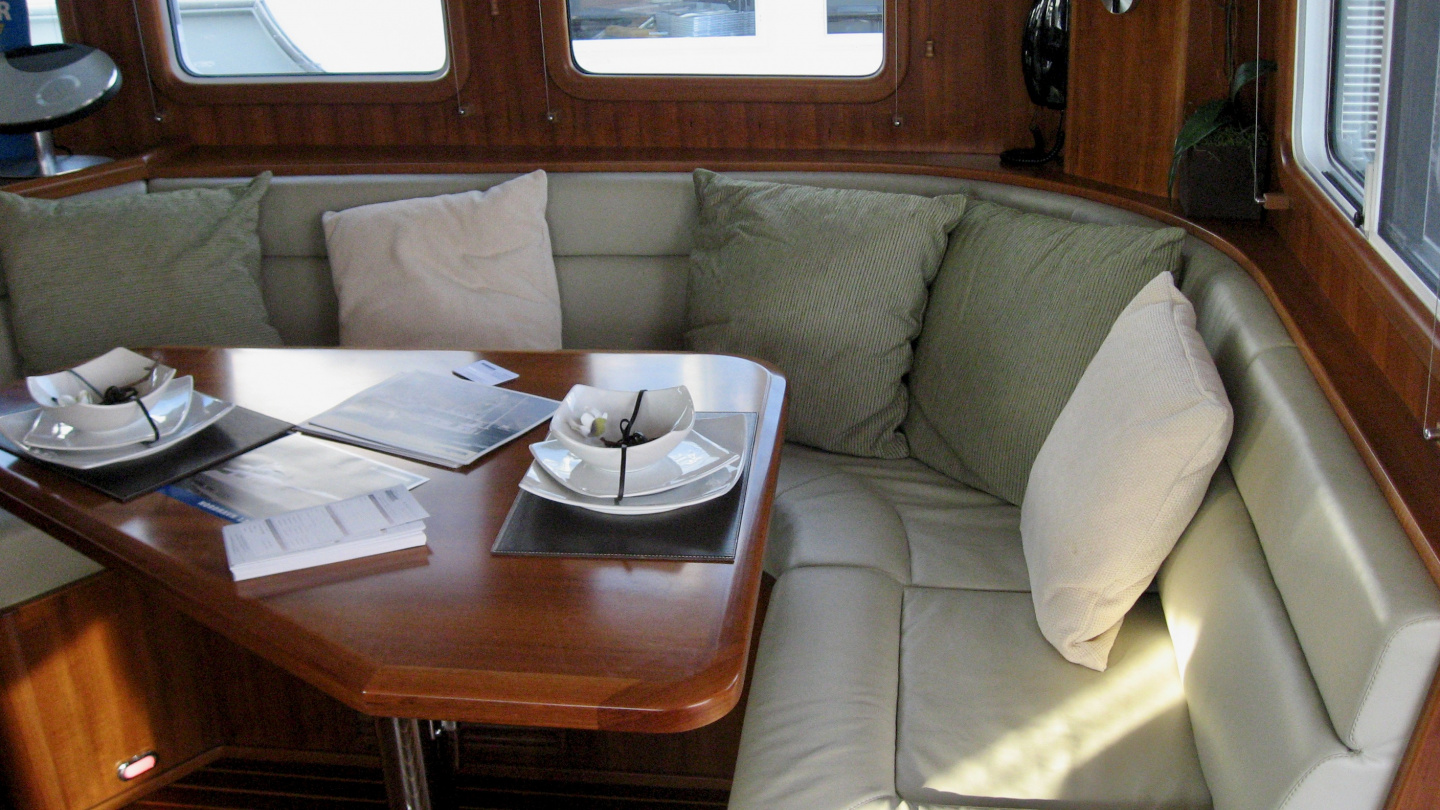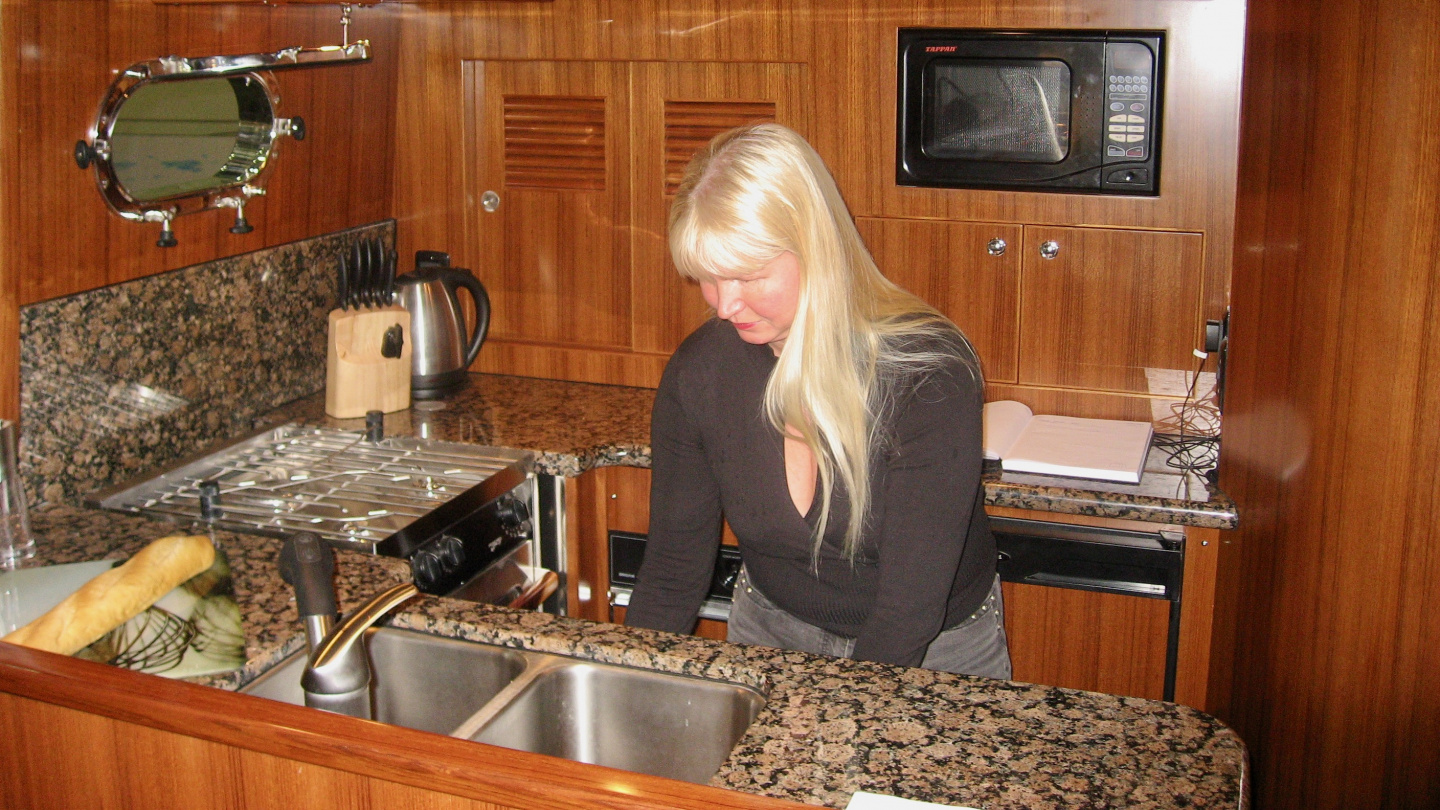 Nordhavn 47 is just a magnificent boat. All compromises between different spaces have succeeded very well. However she is a huge boat. Her length is 14.5 meters and weight about 39 metric tons. We started to have a suspicion inside if we can manage her in all possible situations. Also we need to consider our near term sailing area, the Baltic Sea. With Nordhavn 47 would not fit into smaller harbours any more.
Also the price stated to reach the threshold. The CEO of PAE, manufacturer of Nordhavns, Mr Dan Streech made very competitive offer about one of the show boats, so we started to ponder about Nordhavn offer and waited for a Nauticat seatrial.
From Nauticat we asked for an offer from two yachts: pilothouse sailing yacht 42 and traditional motorsailor 441. Already in the early phases after studying the specifications of the both boats we leaned towards the 441 model.
Nauticat 441 is an updated version of Nauticat 44 model. Her hull shape has been developed further and pilothouse roof has lowered for a better sailing performance. The 441's hull is also about 30 centimetres longer than previous the 44. Side doors are aluminium framed and watertight in new 441. On the deck the decent size cockpit is nowadays part of the deck and coming from the mould. Beneath the cockpit benches are integrated storage space. In addition there are a huge amount of smaller improvements.
The internal space of Nauticat 441 is much larger than compared to the sailboat model 42. This is due to different hull shapes. The 441 has a full keel and she benefits from an excellent directional stability. On the other hand she is not as agile as sailboats with fin keel. However during the seatrial we noticed that she is quite nimble in turns as she must be because of her huge rudder. In addition the rudder is supported by a skeg. Full keel and skeg together make it less likely that any ropes or wires floating in a water will get stuck in propeller because there are no separate fins. The full keel is also an advantage in possible grounding because there will be no torque to applied to keel unlike in a fin keeled boats. The full keel was to our liking considering our future sailing area.
One of our requirements for a sailboat is an internal steering station that is not commonly available on sailboats. Nauticat 42's internal helm is for sure workable solution but the boat can only be steered by standing in helm to have a sufficient visibility. however in the 441 the visibility from helm is good even when sitting.
We think that a liveability in the 441 is much better compared to traditional sailboats and this is a benefit of the side doors. It is easier to enter and exit the boat by side doors than to use a companionway. Mostly the cruising time is spent being moored and living aboard. Every Nauticat is an unique and built as one-off boat according to the customers requirements. The boatyard proposed to us a layout made to our needs. Actually we had four different versions, revisioned until all spaces have found theirs locations. During this process we visitted over 10 different Nauticats to see different things customers have chosen and the yard has built into their yachts. Of course in addition of layout the complete rig and all equipment is fully customizable.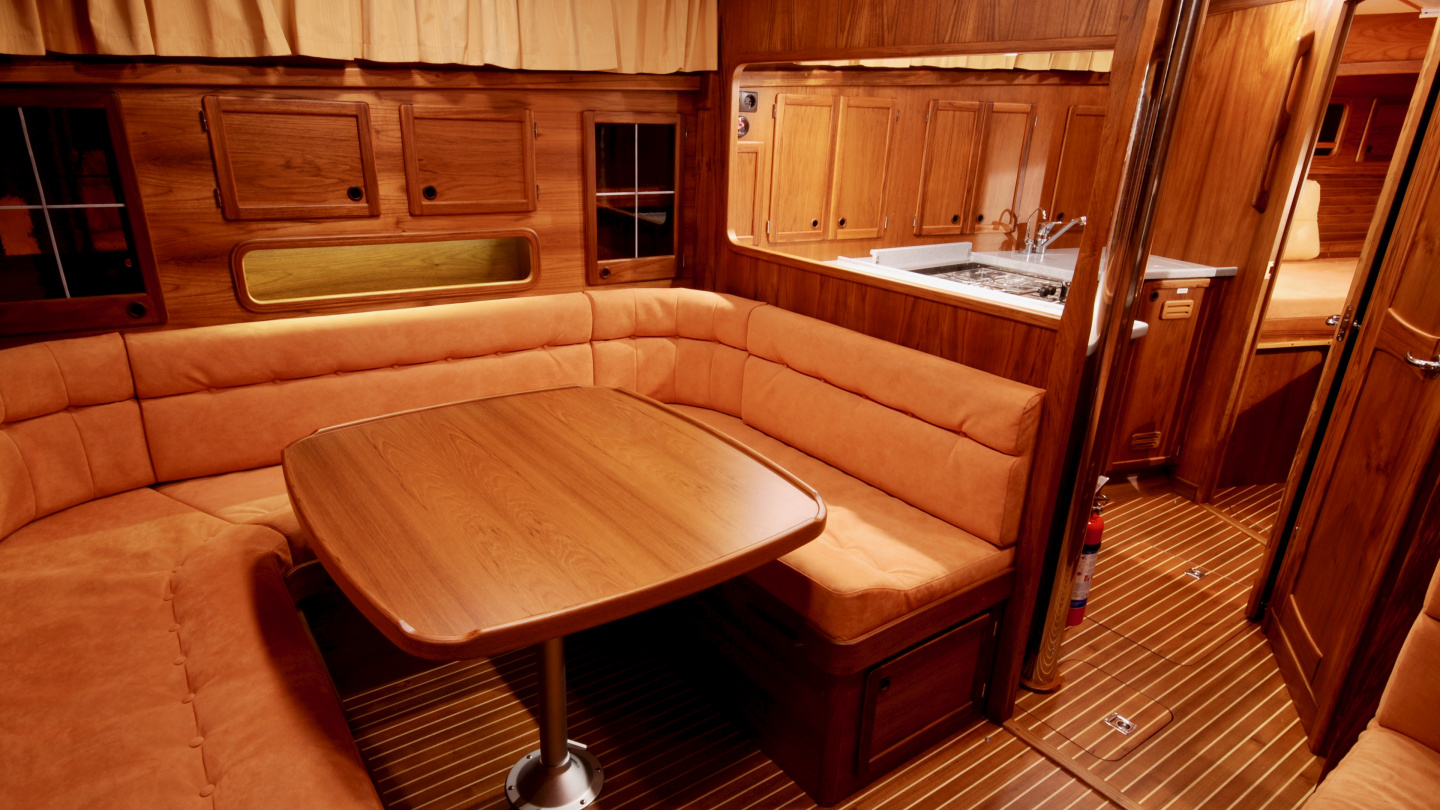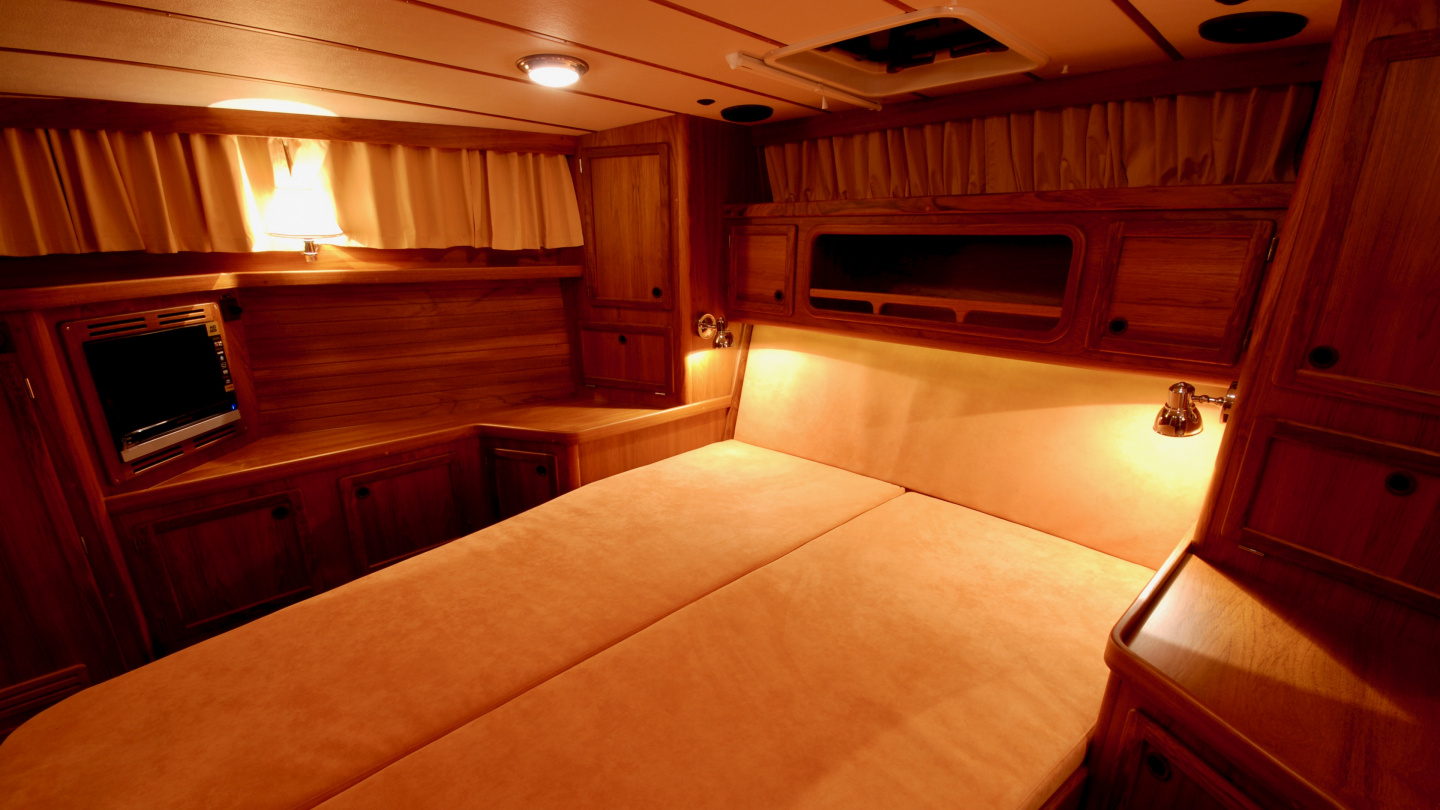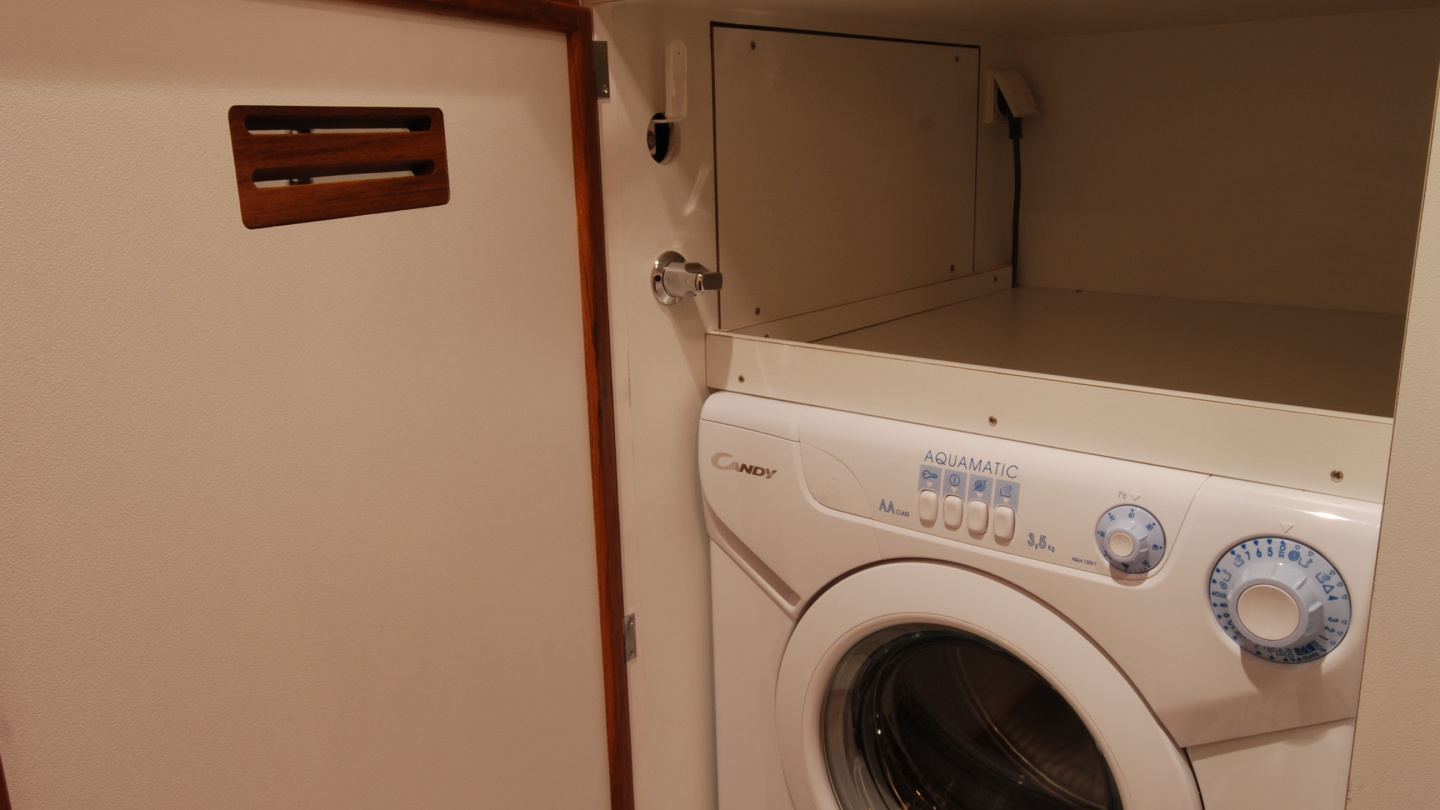 We spent several days in the show boat in Helsinki. In many other yachts of other brands we started to find little mistakes, annoyances and design flaws the longer we opened all the hatches and panels. The Nauticat was different, the more we studied her, the more we understood how well its design and manufacturing is done.
We were also fascinated by a ketch rig. Naturally the sloop rig should have a better performance by using the same sail area. In a ketch the sail area is divided between several sails and there are more sail trimming options, especially in strong wind. In the ketch the stress of sail is less and thus the ketch rig should handle unexpected situations involving strong wind better. Also a mizzen gives an option to achieve better sail trim in strong wind. And last but not least the ketch rig with the full sails are stunningly beautiful.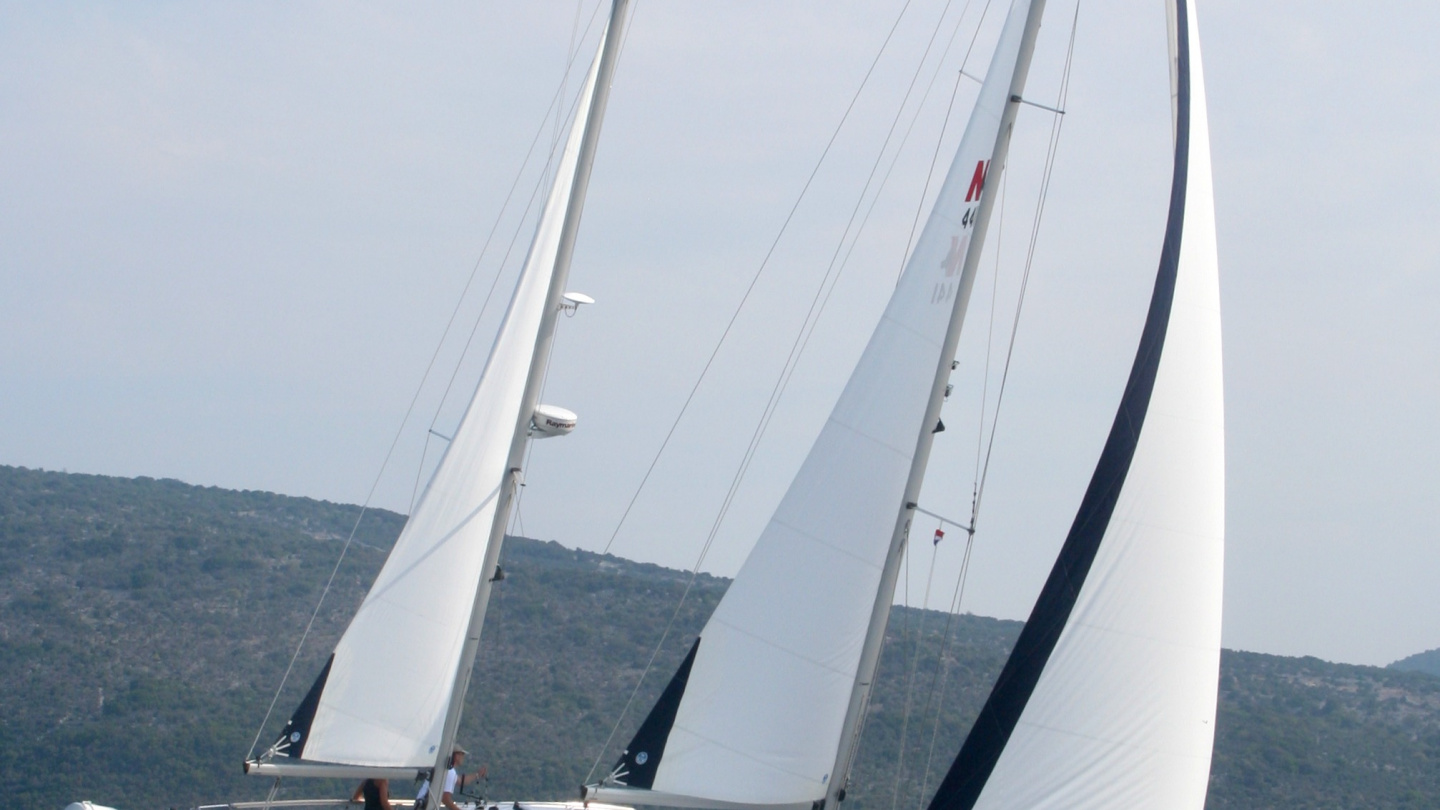 We had a seatrial of Nauticat 441 in two different occasions. First we were in Italy, where we mostly were motoring and studying the boat. On the day of seatrial the weather turned against us and there was no wind (wind was only 1 m/s), and we agreed for another day in Finland. Second seatrial was in Airisto when we sailed from Turku to Nauvo. The wind was 10 m/s and we sailed most of our leg. In the beginning we motored out from Turku directly into headwind. We were happy about how the 441 took the waves. Because of her pointy bow she just cut through them like nothing.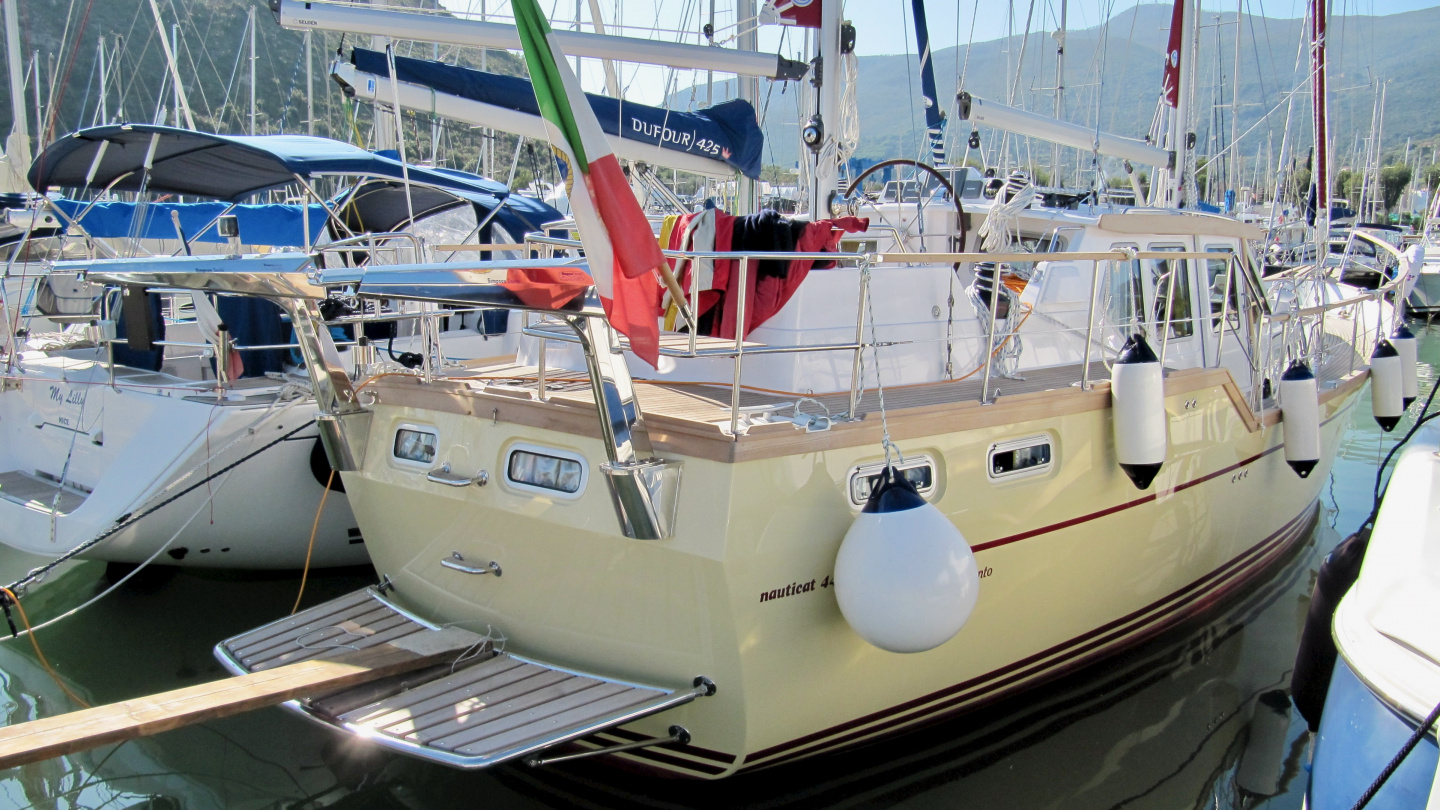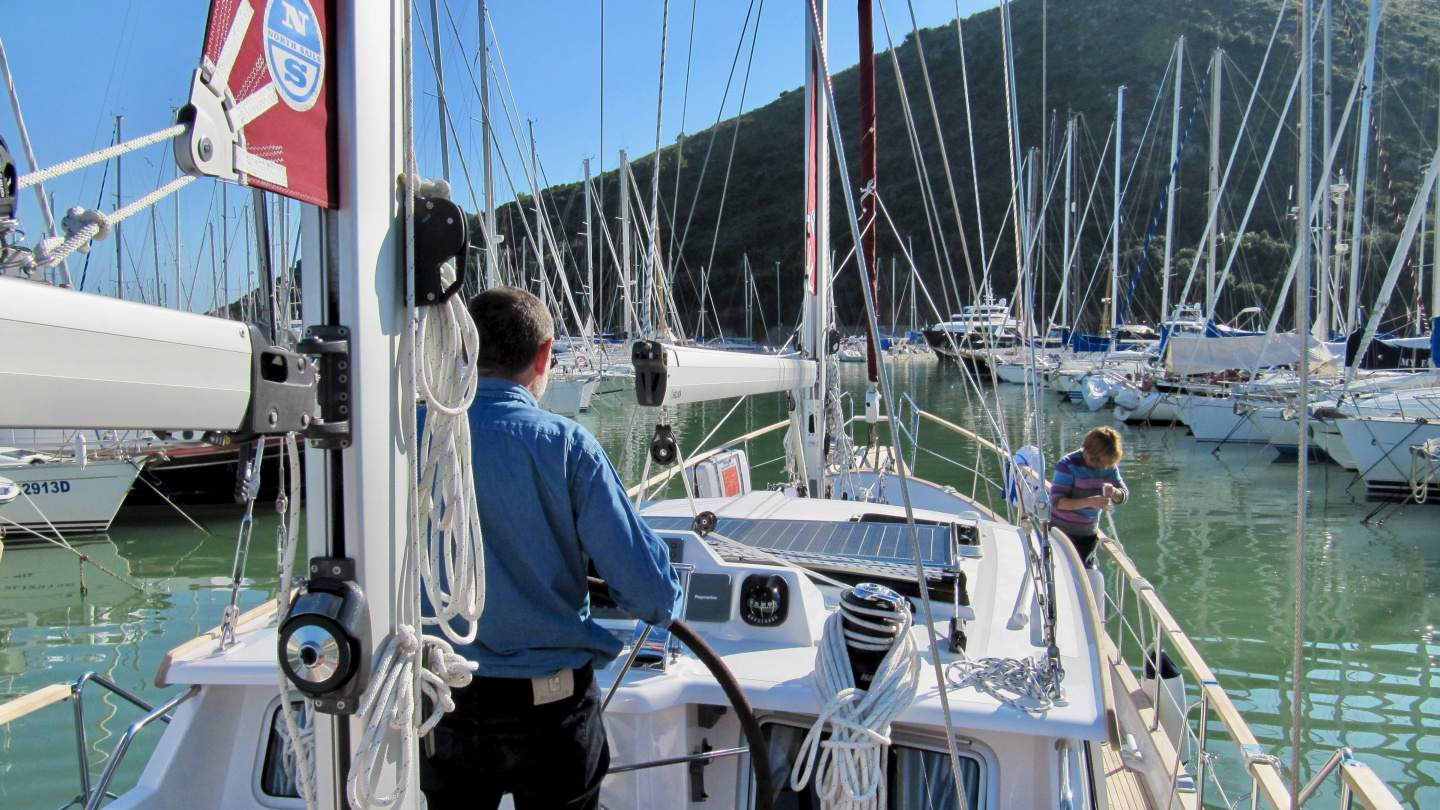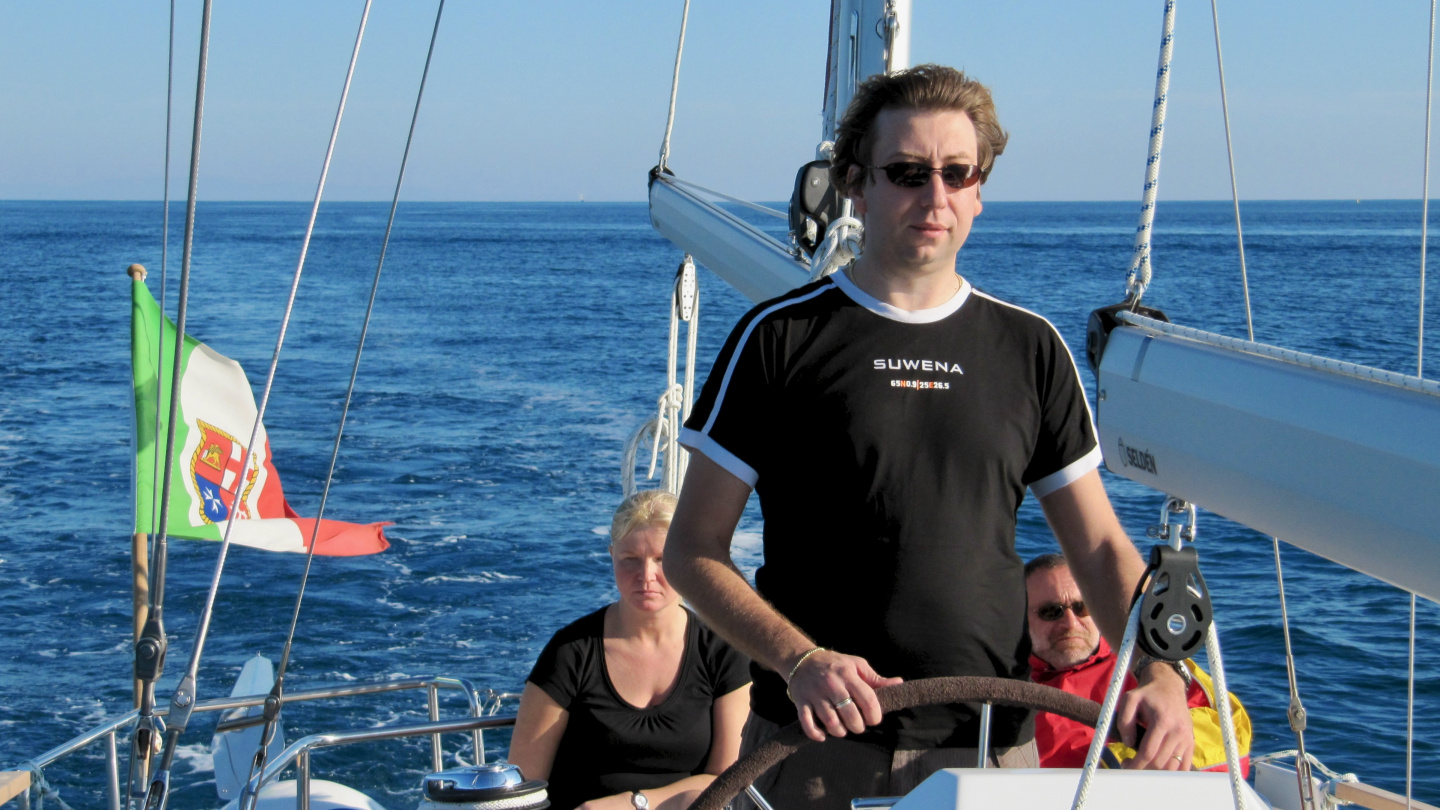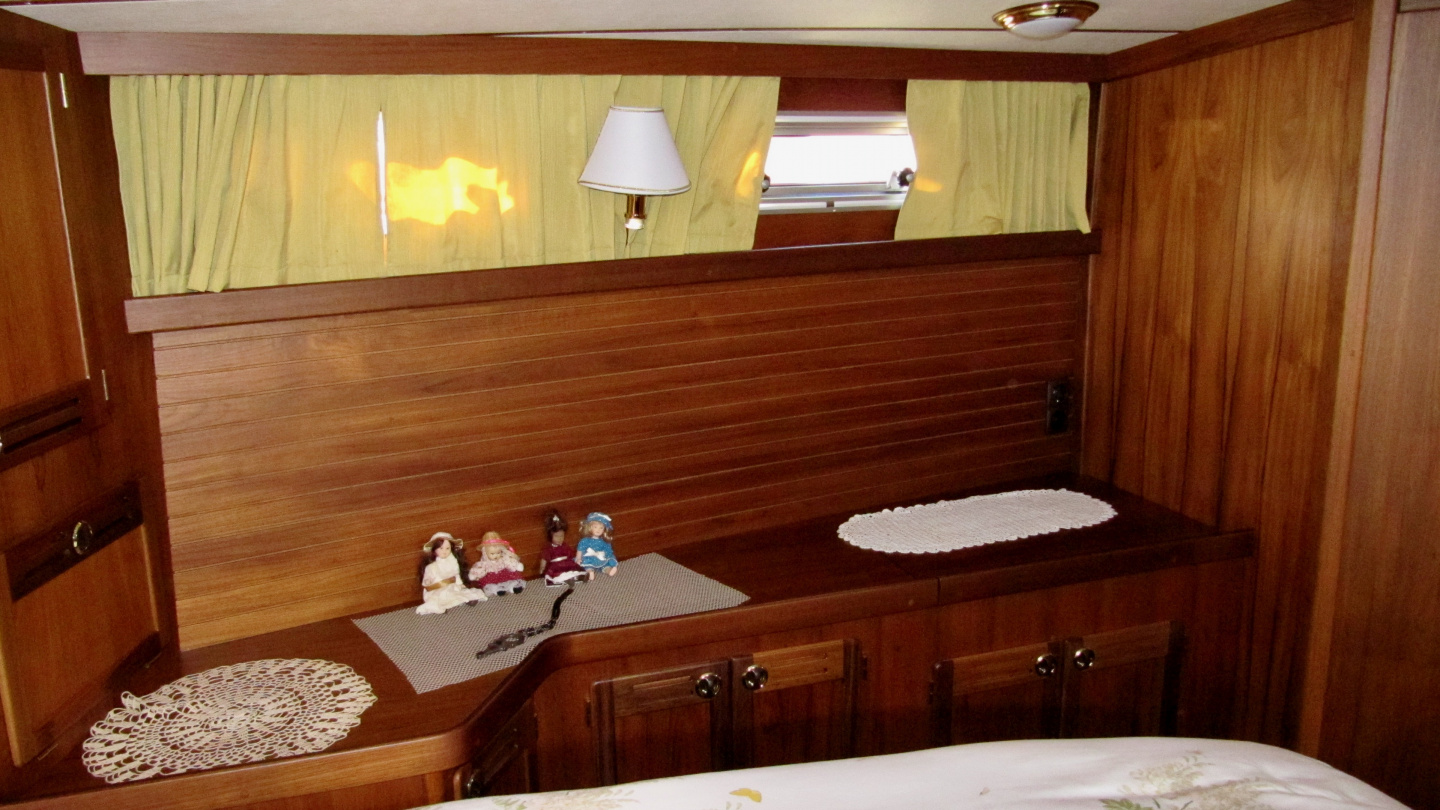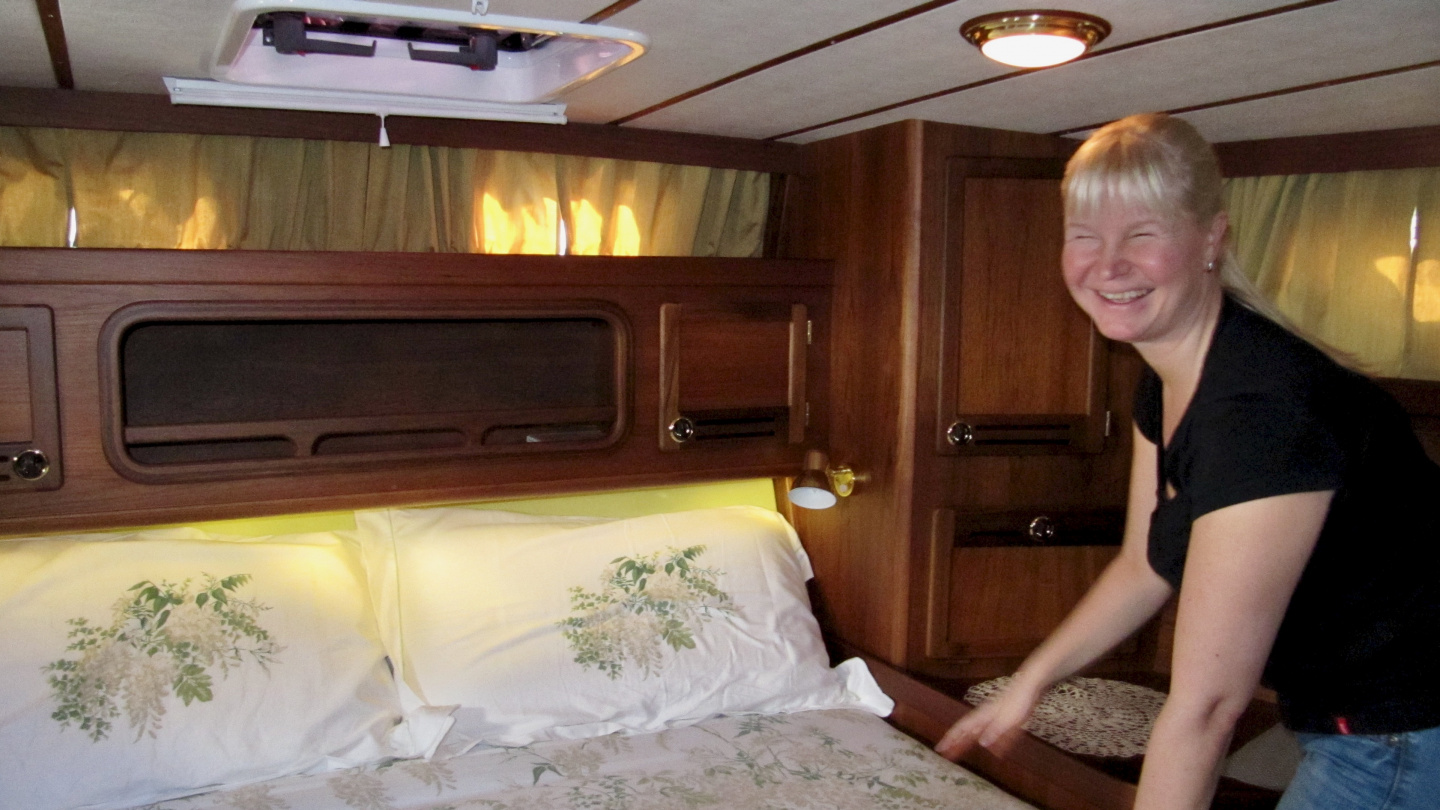 We also sailed with all three sails. We think she sailed very nicely with the speed 7.5 knots in the beam reaching wind of 10 m/s. From dimensions the Nauticat 441 is a long and narrow boat. Even length of boat is 14.8 meters, her beam is only 3.75 meters. This should be a good trait also in an ocean conditions.
Different from other sailboats the Nauticat 441 has side doors instead of traditional companionway. One of the few things that we were worried about was the usability of side doors when sailing and the boat is heeled. After the sails were up and the boat was nicely heeled on beam reach on Airisto we used windward doors in comfort and there were no problems in using them at all.
To make a choise of new Suwena was a tight place for us and putting everything together took plenty of time and a lot of pondering. The decision started to form after all seatrials when we had an experience of the both boats underway. We started to shift towards the Nauticat as her size was better suited for us than Nordhavn 47. Some part of the decision was on the boat price and also on unbelievable customer service. We've been helped to solve countless amount of details by Kaj Gustafsson, Tuula Gustafsson and the complete sales team of Nauticat Yachts. It did not matter whatever we asked, we always had a response on a same or at latest the next day. And it was regarding to the layout drawings, technical details, offer details or any other point as well.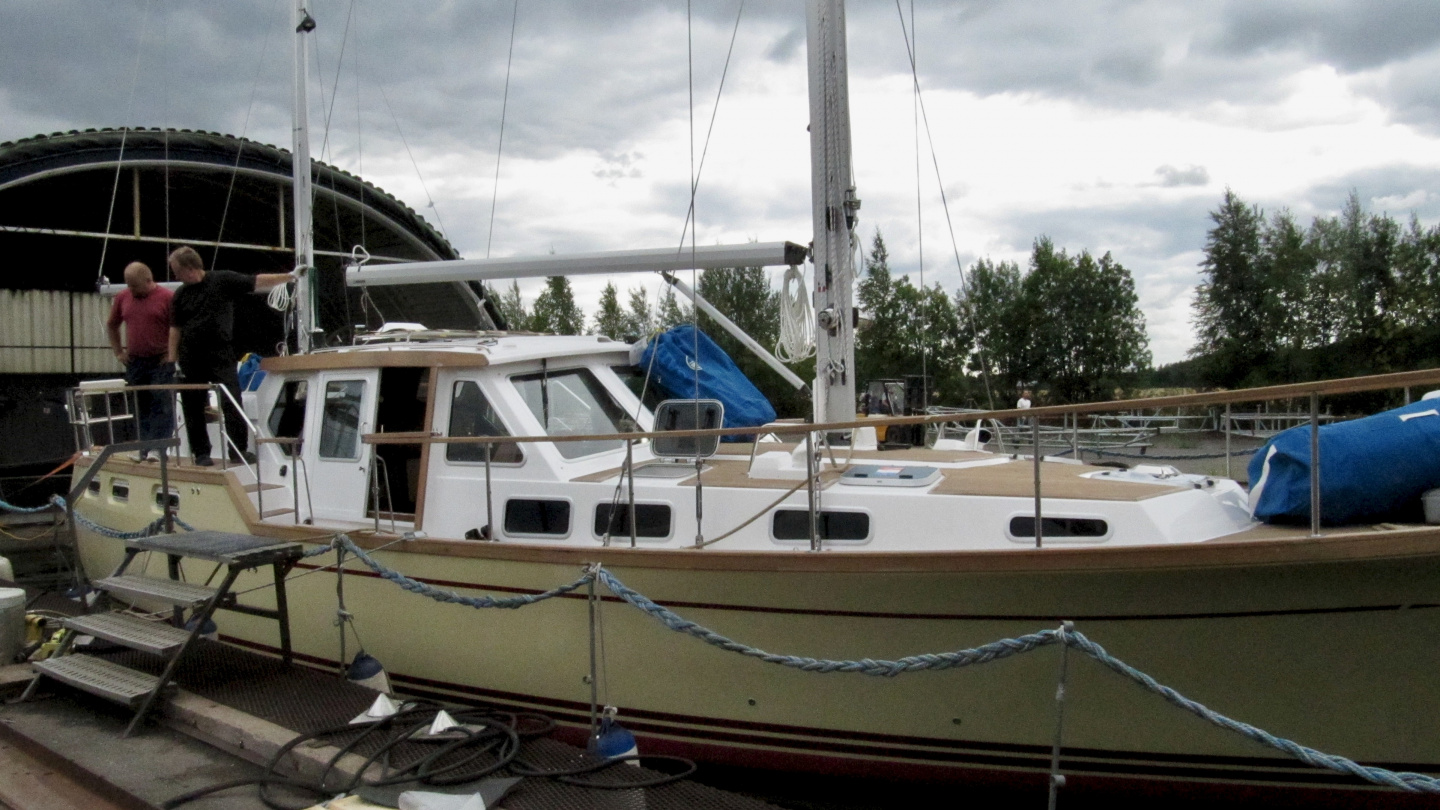 One selection criteria was the backup power source. This was fulfilled in the both boats. We must also not forget about an ecological aspect. The sailboat does not need fuel when underway. Accordingly the cost of fuel increases all the time and it may not be easily available in all corners of the world so regarding the running costs, insurance etc. the Nauticat is cheaper to maintain.
Because our new Suwena's layout is a customized we were very confident that Nauticat boatyard can build a boat that we will really love. We have also received a positive feedback from other Nauticat owners that the yard will take good care of their customers also after the yacht delivery.
So we signed the contract to build a new Nauticat 441 Suwena during the summer of 2010 and now we are eagerly waiting for next summer and our new Suwena.
Uncharted waters part 4: Seatrials of Nordhavn and Nauticat