Without any doubt the best anchorage in Algarve is the lagoon of Alvor, located only three nautical miles east from Lagos. Every cruiser ever been here has recommended it and not without reason.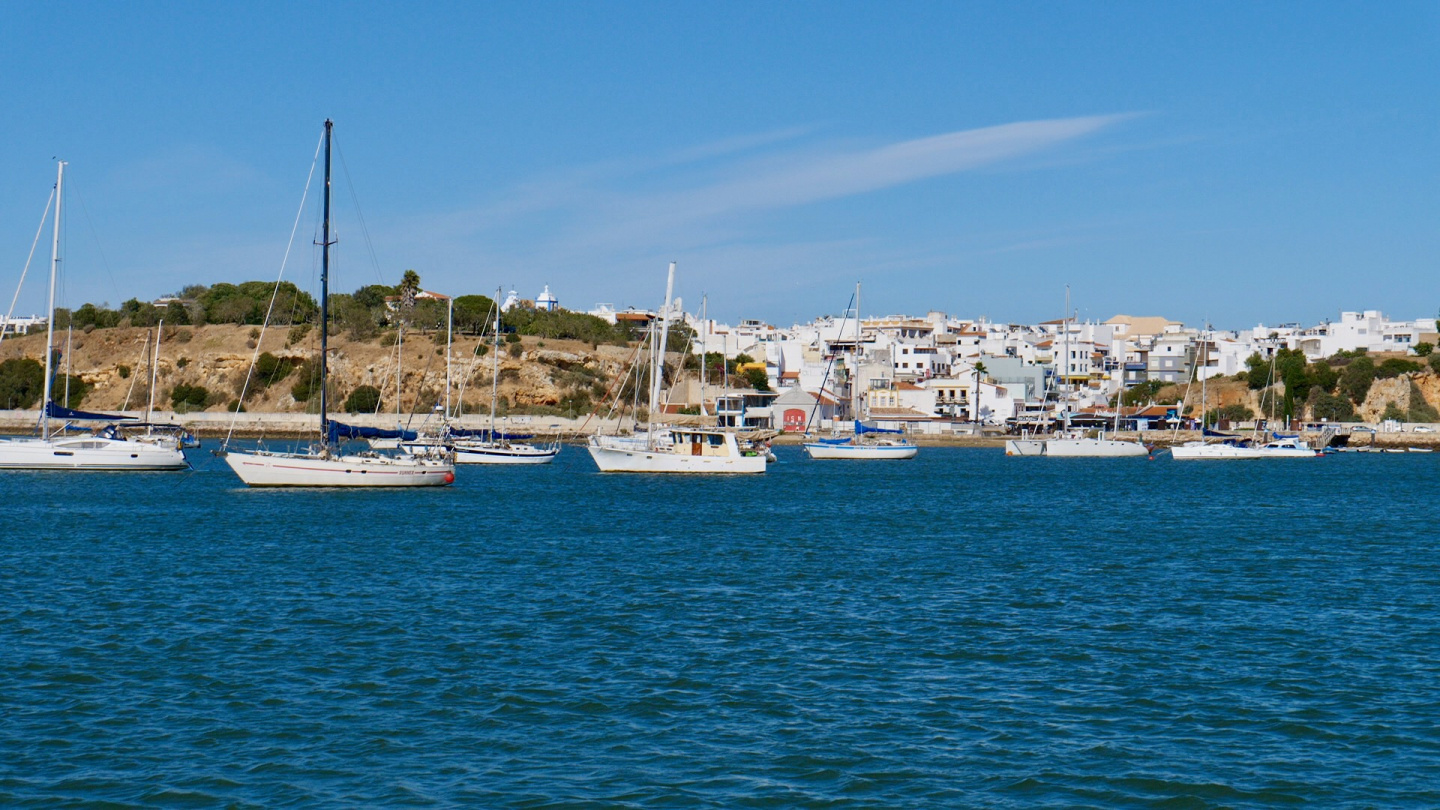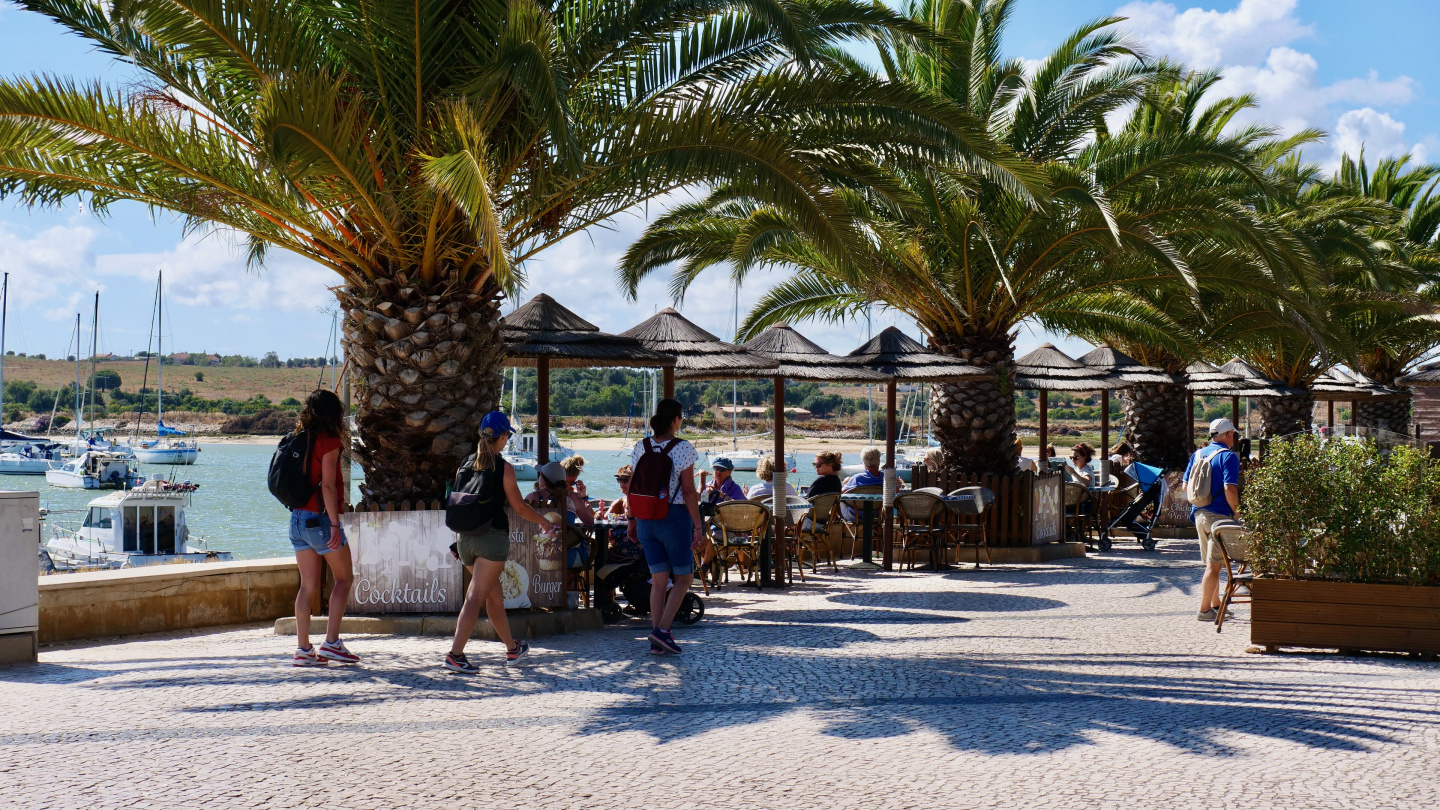 The first anchoring area is just after entering the river Alvor. There is easily space between sandbanks for dozen or more boats and holding is good. Sandbanks are accessible with dinghy and provide shelter from ocean swell. There are also a lot of kitesurfers taking advantage of flat water.
The second anchoring area is in front of the village of Alvor where the river expands into a small lagoon tucked between the sea and nearby hills. While being much more idyllic than the first anchorage the lagoon is also much smaller. In addition, the constantly moving sandbanks make the entrance to the lagoon challenging. There are two buoys marking the dredged channel but on internet many stories claim that the buoys have been misplaced. Local boaters have installed a lot of private mooring buoys in the lagoon, however anchoring between them is not recommended as there is a lot of old chain and other trash at seabed and your anchor can easily get stuck. The boats on moorings also swing differently in tidal current compared to boats at anchor. Thus, most visiting yachts anchor on the north side of the river, close to the big white villa on the hill. This leaves a narrow channel south of anchored yachts for local fishermen to pass, buzzing back and forth.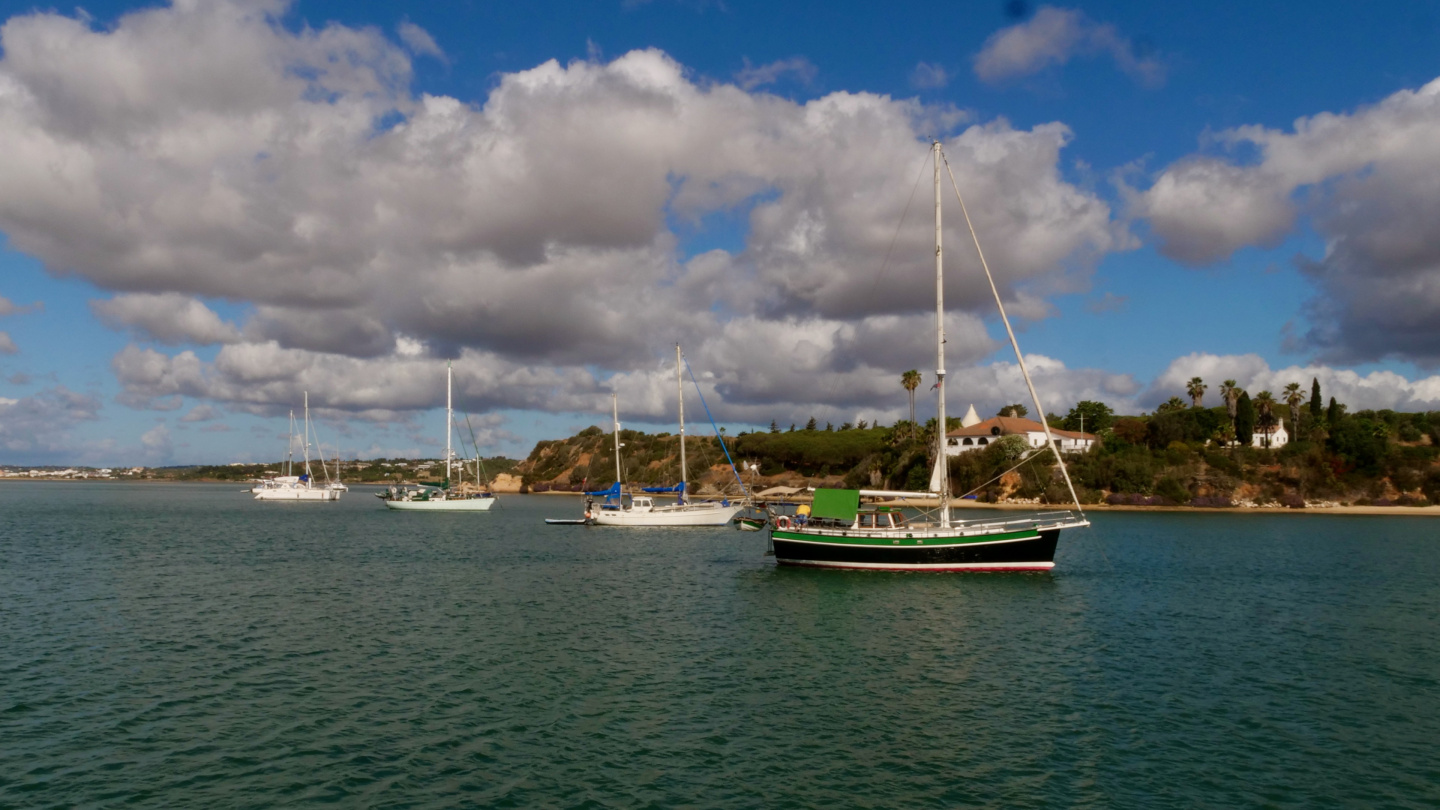 According to the chart, at the shallowest point of the entrance channel is having only half a meter of water. Our draft is 1.9 meters, and we were not so sure if the chart is correct, so we wanted to arrive as close to high water as possible. During our stay in Alvor we saw every day at least one local planing boat taking a shortcut too close to the shallow water and getting stuck in the sandbank, so the water levels and moving sandbanks here must be taken seriously.
We left Lagos in the afternoon and had a cozy daysail in the bay of Lagos while waiting for a tide. Just before high tide we entered the river mouth and passed the first anchorage with five anchored boats. Andrus slowed down when we were entering the dredged channel and he drove carefully forward with eyes glued to the chartplotter and depth sounder. In the end the buoys were exactly where they supposed to be, and Navionics chart was correct.
The space for visiting yachts is very limited and all good spots were already taken. The river near white villa has a depth of 5 to 6 meters with the tide of 3 meters. This was enough water for us, but the space was very tight. It took a lot of driving around estimating anchoring circles and gauging channel edges before we were happy to lower the hook.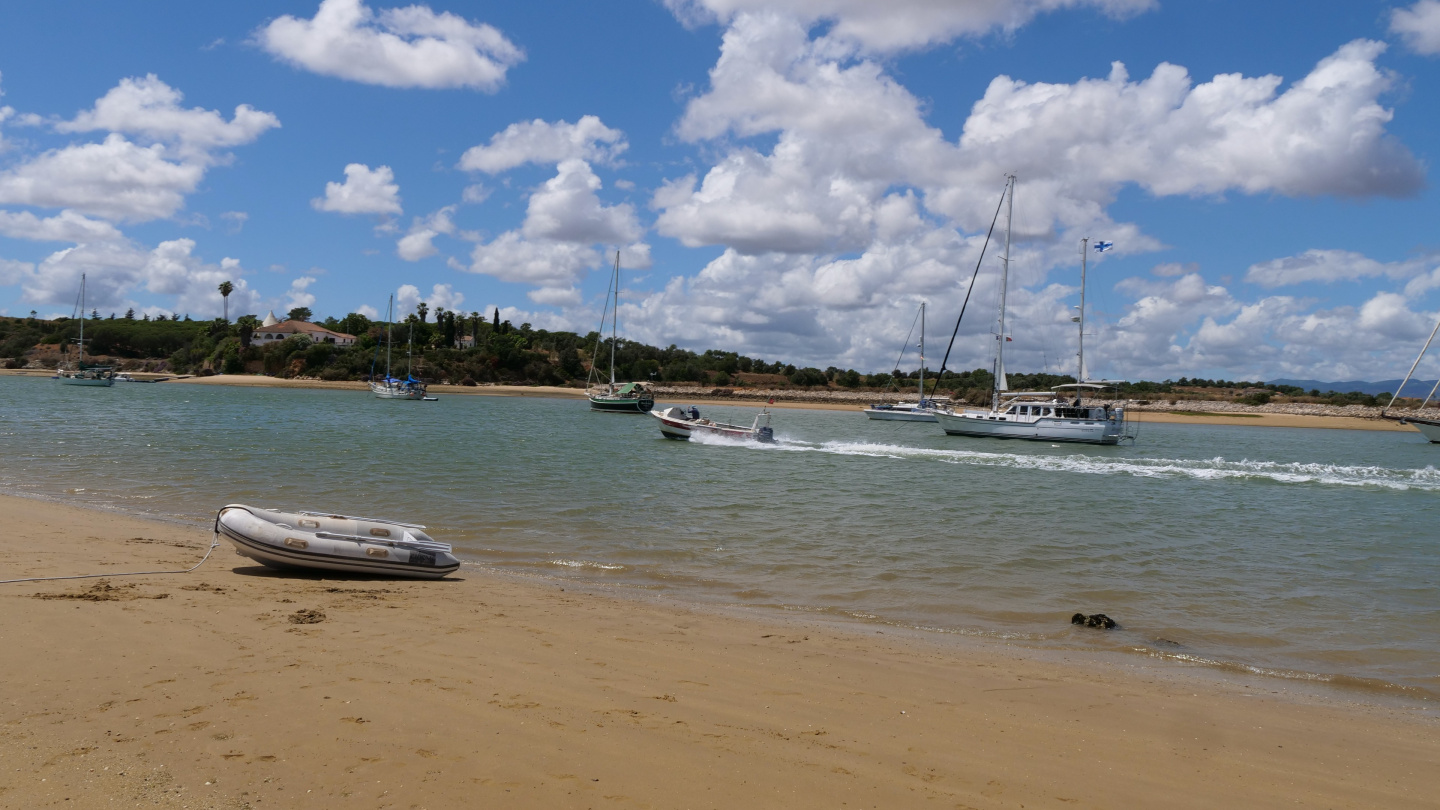 At the low water we were fond of going for a walk on sandbanks. There is also a three-kilometer-long boardwalk from the village of Alvor across sandbanks to the lighthouse. We were anchoring so close to sandbanks that it was nice just to jump to the lagoon and swim from the boat to the sandbanks.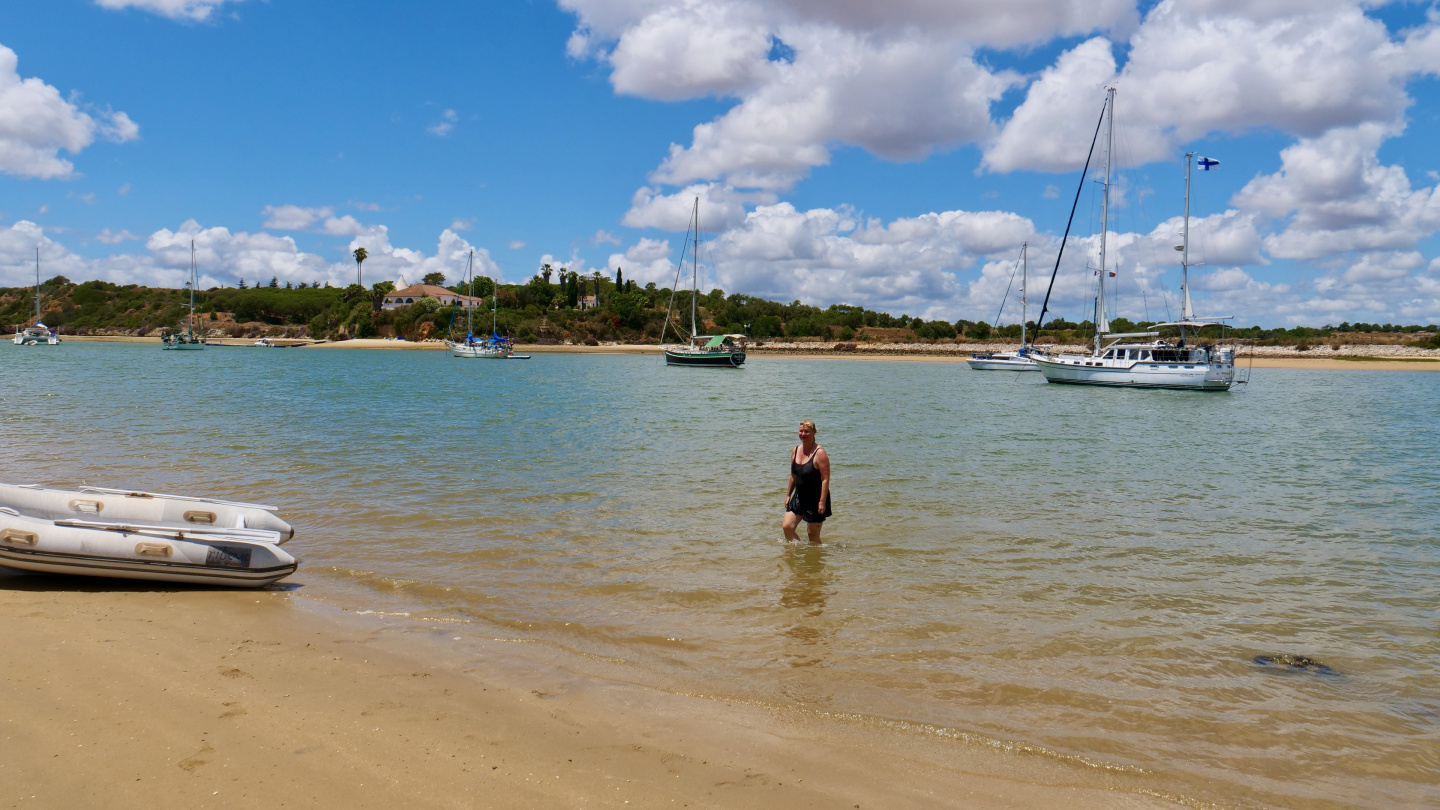 When I'm swimming at sea, I can easily lose the sense of direction because of my blindness, and I must stop every now and then and shout out to Andrus for correct heading. One sunny day I was wondering why Andrus kept calling out further behind me "keep going straight". I started to wonder if there are any secret intentions and asked, "where do you direct me?!". From the sandbank sounded a jolly comment, "soon you are back onboard and there are a couple of cold ones in the fridge". I carefully put the beer cans inside my swimsuit next to my belly for making sure that they would not take a dive when I swam back ashore. It was funny swimming back as the cans lifted me like floats. Well, that was fun and cold beer tasted good on hot sandy beach 😊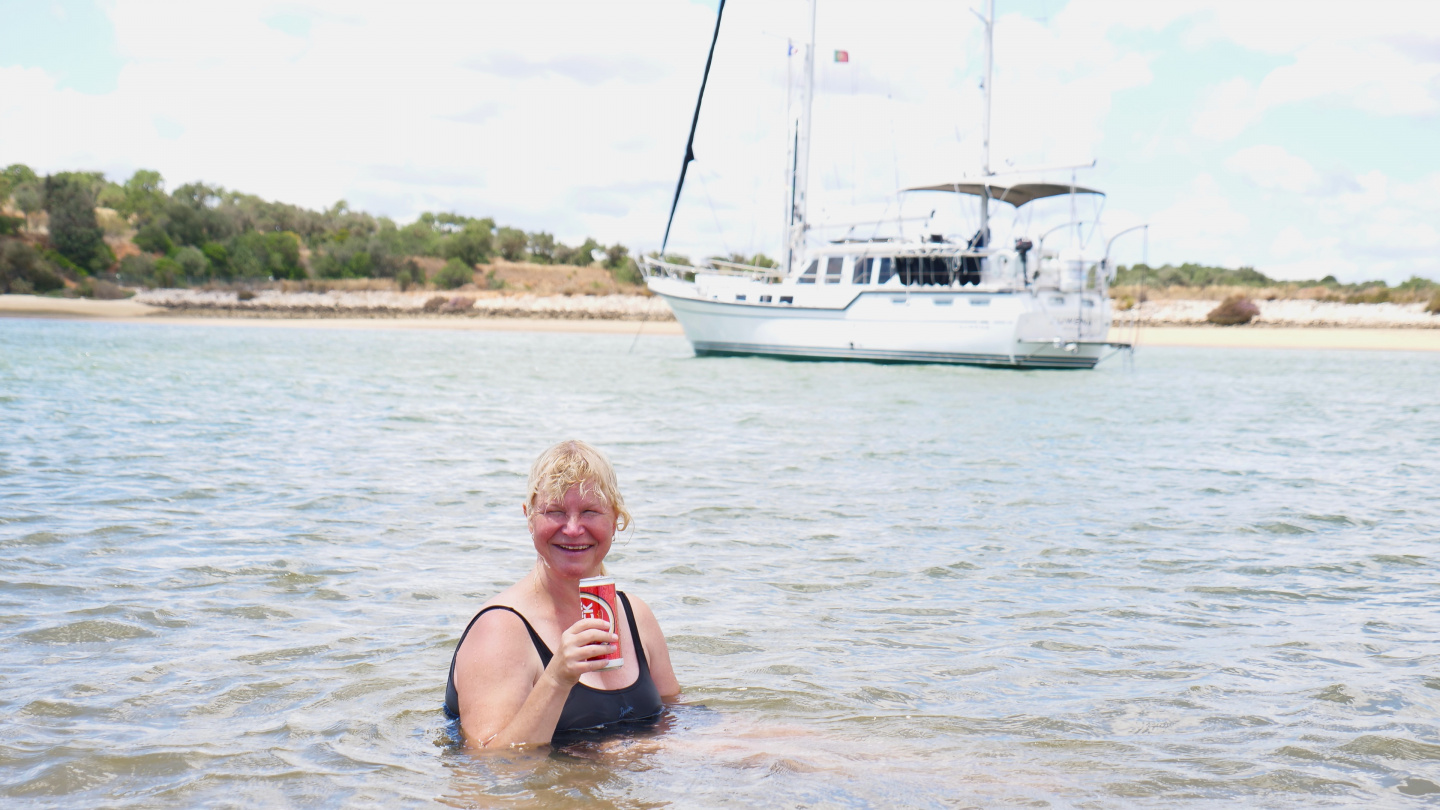 There are a lot of fishing nets and lobster pots in Portugal. Andrus has said that "Here in Portugal at sea, I need constantly watch out that we don't sail into the fishing net". In addition to fisherman who were buzzing by Suwena in full plane, be it a day or night, there were many people gathering seafood from sandbanks that became accessible during the low tide. They dug from the sand with a stick, gathering many kind of seafood like crabs and mussels etc. Only when the high water was again recovering the sand they left from their tedious job.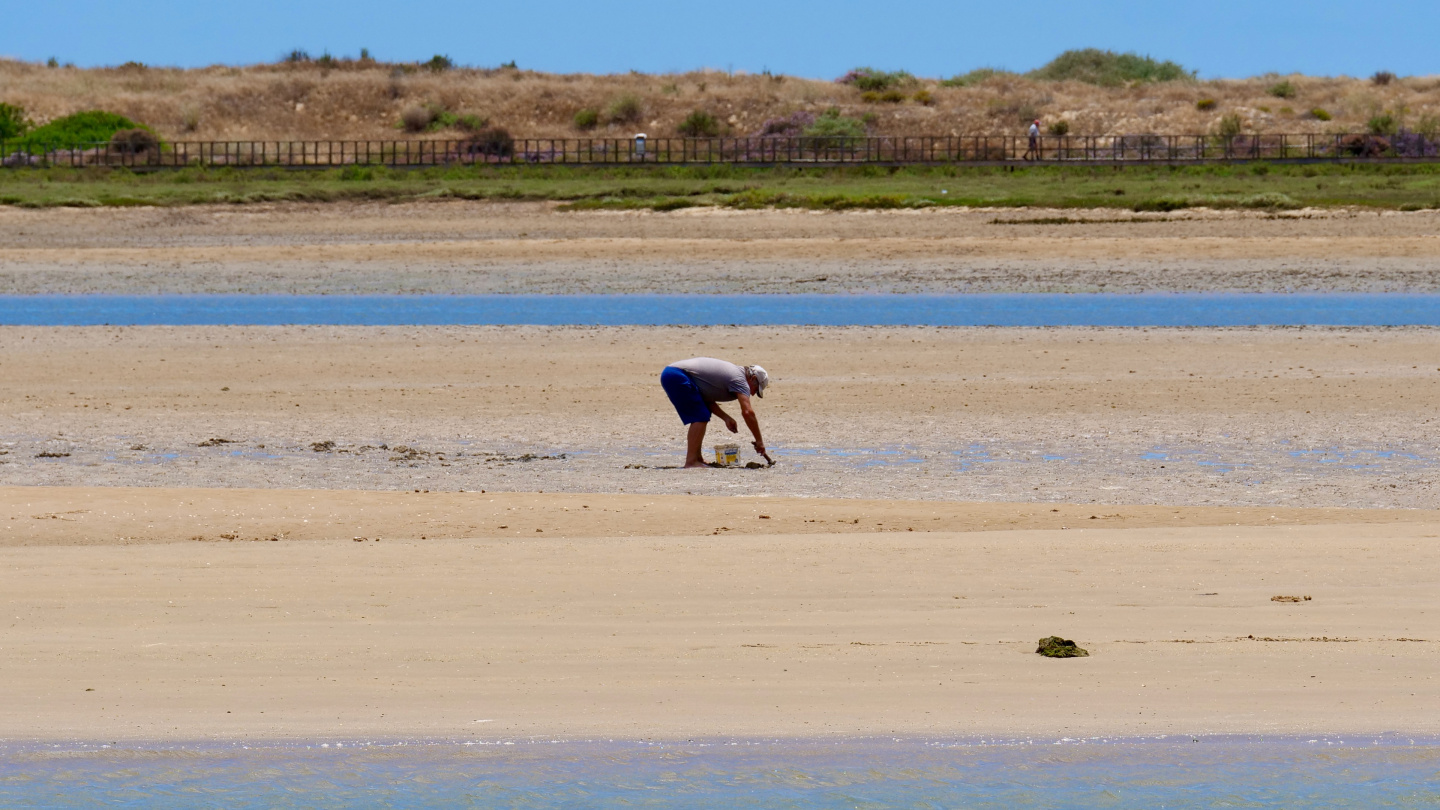 The small village of Alvor was built into the slopes of nearby hills. It still feels like a cozy village where fishing and making sea salt are still everyday activities. However, we were surprised by the number of restaurants in Alvor and naturally most of them serve vast variety of fresh fish. After carefully reading through menus of many restaurants and wandering the main street back and forth we sat down at the terrace of restaurant Sereia where we got the best fish we have had during our whole sailing of Portuguese coast. I must say that in Portugal fish is excellent and this was beyond good. The skewer of monk fish and giant prawns was served with salty boiled potatoes and salad. It was beautiful evening, having delicious dinner while the Sun was setting into the river of Alvor. Priceless!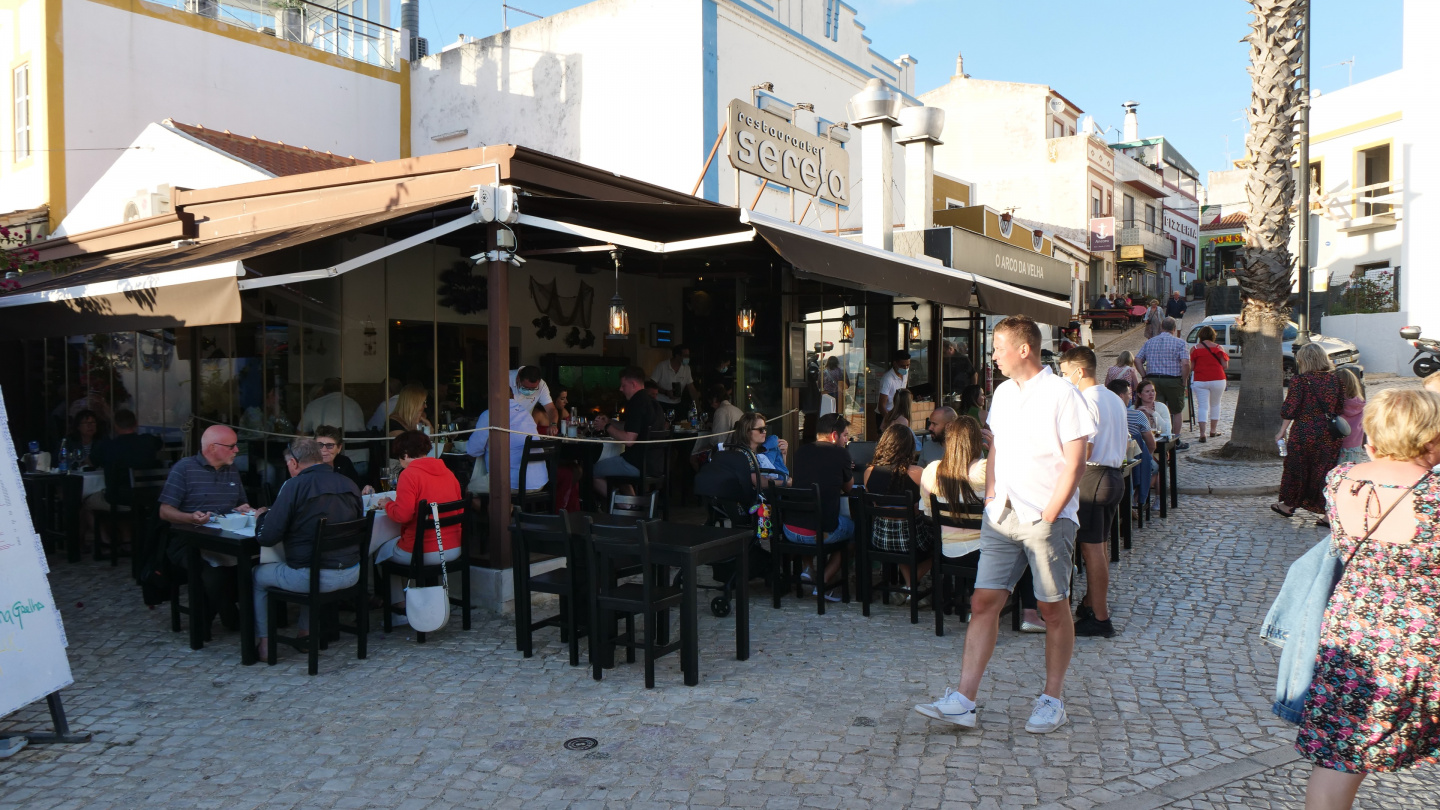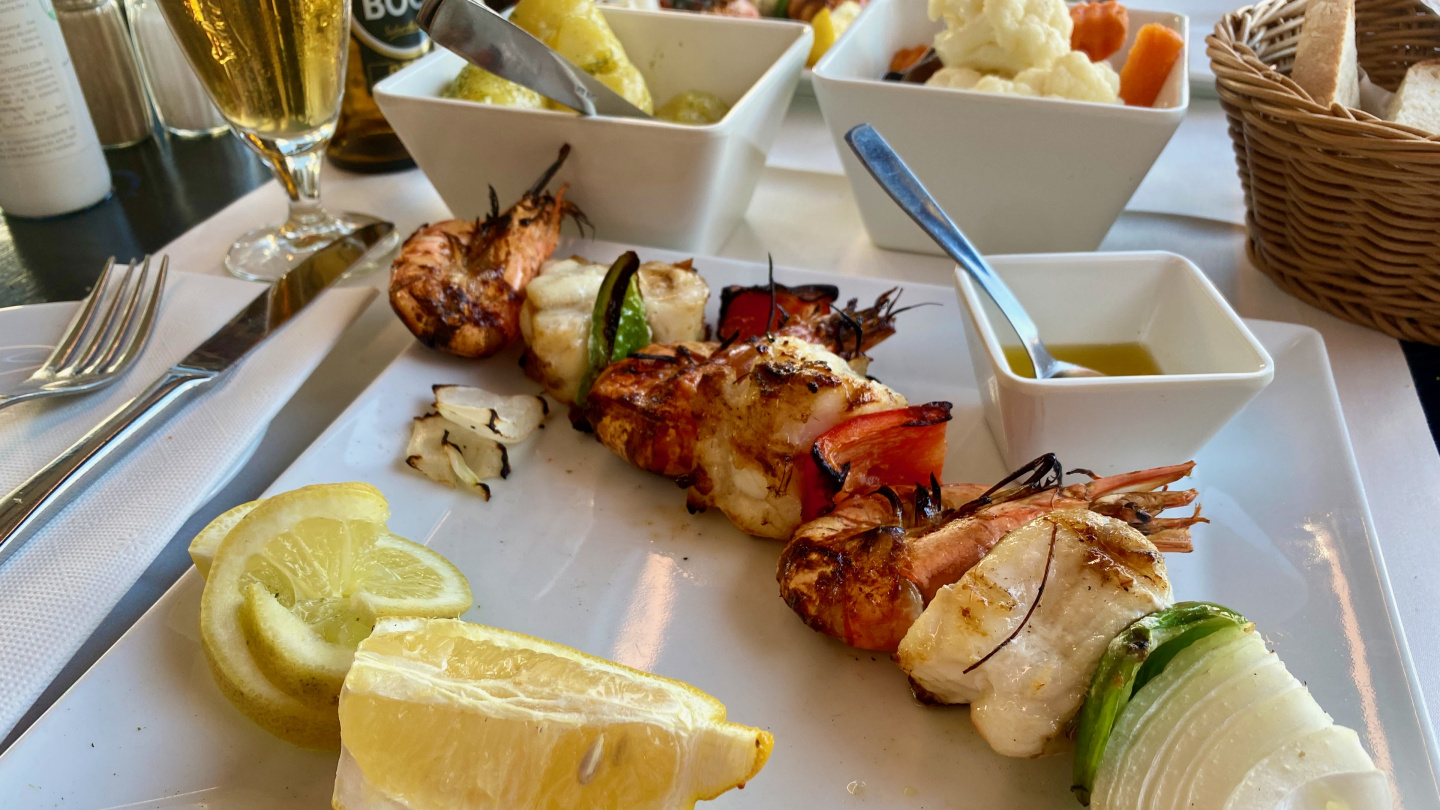 We can easily join the opinion of other cruisers that the lagoon of Alvor is definitely the best anchorage in whole Portugal. The idyllic lagoon is very small and there is space for only a handful of yachts, and this clearly adds something to its charm compared to crowded marinas of Algarve. During our stay only a few boats left, and it seemed that many arriving boats intend to stay for a week or more. If you are not in a hurry this is our recommendation, drop your hook and chill for a while!