Already last winter when we considered options for this summer cruise we thought about the stop fe days in Mariehamn.
Already last winter when we considered options for this summer cruise we thought about the stop fe days in Mariehamn. Now our wishes become true and we arrived to summery Mariehamn West harbour on Wednesday afternoon. We moored Suwena bow to buoy and her stern was made fast to the dock.
Just as we finished mooring her we were drawn into action as the local yacht club's Wednesday sailing competition started in the harbour. Andrus climbed to the roof of the salon where it was a perfect place to sit in sun and follow the competition. As the evening came the harbour started to fill with yachts. At last we are in a marina with some life. Most of the boats were from Sweden, few from Finland, couple from Germany and one from Poland.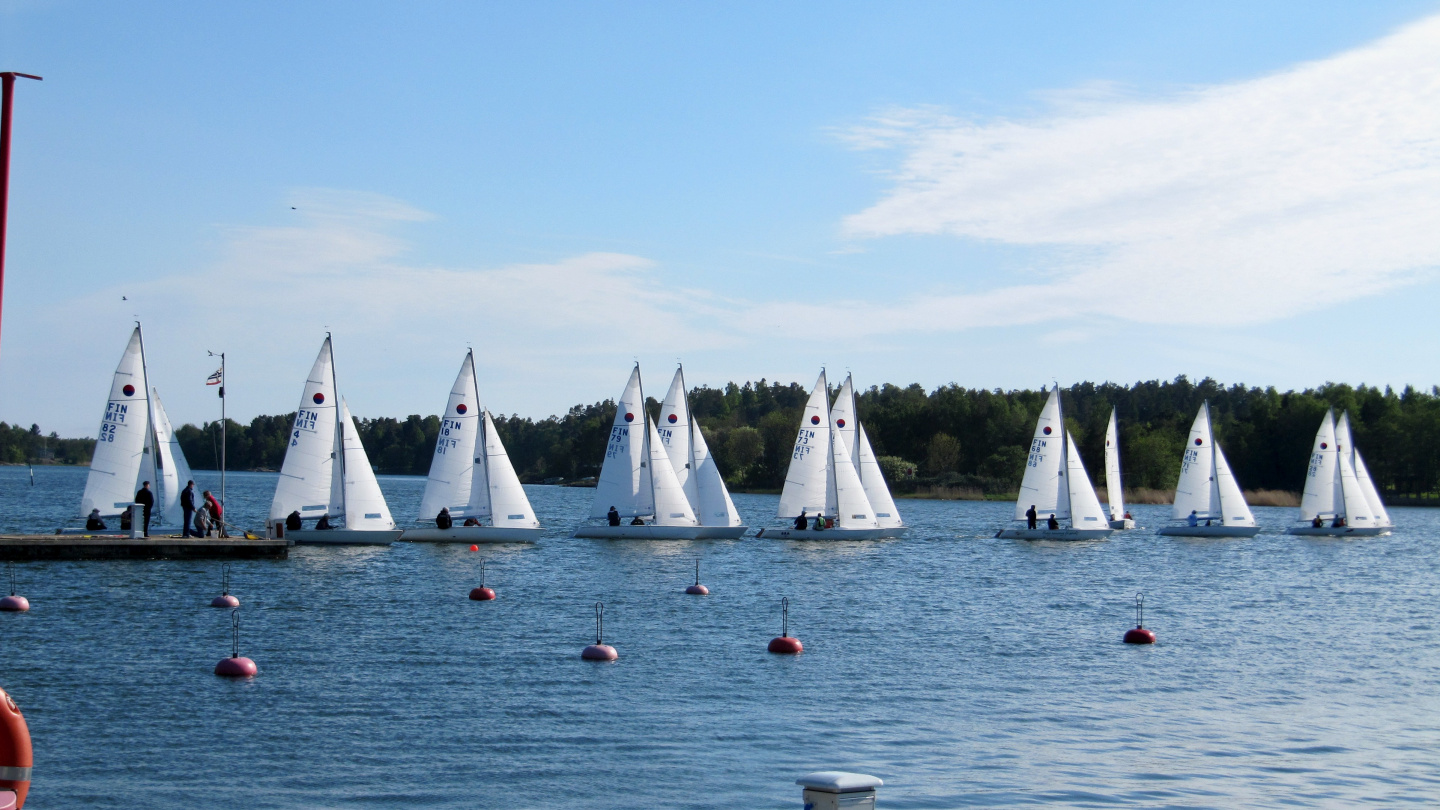 Western harbour is famous for its fabulous Viking themed pavilion. In addition to especial design it had a good restaurant and we got an excellent made sturgeon. We were amused that the menu said the sturgeon being from the Varkaus in northern Finland. As we are ourselves from northern Finland we think that Varkaus is in eastern Finland. It must be that the Finland looks different if viewed from Åland.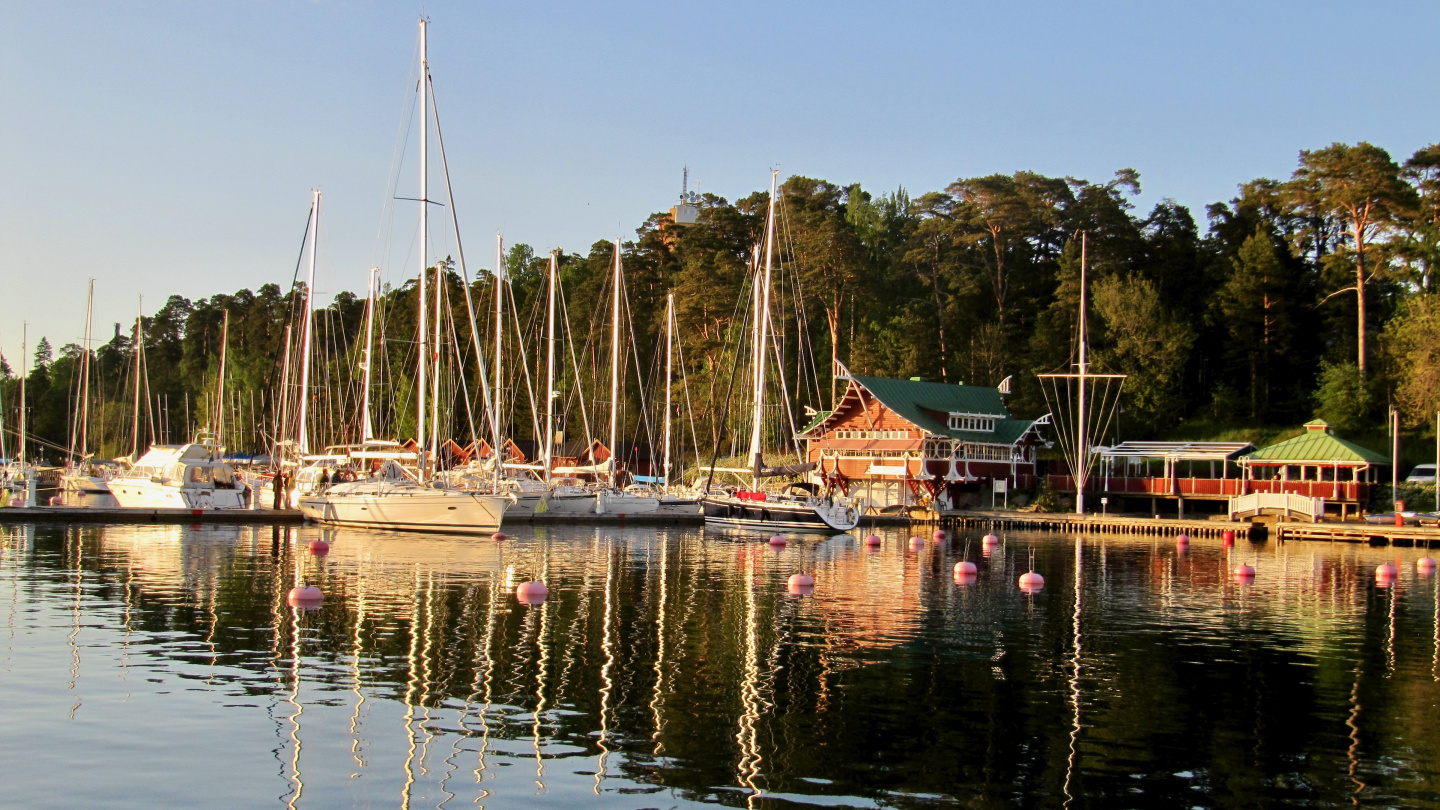 On Thursday we had a service day for both the Suwena and the crew. Last items were sorted and placed into cabinets. Already in our previous Suwena we arranged our stuff into handy plastic containers with covers. We bought from Turku some more containers that fit Suwena's cupboards and sort-out time was now in Mariehamn. The containers are stackable so different kinds of food, clothes and other stuff can be located into the cabinets in kitchen and cabins. It was also time to do our first bigger laundry and sunshine dried the laundry hanging on front deck almost instantly.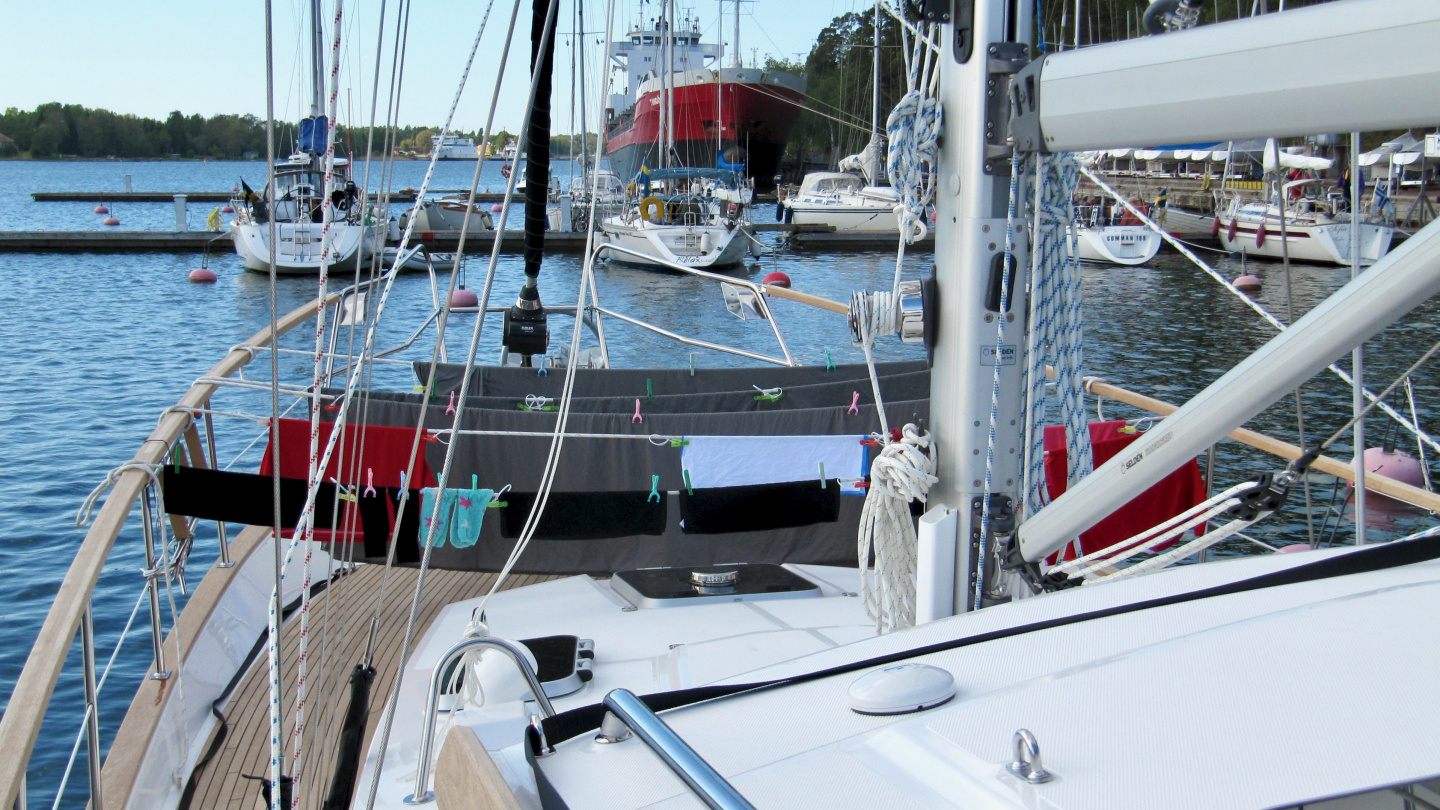 On Thursday night we woke up and wondered if there is a problem with our heater as we heard a lot of noise. The problem was not in our heater but instead a regatta from Sweden arrived and they made a lot of noise with their propellers. In the morning the marina looked different as there were almost twenty new yachts.
On Friday we explored the Mariehamn by foot and on Saturday we had an idea to go exploring the Åland's main island by bus as Åland has free bus transportation. It was our mistake for checking the timetable only on Friday afternoon. We found out that our plan will not work out because on weekends the buses go really rarely. So we decided to rent a car and that we later found out was an excellent decision.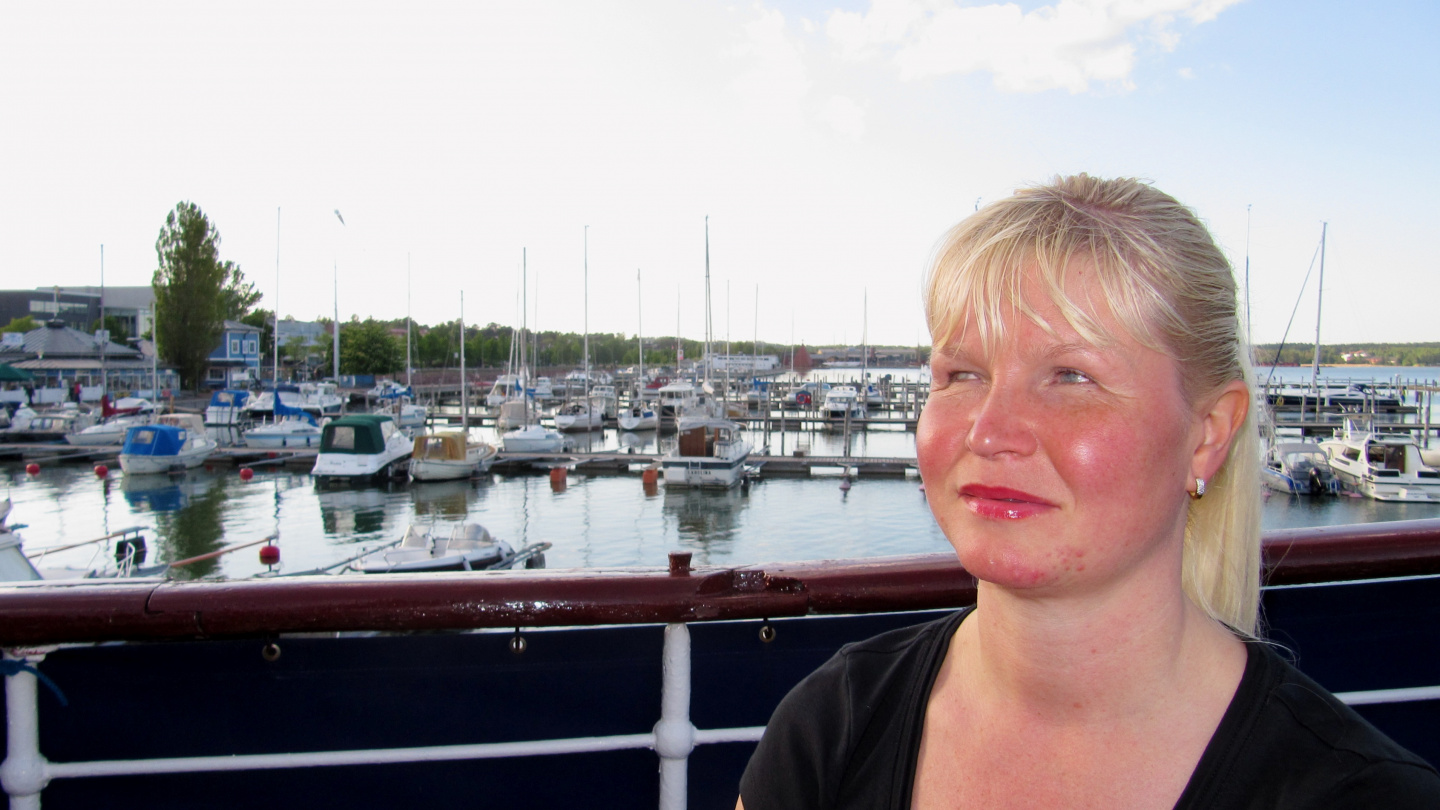 The car had also other uses beside the sightseeing. We needed to bunker the boat with foods for one week. Also we managed to buy some more wine than usually when hand carrying only. After we were happy to pay the alcohol tax to our homeland and not to Sweden.
Åland is part of the Finand but it is the autonomous region. It is also exempt from EU's VAT rules. Shipping companies take advantages of this by having ferries to stop in Åland. This way the cruise travellers can enjoy the tax free shopping. Both the Visking Line and Eckerö Line offered free fill-up cruises to Kapellskär for boaters. Free tickets for half a day cruise were available in harbour office but we decided to use our time for exploring the Åland instead.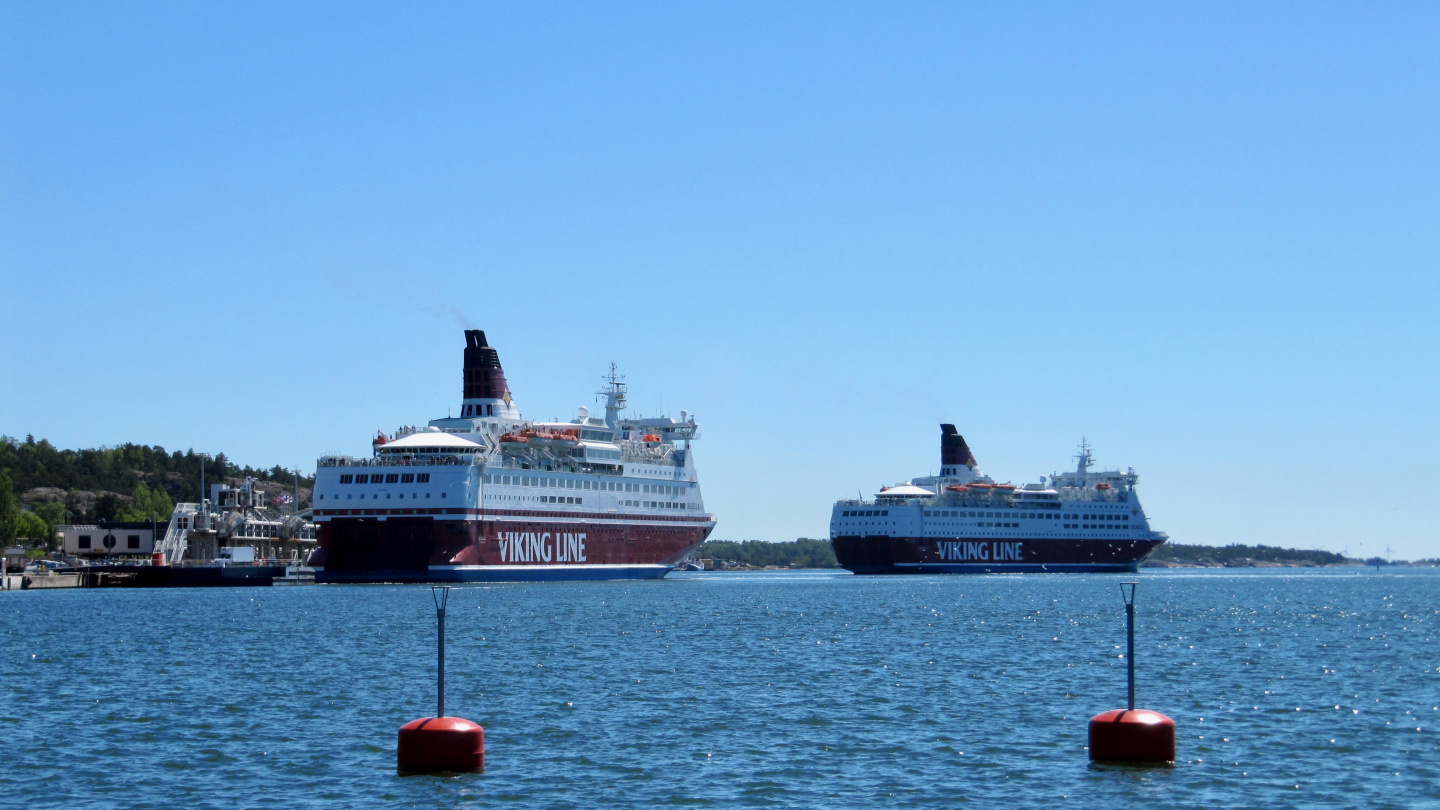 Our Åland sightseeing trip were really interesting because of meeting with Saara. She has moved from her home in northern Finland to Åland and she is also the authorized Åland guide. We heard many details about the life on the island.
On a way to Kastelholm castle we stopped in Uffe på berget view tower and the view to landscape was magnificent. Åland main island's coast is full of lagoons, straits, sounds and canals filled with sea water. Ålands main island is 45 kilometres wide and 50 kilometres long. The island is fully populated and farms are located between villages in regular intervals. We enjoyed our round trip around the island. Especially the beautifully cared for houses and courtyards were nice. The people in Åland really take care of their own and are hard-working.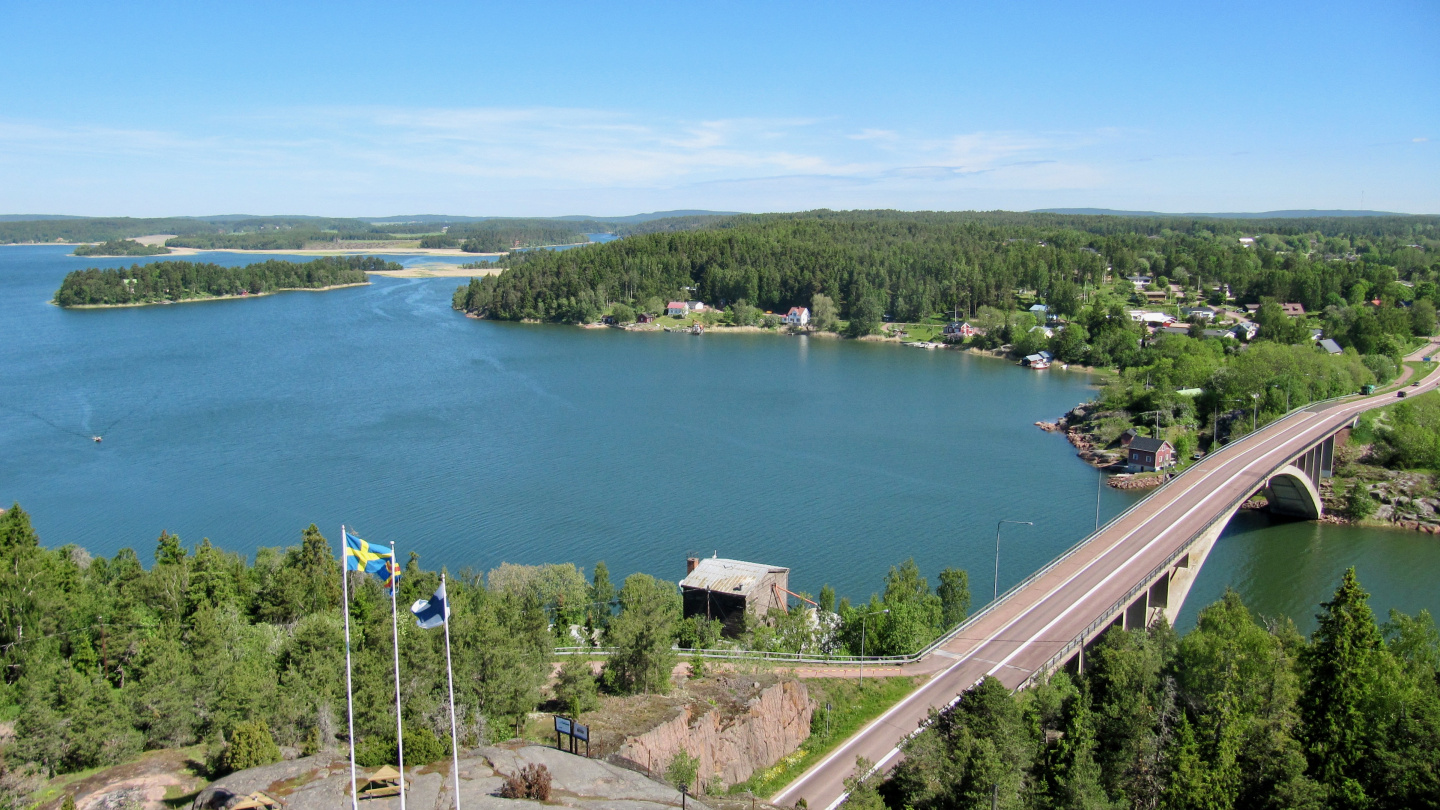 The next stop was in Sund the medieval castle of Kastelholm. Its heyday was on 15th and 16th centuries. Even thou the castle is nowadays restored it still is in a ruins. Only the few rooms have been fully restored.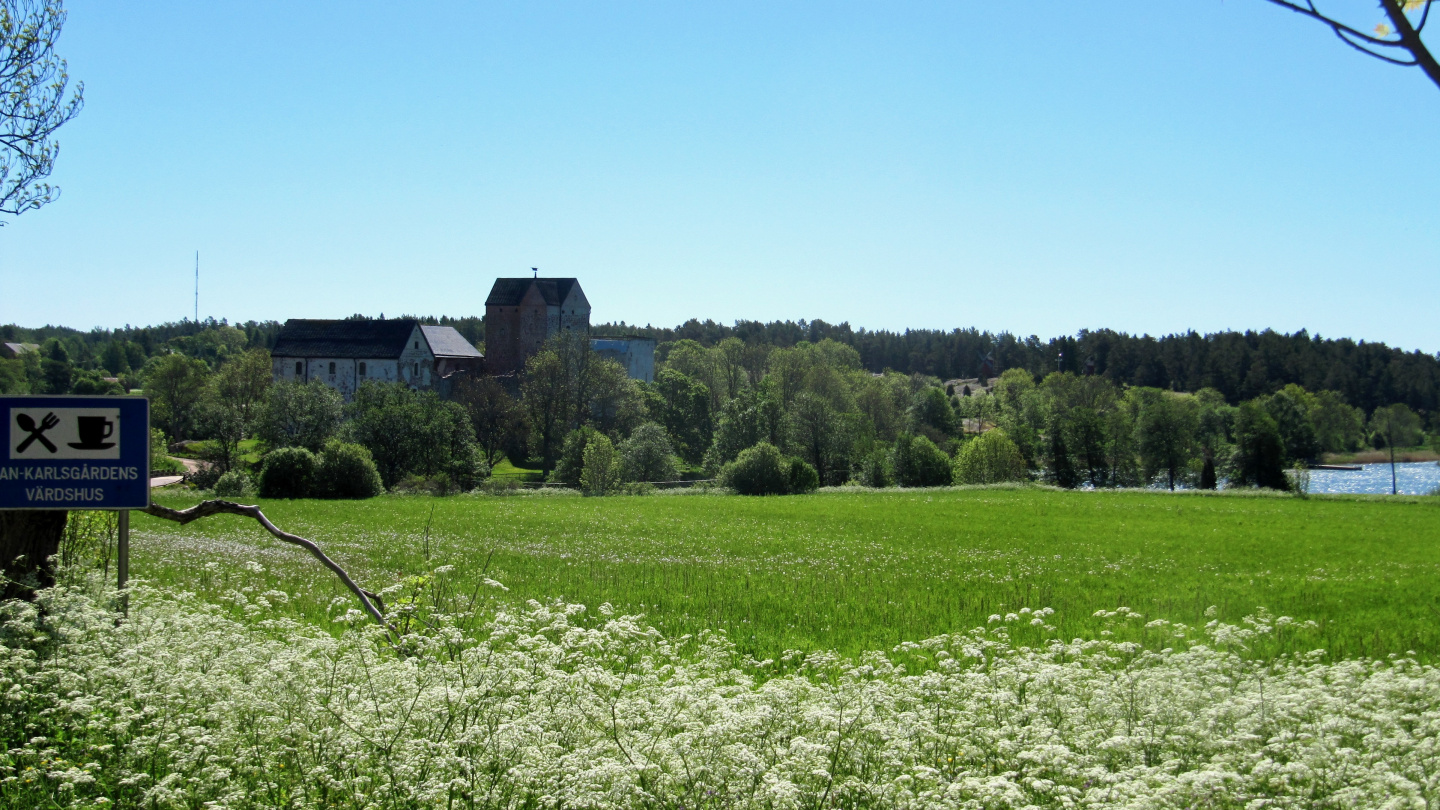 With the guide the castle awakened with interesting stories about dungeon, witch hunt and Erik's prison time alive. Without Saaras colorful stories the experience would have been quite boring.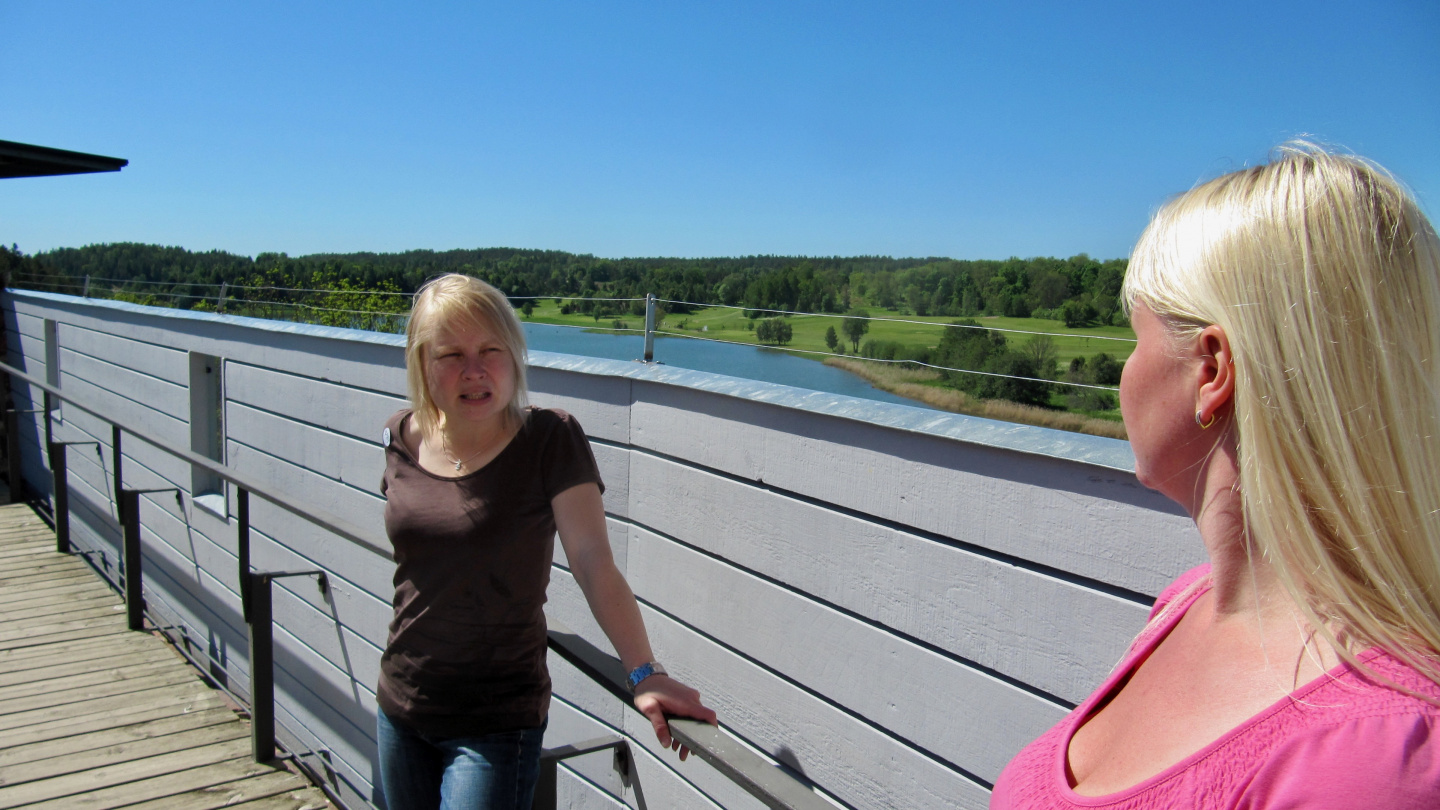 The medieval Åland people or should I say Swedish revealed to be more penny-pinching that Finnish. The medieval soldier's daily ration in Kastelholm was only 2,6 liters of beer and 1 – 1.5 breads per day. In Olavinlinna castle correspondingly the ration was 5 liters on every weekday and 7 liters on weekend days with the addition of firewater. Could it be that Finns got their reputation already in medieval times.
Our trip continued to the ruins of Bomarsund. From this castle only a few pieces of walls are left. The most impressing was Saaras story about the parties in Djevulsberget. The Russians have only started to build a defence tower on a devils mountain when they started to have parties at night time over there. The story tells that Russians casted spells over the local people. One of the officers danced the feet off from the local priest's wife. What might be the truth? The party was always during the night time. This tradition is still living. Night time secret dance parties are still arranged by locals and outsiders are not informed beforehand. Unfortunately during our visit we were not able to join the dancing but maybe next time we can fit in.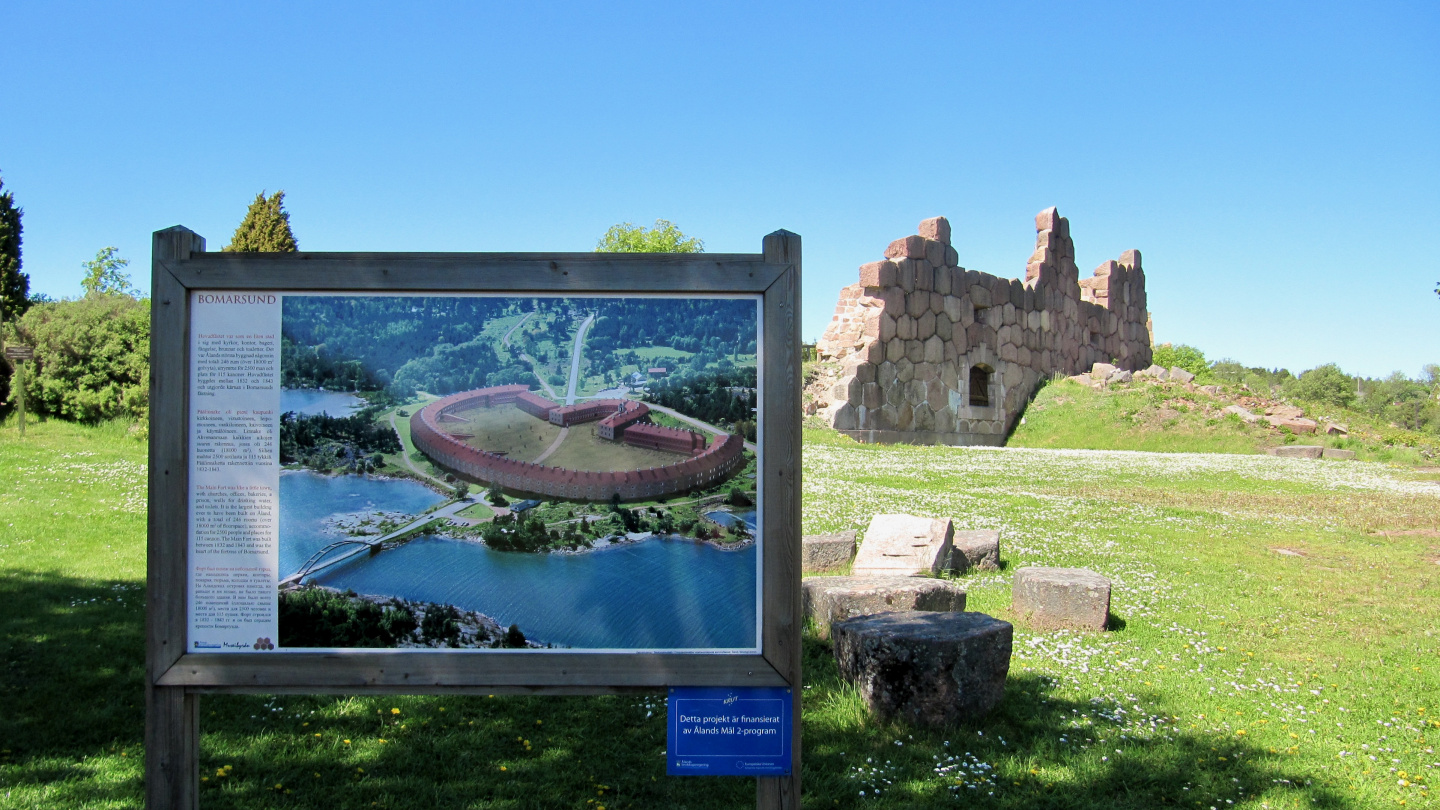 Inspired by soldier's daily beer ration we tried to get into excursion on modern beer making. Stallhagen brewery makes over ten different beers. Unfortunally during the daytime there are no tours to inside the brewery. Only the bar was open and we bought back some beer for tasting on Suwena.
It was really nice to spend a day with Saara as it has been many years we've seen each others. She is also an excellent guide and makes our trip much more richer than we would have ever done by ourselves. Thank you very much Saara!
Before leaving the Mariehamn there was still one more place to visit. As boaters the steel framed four mast barque Pommern was a must experience. She is sail cargo ship, built in 1903 and her last voyage was on 1939. Pommern sailed on grain route from Australia to Europe. It is unbelivalbe but they had a photographer on board. The photos with stories are presented on ship. Our furling sails are no match for Pommern's square sails. The sailors life must have been tough to go to trim the sails by climbing the spars in any possible weather. The helm is so big that two or four sailors were tied to it and steered the boat together. The photo collection about Pommern's sailing in storms and waves hitting over the deck is immense seeing.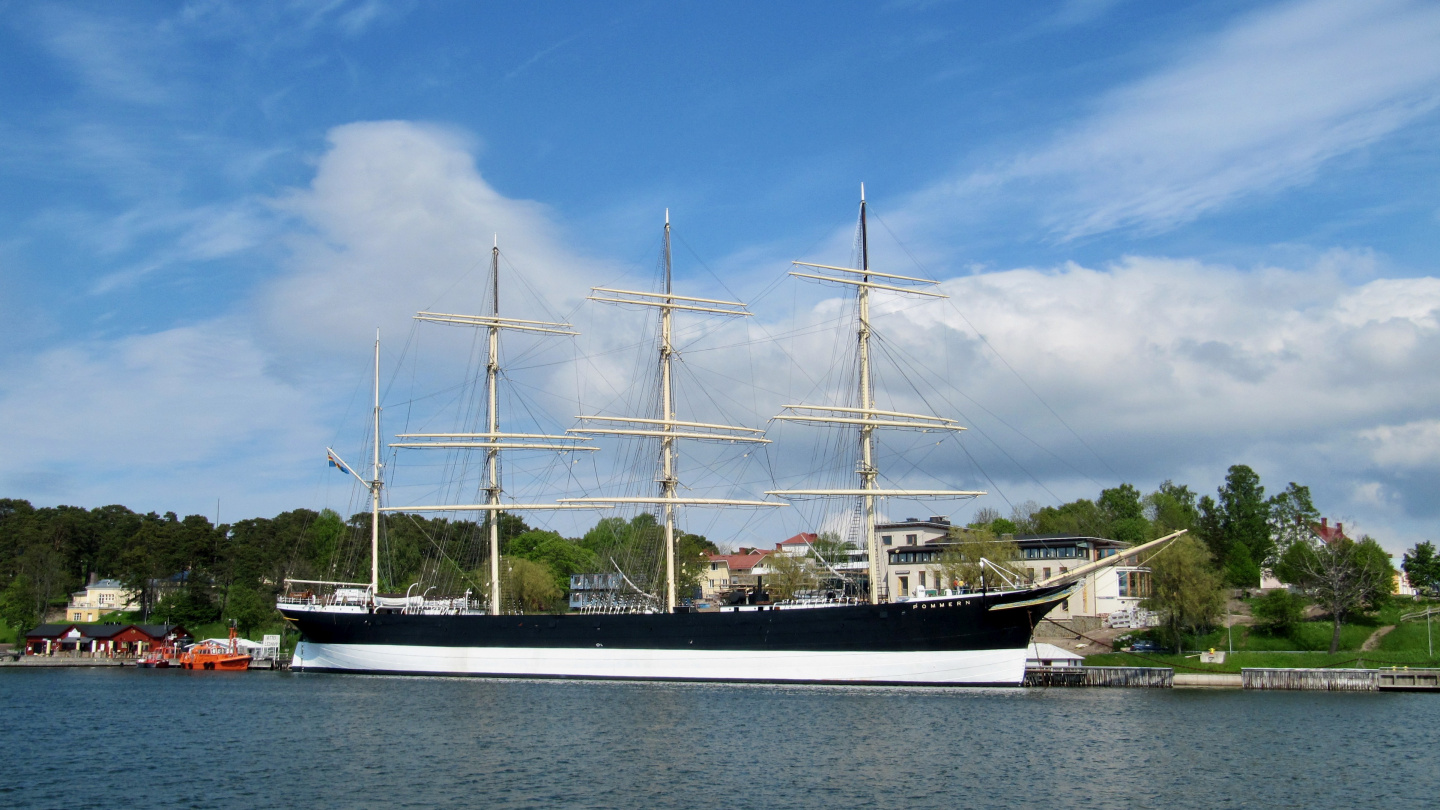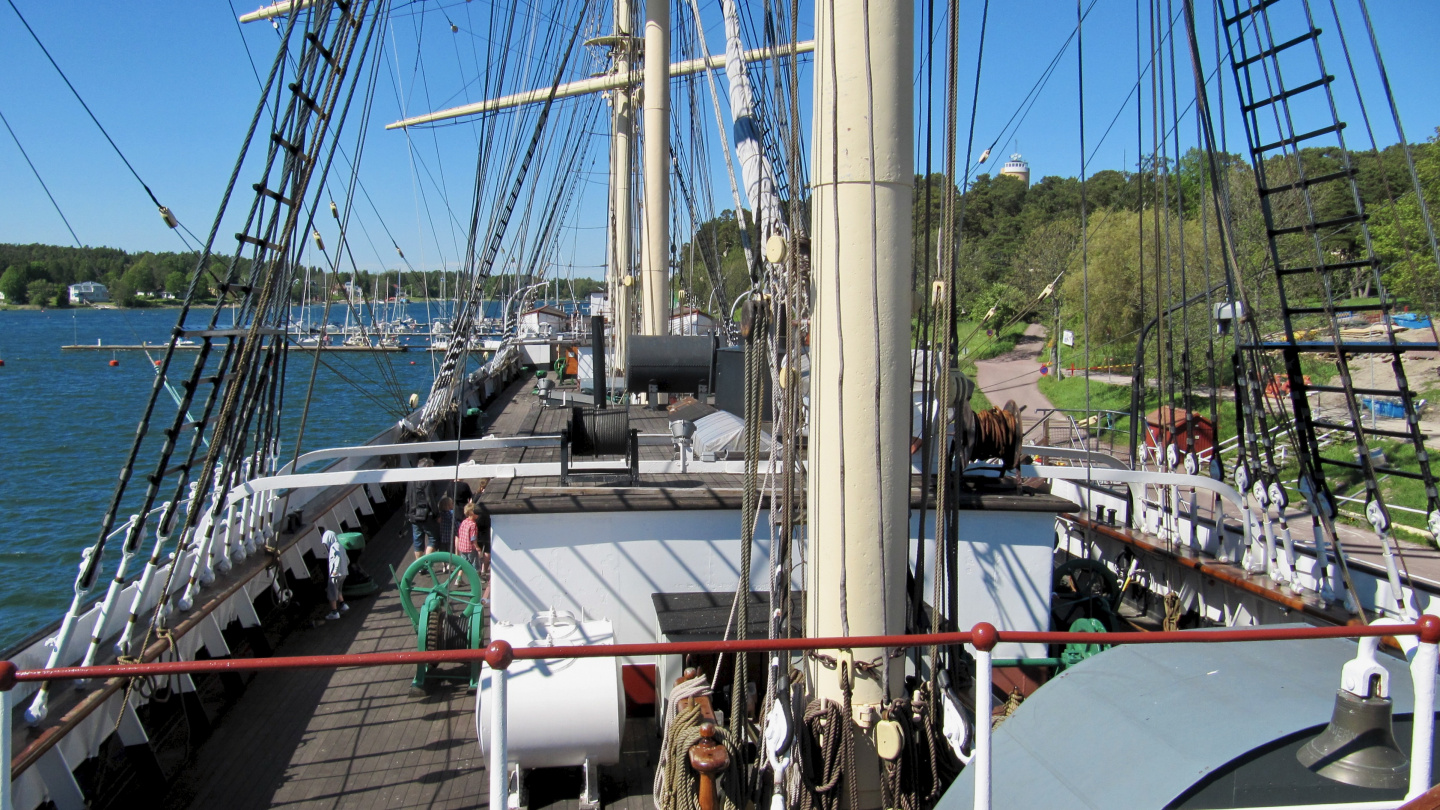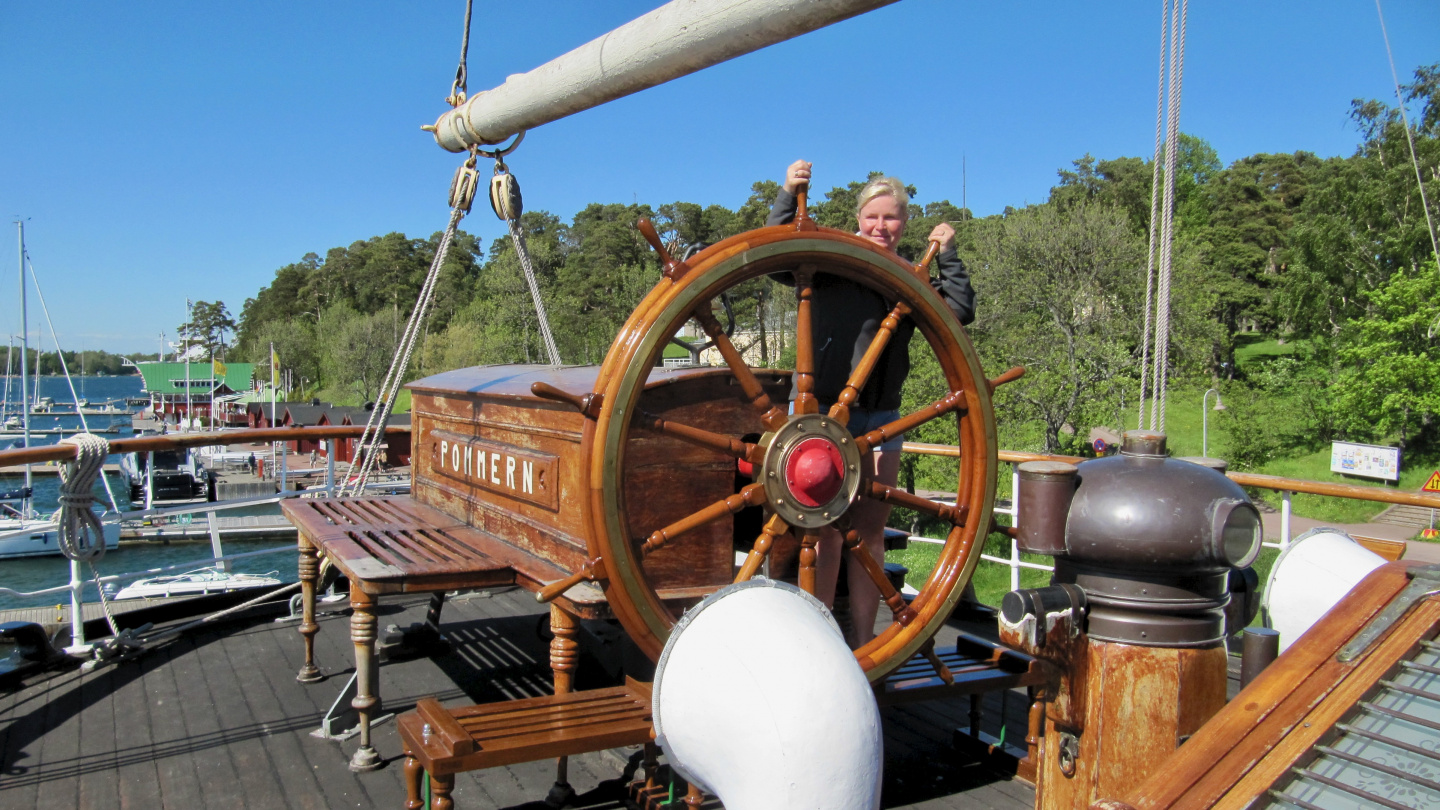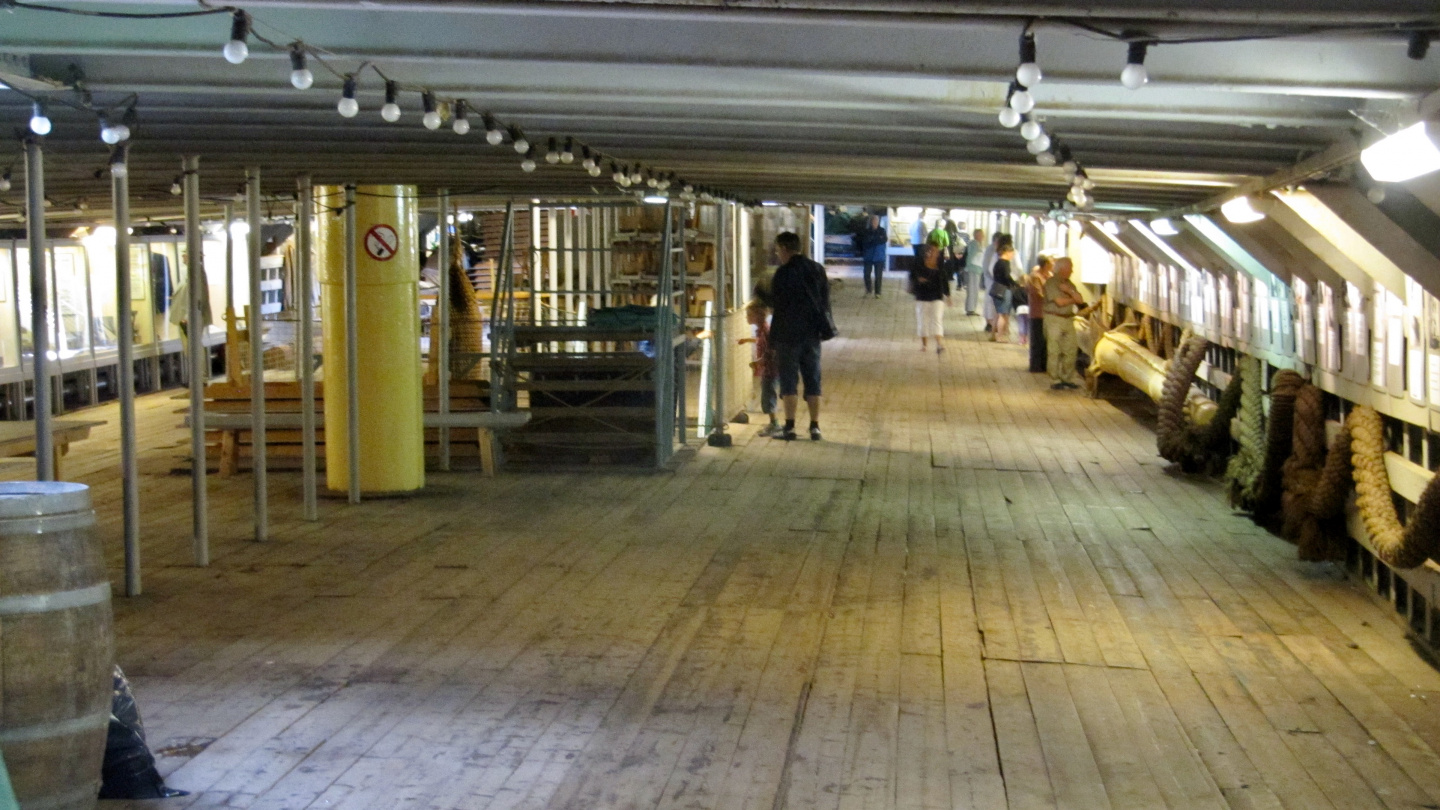 Pommern's men were brave sailors as they returned from Australia through southern Pacific Ocean that is famous for high winds and storms. No wonder the boys danced happily when they were back in harbour.
After the culture day it was time to prepare for the next leg. On Sunday we had a crossing of the Åland Sea ahaed. We hoped that the weather forecast would hold and we could sail over the Åland Sea. We think that this would be a good practice for future crossing of the Baltic sea.