Just like previously the August passed quickly by doing long days at work. When after four weeks we stepped out from Hamburg airport terminal we waited eagerly for a taxi to get back to Kappeln and Suwena. In Schlei area has an excellent long distance taxi service with fixed prices to airport. Of course from Hambrug it is possible to get to Kappeln by train-bus-bus combination but with big bags this option did not seam appealing to us.
Now that we were in taxi and going back to Suwena we got a little nervous about her condition. For example we had not been able to adjust her lines according to the weather. We worried for nothing. The lines had been set by the harbourmaster and everything was well. The Ancker Yachting marina has been a good choice for us. Also overall she looked in good condition despite of lying in marina for a month. Maybe there was less dirt because Kappeln is a small town compared to Helsinki or Turku. In both of these cities after keeping Suwena for one month she was in quite a filthy condition when we arrived back to the harbour.


Tuesday afternoon passed quickly. We were getting her ready for living aboard again and confirming the upcoming plans. We had agreed previously with Kiesow diesel engine maintenance company that they will start making modifications to our engine fuel supply on Wednesday. It occurred however that some parts were still missing and we agreed that the work will begin next Monday. So our plans were altered immediately. Anyhow we decided that Andrus will investigate our problems with solar panels and fix them before we leave for the last sail during this fall.
Next thing was to confirm with Ancker Yachting that we could lower the rig and lift the boat during the following week. Already in July we asked from harbourmaster if they could really lift Suwena because their crane is only 16 tons. We had already during the winter informed them that Suwena is weighting almost 20 tons. However they had checked the Nauticat website tells that the weight of average Nauticat 441 yacht and thought their crane can lift her up. Our Suwena has however many extras and she is heavier than usual Nauticat 441. During the August Ancker has searched for another solution. They proposed that we would dismantle the rig in their marina and leave it there for a winter storage. During the spring they would put the rig back up. Ancker Yacting is the regional reseller of Selden and rigging is their bread and butter. They also proposed that we would take Suwena for a winter storage in another boatyard because they have a 45 ton crane. Harbourmaster of Ancker Mr Ulrich handled everything excellently. After having a discussion with us he asked a quotation for a winter storage from another yard. We could also use a company car to visit Schrader Marina for agreeing all the details. At first it felt strange to leave the rig at one place and the boat at other. On the other hand it is benefit for both to us and to marina that Suwena would be lifted up with the crane that can handle her.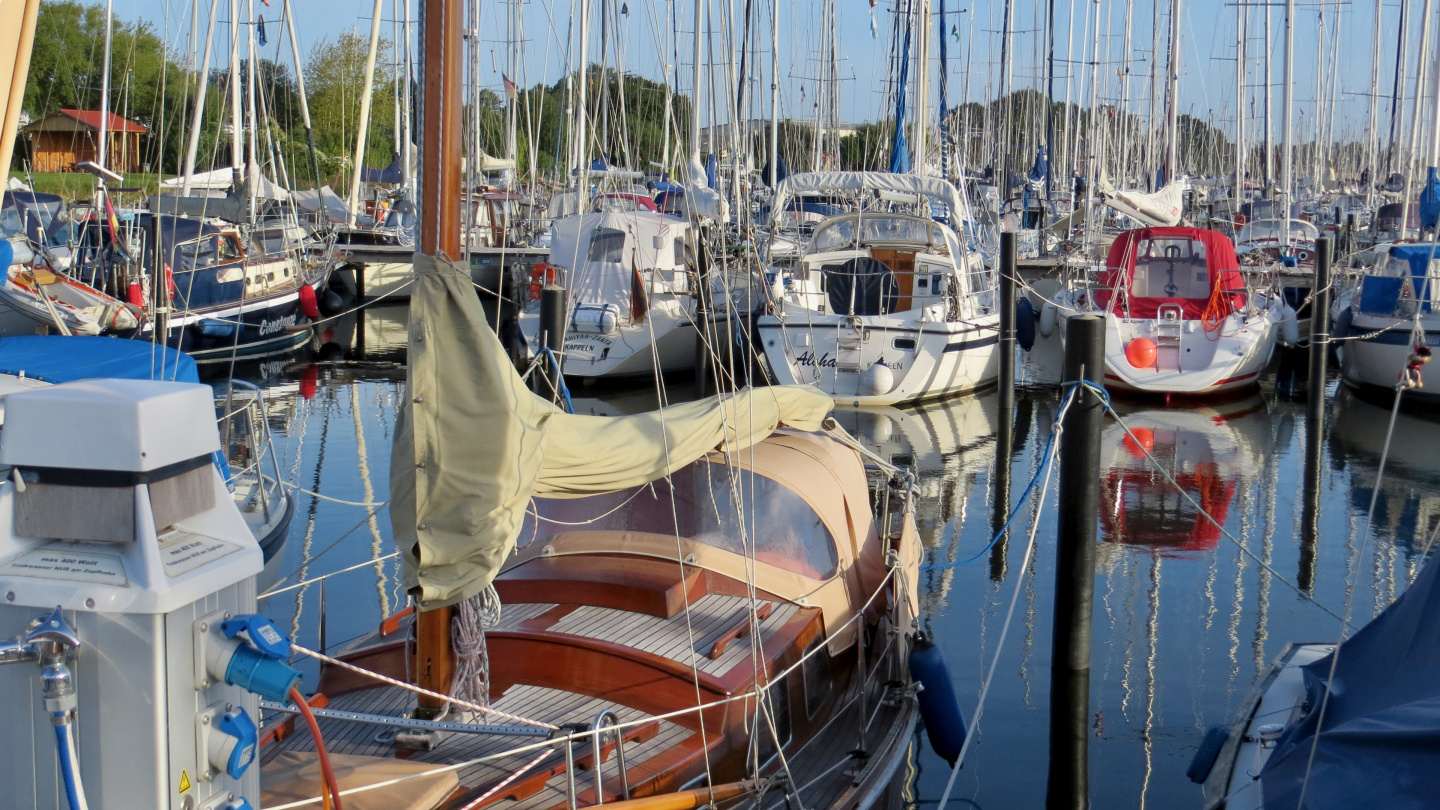 The drive to Schrader Marina took half an hour. We saw the boatyard, warm storage shed and also a pontoons where we would be arriving during the next week. The place seemed good, we finalized the deal and returned to Suwena. Next week we will drive about three hours by boat from Kappeln to Schrader Marina.
Last winter we installed two 135 W Kyocera solar panels to the salon's roof of Suwena. Along the summer Andrus has wondered why we only get 0.5 amps of current from these panels. He has investigated function of panels and it looked like the charging controller is the problem. He also discussed both with Nauticat and Finnish importer for a Morningstar MPPT controller. Finally we brought the controller back to Finland in the end of July and sent it to local importer for testing.
Andrus also searched internet extensively and there were some discussions about problems with this charger and AGM batteries because the voltage on AGM is a little higher compared to the regular lead batteries. In addition the web page of Morningstar recommended software update for the controller. Software update requires a special programming adapter but to our surprise Finnish importer did not have one and also they were not knowledgeable about possibility to program the controller. Luckily there is a thing called internet and Andrus ordered the adapter from online store from UK.
The controller was returned from importer with the note that there were no faults found. We were extremely suspicious because where else the problem can be? Andrus reinstalled the controller and there wasn't any proper charging. Finally there was no other option than to start tracing the electric system wire-by-wire. He checked all wires leaving the circuit breakers and comparing them to the electrical diagram. Also for solar panels we do not even have a diagram so the work took several hours. At last he solved the puzzle. The controller was connected to charge the start battery, not the domestic battery. At the same time he noticed some other mistakes as well like for example with bilge pumps. Pumps were connected to the main switch, they should be connected directly to batteries so that the automatic bilge pumps work when the boat is left for a longer time to water with the power turned off from main switch.
He switched the wires so that solar panels are charging the domestic battery and everything worked at once. On one hand we were relieved that he found the error and there were no fault in solar panels but it has been a lot of worry during the summer and now an additional work of several hours. On Wednesday evening we had a tired but not happy man aboard Suwena.
On Thursday the repairs continued. In the end of July when we shut off all equipment for a month Andrus noticed that one of bilge pumps did not work. He tested already then that the pump had electricity and it is possible to empty the bilge by using the manual override switch. That meant we had a broken bilge pump switch. We ordered a new Quick EBSN20 bilge switch and now Andrus replaced the broken one. With the new switch there were no more problems. It looks like there is water inside the bilge switch. This is somehow special because the switch is designed to be functioning in water.
While changing the bilge pump switch Andrus also improved the pump's electrical circuit. Suwena's deep bilge is divided into two parts. In the aft part there is a shower bilge connected to shower drainage. In the fore part there is the actual bilge well. Both compartments have their own bilge pumps together with automatic switches. The wall between compartments is low enough that if one pump develops a fault the water will spill over to the other compartment. This way they act as a backup to each other. In addition there is a high water bilge switch installed a little higher. The shower bilge pump was originally connected correctly into the main switch. At the same time as Andrus moved the actual bilge pump connection directly to batteries we decided that he'll also move the shower pump there. Otherwise they would not be able to function as each other's backup then the main switch is turned off.
It was already noon on Thursday and we had done enough boat maintenance for some time. Diesel mechanic would arrive only on Monday so we run quickly to shop to bunker Suwena for the weekend. Then we quickly cast off the lines and raised sails on the sea!
Repairs in Kappeln 28.8. – 30.8.