Seven days passed quickly in Hiervensalo docks as we thoroughly explored the yacht and familiarized ourselves with all parts.
Seven days passed quickly in Hiervensalo docks as we thoroughly explored the yacht and familiarized ourselves with all parts. We found that the check list we have made for our reference beforehand was really useful. We divided the check list into sections according to yacht areas from the bow to the stern. In addition there are divisions for the deck, rig, engine room and electrics. Into each section we wrote checking points and sales contract options related to this area. The list was at the same time yacht check-list and a base for our basic training. Kaj Gustafsson guided us through functions of many devices and theirs service points. Patrik Gustafsson introduced us to the rig and other deck hardware. If there was any defect then Tuula Gustafsson organized the fixing immediately.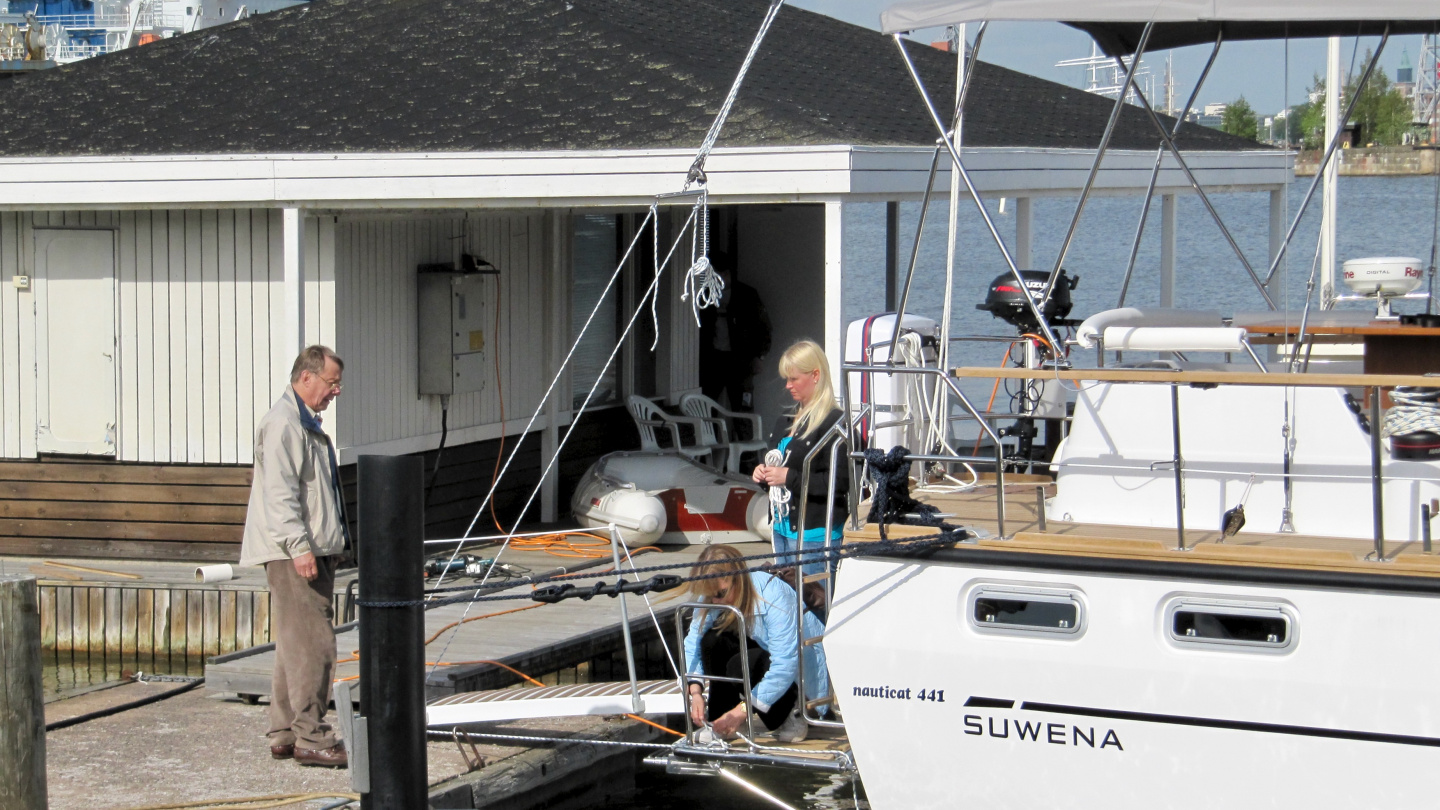 There were some shortcomings. For example the rig was once assembled in test pool. For transportation it was de-rigged and assembled again in water. During the check we found that the pulleys for running backstays and spare halyard in mizzen mast for dinghy lifting were missing. Also there were no electrical wiring diagrams until these were delivered just before our departure on Thursday. Andrus was really satisfied with the electrical schematics of the boat because it contains all connections. He thinks that it is really a rarity to have a full schematics in pleasure vessels. It is our joy however that Suwena has the full electrical documentation.
At the same time with a fixing of shortcomings the yard was implementing our last minute wishes. For example we asked for additional shelf for our laptops in one of the cabinets. Another thing we noticed during the mooring exercise that the bow boarding ladder was too long for our crew and Nauticat promptly shortened this to correct length. When assembling the storm bunk into the dinette we noticed that the beds middle part was a wrong kind and already on next day we received the correct one. These are only the examples about how smoothly and flexibly all shortcomings and last minute changes were made in agreed schedule.
In the middle of this fuss we had time to go sailing and practice yacht mooring. Catching a buoy is more challenging to us now that our deck is much higher compared to our previous boat. Due to my blindness I need to find the buoy ring by the hand first before I can fix the mooring hook. Catching the buoy is easiest to do on the side deck where the side gate can be opened while the lower railing can be kept closed for safety. Over there I can bend over the railing with both hands free for catching the bouy.
Everything was ready and we were able to leave on our lucky day the Thursday.
We would like to deliver through our blog the huge and warm thanks to everybody who has participated to make our lovely yacht Suwena. Your professional handwork will sail with us into many new anchorages.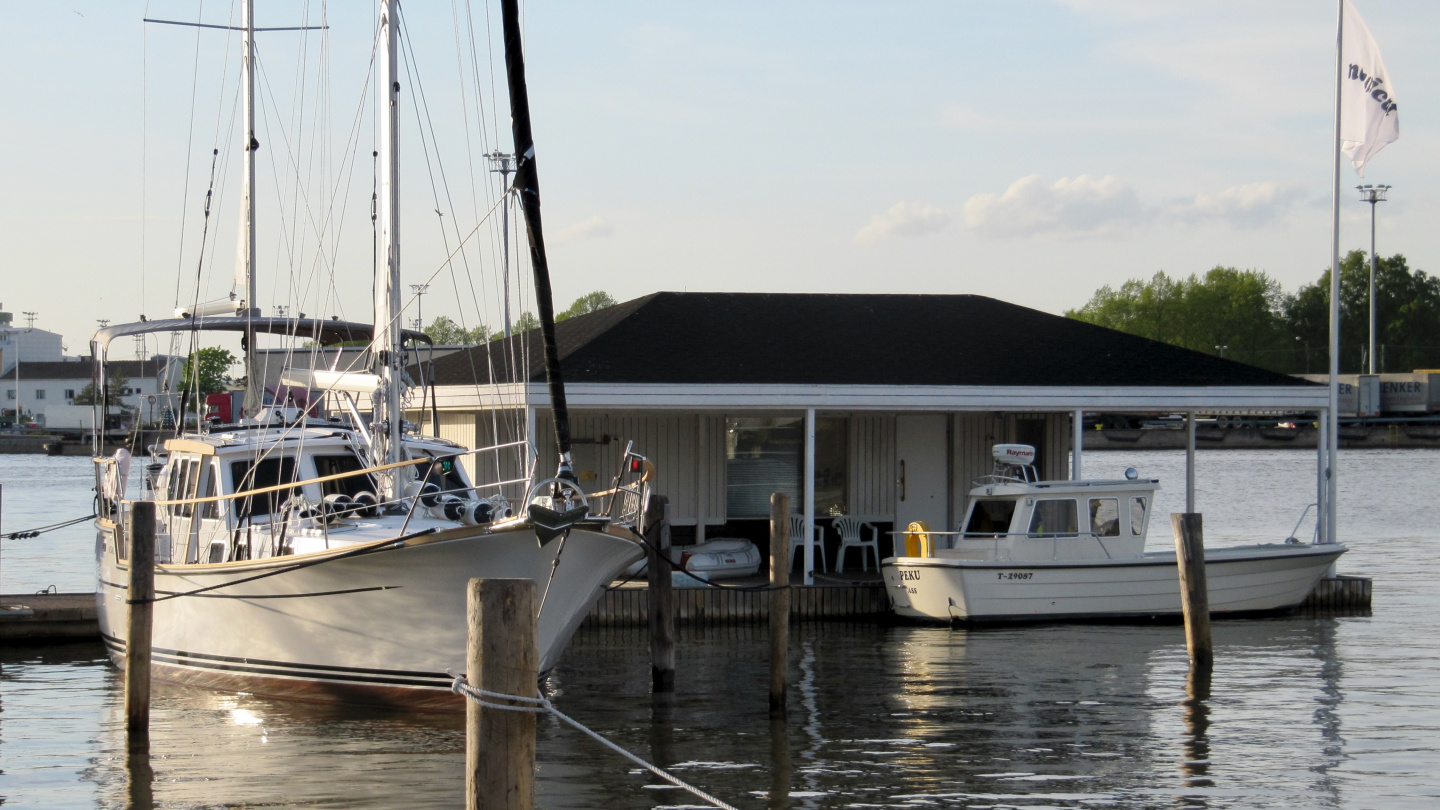 On Thursday we finalized the bunkering and made her ready for the sea. We have new items to remember before going to sea. In addition to previously known things like closing all windows, hatches and cupboard doors we now must close also the valves on sink drains. We cast off Suwena's mooring lines at 16:10 and left towards the Nauvo island with just two of us as a crew.
We hoisted the sails immediately after leaving the river Aurajoki. It felt magnificent to sail with mainsail and genny towards the Nauvo. We had 7 m/s of wind and sailed with 5-6 knots speed. Southern wind was to our liking and we maintained the same tack throughout all of Airisto.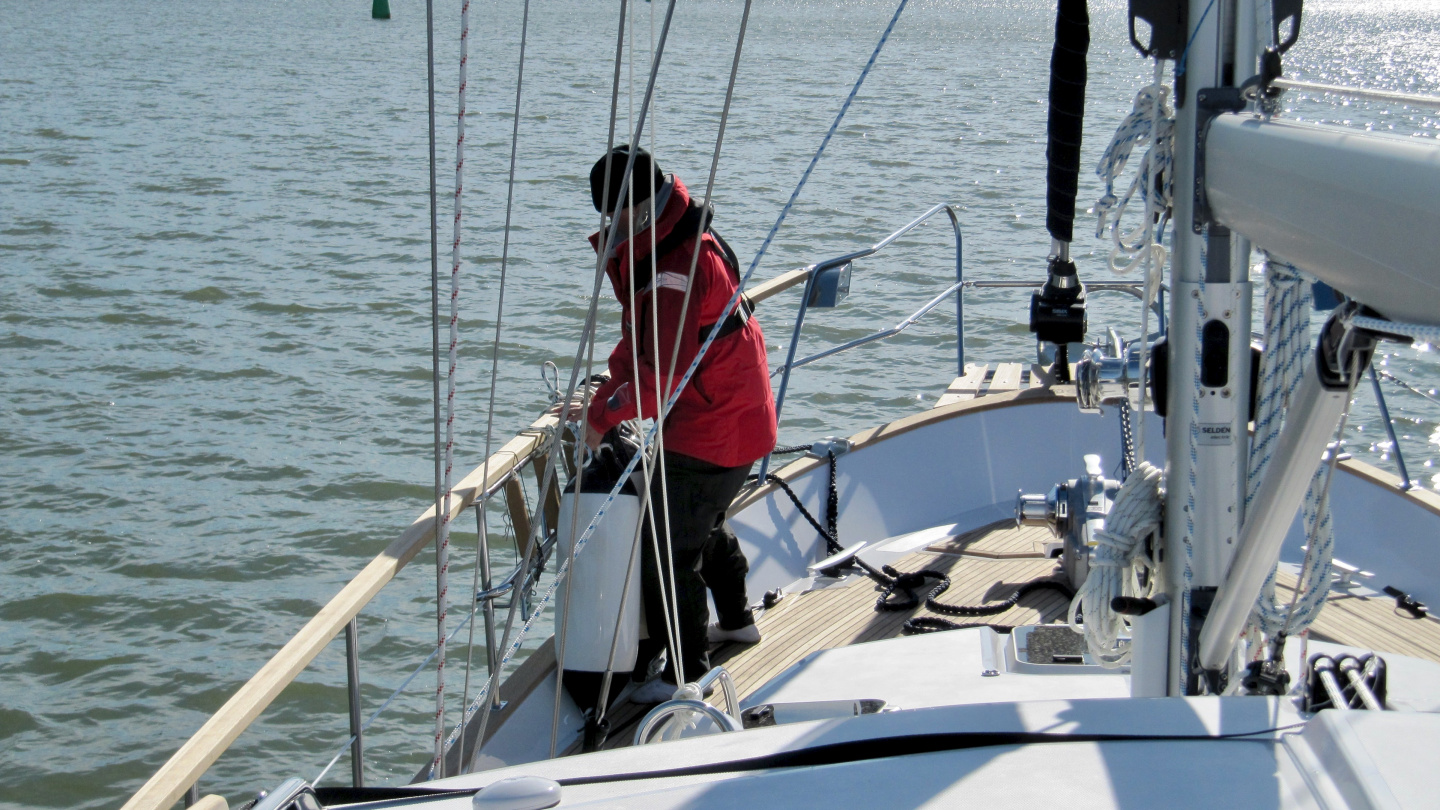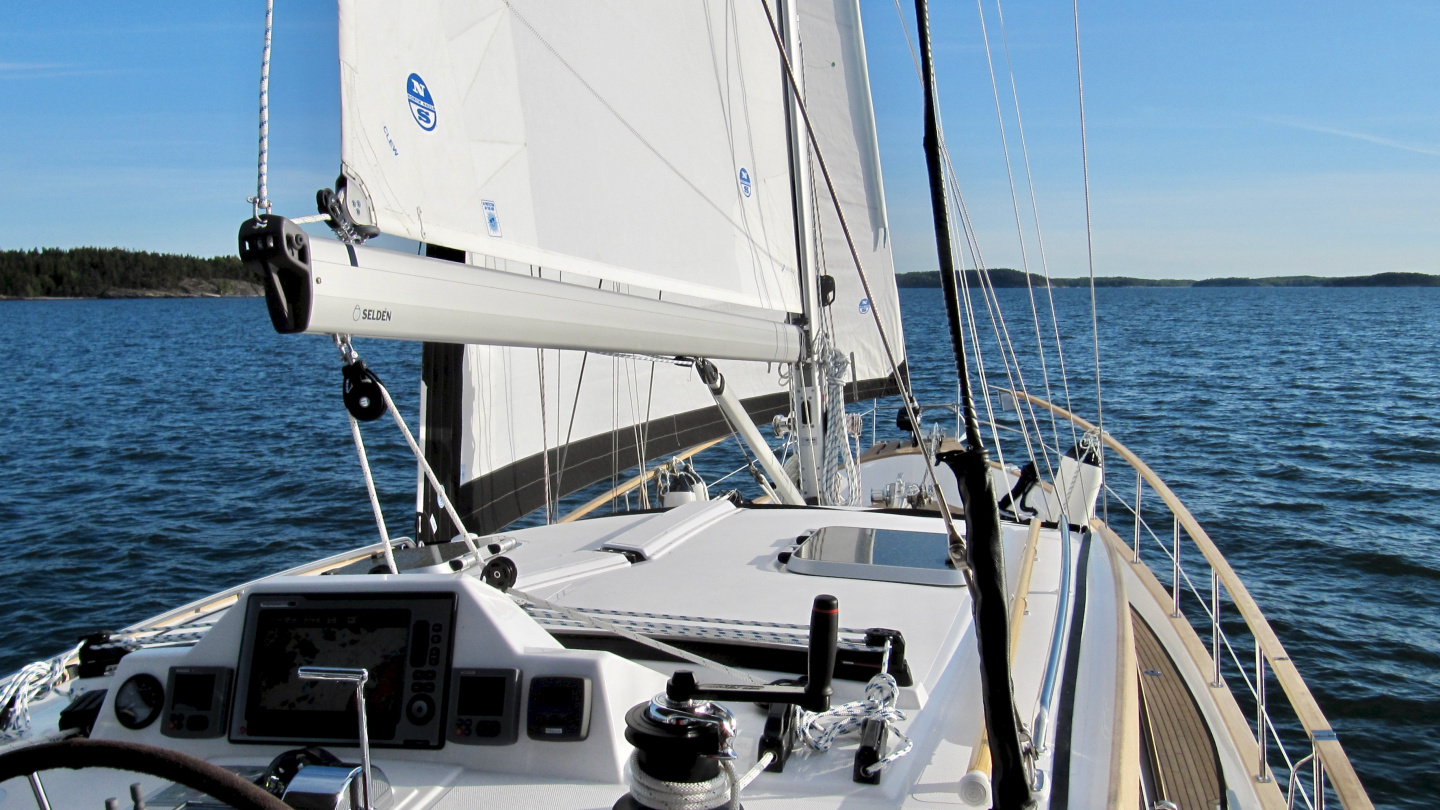 In the southern part of Airisto the wind decreased and the sun came out. In light wind our speed was only few knots but we were so happy about our new yacht that we just enjoyed every peaceful moment at sea.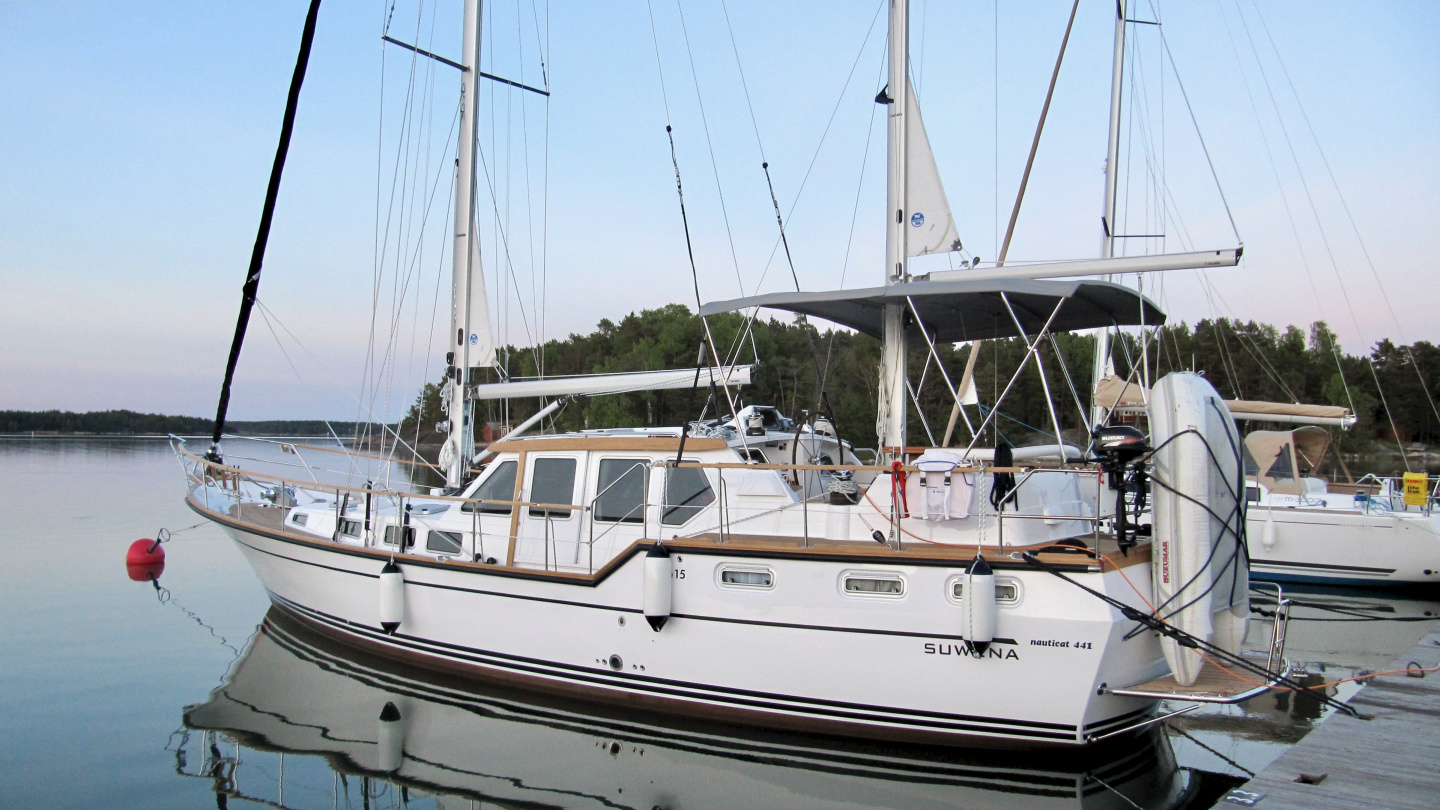 Suwena's Maiden Voyage 26.5.2011