After making our target we started to think about what kind of a boat we need to fulfill our dream.
For exploring the Baltic Sea our boat Skorgenes 335 Fly would be good enough. Her technical capabilities and living quarters are suitable for small scale cruising, but she has only one engine. Full tanks get her to 200 nautical miles distance, therefore passage planning must mainly be done according to refuel possibilities. Thus we started to look for next Suwena.
We set to ourselves a target to find a boat that is capable to cross the oceans. Also a livability is important to us so we could enjoy ourselves on ocean crossings and in harbors for longer time periods as well. New Suwena will be our floating home indeed.
The boating fairs are a good place to start searching for a new cruising boat and so we went to several fairs as Helsingin venemessut, Düsseldorf Boot and Southampton Boat Show. In Germany and UK the variety of presented boats were larger than in Finland and it was a lot of walking and note taking to make comparisons and understand the choices. As motor boaters we started with motor boats.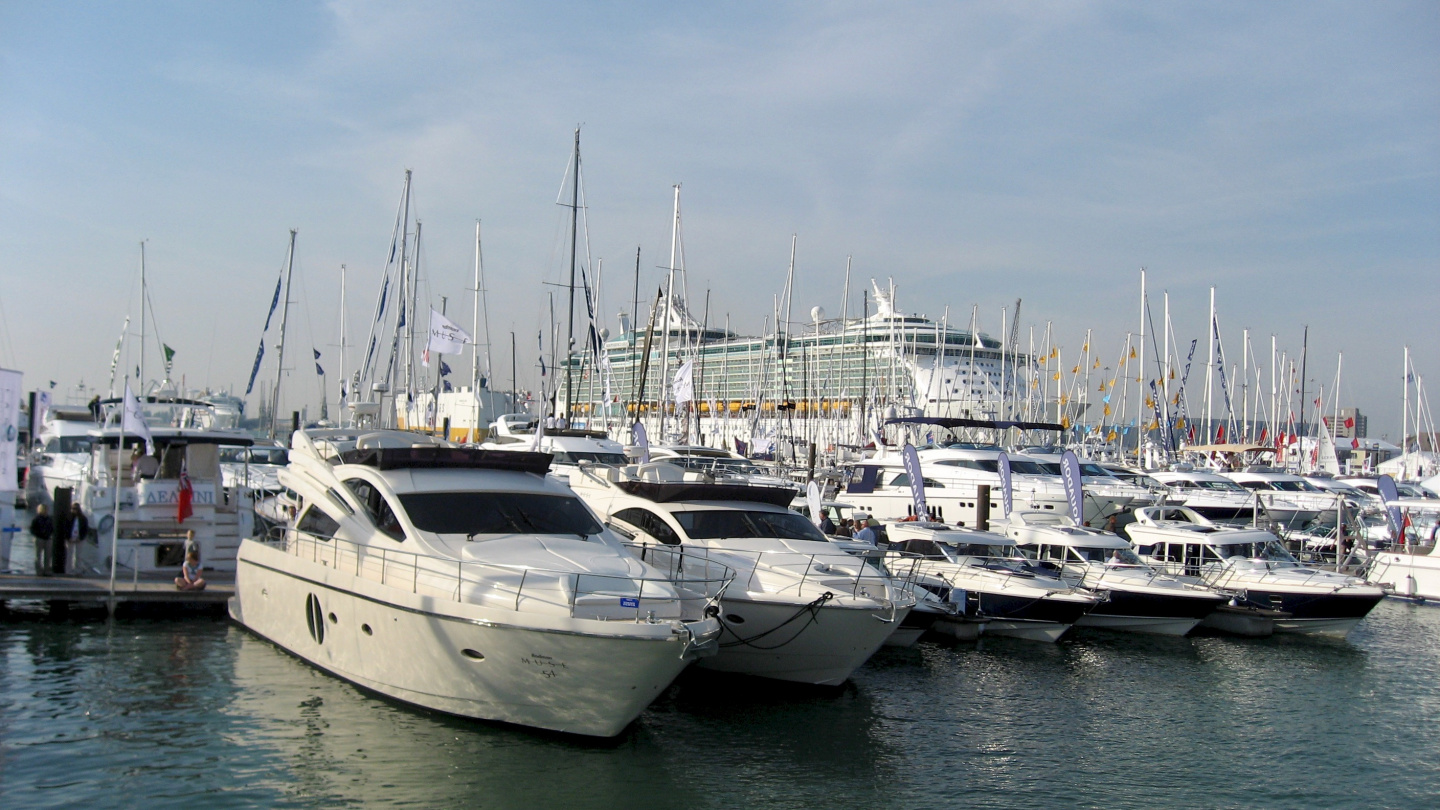 Swedish Nord West 420 is a planing boat and it's bigger than Suwena, but in many ways Nord West very similar to her. There is space to live on board for longer time and plenty of options, even including the washing machine. The boat was very nice both inside and outside as well. We also received an excellent service on stand. The 42 feet Nord West is equipped with two engines but as a planing boat very long voyages can't be achieved. Therefore she does not become our new Suwena.
Trader 42 Signature from UK looked intriguing. The boat was built very well and a livability was excellent. There were several options for changing the layout of cabins, both helm stations and deck space as well. We think that livability in Trader was one of the best we saw in these shows. Also Trader was the only motorboat to feature the winches on back deck to assist with mooring lines. Overall the boat was built very strongly. If we would have been looking for planing boat, Trader would have been in very strong position as new Suwena.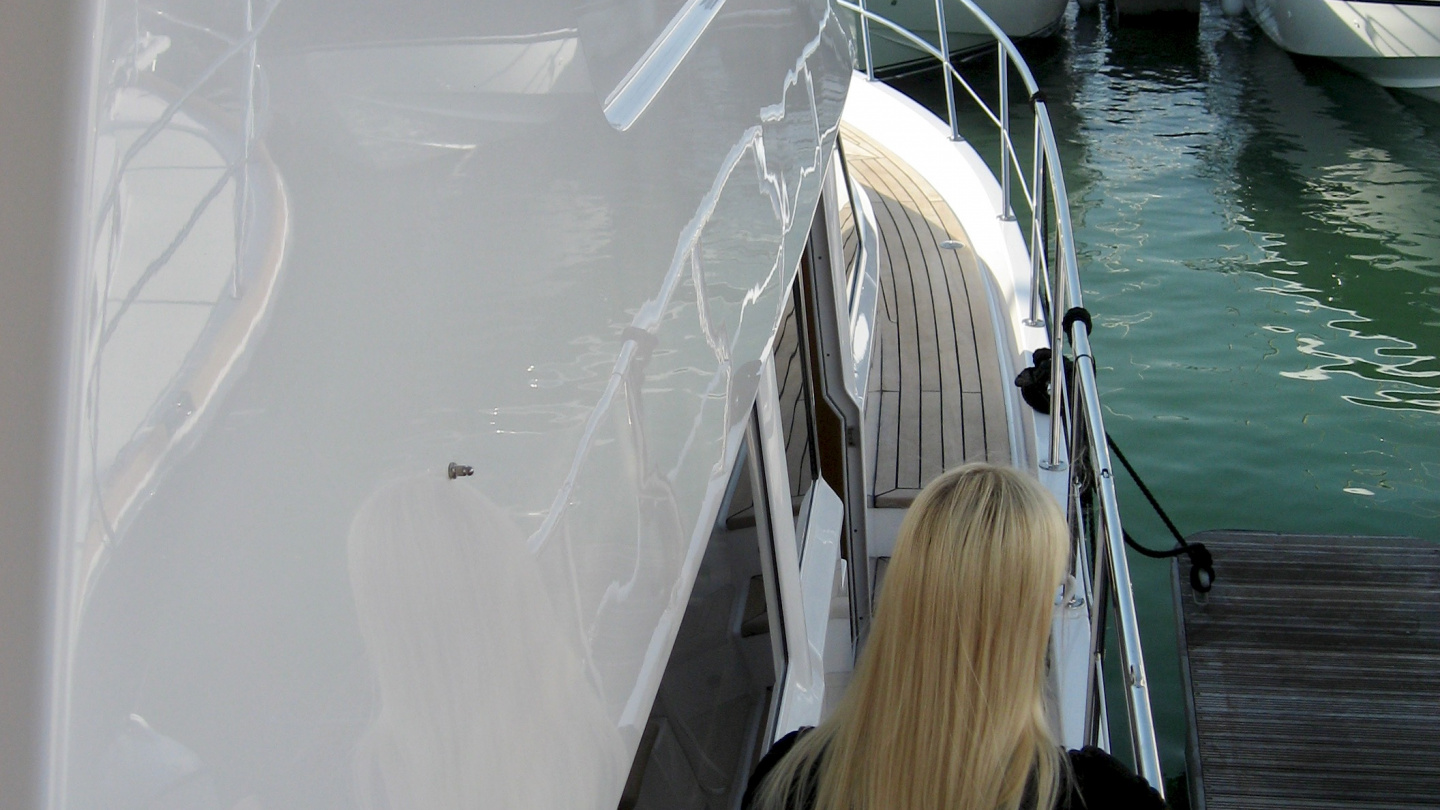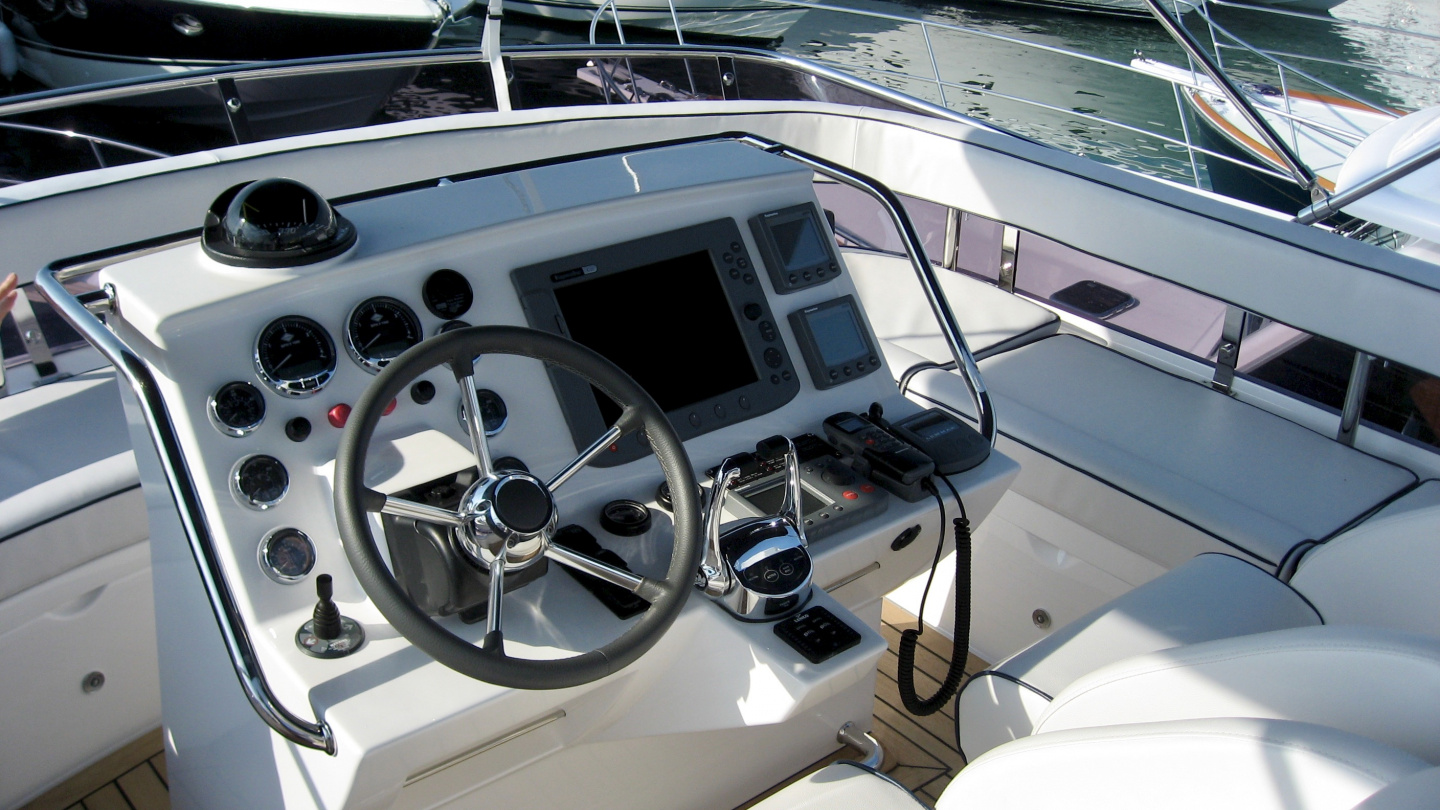 We also visited numerous other similar boats but planing and semi displacement boats weren't suitable for us because of fuel consumption. Thereafter we narrowed our search to full displacement boats only.
The choice of motorboats with displacement hulls was limited. We only found boats from USA and Netherlands.
From Dutch boats only Elling was interesting to us. Others were more or less designed as canal boats that are marketed for sea areas as well but we were not convinced. For example on the Linssen the helmsman's chair wasn't fixed to the deck. We just wonder what good that might do in open sea 😕 Of course if the trips are mainly done in Finnish archipelago or Saimaa lakes the Linssen is a viable option. We also looked at the other Dutch boats and all of them had something we really didn't like. The first impression from these boats is: the floating caravan.
Exception in yachts from Holland is the Elling that we considered as one of the alternatives for us. Elling E3 was presented in water in Southampton Boat Show. Her layout is very similar to sailboat without the mast even thou it is full featured motor boat. Elling's specialty is self righting hull in other words, it is designed to work the same way as a lifeboat.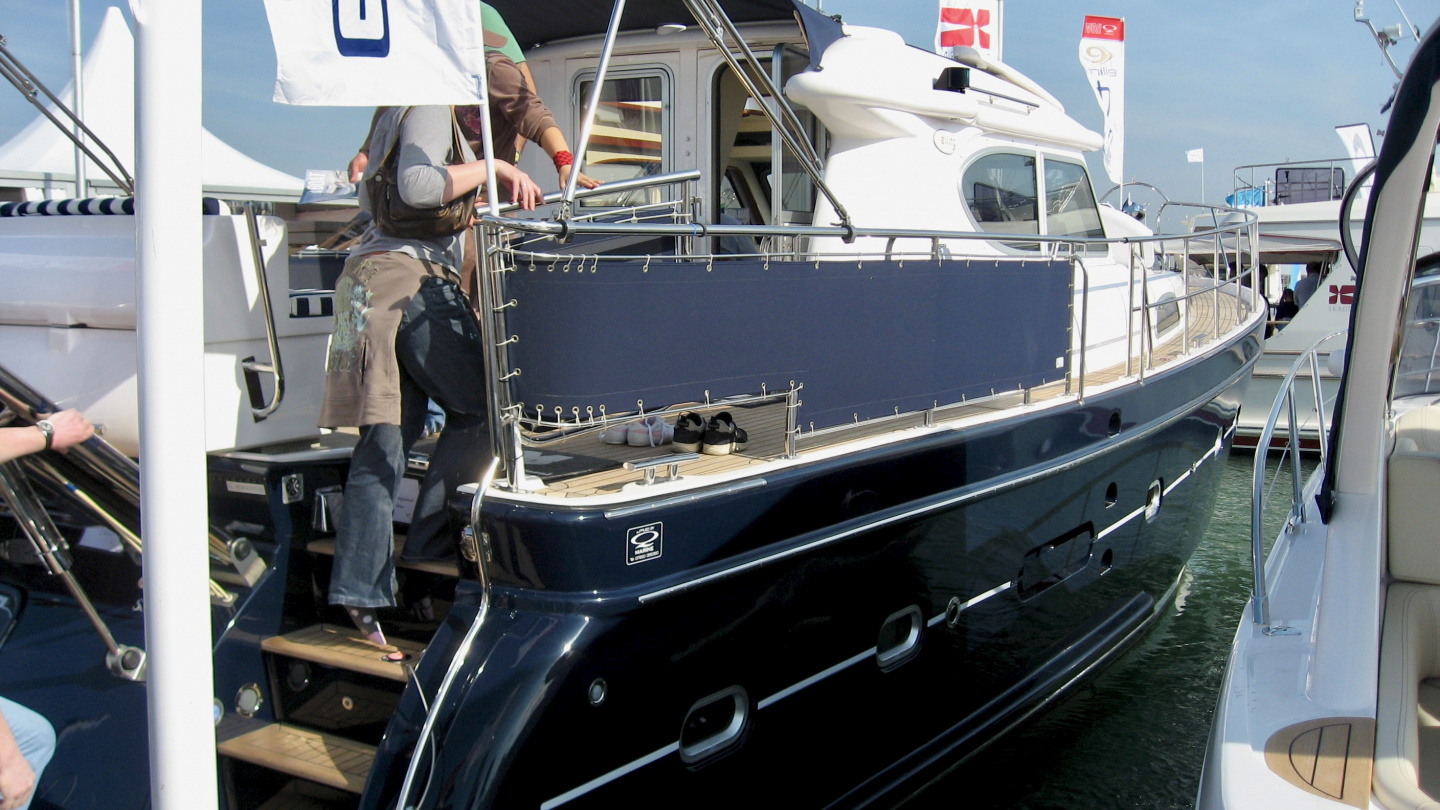 Elling's salon is designed to be a very charming and modern. We felt like being in a design villa by all positive meanings. Oval shaped settee gave a really open feeling. It also has an impression that even a larger party could spend a good long evening there. Elling E3's kitchen was not any more a small pentry but a full kitchen, including a wine cellar as well. She had three cabins and one of them can be equipped as an office.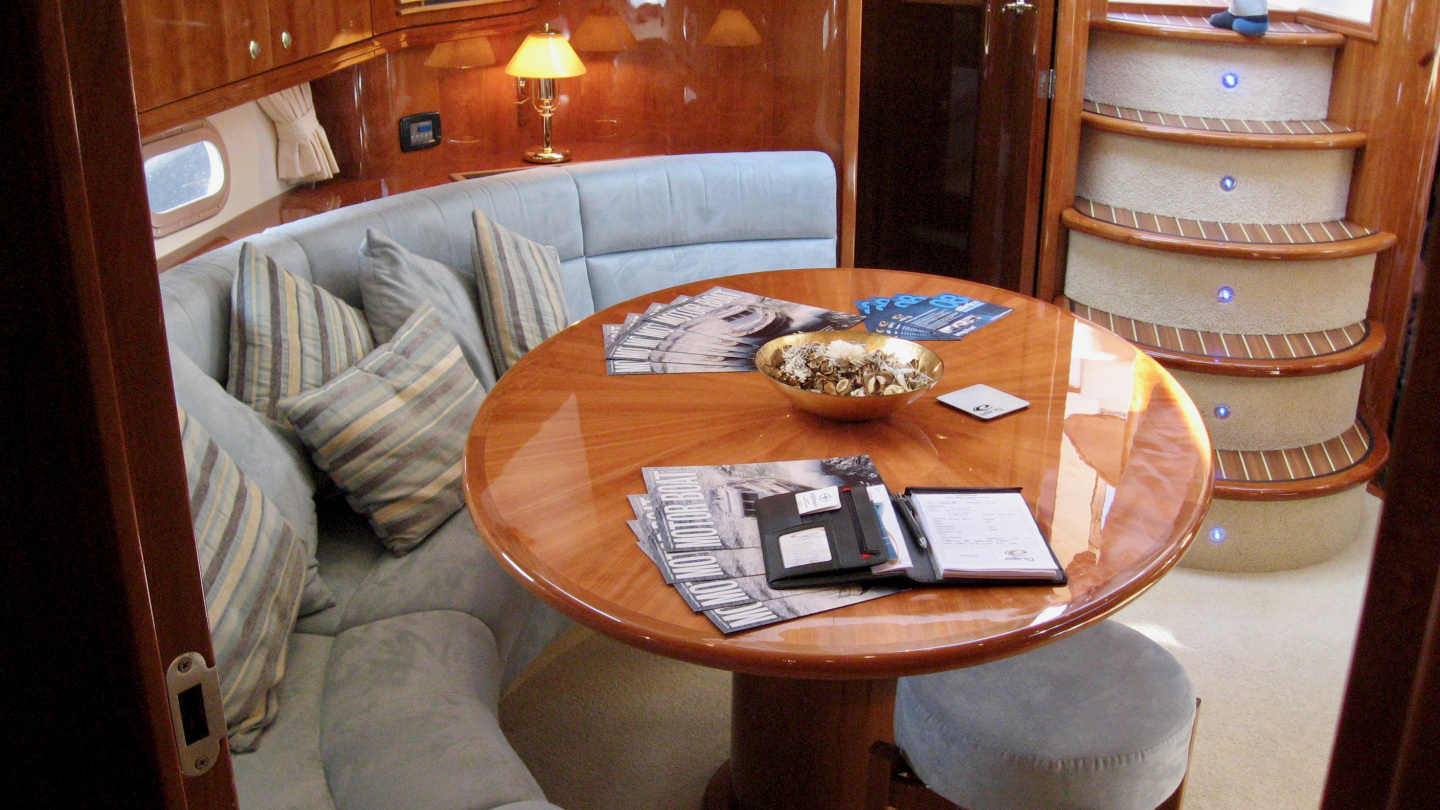 Elling boats have usually one engine only but they can be ordered with a small get-home engine. Elling has rather low profile and she can pass through the most European canals, the Paris center is fully reachable. The range is quite good and full tanks take her 1500 nautical miles. Elling E4 has crossed the Atlantic Ocean by using extra fuel strapped in canisters on deck.
We think Elling E3's weaknesses are the poor helm station ergonomics and the access to engine room. By building excellent living quarters the space for technical equipments is clearly too small considering easy maintenance accessibility. Elling yacht would be a very good alternative as a new Suwena should we have no desire to cross the oceans one day.
Nordhavn was the love at first sight when we had the opportunity to explore the yachts. Nordhavn 47 would be a perfect boat for our needs. She is a full displacement ocean going motorboat with the range of 3000 nautical miles. She has the both main engine and an auxiliary get-home engine. The fuel system is very well designed, the day tank is filled through additional fuel filter and therefore the fuel to engine is always clean and engine's reliability grows.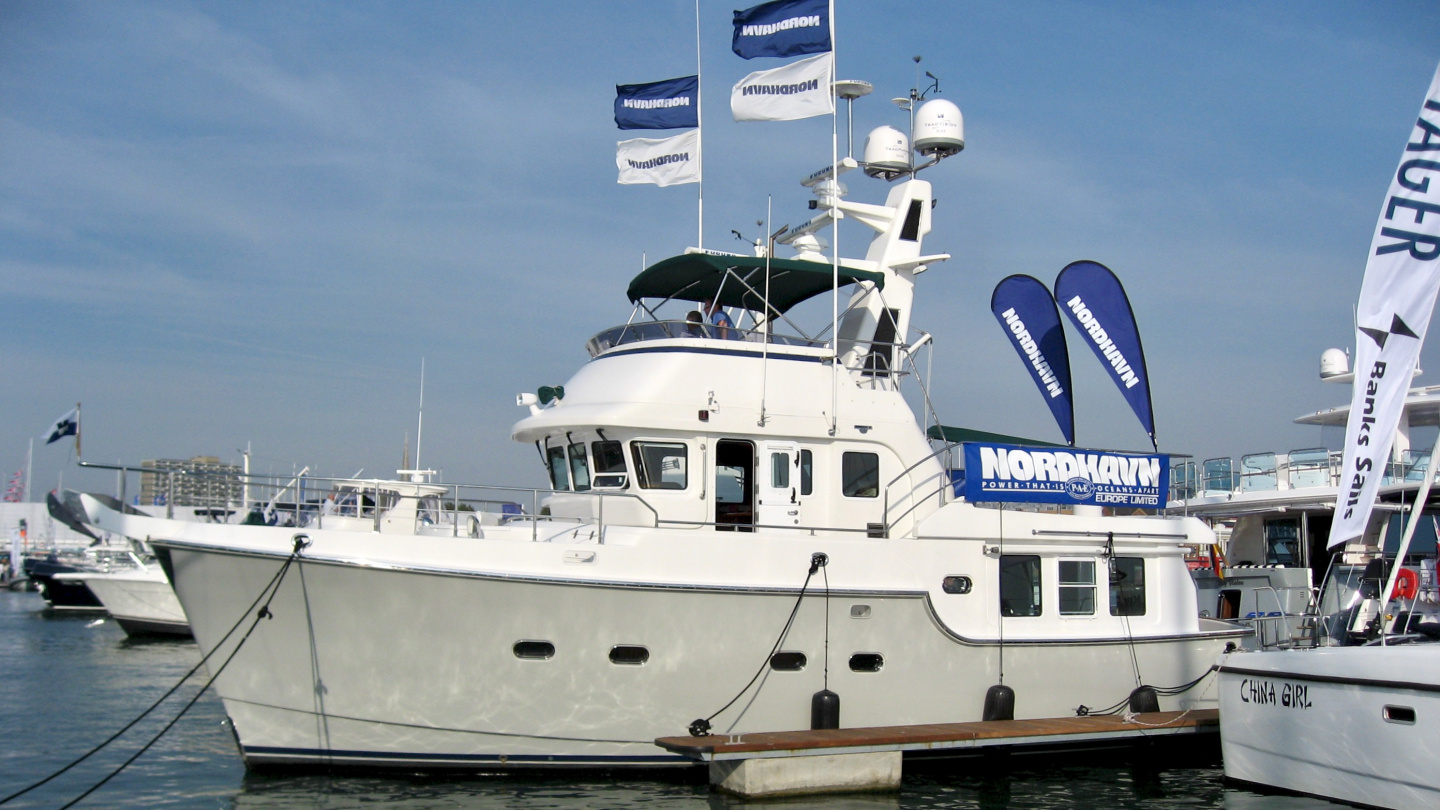 Nordhavn's layout was in different league compared to the others. Living quarters are just like in a private house and an engine room is made for continious use. For example a guy as tall as Andrus (180 cm) can stand beside the engine with his back straight. Similar technical spaces we have not seen in any other pleasure boat.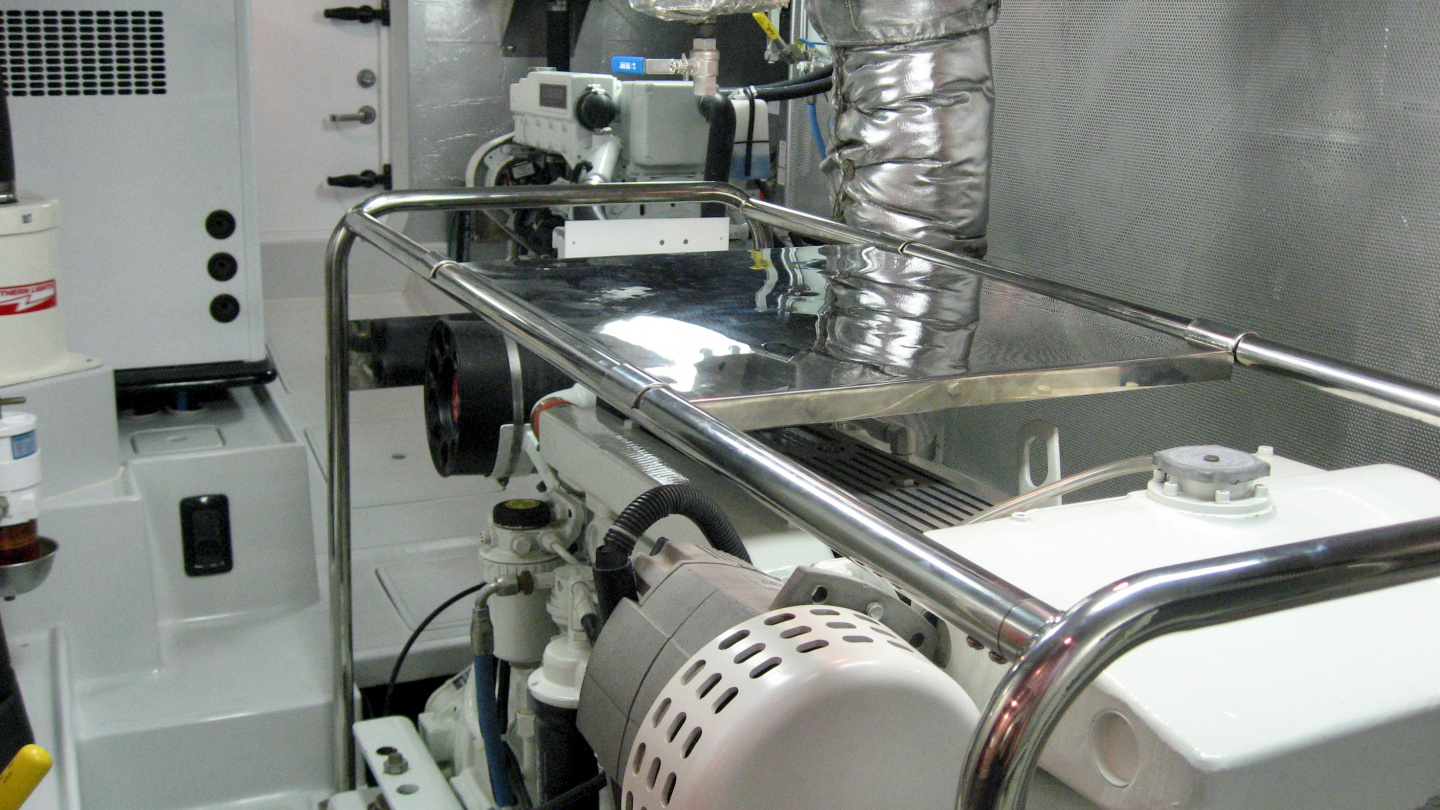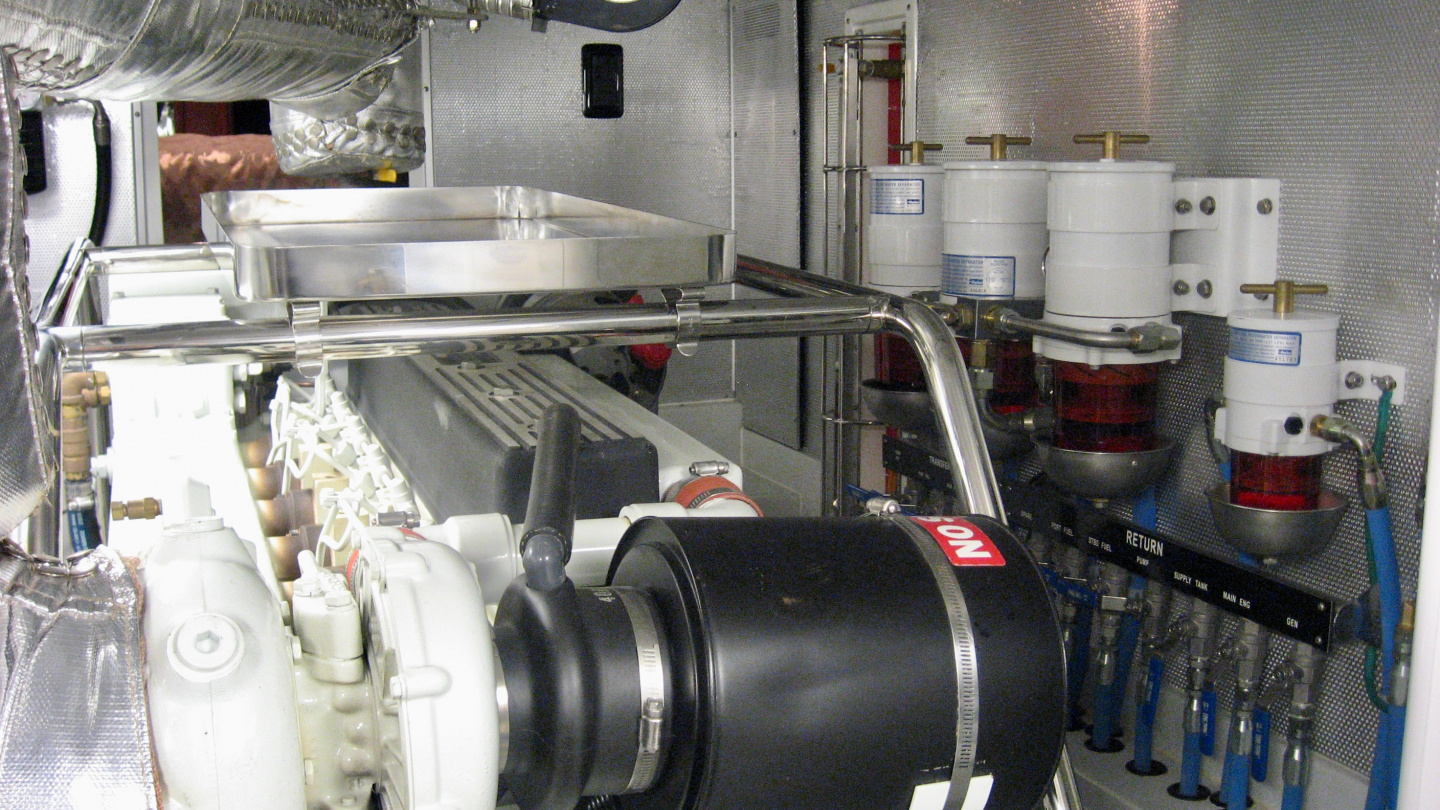 Nordhavn has really been succeeded to create a large boat that a couple can handle and maintain by themselves. Several Nordhavns travel at present on circumnavigation with the couple as a crew.
Norhavn 47 has two decent size cabins with own heads and showers and a big salon. Kitchen is not anymore a pentry by any mean but rather a full chef's kitchen. There are plenty of cold spaces: separate cooler and refrigerator in addition to two freezers. Galley even includes garbage press and the boat has a tremendous amount of storage space.
The helm station is at amidships with a lot of space for navigation equipment and not forgetting a separate bunk for a captain. The Nordhavn is like a miniature ship. A dinghy can be stored on upper deck from where also can be climbed to the flybridge. The second helm station is also located on flybridge.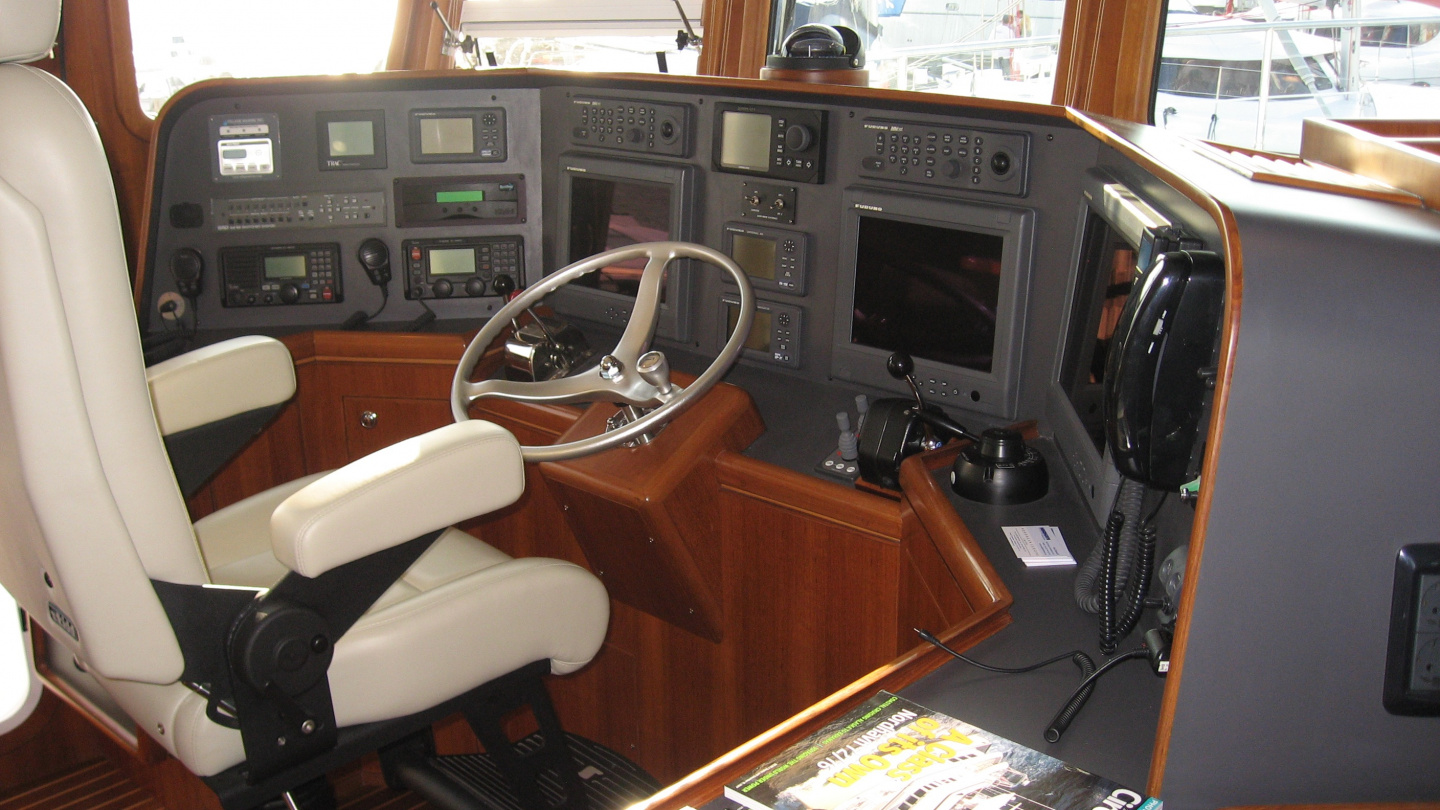 Nordhavn 43 is a little sister to Nordhavn 47. She has same layout but everything is a little bit smaller even thou she is still a very huge boat. Despite of her length being only 13 meters she weights over 27 metric tons. The same numbers of Nordhavn 47 are 14.5 meters for length and 39 metric tons for weight.
We started negotiation about the both of 43 and 47 and reserved a sea trial. Already beforehand we followed the blogs of Nordhavn owners. Nordhavns have circumnavigated many times and have been in very demanding places. For example in 2009 Norhavn 59 passed through the north east passage.
We were served by Philip Roach from Nordhavn Southampton office. Co-operation with Philip was very good and we got an excellent idea what it means to own and use a Nordhavn yacht. As time passed we also negotiated with the Nordhavn owner Dan Streech.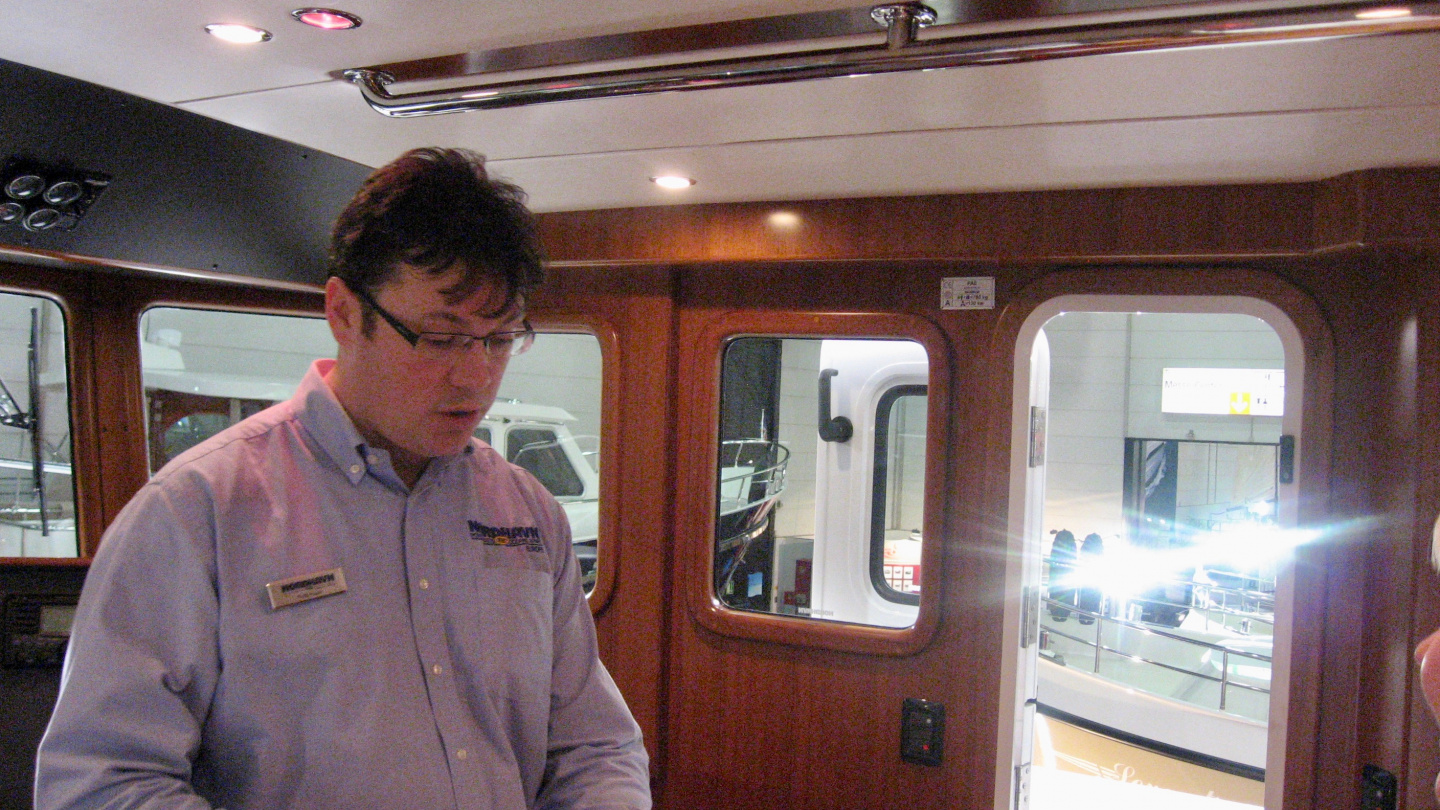 After running through the fairs and searching the net, the only real option for motorboat was Nordhavn, because she is the only ocean crossing capable motorboat in serial production today. We also decided to search for sailboats before the final decision and started to wait for Nordhavn seatrial.
Uncharted waters part 2: The ocean going motorboat