In the middle of hardworking boat maintenance chores, we suddenly received an email from another Finnish yacht anchored in front of Caramiñal. S/Y Aina had noticed our Finnish flag flying on top of our mizzen and they quickly located our contact info from AIS. It was really pleasurable to meet Inga and Jorma. During the next week we kept socializing on both the boats, had great dinners and even went for a trek together. Inga and Jorma have started their long voyage from Finland and like all cruisers on this coast their main question is, will they turn right or left on a way south? Since then we have followed their blog at kompassisuunta180.com.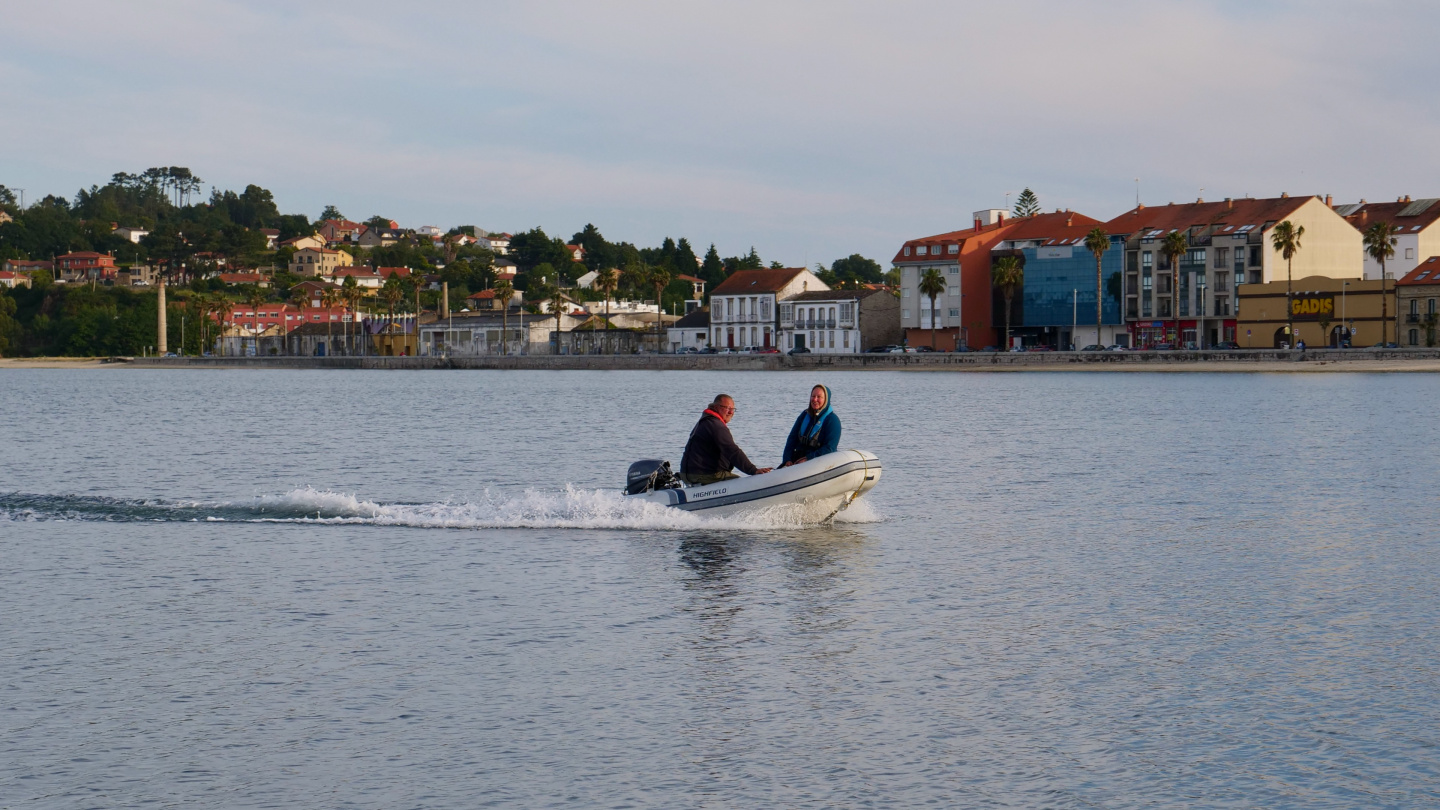 Last summer here in Caramiñal the crew from a French yacht next to us went with bikes to swim in fresh water of mountain river and their description was so lively that we have kept thinking to do the same. Andrus panned around on Google maps and found from nearby Alto do Armelo mountain a natural springs called Piscinas naturales. We just had a long week of servicing the boat behind and Suwena is now ready for summer cruise. Thus, on Saturday we thought to do something more relaxing and went to look at the waterfall ourselves and what a day we had!
The hike started by four-kilometer-long walk to the foot of mountain. In hindsight we should have taken the bycicle, but it did not look so far on a map and we were full of spring fervor 🙂
Our route took us across the village of Santa Cruz and along the river of Rio Pedras until the start of marked hiking route with a big sign including a route map. And then the climbing up started. There were several paths going up from where we chose ours. Now and then the path almost disappeared meandering across the areas of boulders. We lost it a few times and had to return back to find a new direction. But we were dedicated of finding the springs.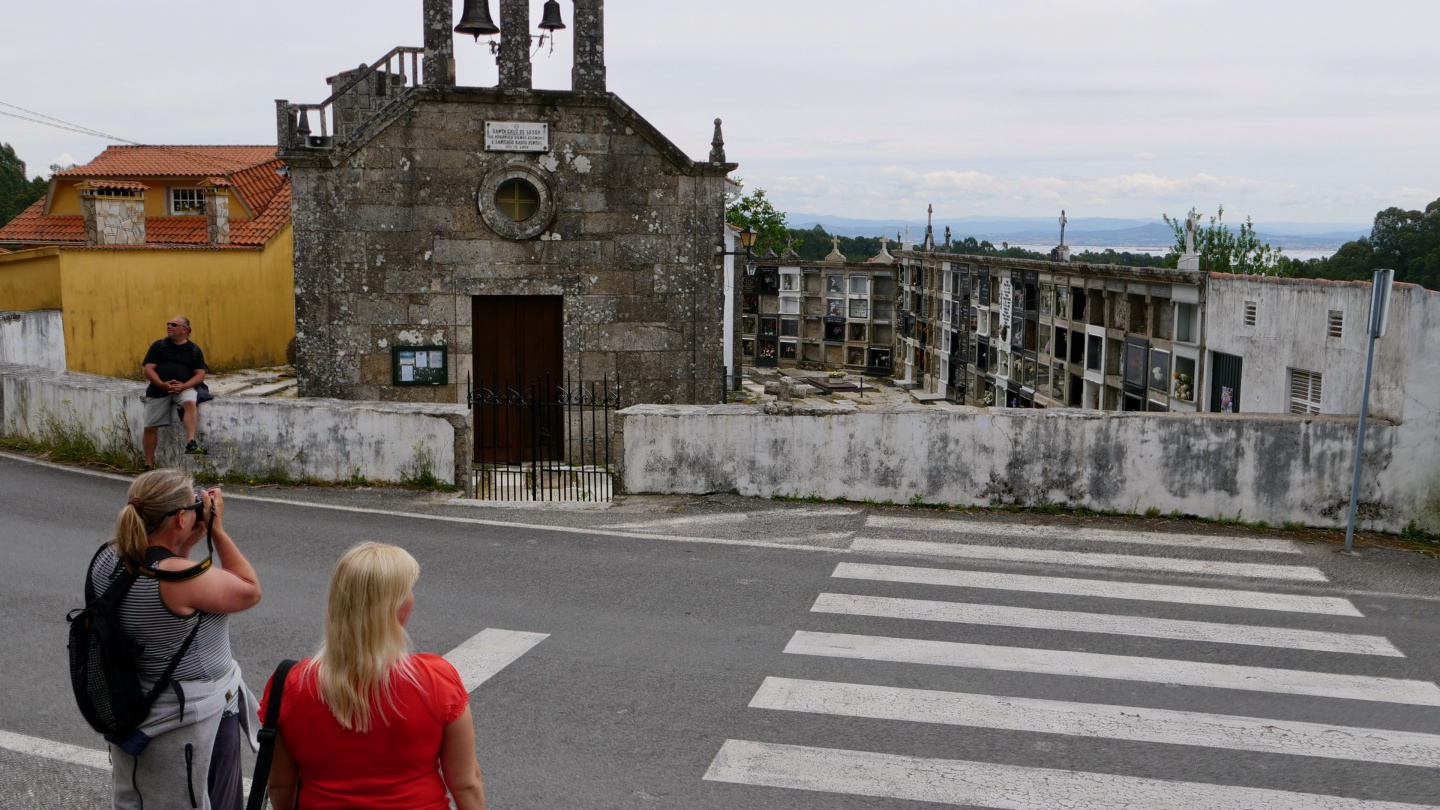 After about two kilometers we arrived at the stone bridge. After which we could have turned right and continued to the springs or turned left and we could have kept climbing up. We have had the river next to us until here and we have already seen several rapids. Andrus suggested that "should we still keep going up for better view instead of the springs?" After having a small break we kept going up.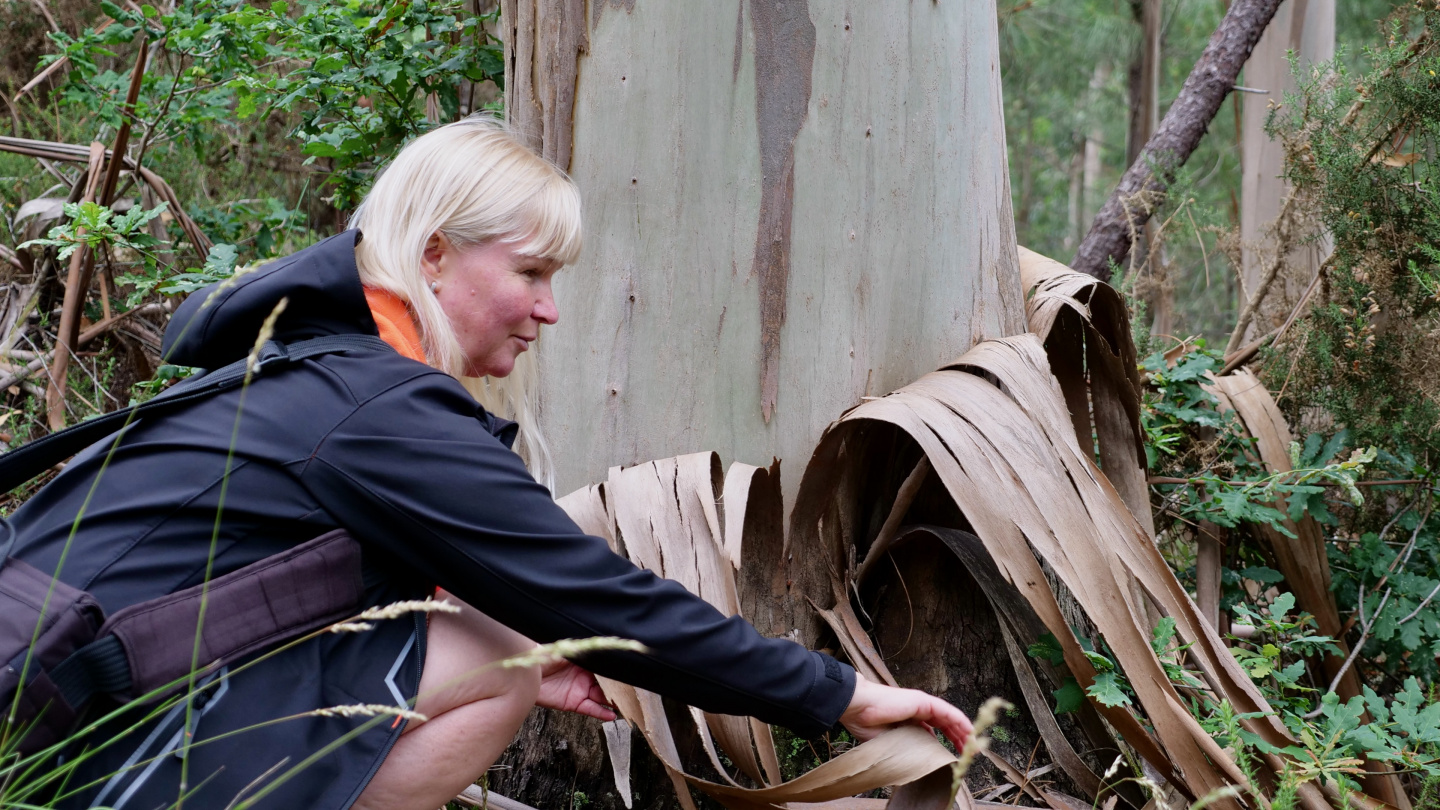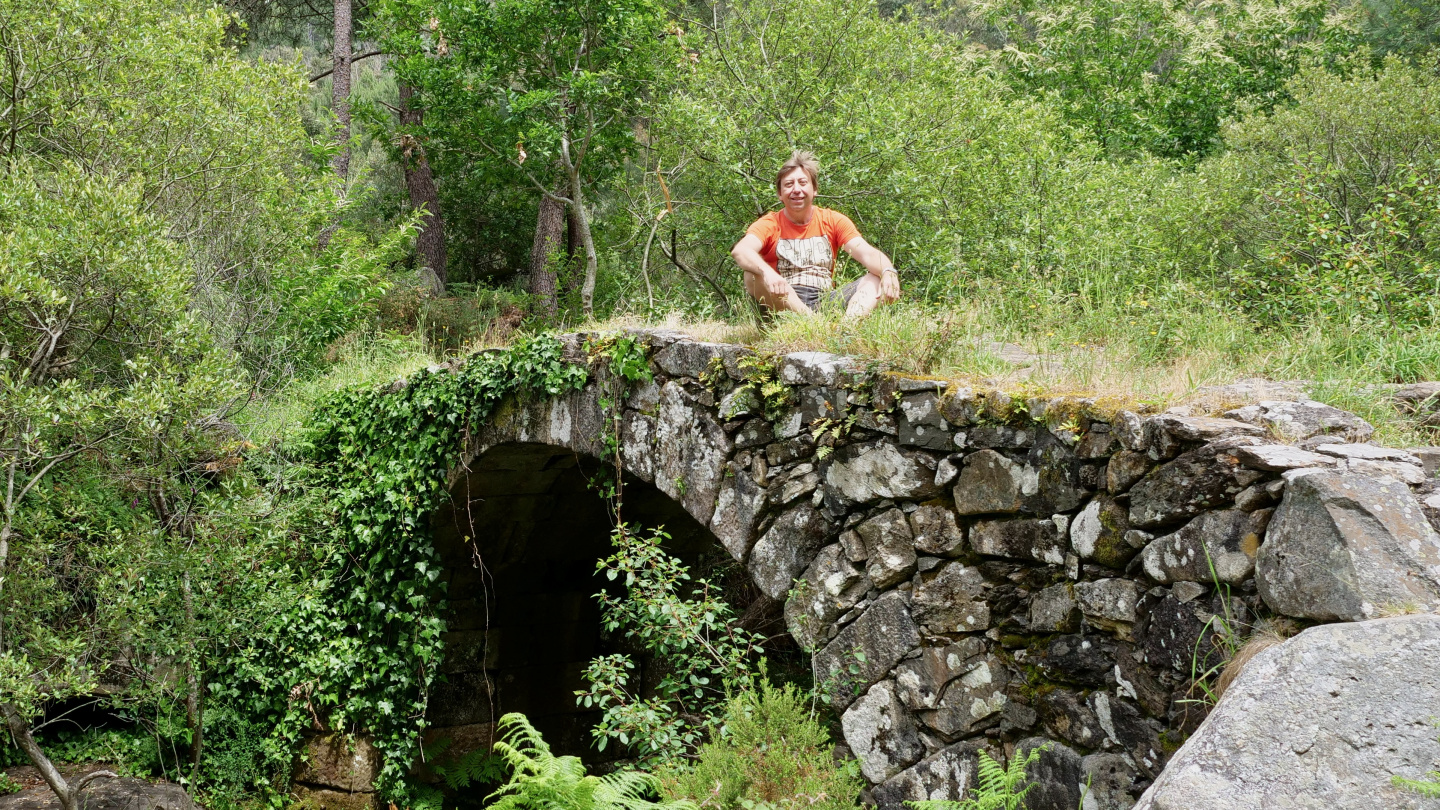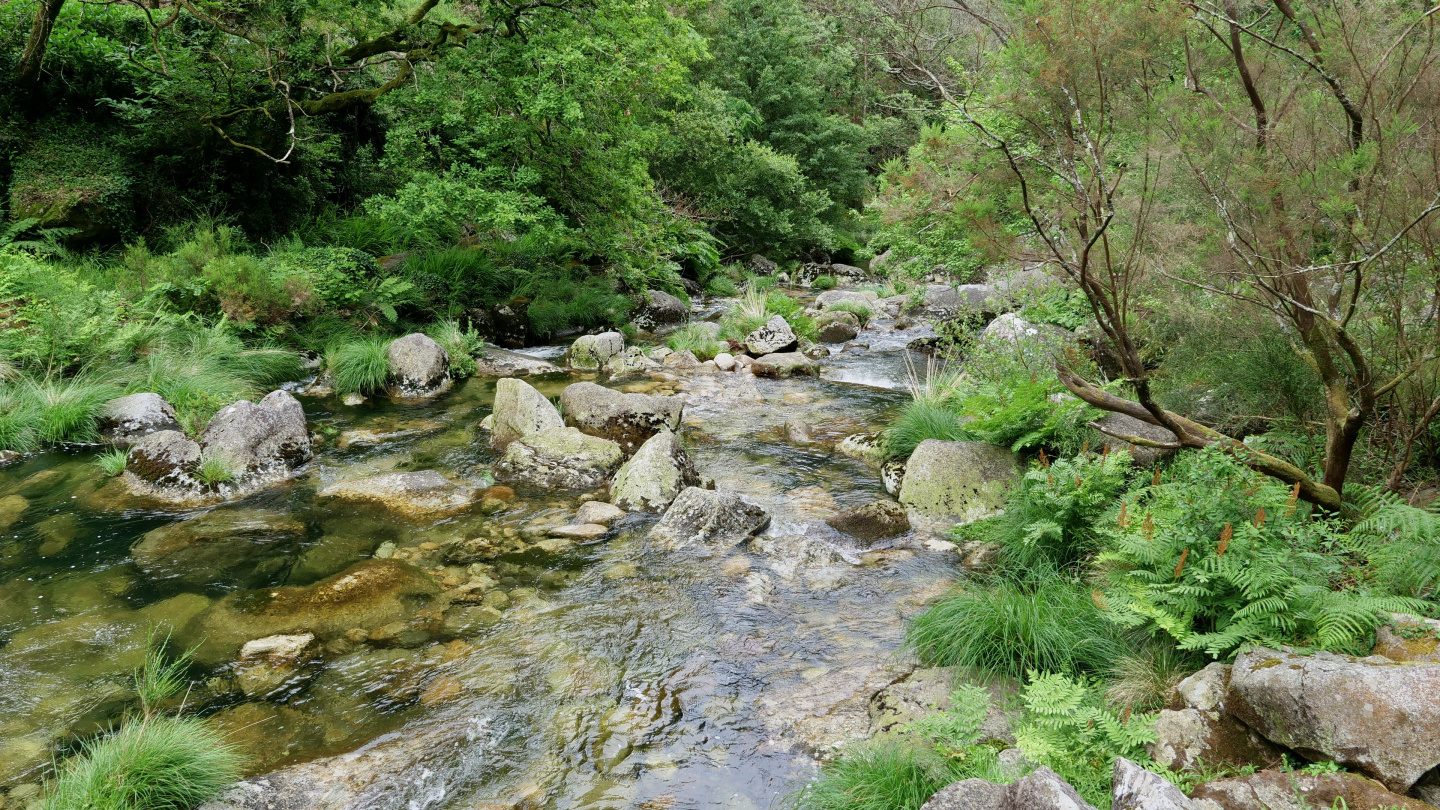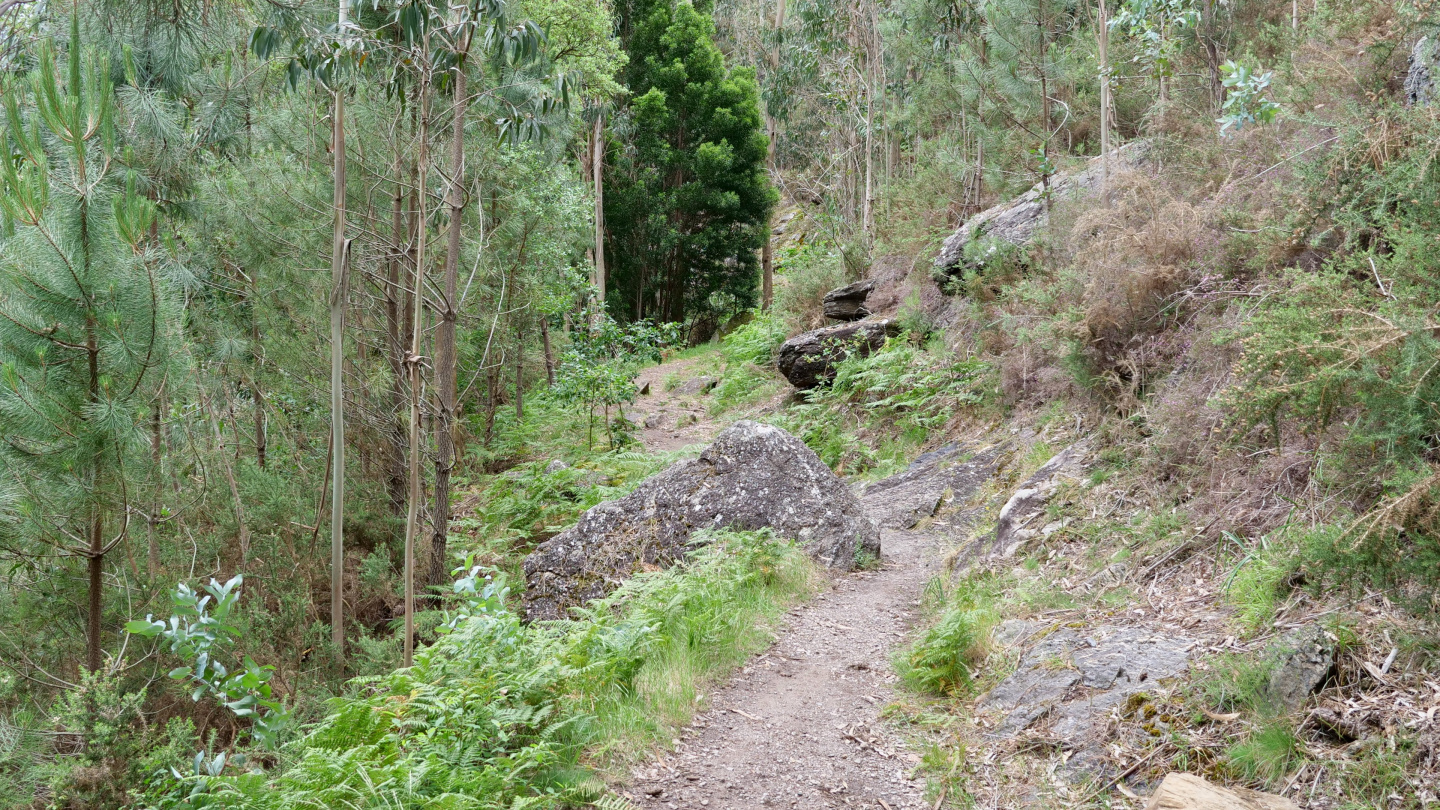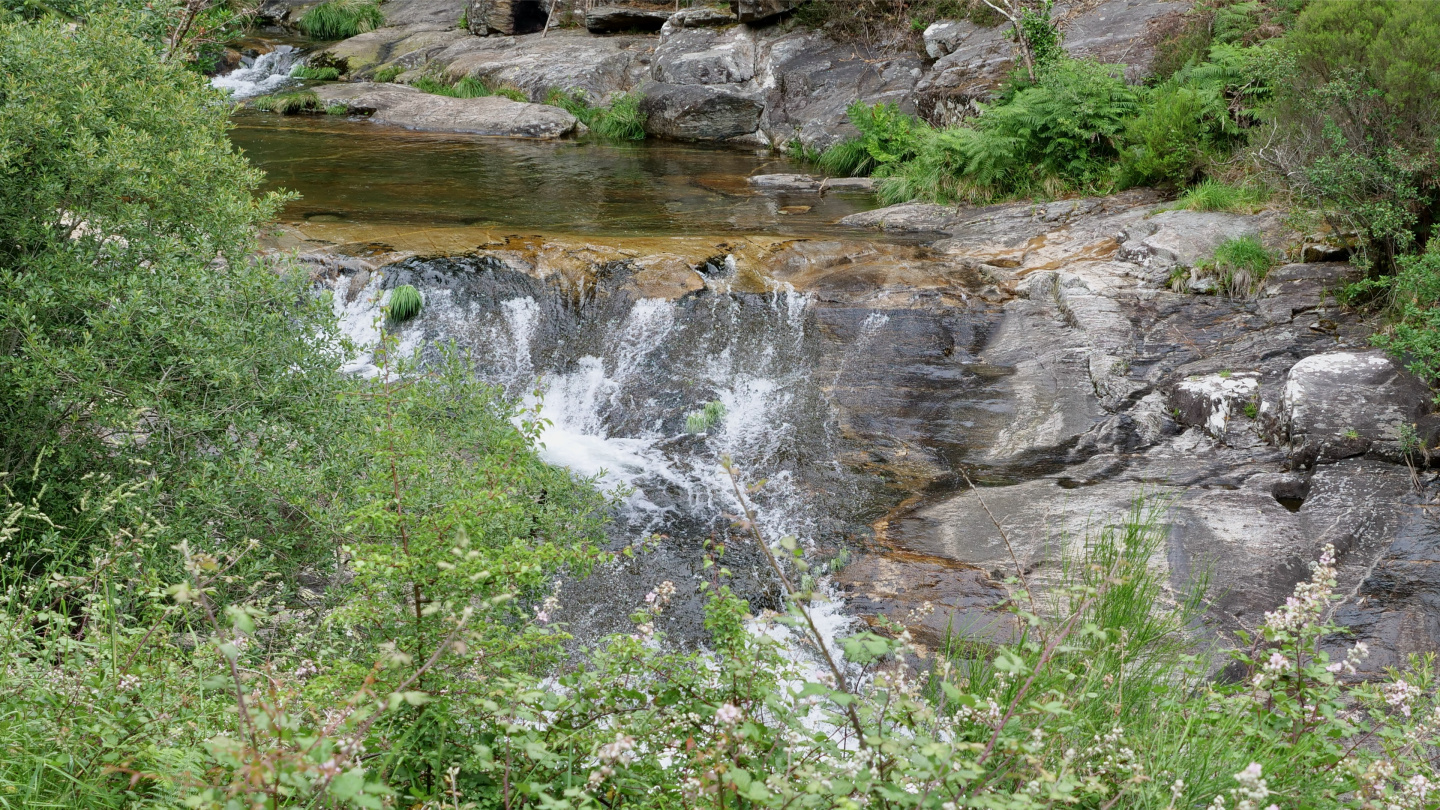 The start of the route is located 115 meters from a sea level. The springs are at 2.7 kilometers at the height of 450 meters. We climbed still higher. The boulders kept growing bigger and mountain steeper and steeper. Finally, after passing some really dense shrubs we were done. I clearly had a wrong type of attire because the minishorts offered no protection for my poor legs. When we stopped for sipping some water, Andrus turned and were terrified by looking at my blood covered thighs and legs. At the same time the path becomes even more steep and I had to give up. I would have managed to climb up for sure but I was more worried what kind of belly landing it would be to get down? Anyhow we had already ascended 500 meters and for the best viewpoint it would have been another 100 meters. So we took some more photos and started our descent back home. It was already late afternoon and we had still a long way to go. Back in Suwena we clocked from the phone a distance of 15 kilometres and ascent of 500 meters. Well done Suwena's crew"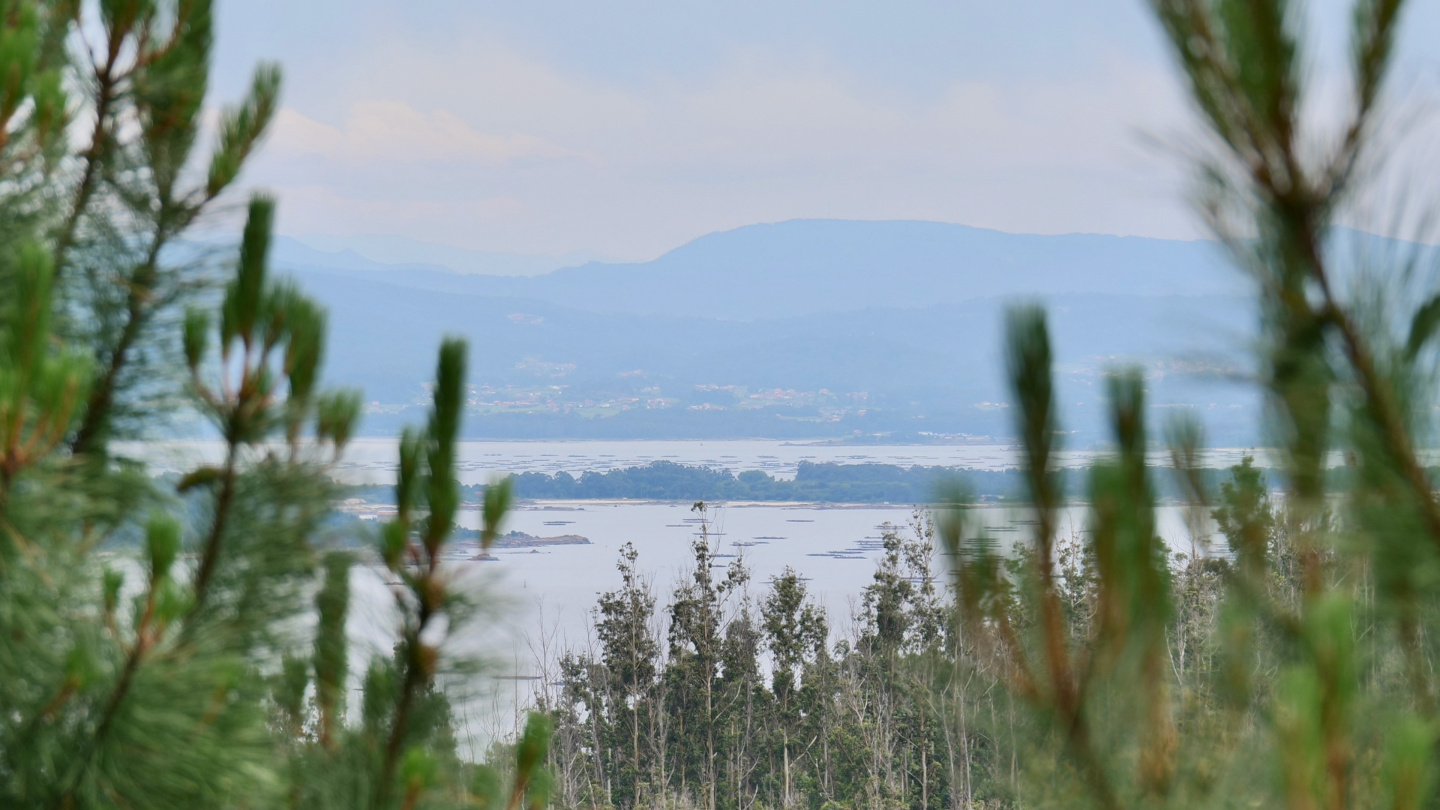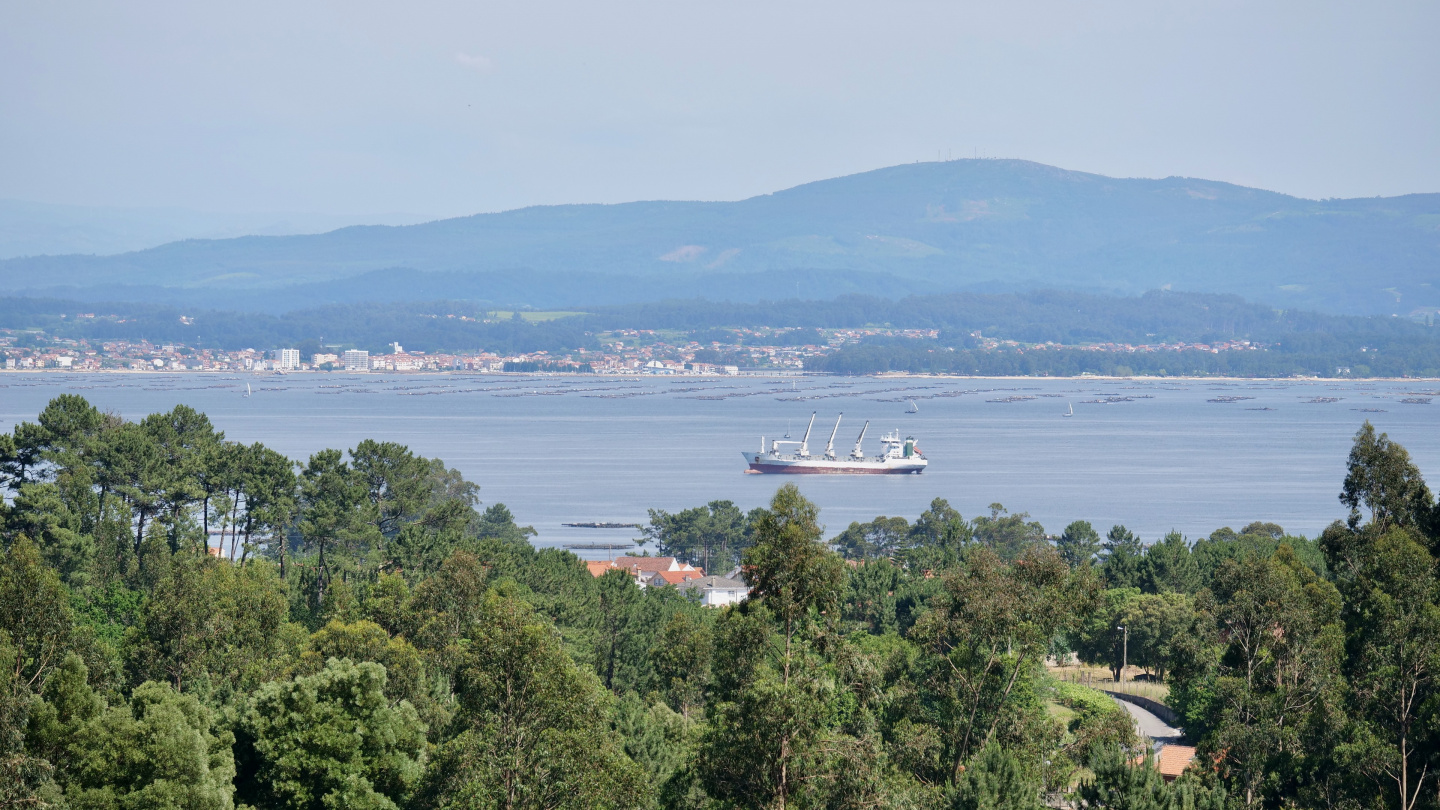 We were clearly dehydrated and thus at first we opened the best Galician beer, 1906 Reserva Especial or mil nueve like locals call it. When looking back at our cruise all across the northern Europe then this beer is definitely one of the best if not the best. It's made by Estrella Galicia and the name is from founding year of the brewery. The official name is quite long, mil novecientos seis but local way is to shorten it and by saying dos mil nueve por favor will bring a smile to any waiter in this part of the world.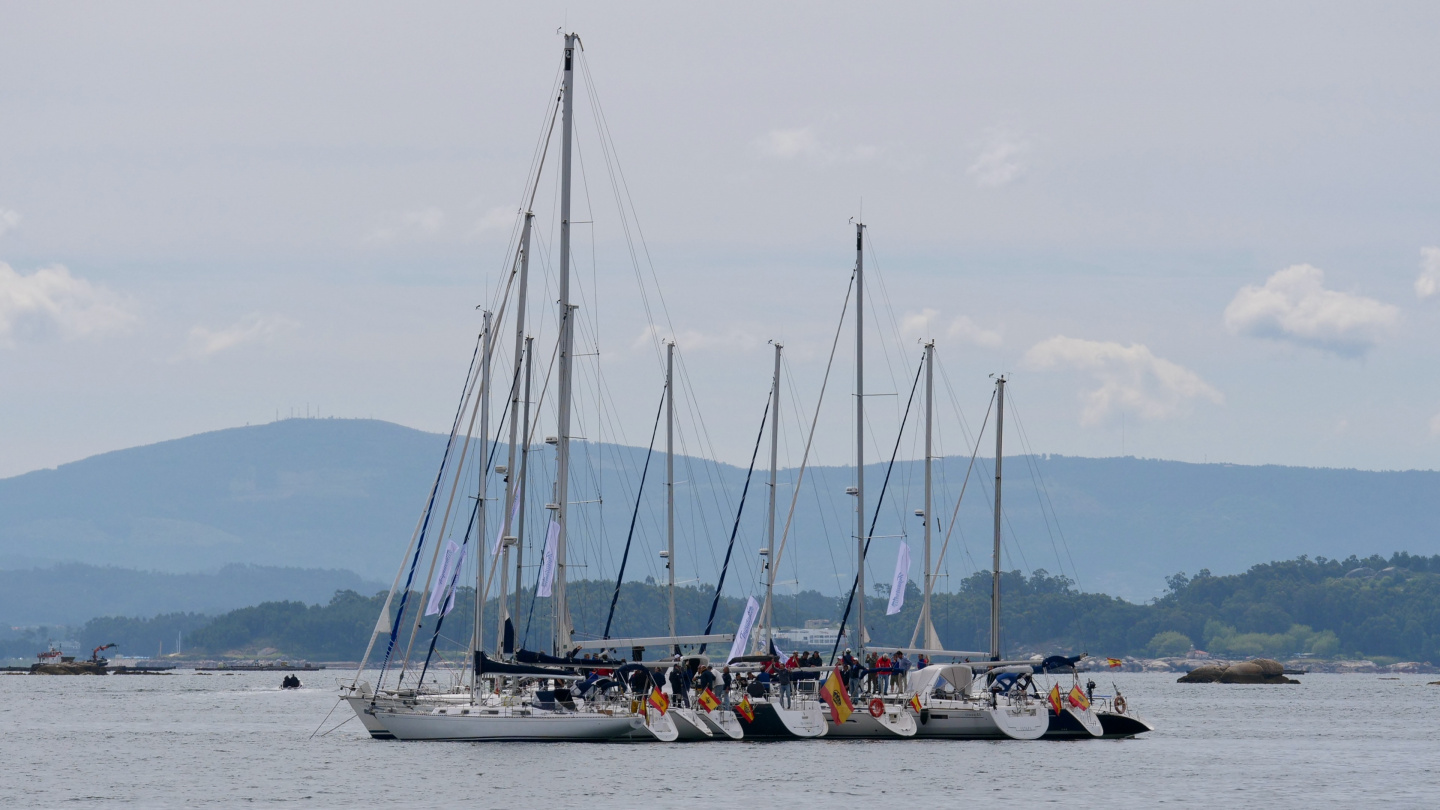 Like always at the beginning of the season we will fill Suwena's stores that there is no need for major shopping for the whole summer. Usually the bigger shops are far away from the marinas or anchorages and this way we only have to carry the fresh food and something small by hand. Buying provisions in Caramiñal succeeded perfectly. Both Gadis and Eroski supermarkets are easily reachable by walking along the waterfront. When purchases are over 50 € then both the supermarkets offer free home delivery. Entering a shop, at first you should go to information desk and notify that you would like to have home delivery which is servicio a domicilio. At cashiers all your purchases are packed into carton boxes and they will be delivered within one day. Getting her ready for the summer could not be any easier.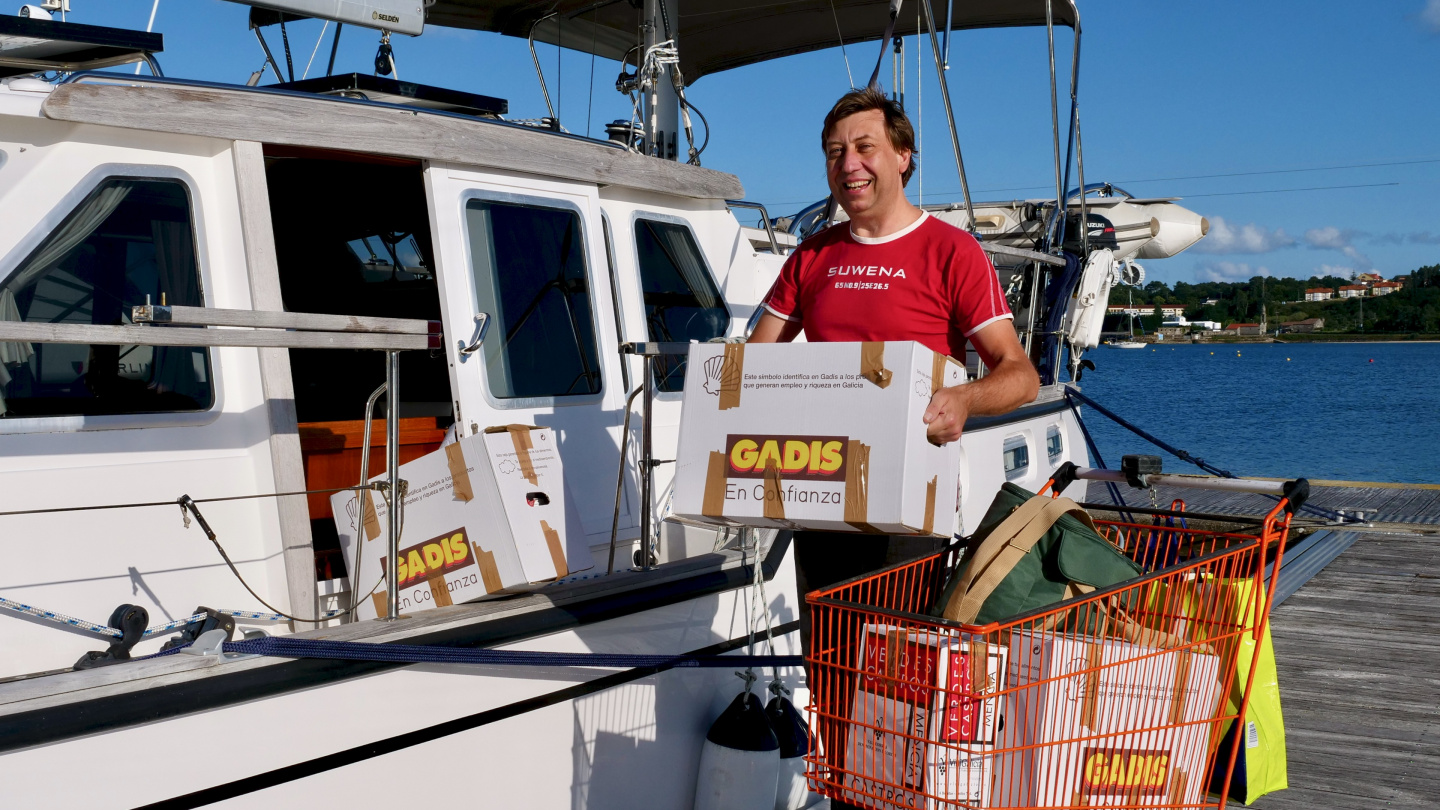 Caramiñal part 3, 5.6. – 9.6.