After Midsummer we will sail the most challenging sailing leg on this summer when we will cross the Baltic Sea from Gotland to Lithuania. The Baltic Sea crossing will last over 24 hours so we wanted to prepare ourselves for the overnight sailing. From Nynäshamn to Visby is a little over 70 nautical miles what we consider a good distance for practising a night sail.
On Monday Andrus followed actively the weather forecasts from four different sources: Finnish Meteorological Institute, Swedish SMHI, Windfinder and Passageweather. He has noticed that there are differences between forecasts and it is better to follow multiple sources and make own conclusions. This time all forecasts promised winds between 5 and 10 m/s and this is ok for us. Swedish rainfall radar however showed heavy thunderstorms approaching from the west. At best the lightning was striking in the radar for 60 times per hour. As the evening approached the thunderstorms turned inland and we decided that it was a time to go.
Before going to sea we ate a warm meal. Otherwise we would have to start cooking immediately in the swinging boat. We untied the sternlines at 20 past eight. The wind was blowing only 2.5 m/s and we motored towards the sea. After getting out from between the islands to open sea the wind blew already at 8 m/s so we raised all three sails. Our speed was a nice 8 knots and the yacht went forward smoothly.
The evening turned quickly into the night and close to the midnight the wind started to pick up strength. When the wind increased to continuous 12 m/s we decided to decrease the sails. We reefed both the mainsail and genoa. In addition we removed the mizzen sail completely. We continued with 6 knots towards Visby. After reefing the wind picked up some more and the waves increased as well.
Suwena cut the waves smoothly but wind and waves together made her swing unpleasantly. Neither of us have not been before seasick and now we started to worry that will it happen now because in our stomach had an uneasy feeling.
The wind was nothing new to us but the near gale wind together with waves created a totally new combination for us. In archipelago even open boats can travel with this wind but then there are no open sea waves. The wind and waves increased in the middle of our leg. Of course the sails and keel supported the yacht so Suwena was only swinging from one wave to another. On the boat everything was fine but we were nervous.
Beforehand we agreed that we sleep in turns but as soon as I got my eyes closed the bigger wave swung the boat and I woke up. Andrus on other hand did not have any sleep at all so he was up all night. At this point is good to remind to us from the Patrik's teaching about open sea sailing competitions: If the sailor cannot get a sleep he should get back to working on deck to get some more tiredness.
It was a nice experience to sail into the morning. Suwena took us mile after mile towards Visby. We also saw some ships. The skippers on ships were all very professional as they left about two nautical miles gap between our vessels. Surprising was during the dawn we did not see the ships with naked eyes. AIS and radar showed ships perfectly. Then we had a surprise. Suddenly about half a mile on our starboard side we noticed a sailing yacht that was not visible in radar and she did not have an AIS transmitter. Usually yachts show up in our radar on 1-2 nautical mile distance. Maybe they did not have a radar reflector. We consider the radar reflector to be the essential gear when sailing on open sea.
We sailed the complete leg on starboard tack. As our speed dropped below 6 knots we increased the sails. We started to be really tired and it felt good that GPS calculated our arrival time to be one hour earlier as our speed increased to seven knots again.
Three miles before the harbour we heared the familiar voice of Rami on VHF when the yacht Sea Iris from Oulu called Suwena. Rami and Iris located a nice spot in harbout for us. This was important because we have a plan to stay in Visby for over the Midsummer.
It felt very good that as we entered harbour the familiar people run to catch our lines. We moored Suwena and our first night sail was successfully behind us. Next leg was to go to sleep with the sound of Iris's invitation to Soldatens Ärtsoppa (Soldier's Pea Soup) and waffles onboard the Sea Iris in our ears.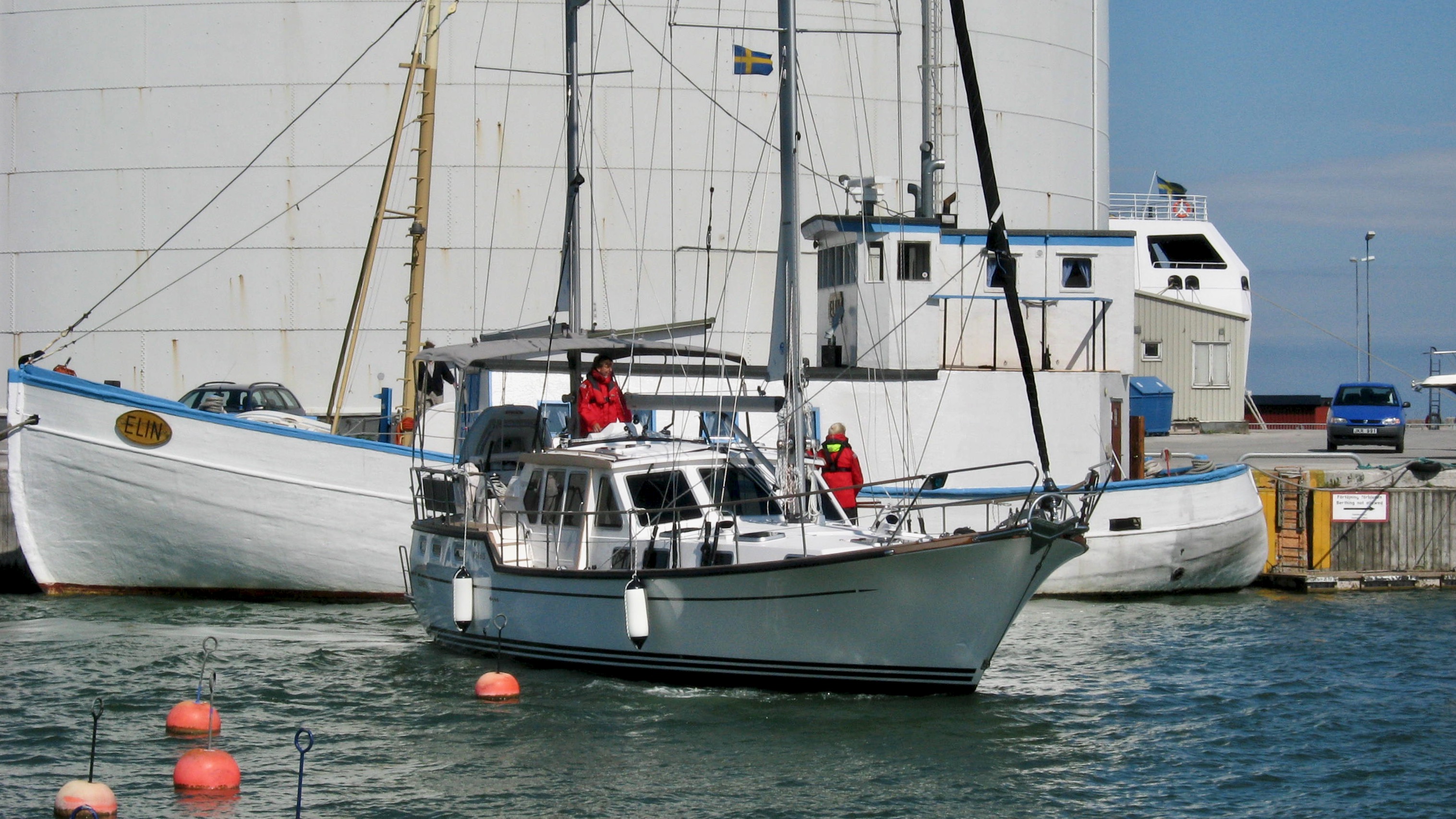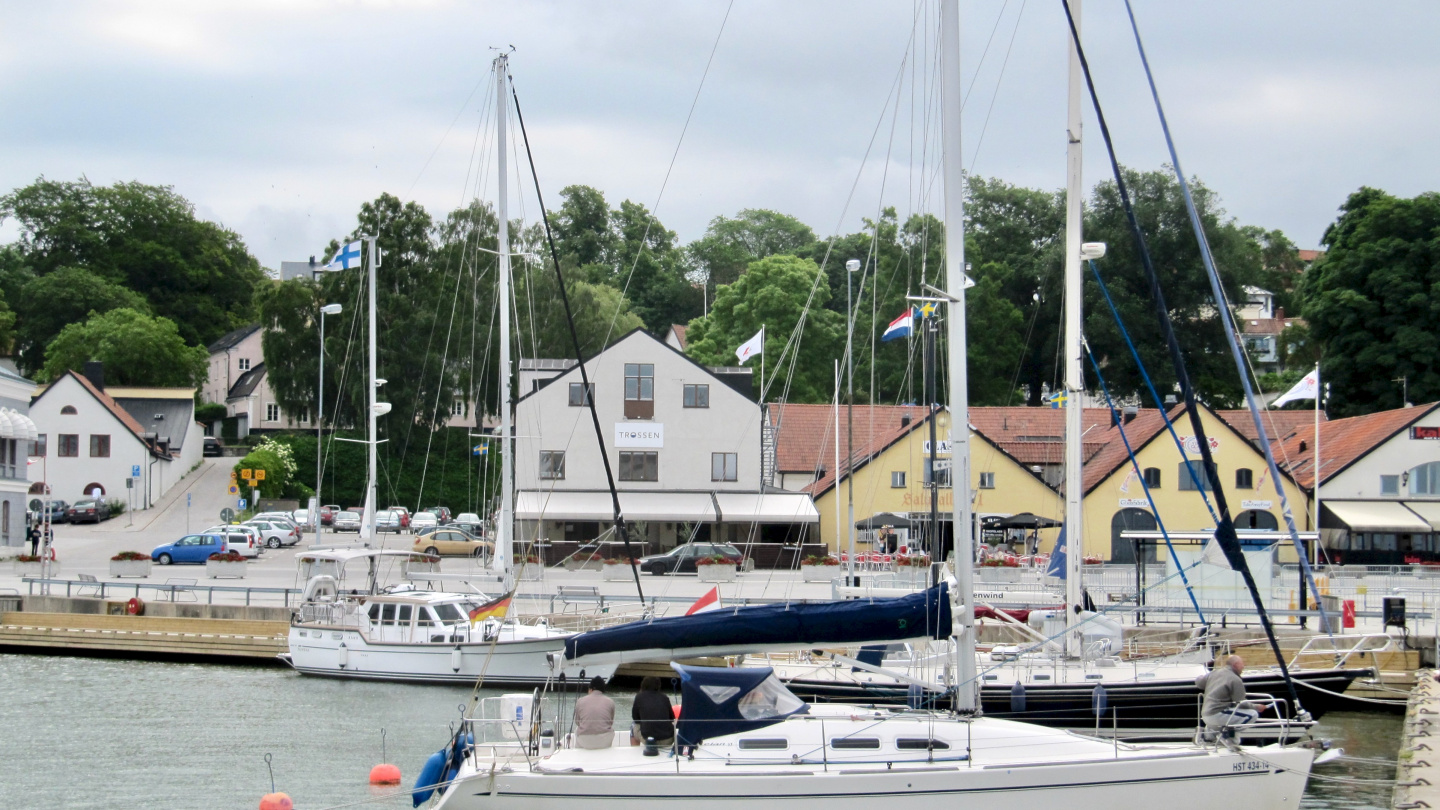 Night Sail Nynäshamn – Visby 20.6. – 21.6.