What a surprising city of canals and bridges we found from the shores of the Elbe river. To us Hamburg is the historical seaman city that we wanted to visit by our own boat. We expected an interesting weekend but Hamburg beat our expectations by great margin. Here we must return again, even if for a long weekend by flying.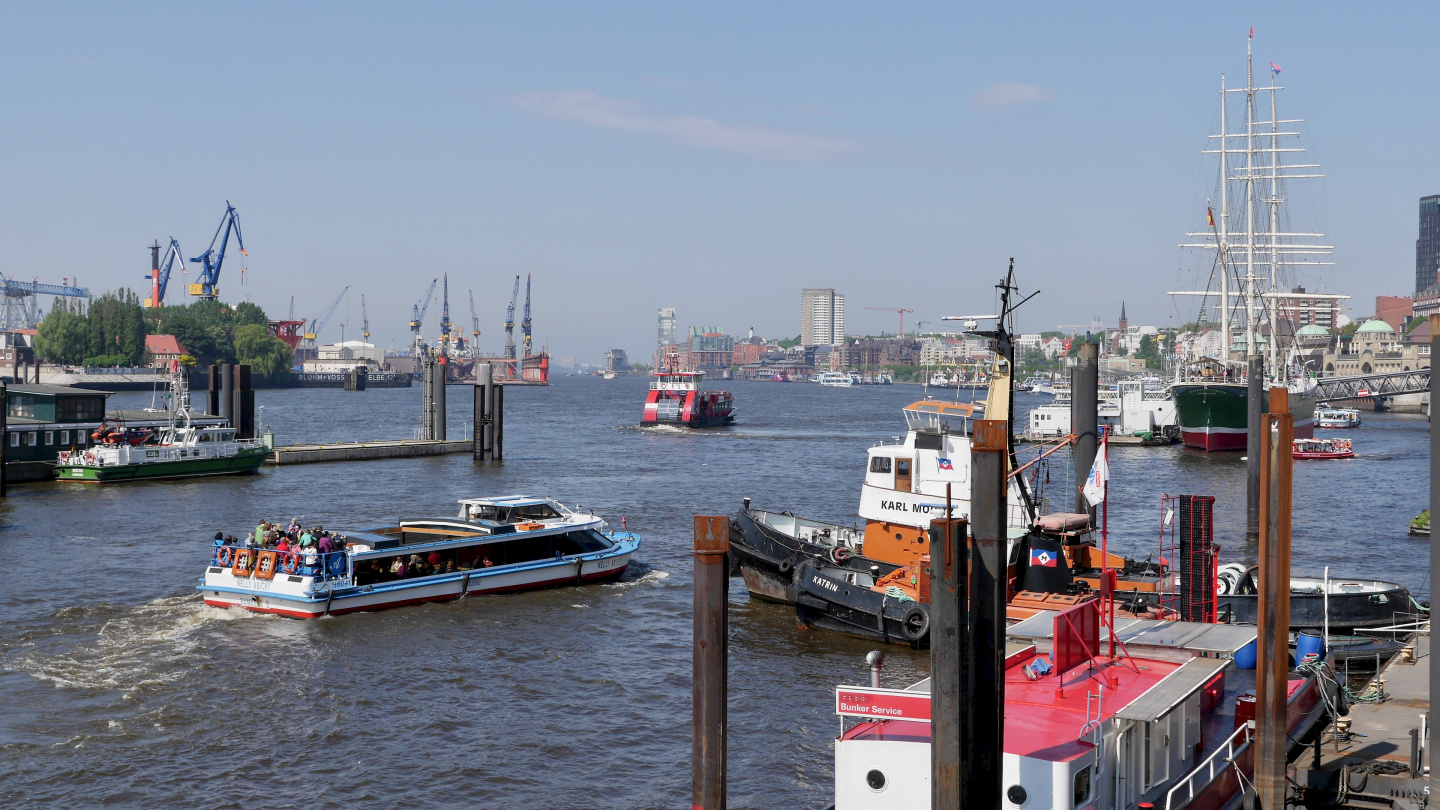 The best in the weekend was meeting friends. Last summer we got friends with two German sailing couples. Norbert and Hildegard from Weeki Wachee cruised together with us on the Göta canal. In Poland we pushed against the waves together with Manfred and Gigi when both Suwena and Alva dived noses into the waves on our trip towards Świnoujście harbour.
Manfred and Gigi presented to us their home city. Thus we could see Hamburg also from the eyes of locals. Most of all was fun to be together and talk about everything. The first stakehouse ever in Germany has been founded in Hamburg. Nowadays Block House is the international restaurant chain that operated in several countries. We enjoyed juicy stakes together with Manfred and Gigi in one of the popular Block Houses.
We spent together an unforgettable Sunday morning in the famous Hamburg Fischmarkt, the fish market. The market opens already at 5AM so our arrival at 7AM was quite late. The market was busy despite of rainy weather. The merchants told jokes and made quite a show trying to get attention and customers to their's fish and fruit stalls. The laughter was in the air as merchants grabbed the attention of the crowd.
Manfred warned that "Do not eat breakfast, many hamburgers come to the Fischmarkt for breakfast". When we entered the old fish auction hall, Fischauktionshalle, we were immediately surrounded by breakfast party. The band was playing German schlagers and classic rock songs. Those who continued straight from Reeperbahn of St. Pauli to fish market were dancing and partying with full swing. Others were sitting in long tables like at Oktoberfest and eating sausages, filled rolls or even fried potatoes with bacon and eggs. These provisions are more than enough to keep the party going. If the simple breakfast on the floor level do not feel adequate then in the upstairs a full brunch buffet is available at around twenty euros. When the bell rings at 9:30 the market is announced to be closed for this Sunday. This has been ongoing since the year 1703 even if the fish market has changed for sure its appearance over the years.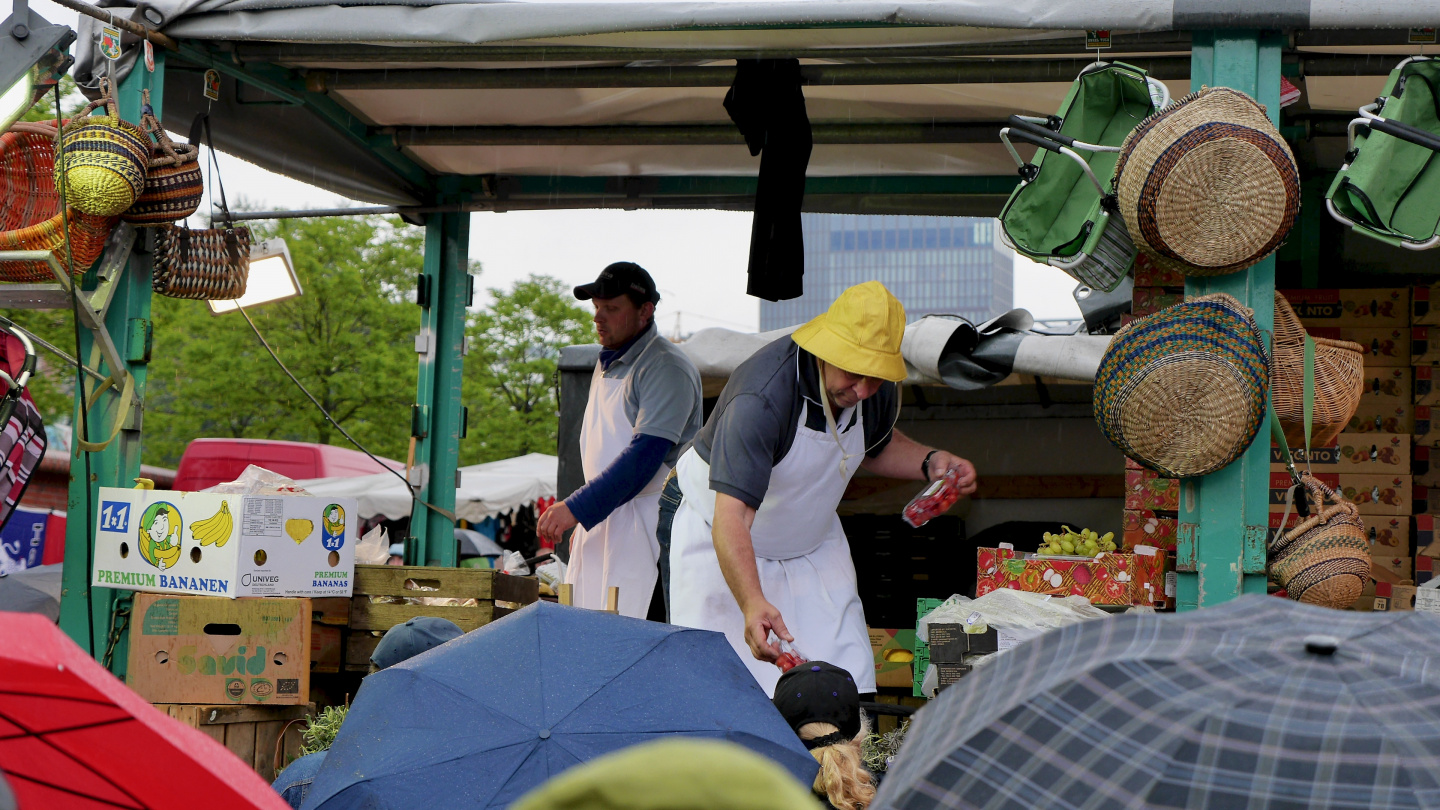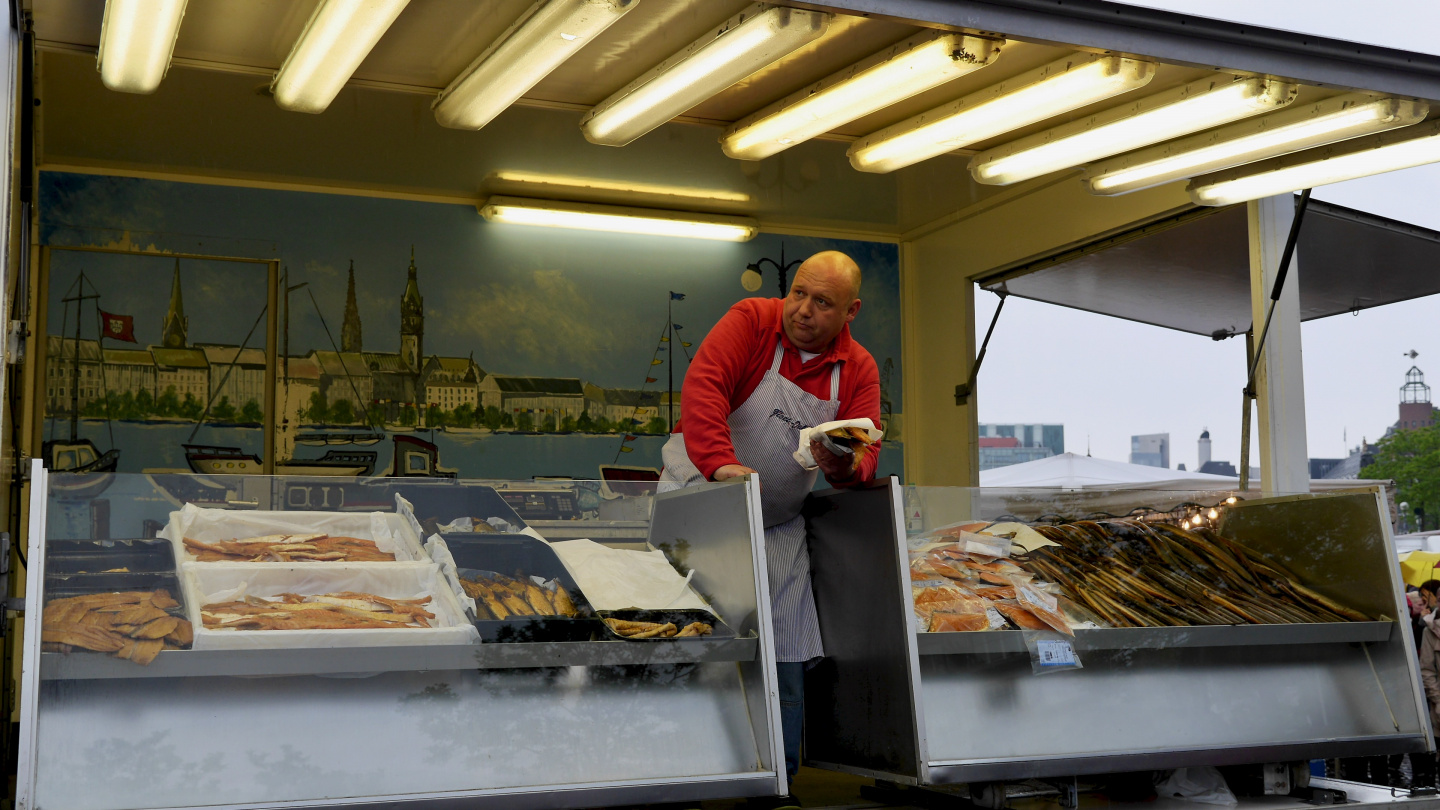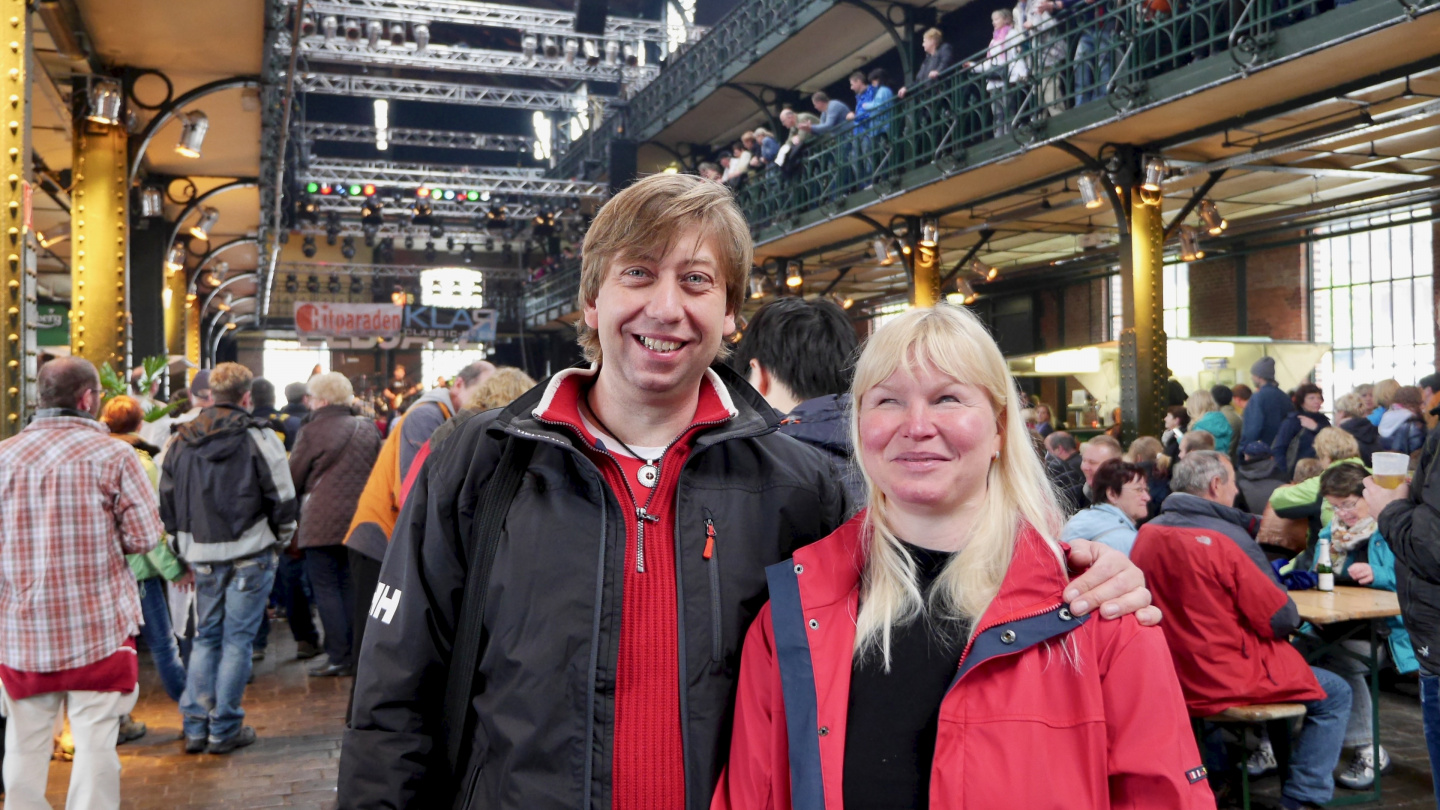 Manfred took us to sightseeing tour during which we could see different parts of Hamburg like e.g. idyllic Altona-Altstadt, mansion filled Blankenese, modern HafenCity and new gothic Speicherstadt. We even made a ride over Hamburg's western border to Wedel. On the Wedel's Welcome Point pier we heard twice the British national anthem when two UK flagged ships passed towards the port of Hamburg. At one time the anthems were played back from a cassette tape. It has been quite a job to rewind the right song for each ship.
Warm regards and huge thanks to both Manfred and Gigi for our great experience of Hamburg. Hopefully one day you can visit Oulu to see our nightless night.
On Sunday evening Norbert and Hildegard from Bremen visited us. Norbert inquired "When will Suwena visit Bremen?" Both Hamburg and Bremen are located upriver from the sea. It is almost a full day's sailing trip one way and thus unfortunately we have to pass the Weser river this time. We spent a relaxed evening in the Portuguese Quarters, Portugiesenviertel, accompanied by a good food and even better companionship. Finding new friends is definitely the best part of the boating.
On Saturday evening or should I say at night we just fell into bed after walking 14 hours around Hamburg, but it was worth it. We walked on the city centre streets and of course tested the best grill in Hamburg. Mö-Grill on Mönckebergstraße had a queue as we heard they always have. The currywurst was excellent. It would just take too long to taste all 13 different kind of sausages that Mö-Grill has already served for last 35 years.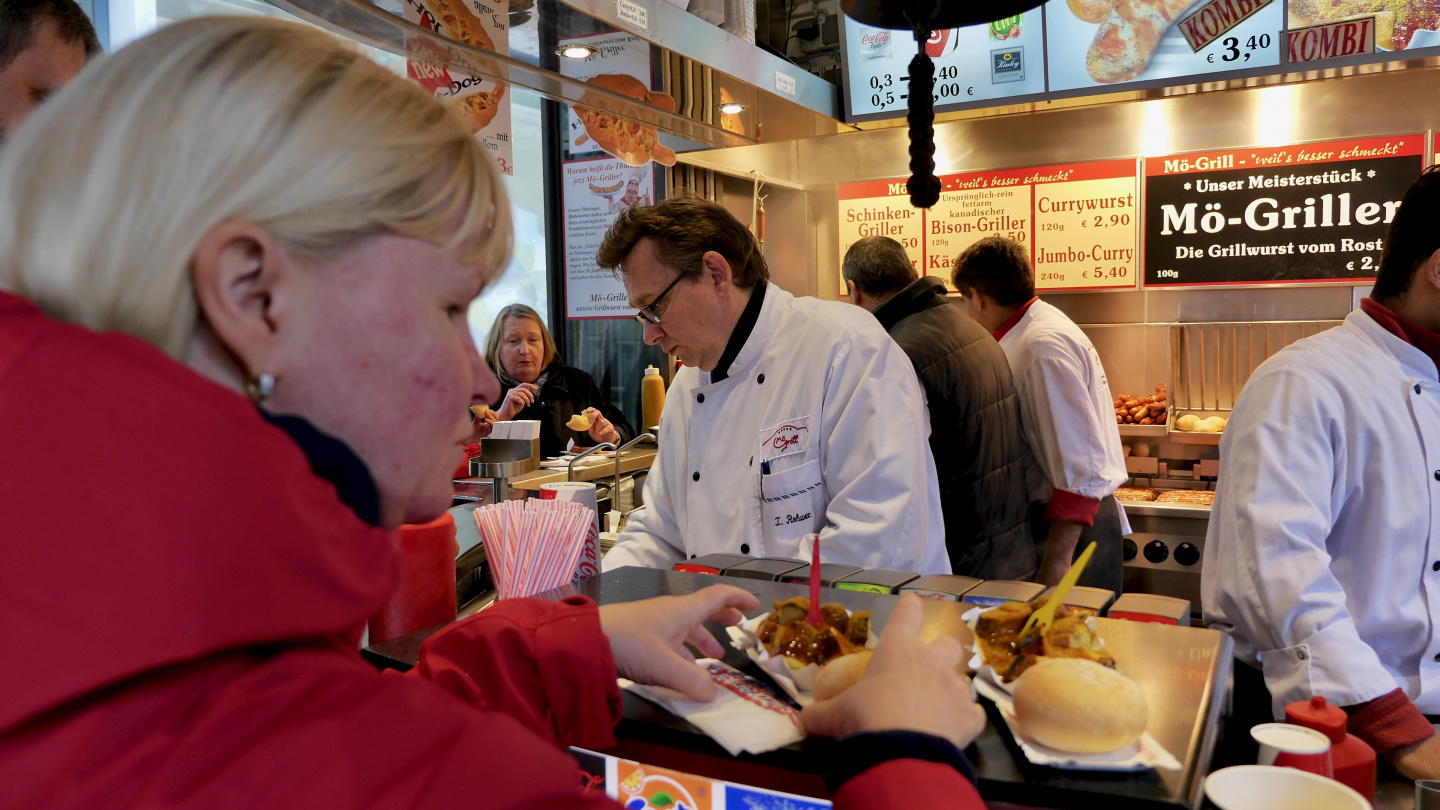 There is Speicherstadt close to the marina which consists of canals and bridges between high red brick houses. All the houses have their own winches that merchants used to lift the goods for storage because Speicherstadt was for a long time a customs free area. Nowadays there are many museums like for example the spice museum Spicy's Gewürzmuseum which we visited. There we could taste different spices and see the history of the spices.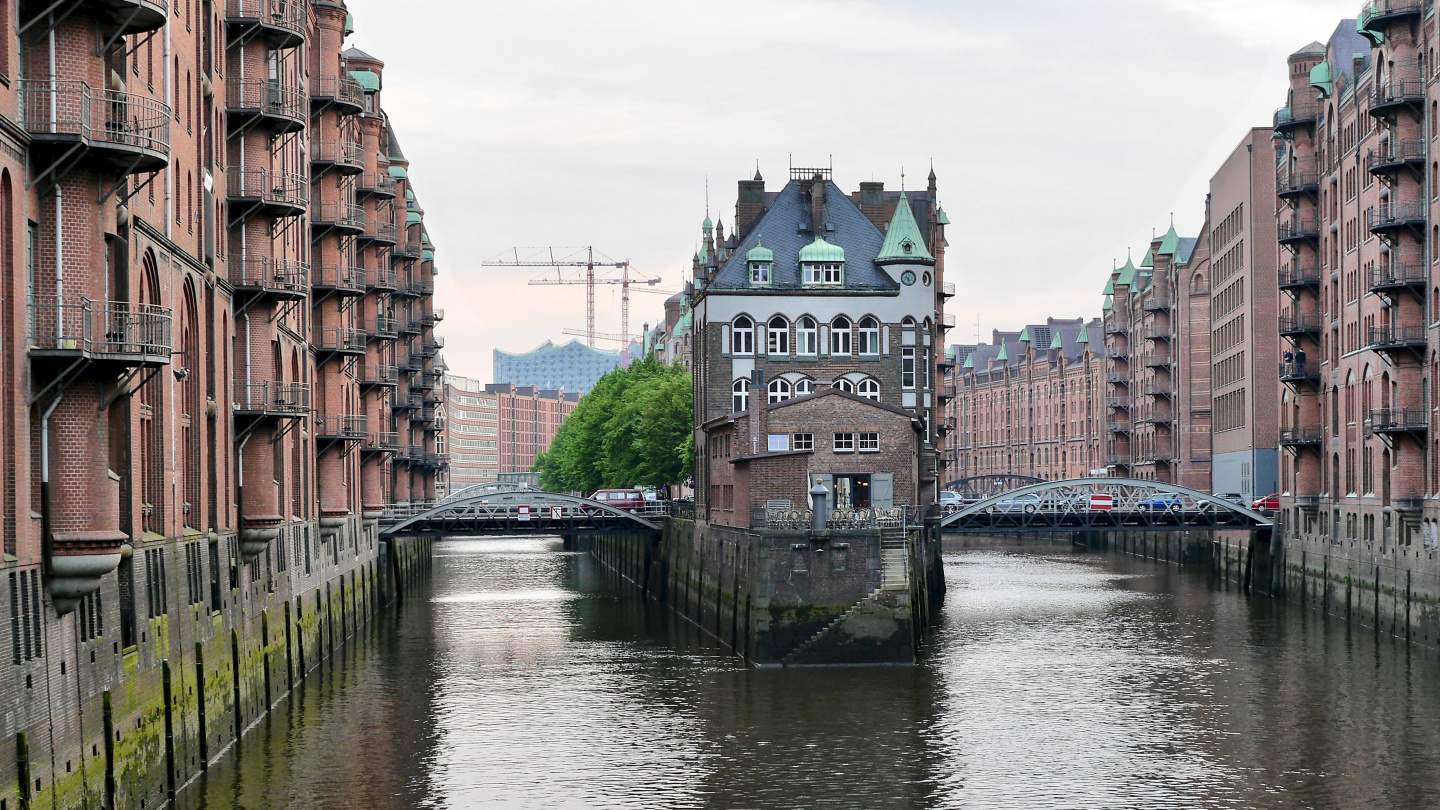 There is maybe the hottest sight of Hamburg in the next block, the modeller's wonderland Miniatur Wunderland. 13000 metres of the model train tracks with 930 small trains must be a dream of many men and boys. Computer controlled trains, planes, space shuttle, cars, ships and even knights are moving around in different parts of the world. As an engineer Andrus was most fascinated with the computer control system where in tens of screens the trains move from one tunnel to another. I liked most the Nord-Ostsee sea area where the container ship was propelled by small electric propellers from one dock to another. The model sea even featured a 4 cm tide.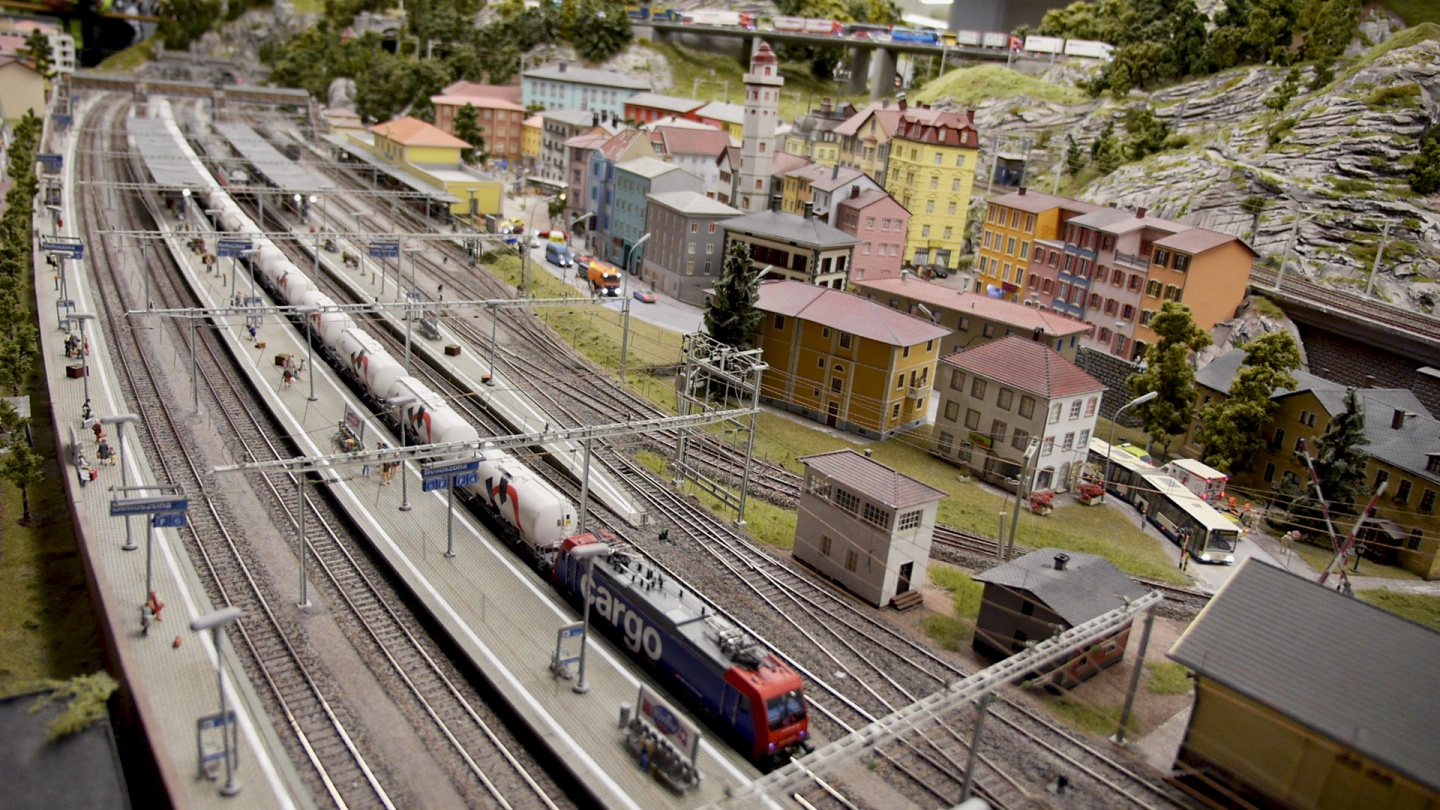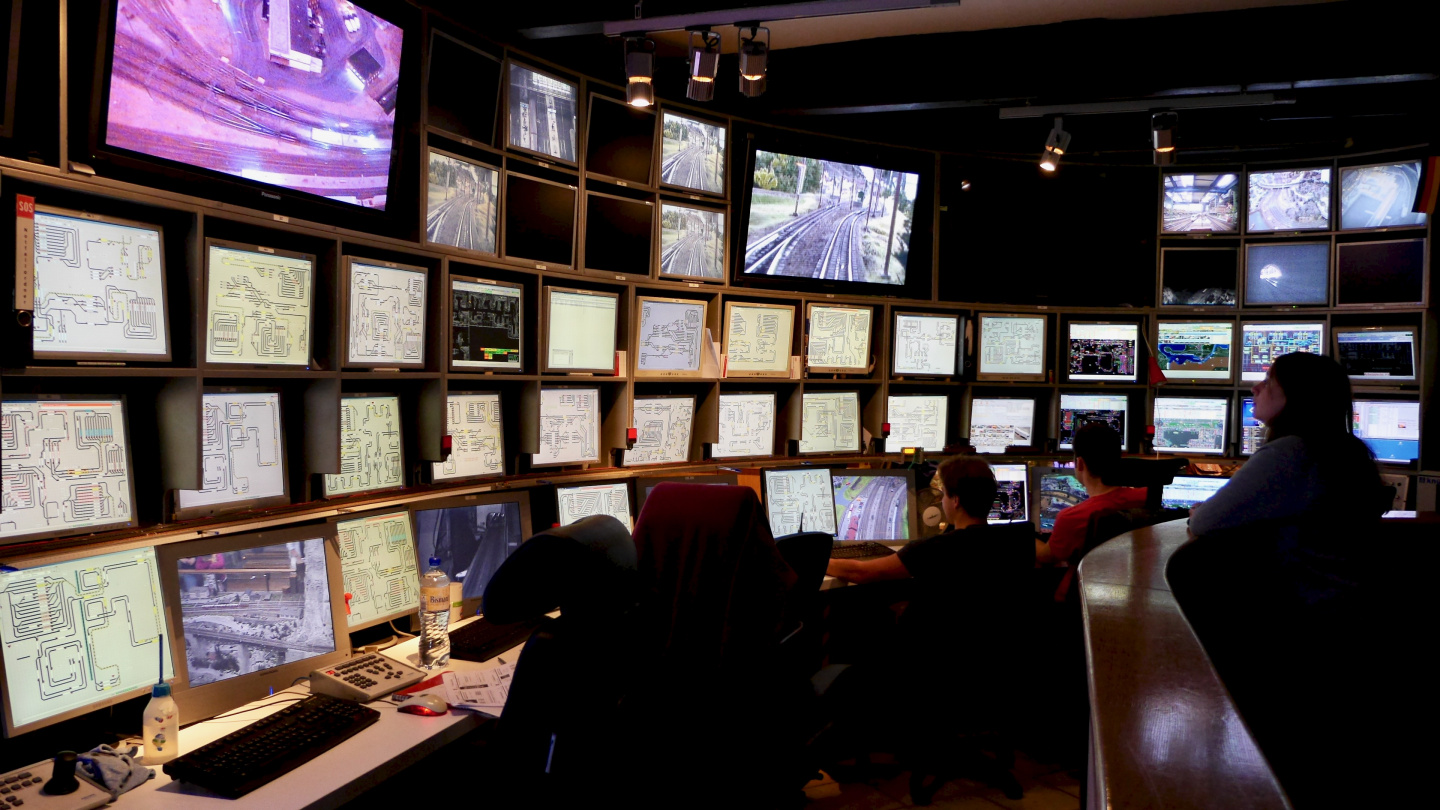 The model world even has day-night cycle. When the night arrives, the lights lit in the houses and trains slowly. As the dawn changes into a day the lights turn off gradually. No wonder that this place is vastly popular. It is better to reserve a ticket beforehand on the web. One hour tours are mostly sold out for the next few hours. Also we got a ticket only to the tour starting three hours later.
Of course we had to check out the Hamburg's most famous and a sinful mile. Nowadays Reeperbahn has changed more into a full party zone when the pubs, nightclubs, restaurants, erotic shops and theatres are all competing for space. But still the nightlife is more wild compared for example to Barcelona's Port Olimpic.
On the street there were many kind of people, to our surprise we even saw a family with children. Between the pubs and restaurants erotic stores sold their toys. It was humorous when the erotic shop's salesman made marketing speeches similar to Sunday morning Fischmarkt's eel merchants. We also went to the Große Freiheit street that crosses with Reeperbahn. On this street the Beatles started their world conquering. Unfortunately the Indra Club does not exist anymore. However, the Kaiserkeller, one of the clubs of the Beatles, is still alive at th eGroße Freiheit 36.
Finally from Hamburg I must mention Landungsbrücken and lake Alster. In the middle of Hamburg there are two artificial lakes, Binnenalster and Außenalster. On these lakes youngsters are taught about sailing and it is possible to rent a dinghy for having fun on the water. From the Landungsbrücken that is located on a shore of the Elbe it is possible to take a river ship for a tour to the city and the container port. We left the cruise tours for our next Hamburg visit. Then Suwena will be somewhere else and we will be without our own boat in Hamburg.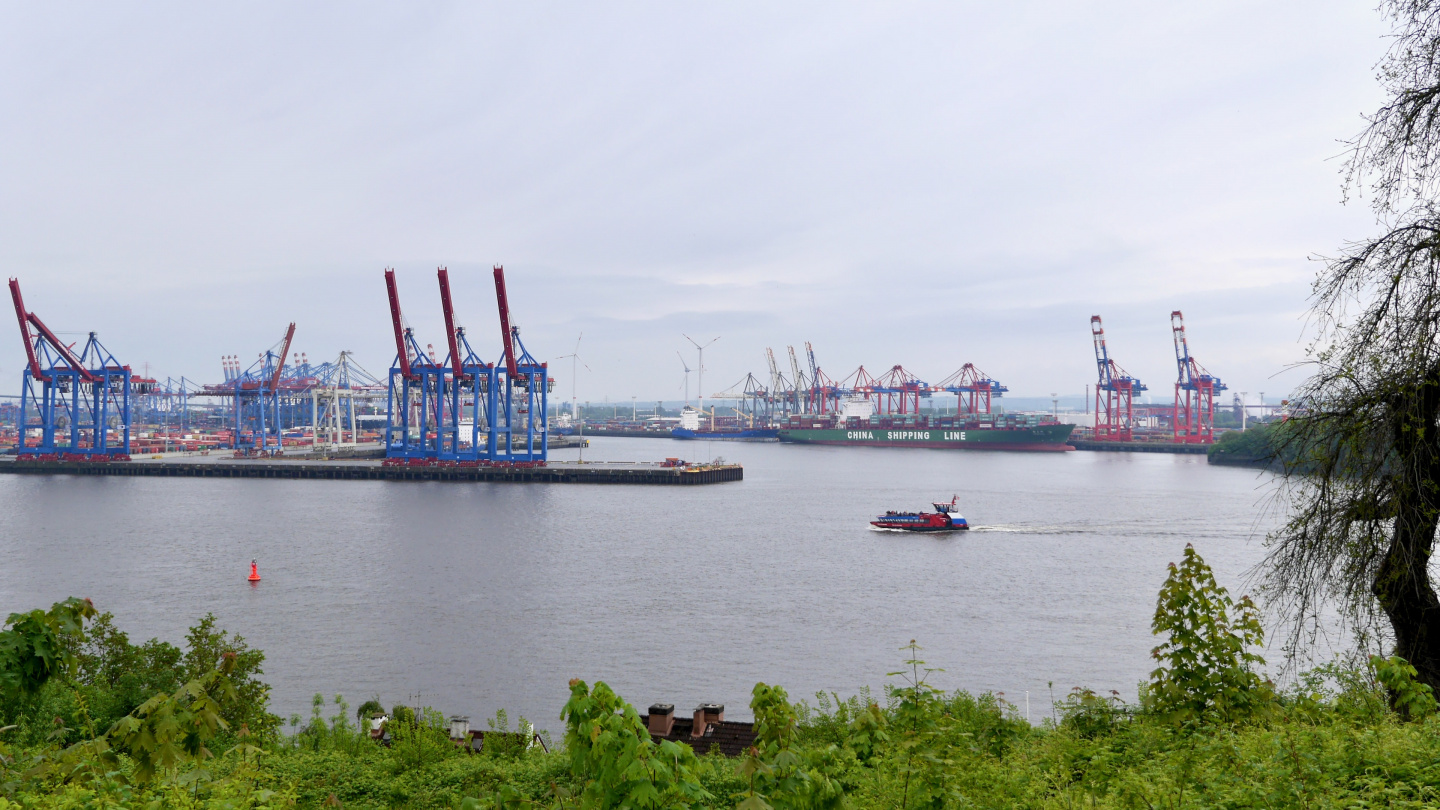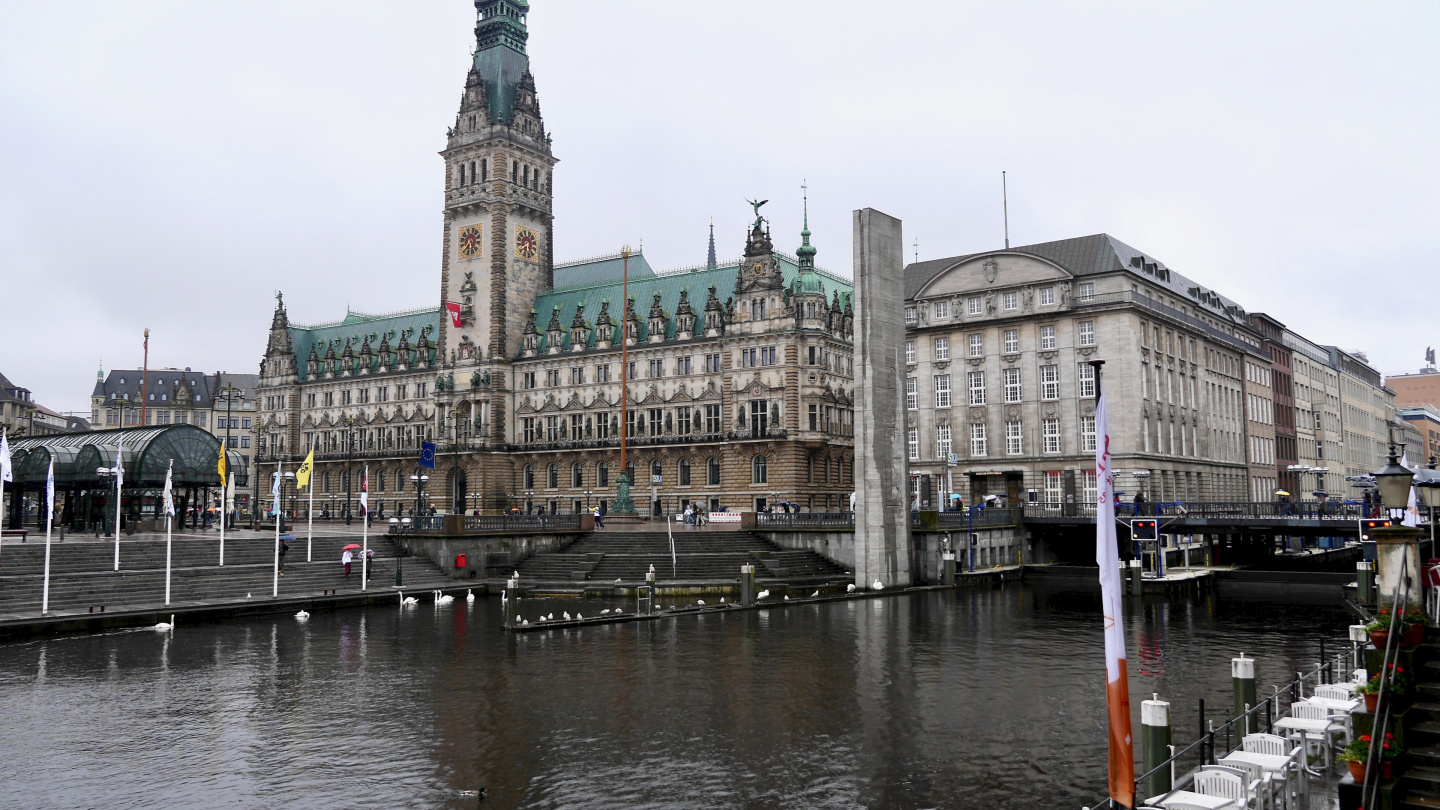 Suwena in Hamburg 24.5. – 28.5.